How Jury Duty in California Works
Trial by jury is a right of every U.S. citizen and an important element of our judicial system. Each individual must have a fair trial, which is why jury duty is mandatory—you need to show up, regardless of how many times you get called.
Each state has its own jury duty laws.
In this article, we'll show you how jury duty in California works and how you can prepare yourself when you get summoned.
We'll also explain how you can use DoNotPay to get the necessary time off work without running into any issues with your employer.
California Jury Duty Requirements
To be eligible for jury duty, you need to meet certain criteria. According to California law, you must:
Be a U.S. citizen
Be at least 18 years old
Understand English at a level adequate to discuss a legal case
Reside in the county that summoned you
Have no felony convictions
Not have been called up for jury in the last 12 months or be currently involved in another trial
Not be under conservatorship for any reason
How To Register for Jury Duty
You can't register yourself—courts randomly select 12 people from voter registration and DMV lists.
You have to wait until you receive a summons—even then, it's not guaranteed you'll become a juror. When you arrive in court, you'll go through a selection process. You'll need to:
Arrive on time and dressed properly
Answer questions from lawyers to see if you have any conflict of interest
Show up in court every time it's in session
These are the general rules—you should check specifics with the court that summoned you, as counties like Alameda, Los Angeles, San Diego, or Nevada may have different rules.
How Much Does Jury Duty Pay in California?
As a Californian, you can get summoned for state or federal jury duty. Depending on the type of court, you'll receive different reimbursement for your service. Check out the following table to see how much federal and state courts pay in California:
Jury Duty in California—What if You're Employed?
While you can postpone your duty, you'll eventually need to serve. You'll need to miss out on work and devote your time to the case.
Employers don't appreciate their workers being gone and often try to dissuade employees from going on jury duty leave. To stop you, your employer might threaten you with:
While the California jury duty law doesn't require employers to pay salaries while on jury duty, it prohibits them from threatening employees in any way.
If you inform your employer about jury duty, they'll have no option but to let you be absent without any repercussions.
Don't know how to formally request jury duty leave? Register for DoNotPay, and let us do it for you.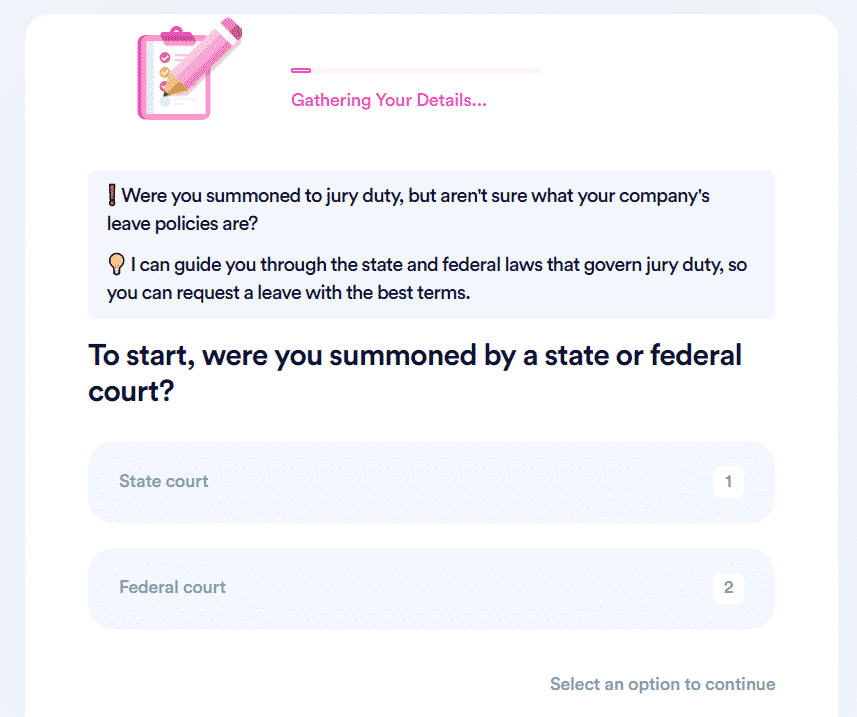 Request Jury Duty Leave Without Any Hassle—Use DoNotPay
Submitting a formal request letter can help you avoid awkward conversations with your boss, as well as ensure you won't face any work-related detriments.
DoNotPay will draft a professional letter on your behalf using the information you provide and send it to your employer directly. If you don't want us to, you can download the letter and send it yourself.
All you need to do is the following:
Navigate to the Request Jury Duty Leave product
Answer a few questions
Upload a photo of your jury summons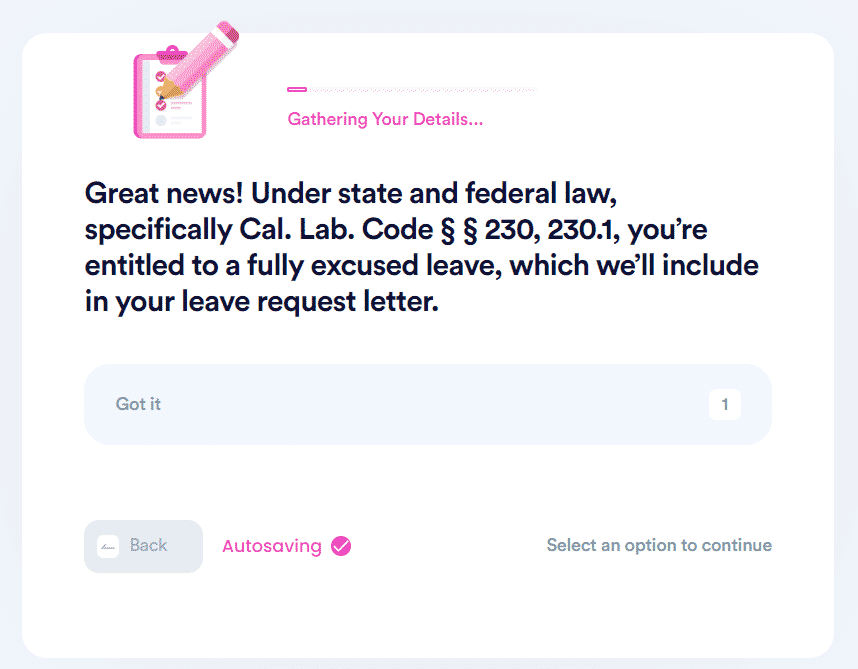 Solved Your Issue? Check Out More of Our Product Range
DoNotPay's forte is its versatility—you can use the app to resolve any problem of legal or bureaucratic nature!
As soon as you subscribe to our platform, you'll be able to:
Our App Helps You Both Save and Earn Money
Want to get more familiar with our extensive product range? Check out how, for one low monthly fee, we can help you both save and earn money by: