Jury Duty in Arizona—All You Need To Know
Jury duty is an essential pillar of the U.S. system of justice. For an individual, though, it's a compulsory inconvenience that takes a large chunk of the day—often even more than one. The worst part is, if you fail to show up, you'll need to face penalties.
In this article, we'll show you how jury duty in Arizona works. We'll also explain how you can to inform your employer about taking time off to be on a jury.
How Jury Duty in Arizona Works
State and federal courts create a database of potential jurors based on DMV and voter registration lists that renew every year. You can't apply to be on a jury—when there's a case, courts select 12 random people who meet eligibility criteria.
Arizona jury duty requirements are as follows:
Have a U.S. citizenship
Be 18 years old or older
Reside in the jurisdiction which summons you
Not be "insane or mentally incompetent"
Have no record of felony convictions—unless they have restored your civil rights
If you meet all of the requirements, you can receive a summons, which doesn't automatically mean you'll become a juror. You'll have to go through a selection process that consists of:
Showing up in court dressed properly
Filling out a questionnaire and getting interviewed by attorneys
Attending all court proceedings
How Often Can You Be Called for Jury Duty in Arizona?
The Arizona jury duty law regulates the frequency of calling up the same people again. When you serve as a juror, you don't have to fulfill your duty again for the next two years.
How To Get Out of Jury Duty in Arizona
If you receive a summons and you can't do it, there's a list of Arizona jury duty exemptions that will allow you not to show up. The list includes:
Having a physical or mental disability
Being 75 or older
Having a financial or physical hardship
Not speaking English at an adequate level
Being a police officer
Note that you have to formally request to be exempt, and the court will decide whether your excuse is valid. If you miss your duty without being exempt, you can receive a fine of up to $1,000, three days in jail, or community service.
Arizona Jury Duty Pay
The government pays money to people on jury duty. Jury duty pay in Arizona differs depending on what type of court you serve in. Take a look at the following table to learn about the differences between federal and state pay:
| Type of Court | Pay per Day | Travel Compensation |
| --- | --- | --- |
| State and county courts | $12 | Yes |
| Federal courts | $50 ($60 if it lasts longer) | No |
How To Attend Jury Duty if You're Employed—Request Leave With DoNotPay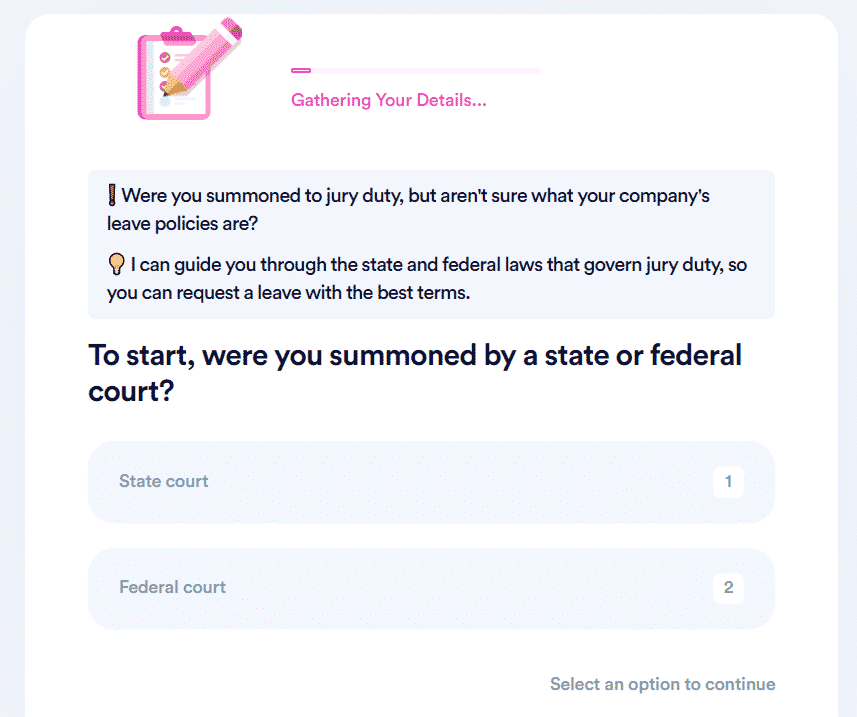 The first item on your to-do list when preparing for jury duty should be asking for jury duty leave. You'll need to be absent from work, and your employer will appreciate the heads-up.
Formally requesting jury duty leave has another purpose—it gives you legal proof that you have notified your employer in advance. This way, your employer will have to let you go to court without trying to threaten you with demotion or termination.
Arizona law protects you from any job-related repercussions, but many people don't know this and let their employers dissuade them from jury duty. When you submit a leave request letter, you have nothing to worry about.
DoNotPay will draft a formal request letter without you having to do any writing. You only need to:
via any browser
Choose the Request Jury Duty Leave product
Answer a few questions from our chatbot
Upload a photo of your jury summons
When you complete the steps, we can email the letter to your employer. If you don't want us to, you can download the letter and send it yourself.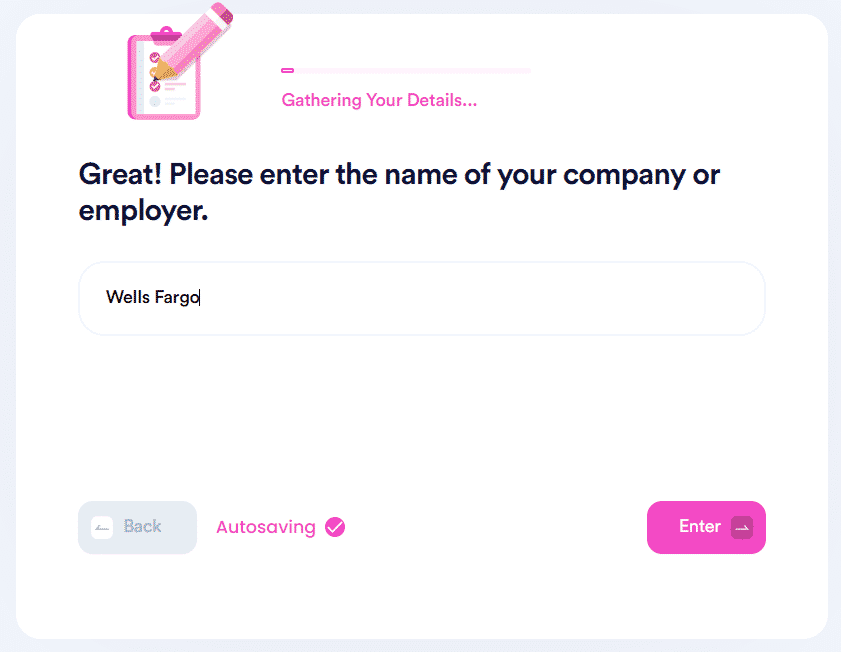 Solved Your Issue? Check Out More of Our Product Range
DoNotPay's forte is its versatility—you can use the app to resolve any problem of legal or bureaucratic nature!
As soon as you subscribe to our platform, you'll be able to:
Our App Helps You Both Save and Earn Money
Want to get more familiar with our extensive product range? Check out how, for one low monthly fee, we can help you both save and earn money by: