The Ins and Outs of Jury Duty in Alabama
Being summoned for jury duty can be a nuisance for some, even though it's an important civic duty. It is mandatory, and you cannot be excused without a valid reason. If you are summoned for jury duty in Yellowhammer State, you are probably wondering—how long it will take, how much it pays, how to skip it, and how to prepare.
This article will tell you all you need to know about jury duty in Alabama, and we'll also provide information on how you can get time off without suffering any consequences. Sign up for our platform to notify your employer of your jury duty.
How Are You Selected for Jury Duty in Alabama?
The court selects names randomly and puts them into a Master Jury Wheel every four years. The names can be drawn from the lists of:
Registered voters
Registered motor vehicles
Driver's license holders
Prospective jurors get a Juror Qualification Questionnaire that they must complete and return to court. This questionnaire helps the court decide whether a juror qualifies for the service.
To qualify as a juror, you must:
Be a citizen of the U.S. and a resident of the summoning county for 12 months
Be over the age of 19
Have the ability to read and follow instructions in English
Not be mentally or physically incompetent to serve on a jury
Not have lost your voting rights due to being convicted of a crime defined as having moral turpitude
You Were Summoned—What Now?
After you are summoned for jury duty, you should:
Check on your county's website what the next steps are (usually you will have to call the Automated Jury Information System after 5 p.m. to see whether they need you)
Show up in court properly dressed for orientation
Answer a few questions so the court can determine whether you're right for the service
Attend all court proceedings if you are selected
Being summoned for jury duty doesn't automatically mean that you'll be selected. When you appear in court for your first day, you are asked a series of questions that help attorneys and prosecution determine if you're eligible to be a juror. They need to find out whether you have any connection to the case and whether you can be objective.
How Much Does Jury Duty Pay in Alabama?
You can be summoned to a state or federal court for jury duty. The pay will be the same for both types of court:
| Attendance Fee | Travel Expenses |
| --- | --- |
| $50 | $0.56 |
Federal employees are not reimbursed.
In addition to jury duty attendance fees, the law of Alabama states that your employer must pay you your wages while you perform the service.
Can You Be Excused From Jury Duty Because of Work?
Being employed isn't a reason enough to be exempt from jury duty. Sometimes an employer might threaten to fire an employee for serving jury duty. You should know that Alabama law forbids this. If you notify your employer in time about your service, they will have to let you do your jury duty—if they try to penalize you in any way, you can sue them.
Let DoNotPay Help You Request Jury Duty Leave
If you keep getting summoned for jury duty and your employer is becoming difficult, it's time to remind them that they are obligated by law to give you time off. You might not be familiar with Alabama jury duty laws, but don't fret—DoNotPay knows all about them. We will use our knowledge to create a professional leave request letter that will notify your employer about your absence.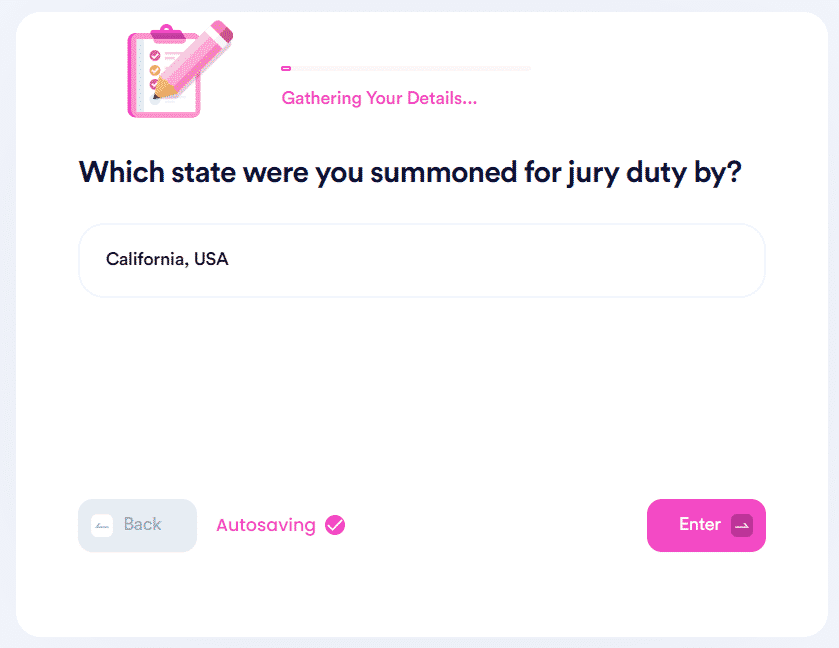 Follow the steps below to create your leave request letter:
Register for DoNotPay and select the Request Jury Duty Leave tool
Provide information about your jury duty
Attach a photo of your summons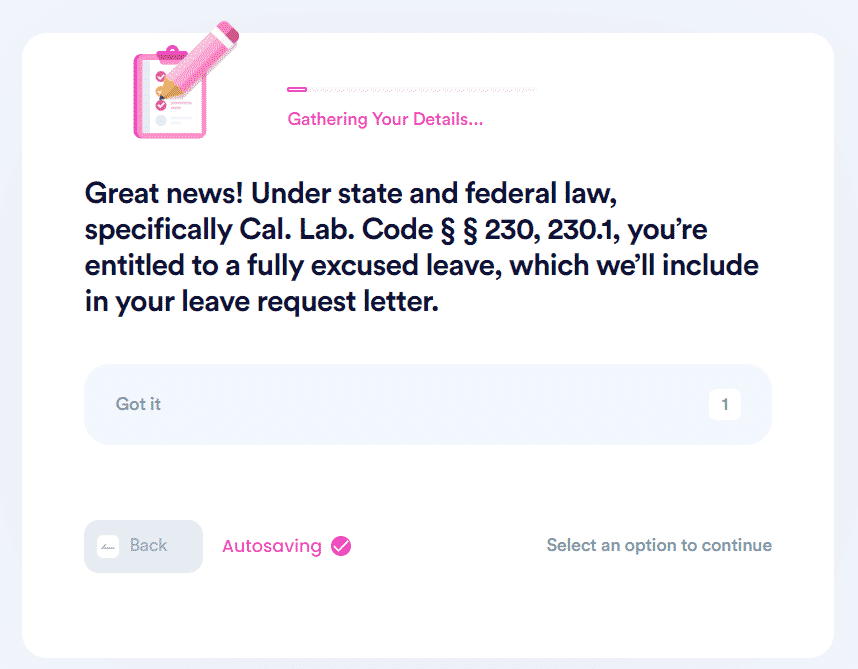 Deal With Administrative Issues With Ease
Drafting contracts and agreements, getting your documents notarized, disputing parking tickets, and creating passport photos will become a breeze once you sign up for DoNotPay.
We can also help you:
DoNotPay Helps You Protect Your Consumer Rights
Don't let companies take advantage of you! With our help, you'll be able to cancel any subscription or membership and request a refund.
As a consumer, you may be overwhelmed with endless steps and piles of paperwork you need to go through to get what you're owed. This is where DoNotPay comes in—let us be your assistant and fast-track the following:
Have you forgotten about a free trial you signed up for? Avoid being charged by using our app! With DoNotPay's virtual credit card, you'll get unsubscribed automatically without the company taking any money from you.
Are you getting spammed via email or text? Get rid of spam for good with our nifty app!