How to Get a Jungle Scout Free Trial to Grow Your Amazon-Based Business

Selling goods on Amazon can be a lucrative side hustle. And for some enterprising entrepreneurs, it's been lucrative enough to allow them to quit their traditional employment and sell full-time. But as Amazon has matured, its Marketplace has grown in size and complexity. New would-be store owners set up shop every day, and competition can be fierce even in seemingly narrow niches.
To make money selling on Amazon requires mastery of basic retailing fundamentals like sourcing and marketing. And with as much competition as there is, you need every conceivable advantage to make a consistent income. That's where Jungle Scout comes in. It's one of several online applications that can help you run your Amazon store more effectively.
But before you sign up, you should make sure it - and not a similar application - is the right fit for your business goals with a free trial. If you're ready to try Jungle Scout risk free, DoNotPay can help.
What Is Jungle Scout?
Jungle Scout is an all-in-one platform designed to help Amazon sellers optimize their stores. It was founded in 2015 by Greg Mercer, an engineer who had turned to e-commerce, to help Amazon sellers improve their performance. The Jungle Scout team analyzes Amazon sales and related data from over half a billion products through its platform and shares insights, data, and analytical tools with clients.
Incorporating Jungle Scout data and analysis in your sourcing, marketing, and sales strategies can help you make better business decisions. For example, the platform can help you find cheaper suppliers, identify underperformed products, and ensure you always have in-demand products available.
Through its platform, Jungle Scout offers several data and analysis tools, such as:
Opportunity Finder
Product Database
AccuSales
Product Tracker
Keyword Scout
Listing Builder
Rank Tracker
Supplier Database
Promotions
Review Automation
Sales Analytics
Inventory Manager
These tools can be managed from a centralized dashboard and provide sellers with performance data, product ideas, supplier information, and more.
Jungle Scout isn't just for moonlighters. An enterprise version known as Cobalt is available for established brands looking to generate Amazon-based sales revenue.
Are There Alternatives to Jungle Scout?
Jungle Scout is not the only company tapping into the Amazon seller market - a market comprised of nearly ten million sellers worldwide. There are several data and analytics platforms that offer similar tools to Jungle Scout listed in the table below.
| | | | | |
| --- | --- | --- | --- | --- |
| A2X | ChannelAdvisor | DataHawk | Helium 10 | Perpetua |
| Reviewbox | Sellics | Teikametrics | Viral Launch | Webgility |
While each platform's exact suite of tools varies, most of them provide some combination of:
Keyword and trend identification
Product listing optimization recommendations
Sales forecasting data
Sales performance monitoring and analytics
Integration with other popular business applications and online sales platforms
Sourcing and inventory management
Many sellers find these tools indispensable to meet their Amazon sales goals.
Do I Need One of These Platforms to Be an Effective Amazon Seller?
The truth is, you don't need one of these platforms to build a store that generates consistent income on Amazon. But chances are many of your competitors are using one of these tools, which may help them outflank you in your chosen niche. What's hot on Amazon changes every day - and every hour in the peak holiday season. Using these tools helps you understand the competitive environment in real-time, which is why one is recommended for serious sellers.
And while you don't need one of these platforms to build your business and start earning money, it's nearly impossible to scale your business without one. To scale, you'll likely need to expand your product offerings based on predicted consumer demand, continuously optimize your listing, find new, better, and cheaper suppliers.
These platforms are designed to help you accomplish these things and are necessary if you're looking at your store as a future replacement for your full-time job or a business big enough to support other paid employees.
None of these platforms are free, and some may be a major investment depending on your budget. Given how important they can be to your business's future, it's essential to pick the right one. That's why you should get a Jungle Scout free trial and free trials of other similar platforms before you commit.
How Do I Get a Jungle Scout Free Trial?
Unfortunately, there is no Jungle Scout free trial option offered by the company. However, they offer a 7-day money-back guarantee option for their Basic, Suite, and Professional plans.
If you're cash-strapped and would like to avoid shelling out any money on Amazon sales data platforms you may not use, these eight companies offer free trials:
A2X
DataHawk
Helium 10
Reviewbox
Sellics
Teikametrics
Viral Launch
Webgility
Unlike the others, Viral Launch does not require you to sign up with a credit card to activate your free trial. Unfortunately, the others do. If you'd like to try out multiple platforms (and you shouldn't), you'll need to enter your credit card information when you sign up for each.
You'll want to keep close track of each platform's free trial period. Otherwise, you may find yourself with charges for platforms you don't plan to use.
Is There a Better Way To Demo eCommerce Data Platforms?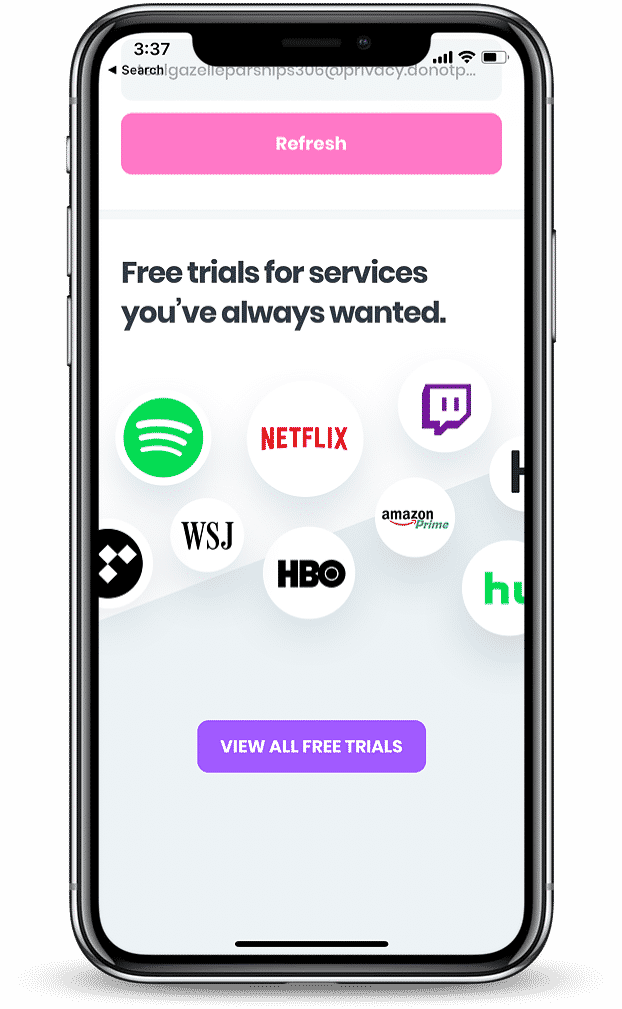 Whether trying out these platforms or other services, you'll likely wind up with unwanted charges. Most people forget to cancel their card before free trial periods end and face fights with companies to get their money refunded. And when you sign up for a free trial, the terms of service are often ironclad, making it difficult to get your money back.
Fortunately, there's a better way. DoNotPay offers a virtual credit card that keeps you from getting charged after your free trial period ends. Here's how it works.
Sign up for DoNotPay.
Search for and select Virtual Credit Card.
DoNotPay will generate a random number that can be entered into the Credit Card information section of any free trial period form.
Use that number to sign up for your free trial. The company will try to charge that number when your trial expires, rather than your actual credit card. Learn more about how it works.
DoNotPay's virtual credit card option can help you easily demo each platform, comparing the features of each one to the others, without worrying about whether you'll get charged for any of them before you select the one that's right for you.
Does DoNotPay Only Offer Virtual Credit Cards?

While DoNotPay's virtual credit card option is popular, we offer multiple tools that can help you streamline complex online tasks and make managing your professional and personal life easier. From contesting parking tickets to canceling subscriptions and memberships, DoNotPay can simplify your everyday life.
But if you're looking to quit the rate race with your own Amazon business, you'll need access to sales data. Sign up to DoNotPay and find the right sales data and analytics platform for your needs today.