Finance Your Juice Bar Startup Costs and Get Into Healthy Profits!
As trends go, buying into the juice bar trend is up there with the best. Profits can be healthy, your clientele loyal, and your foot traffic huge if you get the recipe right.
A juice bar requires startup investment, though, before you can take advantage of people's thirst for health. Careful planning, control over your expenses, and solid marketing are needed to make your juice bar a go-to destination. You may also have to look at startup financing or a small business loan to really get your customers' juices flowing.
DoNotPay has all the information you need on juice bar startup costs—how much to budget for, what qualifications you may need for a loan, and how you can secure the best financing deal.
What Juice Bar Startup Costs Should You Reckon With?
As with any retail outlet, the more you invest in creating an ambiance and providing top-quality products, the better you can look for long-term success.
As a food retailer, you will also need to make sure that your juice bar complies with local, state, and federal regulations concerning hygiene and the handling of food.
Bearing all this in mind, you cannot afford to skimp on your juice bar startup costs, the main elements of which will be:
Premises
Shopfitting
Equipment
Licenses and permits
Branding, signage, and marketing
Premises
The location of your juice bar is key—you need to be in a high-traffic area.
Your lease will probably include:
A security deposit
Several months' rent upfront
Deposits for utilities
You will also need to decide between a grab-and-go kiosk and a space that offers seating for on-site consumption—this can be a game-changer for both the lease costs and the amount you need to spend on shopfitting.
Shopfitting
You need to create a space that is inviting and comfortable while being appealing to your target shopper.
You may have to engage professional design help in laying out your juice bar as the available space has to:
Allow easy through-flow of foot traffic
Maximize the number of seats available
Offer enough space for prep and serving
Be easily cleanable
Saving on the materials you use for your shopfitting is a false economy—cheap materials will look shabby after a short time, and you may find yourself having to renovate annually.
Equipment
Juice bar equipment consists of:
Juicers
Refrigerators and freezers
Ice-making machines
Storage containers
Knives, boards, and other prep materials
Tableware, glasses, and utensils for in-store use
Staff uniforms
The more you spend on juice-making equipment, the better-quality your product will be—you should aim for high-end juicers that give you the best balance of volume and extraction rates.
Licenses and Permits
You will need a range of local, state, and federal licenses, including:
Health certifications
Business licenses
An Employer Identification Number
Signage permits
Fire department certificates
Building permissions for any renovations your store needs
Branding, Signage, and Marketing
Creating a brand, logo, and signage may require expert help for both design and production.
You may also need help with marketing campaigns pre- and post-launch—outsourcing this leaves you free to concentrate on other areas.
What Else Should You Include in Your Juice Bar or Smoothie Business Startup Costs?
You should budget at least $90,000 for your juice bar startup. Depending on the size of the bar you are opening, your costs could be as high as $350,000.
You should also factor in your ongoing costs for the first two to three months, including:
Lease
Salaries
Utilities
Insurance for your business, medical coverage for yourself and your staff
Ingredients and supplies
Your overheads and running costs could come to $10,000 per month, and your startup budget should cater for four months of trading at below break-even.
What Financing Options Do You Have?
If you have established a solid credit score, you may be able to finance some of your needs using this option.
This is typically a high-cost route, though, so you may want to investigate a small business loan and take advantage of the lower interest rates.
A small business loan calculates your risk profile based on:
Your credit score
The credibility of your business plan
Your revenue projections
These are used to determine the terms of the loan, so the more solid your planning, the better the deal you will receive. There are several different loan products on the market, offered by:
Banks
Every bank offers small business loans, but the deal you are offered may not be the most competitive. It pays to shop around.
Credit Unions
Joining a credit union can give you access to highly preferential loan opportunities, but the criteria for membership are often stringent.
The SBA
The SBA is a federal body that can put you in touch with potential lenders and act as a guarantor for a small business loan.
Whatever your choice of financier, the loan offer you receive will depend on your ability to convince the lender of the viability of your business.
This is where DoNotPay can help by generating the perfect business loan application letter for you to state your case.
DoNotPay Can Help Squeeze the Best Deal Out of a Lender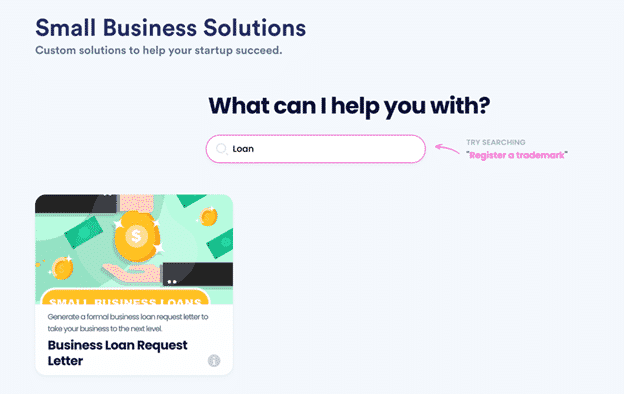 DoNotPay understands the challenges of turning your business dream into reality.
Our Business Loan Request Letter product takes vital work off your to-do list, meaning that your loan application can proceed while you concentrate on setting your business up.
We will take your financial information, business plans, and revenue projections and create a convincing loan request letter to present your case to your chosen financial institution. We will include all the relevant information and make sure that your case comes across as being viable.
Here's how to set your loan request letter up:
Click on our Business Loan Request Letter product
Make sure you have your credit scores and financial information to hand
Tell us about your business plans, the loan you need, and your revenue projections
Upload your supporting documents
DoNotPay will take it from there—in no time, we will create the perfect loan application letter for you to forward to your chosen financial institution.
Our service doesn't stop there—with our Find Online Business Loan Lender tool, we can take your needs and give you the three top lenders who could help you get your loan, including terms, rates, and timelines.
You can carry on getting creative with the best juice recipes in town!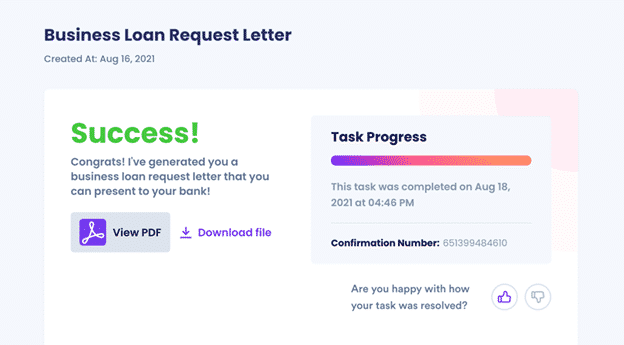 Use Our App To Deal With Clients
Owning a business can be a big financial risk. You probably want to save money whenever you can, and we can help you make it possible.
To make communication easier and cheaper, use our faxing and mailing service.
If you are losing money due to bad reviews or unexpected chargebacks, we can help you out. Sometimes, negative feedback online is fake and incorrect. You can rely on DoNotPay to remove it swiftly. When it comes to chargebacks, if you suspect foul play, our app can assist you in disputing them and getting what you deserve.
Get Ahead of the Game With DoNotPay
Our app can help you cut through the red tape successfully. Whether you need to file 83(b) election forms, apply for an Employer Identification Number (EIN), apply for a business loan, or join the Privacy Shield program, we have got it covered.
If you want to keep your business safe in the long run, you may want to use DoNotPay to register a DMCA agent, trademark your company name, and protect your trademark.
In case a customer breaches a contract and you do not know what to do, count on the world's first robot lawyer. Sending a formal demand letter or taking the issue to court—we can help you with both.