Get the Gist of the JPEG to JPG Converter
JPEG (also known as JPG) is one of the most popular and commonly used image file formats. It's the most frequently used method of lossy compression for digital images developed by the Joint Photographic Experts Group in 1992.
JPEGs can be converted to various other formats, including PNG, PDF, GIF, TIFF, ICO, and many more. JPEGs can also be converted to JPGs using a JPEG to JPG converter, although there isn't much need for this since the two formats are essentially the same. When the JPEG format was first developed, the official file extension was JPEG (with four letters). However, Windows had a requirement at that time that file extensions couldn't exceed three letters, so JPG began to be used for the exact same format.
In this article, we'll show you how to use online converters, list some of the common drawbacks when it comes to using these converters, and offer you a more convenient alternative—DoNotPay. Once you subscribe to our AI-powered app, you will be able to convert any file with ease!
How To Convert JPEG to JPG Online
When it comes to converting JPEG to JPG online or to various other formats (PNG, PDF, TIFF, etc.), there are various online converters that can get the job done. Some of the common ones are:
Convertio
CloudConvert
Zamzar
Smallpdf
AnyConv
These are web-based converters, which means you don't need to install additional programs to complete the conversion process. Most of these websites work in a similar way—you upload your file, choose the output format you want, and complete the conversion by following the instructions stated on the website.
Although converting your files using these online converters seems easy and quick, that's not always the case. There are some major drawbacks when it comes to using them, and you should be aware of them before deciding to use a free online converter.
The Major Drawbacks of Using Free Online JPEG to JPG Converters
Free online converters usually come with a variety of drawbacks that range from slow conversion speed and bug-ridden software to compatibility and security issues.
The most important issue with using a free online converter is that it often comes at the expense of your personal information. There can be security risks associated with converting files through these websites, which could result in loss of data or worse—computer damage or information theft.
The second issue is speed. While it is convenient to convert files online, the free converters are usually super slow and laggy. This is a significant drawback for those who are in a rush and need their files converted quickly.
Finally, there is a compatibility issue with free online converters. This can be a major inconvenience if you find a converter you want to utilize only to realize it doesn't support the operating system you're using.
Tips for Finding a Secure JPEG File Converter Online
When looking for a safe file converter online, there are a few aspects you should consider.
You need to make sure that the converter allows you to convert your file to the desired format without any hiccups. If it works well, it's safe to say that the program is legitimate.
Other features to look out for include cloud-based storage, password protection, and compatibility with multiple platforms.
You should also make sure that the file converter you use is secure. After all, you don't want hackers to get their hands on your sensitive files. The best way to ensure security is to choose a converter that's widely used and trusted—by doing so, you're less likely to run into bugs or malware in the future. Safe file converters usually come with security features, like encryption and password protection, but it's good to be extra careful when looking for one.
DoNotPay Shows You How To Convert Numerous File Types Safely in Seconds!
Why should you waste precious time trying to figure out how to navigate confusing online instructions when you have a more convenient solution at your fingertips? DoNotPay is here to convert your documents to numerous file formats. The process is completely safe and streamlined to a tee as well! All it takes is subscribing to our app and completing our quick guide:
Open the File Converter product
Upload the document you want to convert
Choose the file format you want us to convert it to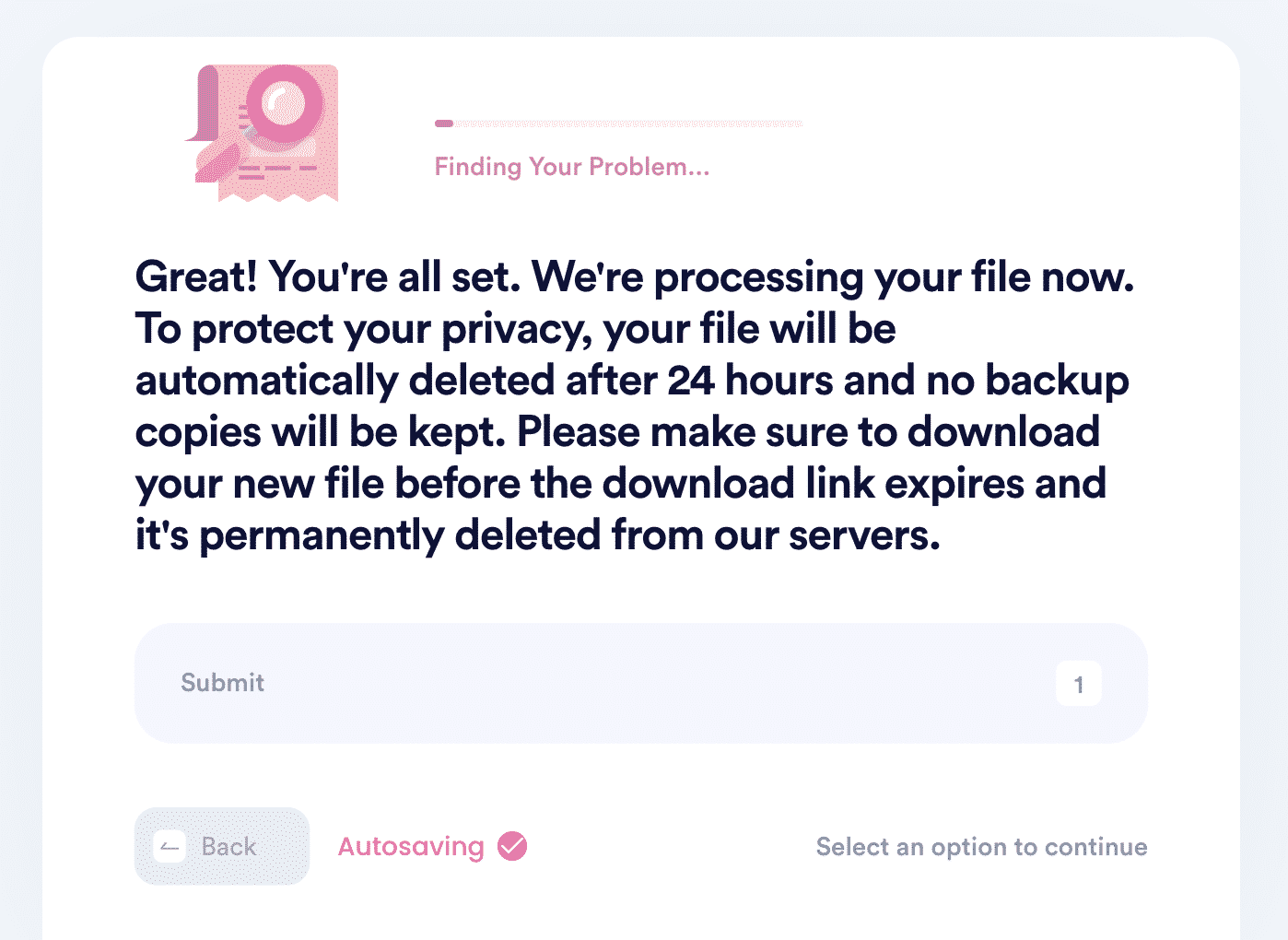 You're done! DoNotPay will convert your file in a few seconds, and you can visit the My Disputes page to download it easy-peasy!
What Other Files Can DoNotPay Convert?
There is no shortage of formats you can choose to convert your files to with our app! Consult the table below for the specifics:
Solve Many Annoying Issues Using Our App
Nobody likes dealing with bureaucracy. This is where our app comes in! We can help you complete the following tasks:
As soon as you sign up for DoNotPay, you will be able to handle all these chores and many more with ease.
What Else Can You Use DoNotPay For?
Aside from streamlining numerous tasks for you, our app can be of more assistance. You can rely on DoNotPay when you need to:
With our help, you can also connect with a loved one in jail, send online faxes, or create passport photos in the blink of an eye. Explore our learning center, and you'll see that there's not much DoNotPay can't do!