How to File a Lawsuit Against JP Morgan

JPMorgan Chase & Co. (JPMorgan) is a mortgage, investing, and credit card provider that serves millions of people around the United States. It is also a member of the "Big Four" banks of America, considered to be systemically important.
The bank is not far detached from controversy, often having to pay fines totaling over $1 billion US dollars to various organizations, including the US Government, for failure to comply, overcharging military personnel, and breaching "good faith" in lending money.
JPMorgan has been through its fair share of scandals, trials, and tribulations. In most cases, individuals who've experienced a loss at the hands of JPMorgan elect to file a claim through Small Claims Court. This is a special division of the judicial system that intends to help parties who do not have personal attorneys resolve disputes quickly, in a budget-friendly manner.
In all, confronting JPMorgan can seem intimidating, but understanding your legal rights and ability to exercise your voice is simple. With the help of , an easily accessible web-browser service and app, an automated lawsuit can be generated at your fingertips.
Why Do People Sue JPMorgan?
Below, find a list of the most common reasons why people have chosen to sue JPMorgan:
Racial Discrimination.

Many have accused JPMorgan of violating the Civil Rights Legislation, which prohibits discrimination based on race, gender, color, religion, sex, familial status, or national origin.

Parental Leave Disputes. Some individuals have accused JPMorgan of not providing adequate parental leave for expectant mothers and new fathers.
Cryptocurrency Overcharging. JP Morgan has been embroiled in a cryptocurrency overcharging scandal, charging premiums on cryptocurrency for maximum payoff.
Paycheck Protection Program Loan Processing. JPMorgan has been accused of not processing paycheck protection loans on a first-come-first-serve basis and giving preferential treatment to certain individuals.
Selling Customer Information. JPMorgan has been accused of selling and leaking customer information in a behind-the-scenes internal scam.
Overcharging on Insurance/Banking Plans. Overcharging for insurance plans or banking plans, specifically relating to the military and active duty officials.
What to Consider Before Suing JPMorgan?
If these three details apply to your case, you are likely going to be successful in filing your legal case before a small claims court.
Criterion
Details
Do You Have A Valid Legal Case?

Take a step back, reconsider the details of your case objectively. Establish a burden of proof — was a contract broken? Were you injured by this company? Did you lose money as a result of these injuries?

Can You Sue JPMorgan?

Establish pre-filing requirements — you will have to prepare hearings and depositions. Figure out the best method of alternative dispute resolution — is small claims the approach you want? Before suing, you can consider other options such as:

Negotiation

Mediation

Arbitration

Have You Sent An Informal Final Demand?

Send a letter with your contact information. State what has happened, the attempts you've made for restitution, and what you are willing to accept; should they not comply, state that you will file a lawsuit (in the letter).
How to Sue JPMorgan?
Follow these steps to file a lawsuit against JPMorgan:
File a Verified Complaint ––

File a document explaining your claim, cause of action, and purpose to JPMorgan.

File a Civil Summons –– You may need to complete a civil summons form, a document that can be found on many state courts' websites. The summons will need to be signed (issued) by a lawyer, court clerk, or judge.
Serve the Defendant –– Legally, you might be required to follow specific procedures. Typically, most individuals hire a neutral third party to serve the papers.
Appear in Court –– You must go to court appearances, keep track of the necessary paperwork required and steps that you need to take to help the case progress.
How to Sue JPMorgan With DoNotPay?
It is imperative to realize that filing a small claims lawsuit against one of the world's biggest banks can be suffocating. Let fight the legal battle for you! All you need to do is:
Go to

DoNotPay

on any web browser and select "Sue Now"

Quantify your damages in monetary terms

Select whether you'd like to receive a demand letter or court filing forms

Describe your reason for filing the lawsuit, and submit any evidence
That's all! DoNotPay will generate a demand letter or court filing forms for you and mail a copy of your demand letter to JPMorgan!
DoNotPay Is Your Personal Lawyer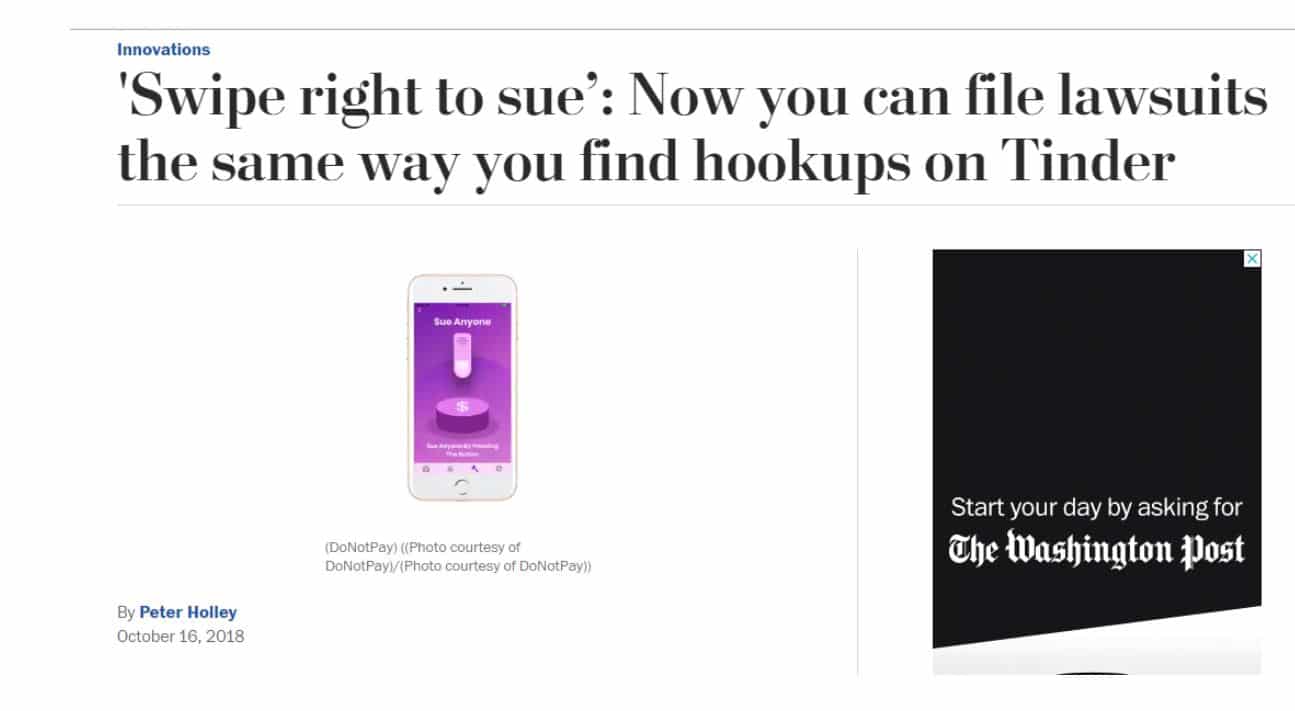 DoNotPay can help you request a refund, cancel a service, or book a DMV appointment. The robot lawyer can also help you sue anyone – from your nuisance neighbor to big corporations such as: