All You Need To Know About the Jordan Tourist Visa
Whether you want to explore Petra, one of the seven wonders of the modern world, or float on the surface of the Dead Sea, Jordan offers a variety of unique experiences to its visitors.
Still, to indulge in Jordanian culture, you will have to go through the tedious process of obtaining a tourist visa. This guide has all the info on how to prepare for your Jordan tourist visa application and speed up the application process with DoNotPay!
Do You Need a Tourist Visa To Enter Jordan?
Yes, Jordan requires U.S. citizens to have or apply for a tourist visa upon entry. The Jordanian embassy issues the following types of tourist visas for Jordan:
| Tourist Visa Duration | Number of Entries Permitted | Price |
| --- | --- | --- |
| One month | Single entry | 40 JOD (about 56 USD) |
| Five years | Multiple entries | 114 JOD (about 160 USD) |
| Three months | Dual entry | 60 JOD (about 85 USD) |
| 60 months | Multiple entries | 120 JOD (about 170 USD) |
Tourists can be eligible for a visa fee waiver if they:
Are in a group of five or more people who booked a tour with a Jordanian ground operator and are staying in the country for at least 48 hours
Buy a Jordan Pass
Future visitors should know that they cannot enter the country through King Hussein/Allenby Bridge without a pre-arranged visa. However, tourists traveling by plane can apply for their visas at the Queen Alia International Airport after landing.
Other than a valid visa, U.S. travel document holders also need a:
Pre-travel approval application (children under five don't need approval)
Negative PCR test done up to 72 hours before departure (subject to change)
Jordan Tourist Visa Application Process
Jordan tourist visa requirements state that you need to submit a:
Completed Visa Application form
Passport that is valid for at least six months after arriving in Jordan and with a blank page for the visa stamp
Recent photo—2 x 2 inches in size
In the United States, you can submit a Jordan tourist visa application:
By mail
Online
Applying for a Jordan Tourist Visa by Mail
To apply for a Jordan tourist visa by mail:
Prepare all the required application paperwork
Pack everything in a UPS or U.S. Postal Express envelope and include a self-addressed airbill
Send a money order to the Embassy of Jordan, including your:

Name
Address
Phone number

Send the envelope to the following address: Embassy of Jordan, Consular Affairs, Visa Department, 3504 International Drive NW, Washington D.C. 20008
You can send up to two passports/applications using one envelope. The Embassy of Jordan should process your request within five business days.
Applying for a Jordan Tourist Visa Online
To apply for a Jordan tourist visa online, create an account on the Hashemite Kingdom of Jordan Ministry of Interior E-Services Site and follow further instructions. The Jordan Ministry of Interior takes about two weeks to process e-Visa applications.
After receiving approval, you can obtain your visa stamp from the Embassy of Jordan by:
Providing your:

Visa approval and electronic application number
Travel document

Paying the required fee
The Embassy takes around five business days to issue your visa stamp.
What You Need To Know Before You Visit Jordan
Before you embark on your trip to Jordan, get to know the local etiquette:
Tourists are not allowed to take photos of government or military buildings
Jordanians are warm and affectionate people. Learn a few greetings and go for handshakes to avoid coming off as cold to locals
You should dress modestly but neatly and try to cover most of your skin
Consumption of alcohol is prohibited outside of permitted venues. Jordanians frown upon public intoxication, and you'll have to pay penalties
You should be as polite as possible, reject no opportunities to chat, and if you have to say no to an invitation, do it as softly and kindly as possible. Hospitality is the most praised trait among Jordanians
Use DoNotPay To Get Your Jordan Tourist Visa Faster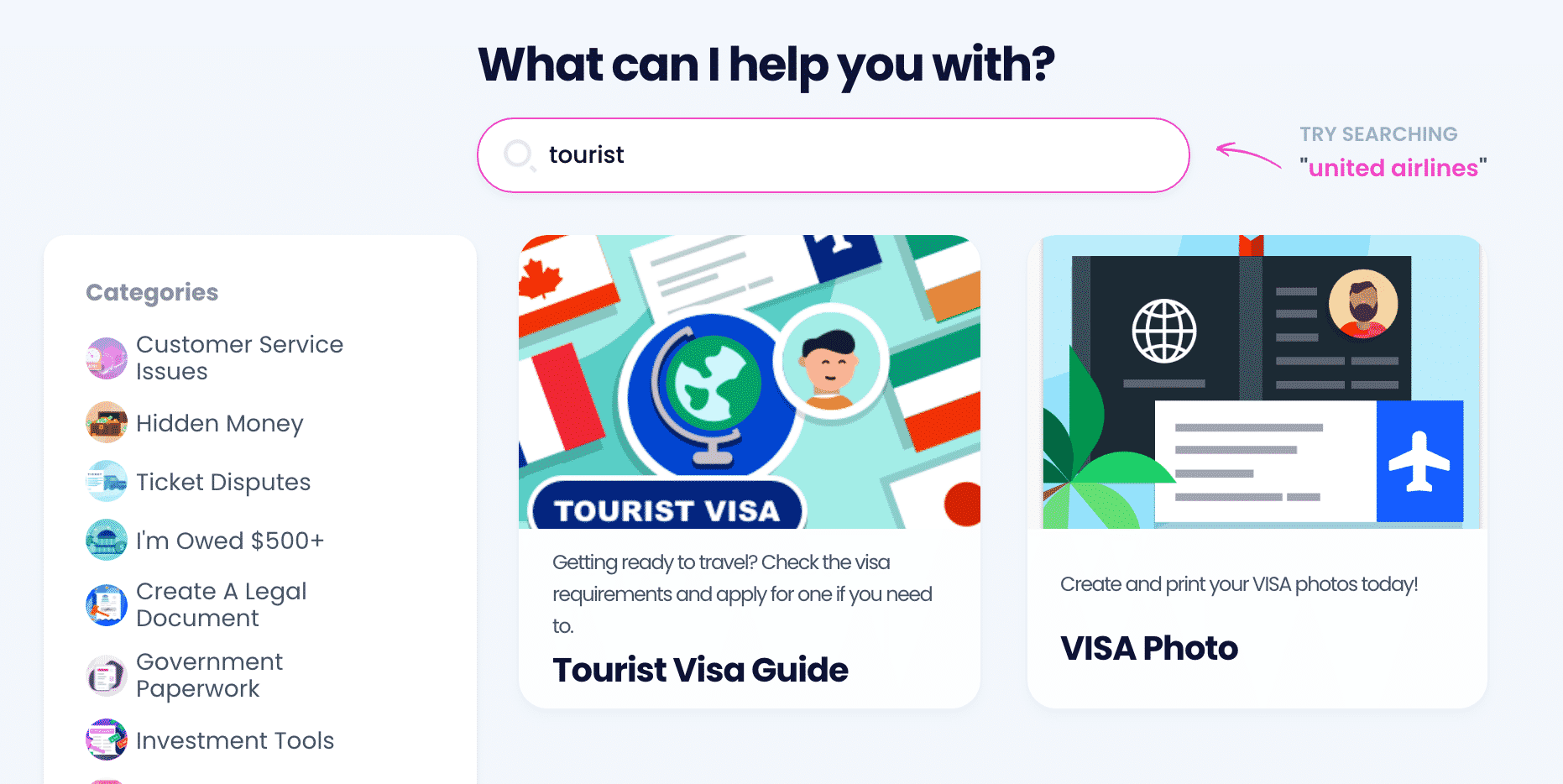 Instead of relying on likely outdated information online, let DoNotPay assist you in getting your Jordan tourist visa by:
Checking whether you have all of the required application documents
Providing a direct link to the online application portal
Contacting the embassy on your behalf to inquire about remote applications
Once you come back from Jordan, DoNotPay can help you plan your next trip by looking up whether your next destination requires a tourist visa and providing you with the necessary application information if it does.
Follow these steps to prepare for all of your future travels:
Type Tourist Visa Guide in the search bar
Tell us whether you have a U.S. passport and where you want to go

Explore the Middle East With DoNotPay
If you got a taste of Middle Eastern culture during your stay in Jordan and you want more, check out our guides on how to get a tourist visa if you're traveling to:
DoNotPay Goes the Extra Mile for You
We are dedicated to providing solutions to difficult and time-consuming tasks you may have on your to-do list. If you are struggling to reduce your monthly bills, contest parking tickets, or set DMV appointments, DoNotPay will help you do it in no time!
We have also created numerous easy-to-use features that can make the following procedures run smoothly:
Get Justice From Companies That Wronged You
Do you feel like you have been played by a company? Instead of wasting your time writing requests, demand a chargeback or refund or claim a warranty via DoNotPay! If the company doesn't seem too cooperative and keeps refusing to return your money, our app can assist you in suing it in small claims court.
To help you save some coins or regain what's yours, DoNotPay will also help you locate unclaimed funds, submit insurance claims, lower your property taxes, and cash out gift cards.