Create a Rock-Solid Joint Venture Agreement in a Snap

Writing and preparing legal documents can turn into a nightmare for people who don't know much about the law. Contracts are usually full of complicated terms, and those who have never made them before can easily miss crucial details while trying to write a contract from scratch.
To make an effective joint venture agreement, you must understand its purpose and what such a document needs to contain to be valid. 
If you want to learn more about it, our straightforward guide is the perfect source of information for you. Find out how to avoid pricey lawyer services and get the best templates for numerous contracts within minutes!
What Is a Joint Venture Agreement?
A joint venture agreement is a contract between two business entities planning to start a collaboration. The purpose of this document is to set out the terms and conditions proposed by both parties.
Reasons for signing such agreements may include:
Sharing and combining resources to achieve better results on the market

Joining forces when it comes to teams' skills and expertise 

Spending less money by making mutual marketing strategies 
People usually confuse joint venture agreements with partnership contracts, but there's a huge difference between these two documents. Besides being signed by two separate businesses, joint venture contracts are temporary, and they usually end once the predetermined goal is achieved. Partnership agreements are long-term contracts between two individuals who are starting a business together to make a mutual profit.
Are Joint Venture Agreements Legally Binding?
Like most other types of agreements, a joint venture contract becomes legally binding when both parties sign it. If either party violates the rules and conditions determined in the contract, the document can be used in court to protect the rights of the affected entity.
What Should Joint Venture Agreements Contain?
To make sure your joint venture contract contains all the relevant information, you can use this mini-list of the necessary details you need to include:
Number of parties

Names of the parties

Duration and structure of the joint venture

Operation field of the joint venture—science, engineering, etc.

Management structure members and their contributions

Ownership split—a percentage of ownership each party has

Profit method and cost division between the participating entities

Responsibilities of each party

Available resources

Dispute resolution details

Confidential information regulations

Termination terms and conditions

State law that will apply to the joint venture

Signatures of both parties
Why Are Joint Venture Contracts Necessary?
Like any other agreement, a joint venture contract is there to regulate the relationship between two entities. At times, creating a new project with another company, whose regulations can significantly differ from yours, can bring some dissent or misunderstandings. Joint venture contracts should solve all potential problems by:
Determining the rules

—If the established rules are straightforward, it's less likely that either party will violate them due to a misunderstanding

Helping you remember what your duties are

—The contract will always be at your disposal, and you can revise it anytime to ensure you are following all the rules

Letting you know what the duties of the other party are

—You will be able to check whether the other entity obeys the prescribed rules and react on time if they don't
Don't Waste Your Money on Lawyers—Choose DoNotPay
Bearing in mind the general complexity of legal documents, many people usually turn to lawyers when they need a contract. Sadly, legal services are not cheap. It may take hundreds of dollars to get a professionally drafted document.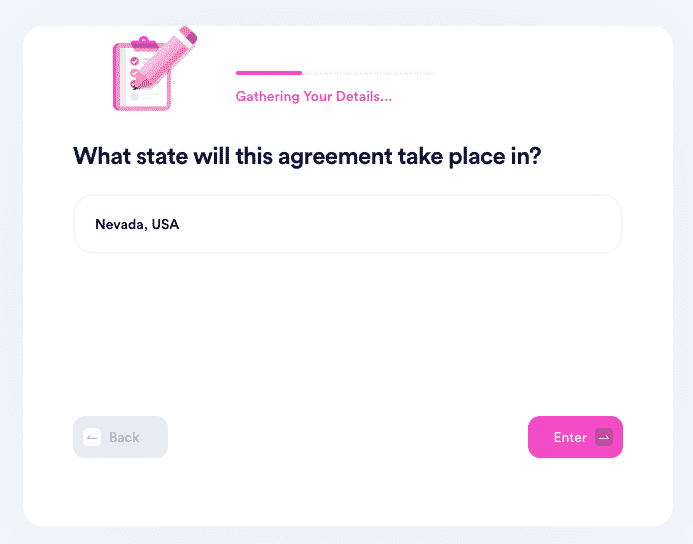 Why not turn to our robot lawyer and make your legal document by yourself in a snap? DoNotPay provides a convenient and affordable solution! We have a large collection of various legal documents you can personalize and adapt to your needs. 
Here's how you can use our service:
Log in to DoNotPay using your preferred

web browser

Find the document you need by entering keywords, such as

NDA, prenuptial agreement,

etc. in the search box

Answer a short questionnaire, including the state, start and end date, and other relevant background info
Once you submit your answers, we will create a customized document that will match your needs perfectly! It becomes official once you and the other party sign it or have it notarized. 
The best part about our service is that you can repeat the procedure for as many documents as you need—we don't set limits.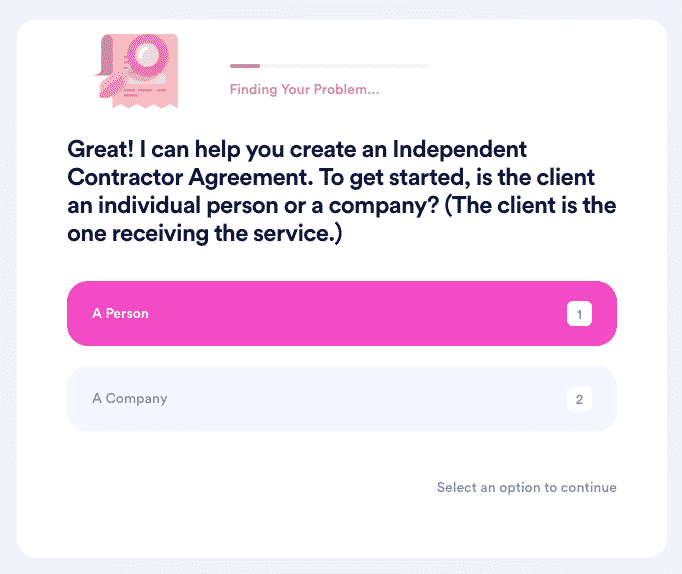 What Legal Documents Can I Create With DoNotPay?
DoNotPay can help you compose various contracts. You can go through a full list in the table below:
Business Contracts
Real Estate Contracts
Other

General Business Contract

Quitclaim Deed

Estoppel Certificate

Intent to Purchase Real Estate

Promissory Note

General Affidavit
Our extensive knowledge base also contains guides for sublease, employment, settlement, subcontractor, and confidentiality agreements.
Our Robot Lawyer Gets Rid of All Admin Tasks
What makes DoNotPay so unique is that it helps you get back what is rightfully yours in many different ways. You can appeal parking tickets, find unclaimed money, demand a refund for canceled or delayed flights, get help with bills you cannot pay, or get your college application fees waived with the help of our platform.
If you're sick and tired of annoying robocalls, spam emails, copyright violations, text message spam, or stalkers and harassers, DoNotPay can assist you in getting rid of them once and for all.
DoNotPay Can Help You Save Money
Have you ever subscribed to a service's free trial you forgot about after a few days? Many Americans have, which is why DoNotPay has a free trial feature that will help you avoid getting charged once the trial is over.
If you want us to scan all your active memberships and help you not pay for the ones you don't use, connect your email address or credit card to DoNotPay. Our cancel feature will ensure that you don't waste your money on subscriptions you don't even remember exist.
If a merchant charges you once the free trial is over, though, you can use our robot lawyer to request a refund and skip the phone queue when doing so.
In case a company refuses to grant you a refund, you can also use our app to sue them in small claims court.