Do You Need A Joint Revocable Trust?
This article will go over the definition of a joint revocable trust, what makes it special, and how you can create one.
Read the rest of the article to see a fast and easy way to secure your future using DoNotPay, and of course, get some advice on getting a joint revocable trust. 
Joint revocable trust
A joint revocable trust — also known as joint revocable living trust, joint living trust, couple living trust or just joint trust — is a type of living trust entered into by two legally married people, for the purpose of entrusting all wealth and estates which they own together as couples.
It is simply a couple coming together to put their assets in a trust and specify who gets what, when they are no more. However, this type of agreement can be altered or rescinded at any time when both parties agree to do so. That's why it is called revocable. (See the difference between a revocable trust and an irrevocable trust below.)
Joint trusts, unlike a will, are private and tend to strengthen commitment in most relationships and can be a factor for couples to remain together and not divorce. With joint trusts, you get the benefit of avoiding probate processes and the need for asset transfer in the event of the death of a partner.
Revocable Trusts vs. Irrevocable trusts
Here are the basic differences between a revocable trust and an irrevocable trust:
| | |
| --- | --- |
| Revocable living trusts  | Irrevocable living trusts |
| Once set up, you can still make changes to assets added or outright nullify the trust. | Once set up, you can no longer make changes to assets added. |
| You reserve the right to modify your trustee or beneficiaries. | Your trustees and beneficiaries stay permanent. |
| | Becomes irrevocable in an instant. |
| | You no longer bear the burden of taxes. |
| Saves your beneficiary the stress of probate. | Also saves your beneficiary the stress of probate. |
| Cannot be used to avert third party credit claims like nursing homes, penalties from civil lawsuits and creditors. | Is a smart way to avert third party credit claims from nursing homes, fines from civil lawsuits or creditors.  |
Do You Need a Joint Revocable Trust?
Yes, you do. But only when:
There is a close-to-unbreakable agreement especially when it comes to a beneficiary and disbursement.

There are no extra-marital children who can cause contention.

None of the couples have existing debt or credit issues that tends to let the other partner become co-liable.

They qualify for tax exemptions as their joint assets do not exceed the $23.4 million tax mark. 
The only hindrance to most trust agreements is agreement or lack of it among partners. That's being said, it is a great way to plan for the future and provide for beneficiaries without stress. 
Setting Up a Joint Revocable Trust
You can get a generic template online, choose to consult a lawyer, or use DoNotPay. DoNotPay gets you a custom revocable trust ready in a few minutes. Before choosing which option to use, here are other things you must do by yourself:
Look up state regulations
You need to check your state codes to know the laws regarding assets ownership, transfer of possession, and other property regulations that may affect certain assets in your trust. Also some States have specific values for which your estates become taxable, so make sure you research beforehand.
In the case of a joint trust, both parties will have to agree upon their beneficiaries.
Either party can be the first trustee if the other becomes deceased, but you also need to choose a 2nd or even 3rd trustee, just in case.
As explained earlier, DoNotPay offers a more unique advantage over generic online templates in preparing your draft. Also, you'd find DoNotPay a cheaper, faster, and more accurate option than most lawyers to prepare a draft.
To give your document a legal backing and officially approve your trustee, you have to choose which court to notarize them in. This is usually the court in the state where a significant number of your properties is located.
Transfer all jointly-selected assets into the trust
The final and most important process is the transfer of all assets. This usually requires processes like re-registration of some assets and change of certificate of ownership. 
Create a Joint Revocable Trust with DoNotPay
With DoNotPay, you can set up a joint revocable trust from your mobile phone. The steps are simple and you are only required to:
Log-in to

DoNotPay

and create an account

Go to the Revocable Living Trust product
Choose your beneficiaries and your trustees

Allocate your assets to each beneficiary
All done! Your revocable living trust will be automatically created! Take it to a notary and get it notarized!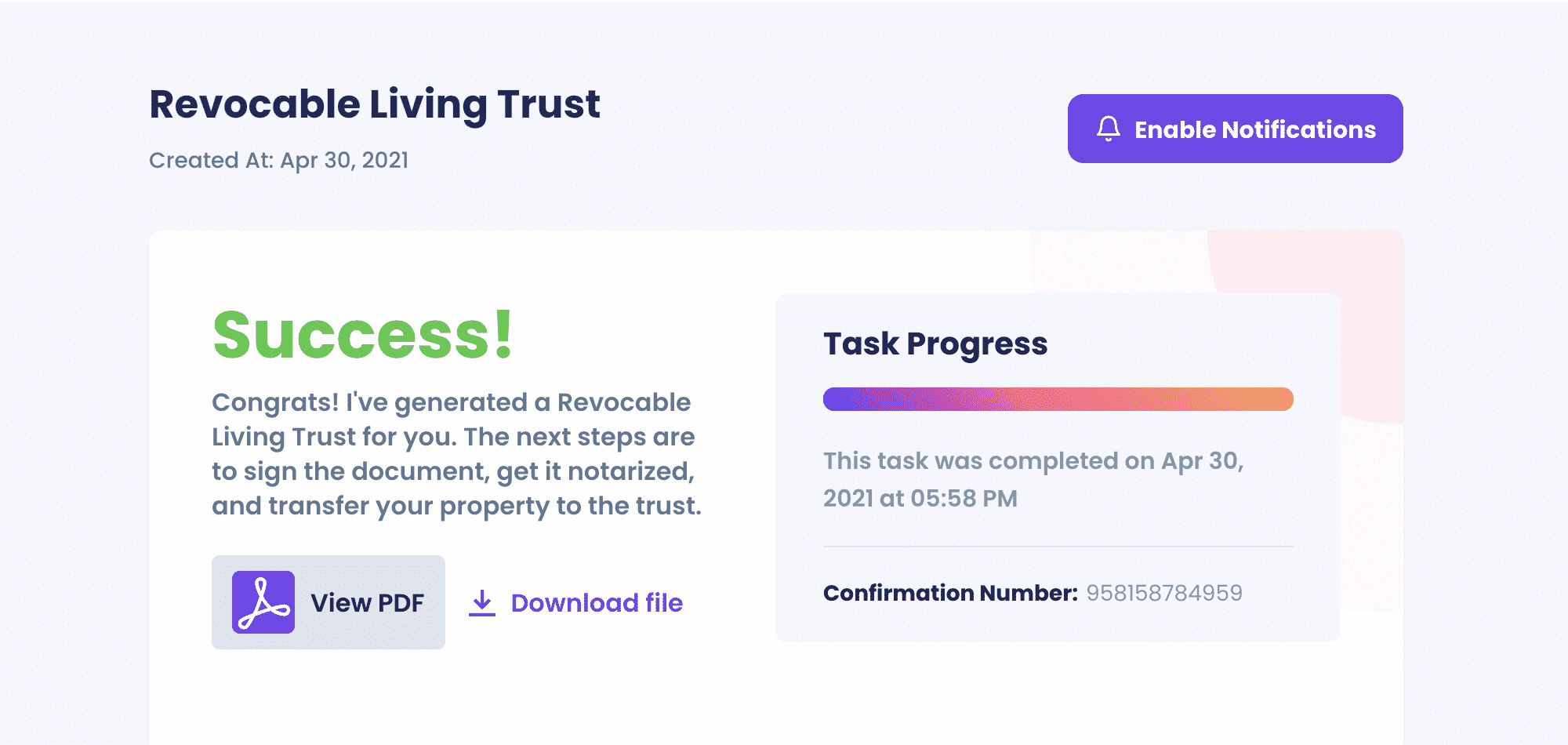 DoNotPay Can Do More!