A Problem Shared—DoNotPay's Guide to a Joint Power of Attorney
If you are at the point where you need to grant power of attorney, the most difficult question to answer is—who should be your agent?
In some circumstances, a sole agent isn't enough to give you the peace of mind that your affairs are being looked after as you wish.
In the case of a financial power of attorney, giving control of your affairs to more than one agent can be prudent, but it can also be fraught with danger.
DoNotPay can guide you on the pros and cons of a joint power of attorney—get the facts and make a sensible choice!
What Is a Joint Power of Attorney?
A power of attorney (POA) is a legal document that hands control of your affairs to a designated agent due to your incapacity or impending inability to run them yourself.
A joint power of attorney gives control of aspects of your life to more than one designated agent.
Financial powers of attorney—regardless of the number of agents—deal with your monetary affairs and come in four main variants:
Limited POA
A limited POA is valid for a fixed time or for specific activities, such as signing contracts or paying bills while you are away for an extended period. It terminates as soon as the time elapses or the task is completed.
General POA
This covers all aspects of your financial affairs but terminates when you become unable to make your own decisions. It is often replaced by a court-ordered conservatorship or guardianship.
Springing POA
A springing POA comes into force as soon as you are declared incapacitated. It defines the point at which you should be considered unable to run your affairs and hands full control of your finances to your agent.
Durable POA
This form of POA is comprehensive in scope and is in force from the moment of signing until:
You pass away
You revoke it
Your agent is unable or unwilling to act on your behalf
How Does a Joint Power of Attorney Work?
Once you have decided that a joint POA is the correct option for your situation, you should choose how the agents should be allowed to handle your affairs. Consult the table to see what your options are:
| | |
| --- | --- |
| Types of Joint POA Agency | Explanation |
| Joint | Your agents both need to agree and sign off on any transaction on your behalf. They cannot act independently of one another and must co-sign everything |
| Joint and several | You have multiple agents, and each is allowed to transact on your behalf independently of the others |
Advantages and Disadvantages of Each Model
The advantages and disadvantages of each model are as follows:
| | | |
| --- | --- | --- |
| Type of Agency | Advantages | Disadvantages |
| Joint | All your agents need to agree on actions, meaning that they will exercise stricter control over your financial affairs and minimize risk. This is a useful safety net to guarantee that your affairs are in safe hands | The day-to-day running of your financial affairs can become slow and inefficient as everything needs to be co-signed. You may also find that important decisions face delays because your agents cannot agree on the correct course of action |
| Joint and Several | Your agents can act independently of each other so you can avoid delays in processing transactions. You may also be able to take advantage of each agent's skills—if one is involved in your business and another is a financial advisor, you can designate relevant areas of responsibility to each according to their specialization | The power to act independently can lead to chaos unless strict monitoring and reporting structures are in place. There is also a risk that one agent may be able to sign off on transactions that are not in your best interests |
When Should You Choose a Joint Power of Attorney?
Opting for a joint POA is a personal choice but could be sensible if you:
Are unsure of the trustworthiness of one agent
Have two potential agents and want them both to be included in running your affairs
Want to minimize risk with your long-term assets
Would like all your family to share responsibility for handling your finances after you are incapacitated
There are risks to appointing co-agents for a durable power of attorney, so you should make sure all of them are comfortable with what you propose.
How To Set Up Your Joint Power of Attorney
You can set up a joint POA document by yourself, and some states even provide a template for you to use to ensure you comply with state legislation.
Another solution is to hire a lawyer to prepare a power of attorney letter, but doing this can quickly become expensive.
A better option is to let DoNotPay do the work for you—we can help you !
How Can You Get a Joint Power of Attorney Document From DoNotPay?

Preparing your joint POA with DoNotPay can be done in a few minutes—here's what you need to do:
in your web browser
Go to our Power of Attorney product
Follow the on-screen prompts and mention the details you want included in your POA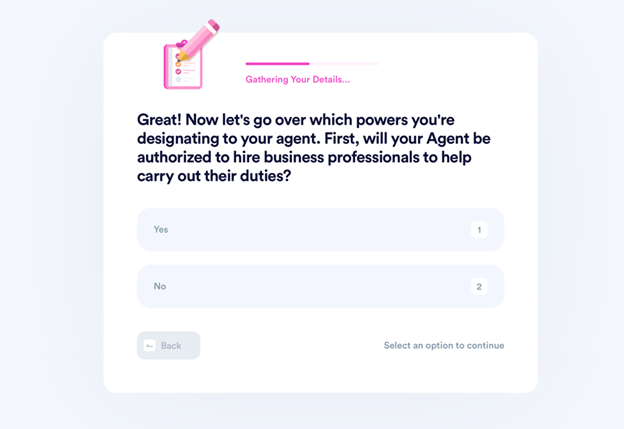 In a few moments, you will receive your customized POA—DoNotPay will handle the rest.
Your final step is to sign the document in the presence of a notary. Most states require a power of attorney to be notarized, but the smart way to do it is to stay with DoNotPay and use our online notarization feature.
Are There Any State-Specific Laws You Should Know About?
Many states have specific legislation on powers of attorney—check them out:
You Can Count on DoNotPay To Resolve Any Issue
Are you stuck in the never-ending subscription cancellation procedures? Do you want to demand a refund once you finally reach a customer support rep? Is the company refusing to cooperate? No need for stress—your personal assistant can lend a helping hand.
Is there anything else we can help you with? You bet! Once you sign up, we can resolve a number of issues in your stead. Count on our app if you're struggling with:
You Don't Have To Suffer in Silence
Have you been experiencing workplace discrimination lately? Do you have a real-life stalker or harasser that you're too scared to confront? Do you want to get rid of robocalls and text and email spammers once and for all? You're not alone—DoNotPay is by your side and will help you deal with all of these issues.
As soon as you subscribe to our app, you'll be able to use our products to your advantage and fight for your right worry-free!