Create a Killer Joint Custody Agreement With the Help of DoNotPay
After divorce or separation, making a decision about child custody can be both an emotional and legal burden. You want to protect your child but also safeguard your legal rights and obligations. The best way to legalize the shared parenting arrangement is by creating a child custody agreement.
It doesn't matter if you don't know how legal documents work. has got you covered! We are here to help you learn everything about how a joint custody agreement works, how to write a valid contract, and how to ensure the best for you and your children.
What Is a Joint Custody Agreement?
A joint custody agreement revolves around how shared parenting works after a couple has divorced or separated. In this custody type, both parents have equal duties and responsibilities to their children. No parent can make an important decision without the consent of the other.
It's fundamental to draft a contract, especially where shared parenting is concerned. Composing these agreements can be tricky if your partner is not interested in cooperating. In such cases, the only solution is to take the matter to court.
Is Joint Custody the Only Child Custody Option?
Joint custody is not the only child custody arrangement. One option is to opt for a sole custody arrangement, where one parent has complete physical and legal custody of the children. It is crucial for both partners to agree before opting for this custody arrangement.
Another alternative is a temporary custody agreement. It is a contract defining parenting duties and responsibilities until the court rules on a permanent decision.
Why Is It Important To Create a Joint Custody Agreement?
Although it might seem complicated, composing a joint custody agreement is going to make your life easier because it:
Curbs potential disputes about parenting duties and responsibilities

Contains a set of rules and regulations to be followed

Prevents complicated and frustrating court proceedings

Protects the children from traumatic situations
How Can You Draft a Joint Custody Agreement Yourself?
When creating a legal document, hiring a lawyer is a safe bet to ensure that you don't leave out any crucial provisions.
Another option is to search for free contract templates online to get an idea of how to structure your document. Try not to copy-paste because most free custody agreement templates are outdated and can even be grammatically incorrect.
While drafting a custody contract, you need to consider all potential situations to avoid any misinterpretations. Here are a few essential clauses that your contract should cover:
Clause

Brief Explanation

Information on the partners and their children

Names, contact information, dates of birth of both partners and the children

Custody details

Address where the children will live

Schedule for visitation

Visitation rights

Holidays, vacations, and special occasions

Extracurricular activities

Parenting provisions

Decisions on the following:

Education and schooling

Medical and healthcare

Religious involvement

Dispute resolution

Modifications to the agreement

Child support information

Amount to pay for child support. Every state has a different requirement for this clause. You should check your state's child support laws when adding this clause to the agreement

Signature

Signatures of both parties
Once both parties have signed the contract, you should consider getting the custody agreement notarized to confirm that you and your partner have willingly signed it.
Is a Joint Custody Agreement Legally Binding?
Like all other court-approved documents, joint custody agreements are legally enforceable. Both partners need to comply with the prescribed terms and conditions or risk facing legal consequences.
DoNotPay Can Generate a Joint Custody Agreement in the Blink of an Eye!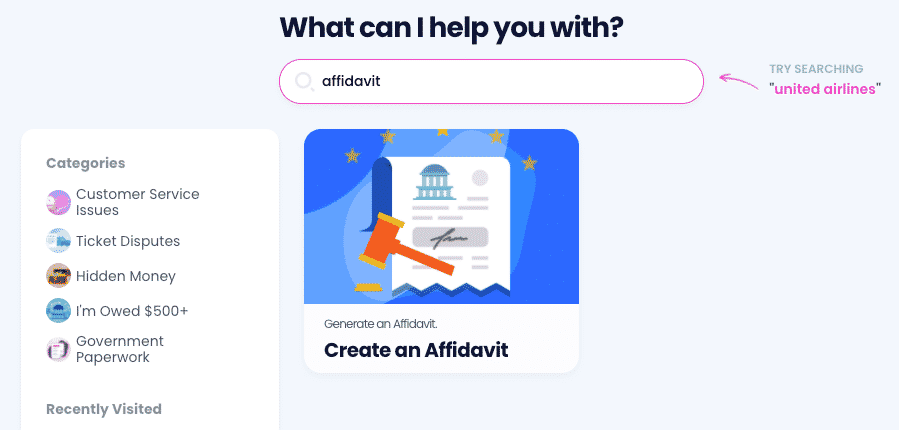 Creating legal documents can be quite a hassle, especially if you don't know much about how the law works. A single mistake can land you in court, facing legal consequences. Even though lawyers are of great help, hiring one can be expensive.
If you need advice and an amazing contract generator, DoNotPay can be your hero! For a small monthly fee, we can generate contracts within minutes!
Here's what you need to do:
Type

Child Custody Agreement

in the search box

Provide details in answer to our chatbot's questions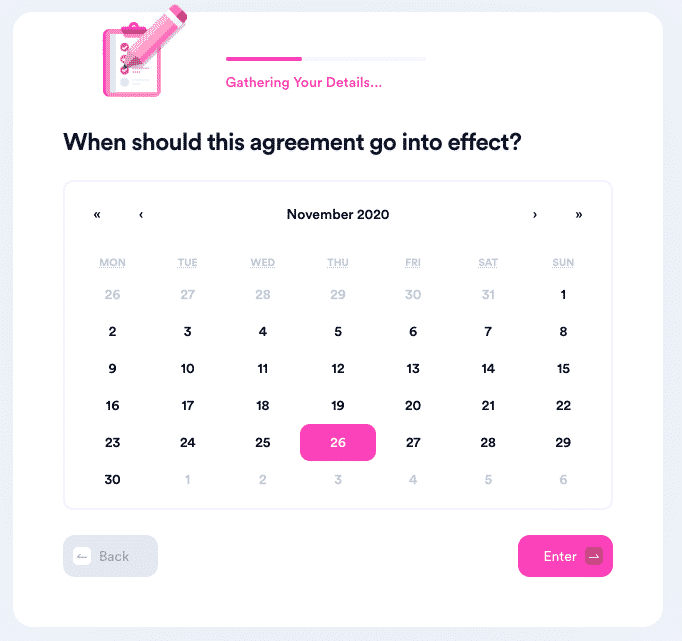 We will customize the document and generate a watertight contract, ready for you to sign!
If you want to get the agreement notarized, we can help you find a notary! Our Notarize Any Document tool is integrated with the Standardized Legal Document feature, so you can do both in the same app!
What Other Documents Can DoNotPay Generate?
Want to see our list of legal documents? Here's a list of some we can make:
Property documents

Quitclaim deed

Intent to purchase real estate

Business documents

General business contract

Personal documents

General affidavit

Promissory note
Is your document not on this list? We're working round the clock to add more offers, so stay tuned to find out more!
What Else Can DoNotPay Do?
If you want to find out more about other agreements, DoNotPay's learning center can provide learning material about:
Easy-Breezy Ways To Deal With Not So Breezy Issues
Administrative and similar tasks don't have to be as complicated as we've known them to be. With DoNotPay, dealing with paperwork and companies is done in a few clicks. Let the world's first robot lawyer help you:
Money Troubles? I Don't Know Her!
As our app's name says, DoNotPay's mission is to put a stop to losing money and overpaying. We will help you get your hands on free trials and snatch free raffle tickets. DoNotPay can also provide solutions for you to get help covering bills and reduce your property taxes.
If you want to get some additional funds, use our app to sign up for clinical trials. You may also take our practice tests to ace a government test and land a better-paying job.
It doesn't hurt to check whether you are owed some unclaimed money, and we can help you with the application.