Joint Check Agreement Form—Do You Need It?
If you don't have vast experience with writing legal documents, you may be confused as to what a joint check agreement is and how to use it.
A joint check agreement is mainly used in the construction business and when dealing with construction contracts. While using a joint check agreement has numerous benefits, it also comes with some risks you need to watch out for.
This article will help you understand what joint check deals mean and whether you need a joint check agreement form.
What Is a Joint Check Agreement?
A joint check agreement is a contract between three or more parties that either allows or obligates one party to issue payments to the other parties in the form of joint checks.
For example, if two parties need to fulfill specific requirements to satisfy a primary contractor, the primary contractor may pay:
The parties separately

The subcontractor, after which the subcontractor is expected to pay the lowest tier party

Both parties in one go by issuing joint checks
The use of joint check agreements minimizes the risk of the supplier being tricked by the construction company and not getting paid for the materials they provided.
More Useful Info About Joint Check Agreements
The parties that agree on the terms and conditions of a joint check agreement are the:
General contractor

as the party that makes initial payments. This is usually a developer or a property owner

Subcontractor

that provides services to the general contractor, i.e., a building construction company

Lowest tiered party

, which is usually the building supplier
Keep in mind that there are two types of joint check agreements:
Obligatory

—by which the general contractor must issue joint checks to the subcontractor and the supplier

Permissive

—that only permits the general contractor to pay the parties through joint checks
Advantages and Disadvantages of Joint Check Agreements
As is the case with plenty of agreements, a joint check agreement has benefits and downsides. Check out the table below to see what's great about using a joint check agreement and what you need to watch out for:
Joint Check Agreements
Benefits
Disadvantages 

A guarantee for the supplier that they are going to be compensated for the material they provided

A smooth payment system

Freedom for the general contractor to control the payment flow in case of the permissive terms in the agreement

Additional paperwork for the general contractor if they are working with more than one lower-tiered party

Difficulty convincing the general contractor to agree to the obligatory joint check system

Risk of subcontractors forging the suppliers' signatures on the joint checks
What Is a Joint Check Agreement Rule Suppliers Need To Know About?
If you are a supplier, you need to watch out for one major rule regarding joint check agreements.
When you sign and deposit a check you get, you certify that you have been paid all the amount due at the time the check was issued. 
In the case of a general contractor putting the wrong amount on the check, you waive your right to get your actual pay if you deposit the check. 
Joint Check Agreement Form—How To Write Your Joint Check Agreement
Since there isn't a statute that defines what a joint check agreement must look like, there isn't a standard joint check agreement form you have to use.
This is good news since it allows you to write your own joint check agreement and include the terms and conditions you are comfortable with.
Here's the information you should include in your joint check agreement form:
Parties

—full legal names of all the parties involved in the agreement 

Project

—name of the project and the address of the construction site

Joint checks statement

—a statement that stipulates whether the general contractor is obliged or only permitted to issue joint checks to the parties

Payment

—the date when the payments are made and the maximum payment amount

Date

—the time and date when the agreement will go into effect

Signatures

—signatures of all three parties at the end of the agreement
You Can Create Customized Contracts With DoNotPay in a Jiffy!
If you've ever wondered how to write contracts without the help of a pricey lawyer, DoNotPay is here to show you!
When you , you can generate all kinds of contracts in no more than a few clicks.
You no longer need to resort to hiring over-expensive lawyers when you need a legal document, and you can also quit downloading incomplete and generic contract templates from the internet.
How To Get a Personalized Document From DoNotPay
Generating legal documents with the help of our AI-powered app could not be easier. Here's how to do it:
Enter the name of the contract you need

Answer a few of our chatbot's questions about your contract

Download the contract once it's ready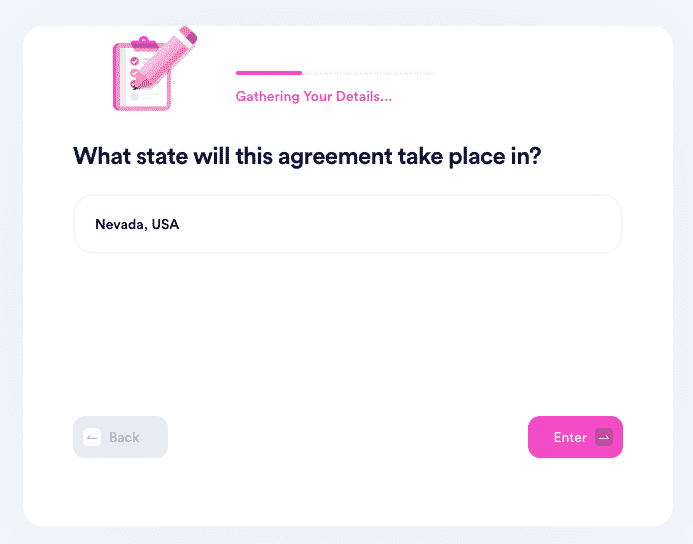 DoNotPay creates numerous legal documents for you, and more are still being added to the list! Check out some of the most popular contracts in our database:
Quitclaim deed

Promissory note

Child care authorization form

General business contract

Intent to purchase real estate

General affidavit
When you get DoNotPay to create a legal document for you, you can use our services further to e-sign your contract and get it notarized online!
DoNotPay—A Pocket-Sized Assistant
If you need protection from stalkers and harassers, we know what to do. Whether you want to deal with a rude or noisy neighbor or fight workplace discrimination, DoNotPay has got your back. Even spammers don't stand a chance against our AI-powered app—both the texters and the robocallers.
If your situation takes a turn for the worse, you may need to take the issue to court. In this case, the world's first robot lawyer swoops in to help! You can count on DoNotPay to assist you every step of the way, regardless of whether you need to take a person or a company to small claims court.
Our App Helps You Through Numerous Red-Tape Issues
Dealing with paperwork doesn't have to be tedious. With DoNotPay's help, cutting through red tape is fast and easy. With a few clicks in our app, you'll be able to: