A Rundown on the Joinder Agreement
When you decide to welcome a new member to your LLC or any other organization, you must update your primary contract and include the new person in it. The best way to do it is to draft a joinder agreement. The problem is that most people don't know much about the law, which makes writing a proper contract difficult and tiresome.
If you are facing such a challenge, get some help from our guide! We will help you understand the purpose of joinder agreements and provide some assistance in creating one. Read our tips and learn how to avoid complicated contract-drafting procedures with DoNotPay!
Joinder Agreements in a Nutshell
A joinder agreement is a legal document that allows a new party to join the existing contract. It is crucial to make a difference between this agreement and an amendment. Companies and other entities use amendments to introduce significant changes to their contracts and avoid rewriting them. Joinder agreements don't modify already established terms and conditions. They are short and simple attachments to the original document stating that a new signer was added to the contract.
Joinder agreements are common in the following contracts:
To become effective, this agreement must meet a few criteria:
Your primary contract must have a disclosure approving the addition of new parties

—Without this clause, other entities can't join the agreement

The new party is the only individual signing this contract

—The rest of the signatures must be on the primary agreement
What Are the Benefits of a Joinder Agreement?
With joinder agreements, you don't need to prepare a new contract once a new signer enters the scene. It means you won't spend time and money on the contract restatement. You also don't need to obtain the signatures from other parties again, as the ones on the primary contract remain valid.
A joinder agreement ensures the new party will always be aware of their duties and responsibilities. It makes the agreed rules more understandable to them and helps them align with the established regulations.
How To Compose a Joinder Agreement
The following table shows a few available methods to create a joinder agreement:
Method

Explanation

Using professional assistance

Lawyers can draw up a perfect agreement, but they may charge you hundreds or even thousands of dollars per document

Using online contract templates

Many platforms offer loads of fill-out legal documents to edit. While this is a quick and affordable solution, online templates may not be applicable or adequate in all situations. You can't always modify them according to your needs, and when the laws change, they can become invalid

Drawing up a contract yourself

To write a proper joinder agreement, you must be familiar with all mandatory clauses. These include the:

Date of signature

Name and title of the new party

Agreement type

Section that confirms the new person or member is a new signer of the deal

New member's signature

Even though you can do this for free, it is almost impossible to draft an agreement without specific legal knowledge. You must also be aware of the applicable laws in the state and align each provision with them
Make Your Contract Draft a No-Brainer With DoNotPay
If you don't want to spend your hard-earned money on overpriced professional services, DoNotPay has the right deal for you. Our customizable contract templates allow you to create a personalized document hassle-free from your phone or laptop! It's the quickest and most affordable option since we need less than five minutes to draw up your document!
Here's our simple, three-step procedure:
and log in

Search for a suitable document by inputting its name in the search box

Answer a few of our chatbot's questions to help us draft your agreement
When you download the contract, you can have it notarized with our Notarize Any Document service.
Our Online Fax service will let you fax your notarized document in the same app!
We also help you get informed about other popular legal documents, such as the: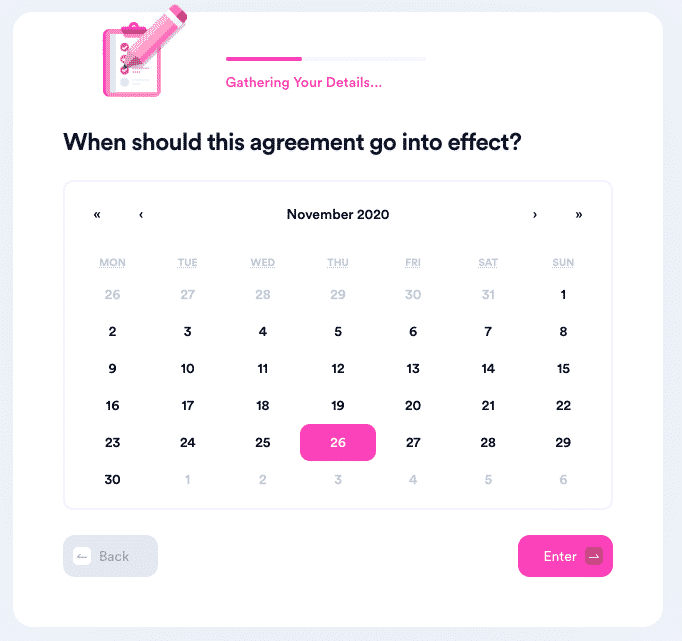 What Legal Templates Does DoNotPay Offer?
Our template collection currently features 15 legal documents. and discover how to create a(n):
Discovering DoNotPay Will Make Your Day
If you feel overwhelmed by tons of paperwork flooding every area of your life, you can finally breathe out and let go of that stress. DoNotPay is the world's first robot lawyer that handles your bureaucratic chores for you.
Some of the benefits that come with our service include:
Why Get a Lawyer When You Have DoNotPay?
Our agenda has one major goal—provide easy legal access to anyone who needs it. Every new feature we come up with relies on AI technology that simplifies bureaucratic procedures and saves you time and money.
If you're wondering how to navigate tasks like contacting imprisoned friends and family members or reducing your property taxes, DoNotPay has the answers. Our service cuts through the red tape even if you need to deal with stalking and harassment, claim forgotten assets the proper way, or secure compensation for crime victims.