What are the Best Jobs on the Side to Make Money
Do you look at your monthly paycheck and just slam your head on the table, wondering how you'll make it through the next month? Are you looking to save up for specific goals? Or are you simply looking for jobs to earn some extra cash in your spare time? So many people today do jobs on the side to make money. According to the United States Census Bureau, about 13 million workers took more than one job, either to earn extra income or to explore other interests. Another recent study by Zapier has shown that 1 in every 3 Americans works a side job with the hope of getting an extra passive income.
If you are convinced that getting a job on the side will give you the financial boost you need but don't know where to start, try DoNotPay. We help you vet different job platforms so you don't get scammed.
Side Jobs Categories
Side jobs, also known as side hustles, come in different forms, including:
Online jobs (gig economy)
Physical jobs like pet sitting
Social media jobs
These jobs on the side offer time and pay flexibility, as well as room for personal growth, unlike the rigid 9-5 jobs. You can take up a part-time job and complete it at the comfort of your home, work on the weekends, or operate it on your phone during your breaks at work!
How to Make Money Through Online Side Jobs
There are endless opportunities online to make that extra buck. Pew Research has shown that 16% of Americans have gained meaningful income online from different gig platforms. It's not uncommon that most people choose an extra job in the field they are already familiar with. For instance, you can earn money by working as an accountant in your day job and as a freelance accountant online.
Here some online jobs you can choose from:
| | |
| --- | --- |
| Freelance Gigs | Freelancing or the "gig economy" provides some of the best jobs to make money on the side, with a majority earning about $30 and above per hour. These may include writing, statistical analysis, and graphic design. Various sites offer short-term or contractual work, including Upwork, Fiverr, FlexJobs, and more. |
| Online Surveys | Online surveys are a dime a dozen, but there are reputable ones that you can choose from, including Swagbucks, InboxDollars.com, and Harris Poll Online. Keep in mind that surveys can be quite a drag, especially if you are looking to make meaningful money on the side. However, the gift cards and cash-outs can prove helpful if you have the patience to turn cents into dollars. |
| Cash-Making Apps Like Poshmark and Swagbucks | Money-making apps such as Poshmark and Swagbucks can either help you to sell used items, get cashback on normal purchases, or make money for completing odd jobs. |
| Resale Websites | An excellent example is Mercari or eBay, where you can sell used items, including your house clutter, for a good profit. With consistent effort, this side job might be just what you need for a financial breakthrough. |
Earn Money With Flexible Physical Jobs
While a majority of these jobs can originate online, they do require you to complete them physically to earn money. You can easily pick one during the weekends and make money on the side.
They include:
Pet and house sitting: This doesn't require much time and can give you between $10-11 per hour.
Parking attendant: With a valid driver's license, you can earn $10 an hour.
Rideshare driving and making deliveries: This requires a driver's license and insurance with a quick pay of between $5-25 per hour, depending on your location.
Tutoring: You can tutor people online or in physical locations for up to $17 per hour.
Customer-service attendant: This is a great way to help people sort out specific problems for $15 per hour on the side.
Make Money on Social Media
Are you active on any social media platforms? Do you have a significant number of followers? Why not make the most of your social media and cash in on it. Social media is minting it for many in this day and age, from high-profile influencers on Instagram to the owners of the typical cat and inspirational videos on YouTube. While this side job may require investment in terms of time and creating captivating content in the initial stages, it can become one of the best jobs to make extra money on the side.
You can explore other opportunities to earn good money, such as:
Affiliate Programs
Sharing referral links on your social media content to high-profile pages like Amazon and TikTok as an affiliate can help you make good passive income through commissions on sales or new leads. Always make sure to read a company's terms for their affiliate program before signing up to make sure your rights are protected.
Embrace Brand Partnerships
Approaching a brand you like is not hard these days and they will most likely be delighted to work with you if you have a clear vision and a good number of followers. Creating honest reviews and blog posts about their products will provide you with a long-term channel to make money from brands you already love.
Make Money With the Help of DoNotPay
For other helpful alternatives to make consistent income online, try DoNotPay's product to test out these options:
Here's how to get started:
1. Log-in to DoNotPay and head over to the Make Money Online product.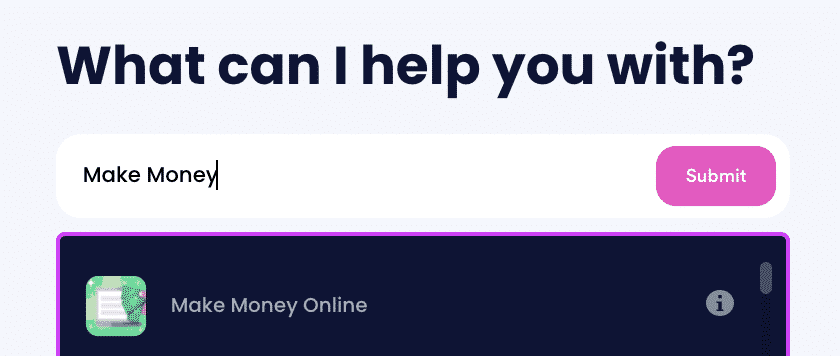 2. Select which option you're interested in from our list.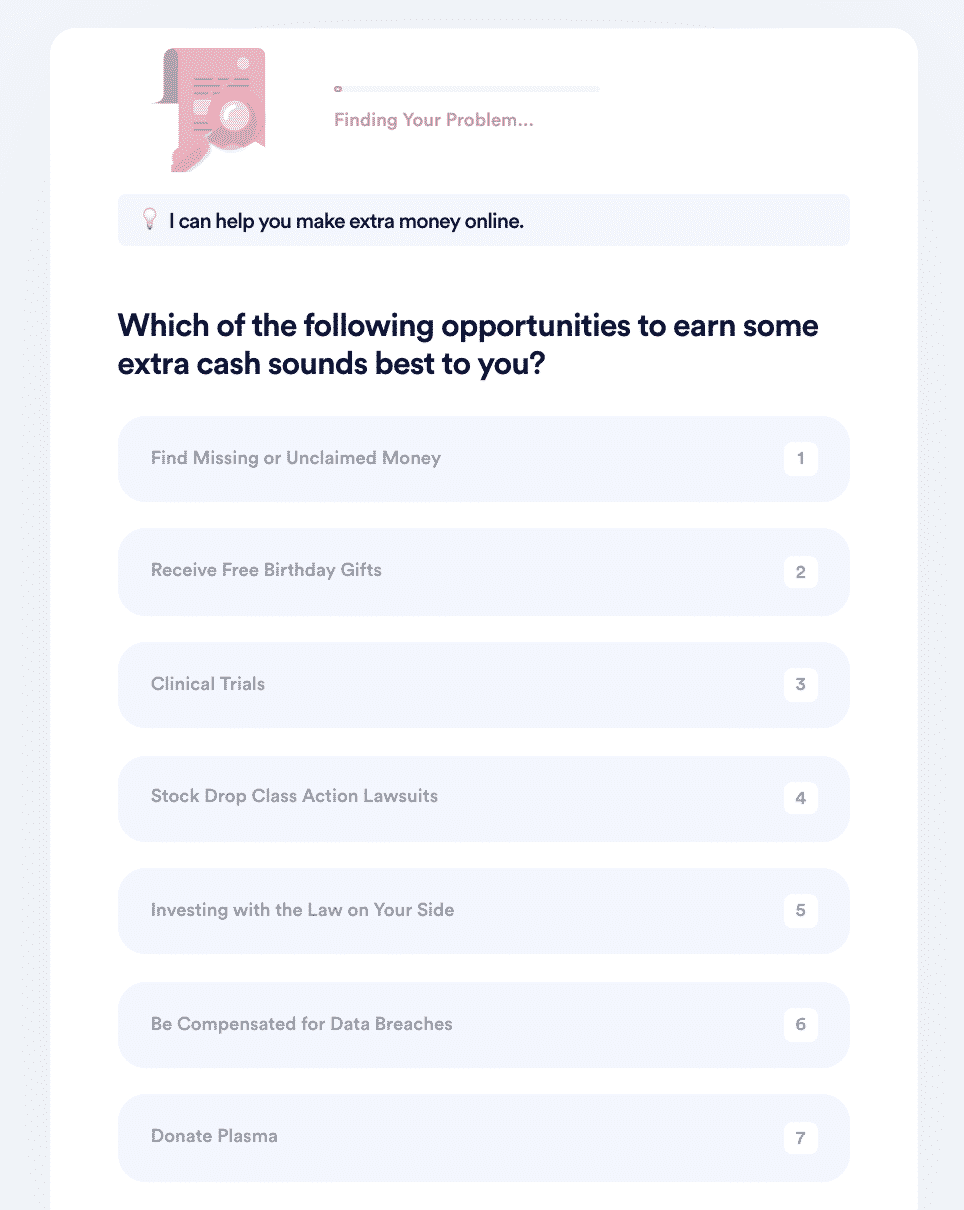 3. Complete the chatbot to start earning extra cash!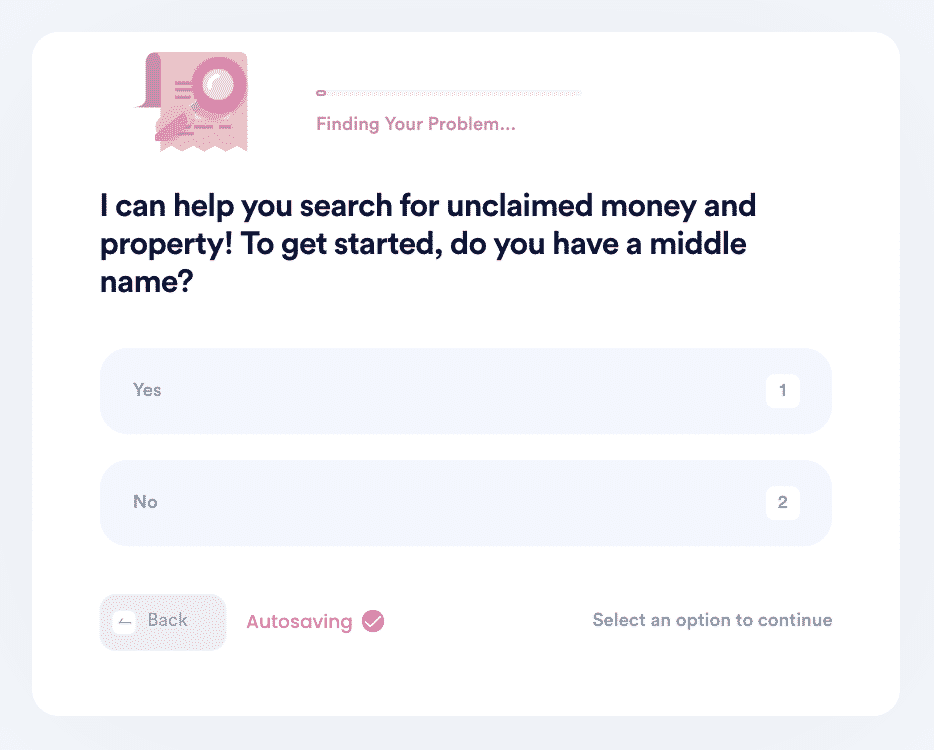 What Else Can DoNotPay Do?
Finding jobs so you can earn money on the side is just one of the many things we can help you with. Here are other issues that DoNotPay can solve for you:
Remember, there are so many jobs you can do, but only a few of them can make you good money on the side. So, let DoNotPay help you find a genuine side job so you can achieve your financial goals easily and conveniently.