All You Wanted To Ask About a Jehovah's Witness Advance Directive Form
Jehovah's Witnesses are the best example of how religious beliefs can play a massive role in making health care decisions. Members typically include strict health care limitations in their advance directive, which makes their treatment more demanding.
To help you get familiar with the Jehovah's Witness advance directive form, we offer you a straightforward guide explaining the basics. Learn all about the specifics of this document, elements it consists of, and get some handy tips on creating any health care directive by subscribing to DoNotPay!
What Is an Advance Directive?
The term "advance directive" generally refers to specific guidelines concerning future medical treatments if a person loses the ability to decide for themself. This document—or a group of documents—spells out personal decisions about end-of-life care and choices related to:
Various therapies and interventions you accept or refuse
Medical practitioners you want or don't want to be treated by
Resuscitation options
Receiving foods and fluids via a tube
Mechanical ventilation
Organ donation
Comfort care/pain relief
The primary purpose of an advance directive is to help family and medical staff carry out the patient's wishes accordingly. The person must be of legal age and sound mind to sign such a document. In most cases, they also need one or two witnesses or a notary's signature and stamp to make the advance directive legally binding.
How Is a Jehovah's Witness Medical Directive Different From a Standard One?
Following their religious beliefs and Bible interpretations, Jehovah's Witnesses refuse blood transfusions and whole blood products. They usually reject this treatment even if their medical practitioners believe it would save their lives.
To make this decision clear to the medical staff that may treat them at some point, members of this community:
Carry a so-called "blood refusal card"
Prepare modified advance directive forms
In rare cases, some of them decide to make an exception to this rule and accept plasma fractions or reinfusion. Whether they will do it or not depends on how seriously they take the Bible interpretations.
An Easy Guide to Creating a Jehovah's Witness Advance Directive From Scratch
Here's a table showing all the elements Jehovah's Witnesses should include in their health care directive:
Part
Details
Living will
A living will is a statement that lists all preferred or unwanted medical treatments and end-of-life care options. Here are the sections it should contain:

Name of the declarant
Statement confirming that the person doesn't want to receive or donate blood
Decisions related to minor fractions of blood—the declarant should state whether they want to reject all transfusions or accept only the minor ones
End-of-life matters
Other health care instructions

Medical power of attorney/health care proxy/medical proxy
A medical power of attorney is a legally binding document that allows a person to choose a health care agent. The agent will be responsible for making all health-related decisions instead of the declarant and convey their wishes to family and doctors.

It should include:

Statement confirming the appointment of a primary health care agent
Full names, addresses, and signatures of the primary and alternate agent
The declarant and witnesses must sign both forms. A medical power of attorney should also be signed by the designed health care agent and alternate agents if there are any.
Use DoNotPay To Get an Advance Directive With Minimal Effort
If you want to create a customized living will or any other type of health care directive, DoNotPay has got you covered! No need to draft them yourself or hire overpriced lawyers to do it in your stead. Our app will help you prepare the necessary document in a few clicks and help you have your document notarized by an online notary public with zero fuss!
To get our help, follow the prompts below:
Go to Advance Health Care Directive
Input the names of your agent and witnesses
Provide more info about your medical preferences
If you visit our learning center, you will find out more about the subject of advance directives—including: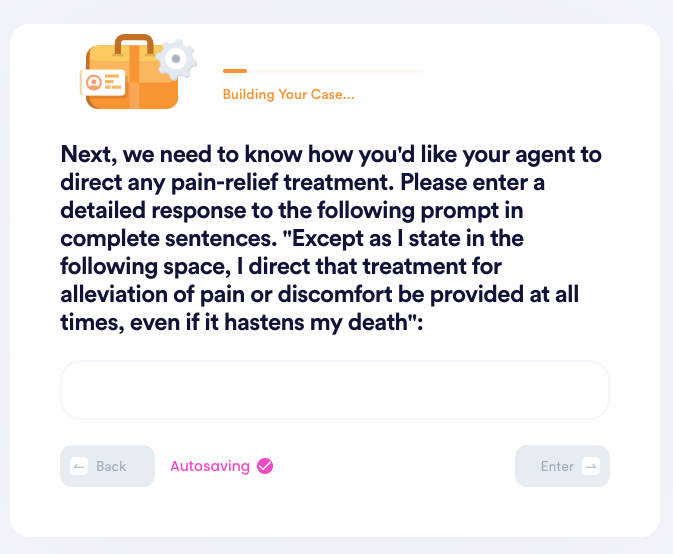 Save Time and Money Using DoNotPay
Being on hold while trying to reach customer service is no picnic. With DoNotPay, you can jump the phone queue and reach a rep with ease. Are you contacting a company to request a refund or cancellation? No need for that! Our app can get it done in a few clicks. We can also help you return an item or handle a late delivery.
Dispute parking tickets, claim your warranty or insurance, set up a DMV appointment, contact an embassy, and deal with any other task with our assistance.
You can also request access to public records, apply for tourist visas, or file complaints with the help of our AI-powered app.
We're Not Done Helping You!
Our multifaceted app keeps getting new features that can streamline numerous tasks and solve all kinds of problems.
Would you like to join sweepstakes or giveaways? Are you up for participating in clinical trials and earning some money? Are you interested in sending mail without visiting the post office? We've got it covered!
We will help you protect your privacy by putting an end to spam emails, incessant text messages, and robocalls. If you think you're being stalked, you can count on our assistance. You can also use our app to perform a sex offender search, fight workplace discrimination, and handle annoying neighbors.