Japan Tourist Visas Untangled—DoNotPay Has a Simplified Solution
As per a 2019 analysis by the United Nations World Tourism Organization, Japan is the 11th most visited country in the world. Robot restaurants, cosplay cafes, and capsule hotels are only some of the strange, beguiling wonders found there!
The country has an extraordinary appeal to people in terms of its diverse sightseeing options, unique cuisine, and fascinating kawaii culture—but applications for Japan tourist visas get rejected all the time!
DoNotPay's Tourist Visa Guide tool offers you a structured framework to apply for any tourist visa in a fail-proof manner. Sign up today to get assistance for your visa application!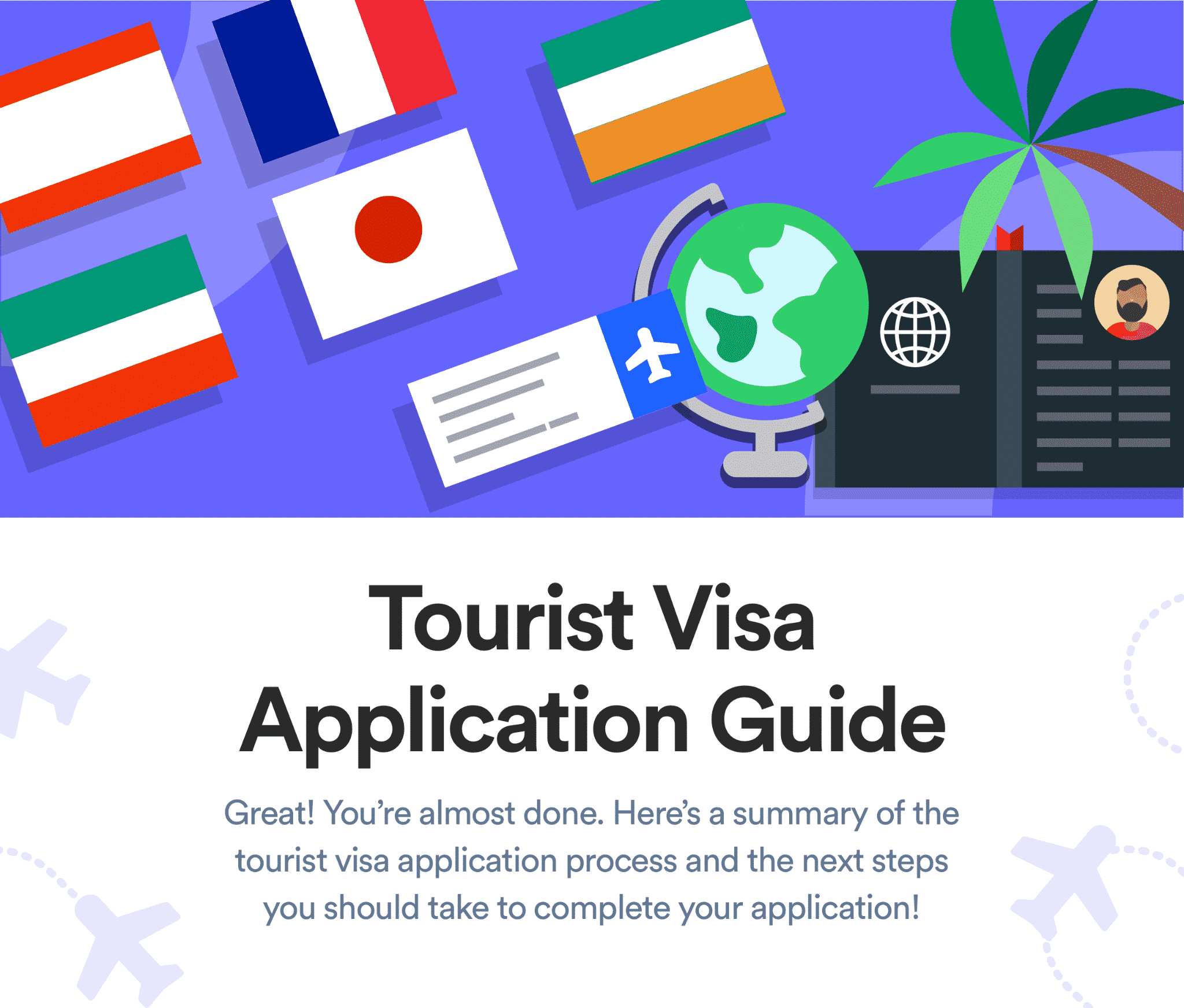 Do I Need a Tourist Visa for Japan?
Japan tops the 2021 Henley Passport Index (HPI) as the country with the highest visa-free score. While Japanese passport holders can travel to 193 countries without a visa, the reciprocal is not true.
Currently, a total of only 68 countries and territories are exempt from obtaining a Japan visa for short-term stays with the intent of:
Tourism
Sports
Family or friends visiting
Conferences
Work or study seminars
Market research
Public relations (PR) activities
Any other designated activity
Keep in mind that visa-exempt travelers still need to follow the rules and guidelines of travel specific to their country and that the visa waiver laws may change anytime.
Japan Tourist Visa Requirements for U.S. Citizens
If you are a U.S. citizen with a valid passport, you can travel to Japan for recreational purposes without a tourist visa as long as you:
Stay for under 90 days
Have a return or onward travel ticket to prove that you will leave Japan after 90 days
You are banned from engaging in the following activities during a visa-exempt trip:
Any paid activity like part-time work
News and media-related activities
Deposition attendance (like the ones organized by the U.S. Consulate)
Diplomat work (for U.S. Federal Government employees)
Traveling Without Japan Tourist Visa—Checklist
Once you come to Japan based on your visa-exempt status, you will need to:
Get a Temporary Visitor stamp from the exchange office
Provide these mandatory details at your lodging:

Nationality
Passport number
Name
Address
Occupation

Give a photocopy of your passport at your lodging facility
Japan Tourist Visa Requirement—Online Application Form
You will need a tourist visa if you seek to stay in Japan for more than 90 days. Here's how you apply for the visa:
Find the visa application form online
Fill the form and attach the necessary documents
Check the nearest Japanese Embassy or Consulate Office near your place of residence through this map
Visit the designated office to submit the completed application and documentation in person
You cannot send the application form by mail but can authorize a proxy to visit the embassy in your place.
How To Get a Tourist Visa to Japan From the U.S.—Documents
One of the best parts about applying for Japan visas from the U.S. is that you don't have to pay a visa fee. The documentation, however, must be perfect in all aspects. Botched-up applications can end up in the rejected pile if you are not careful.
This is a generalized list of documents you may need to submit with your tourist visa application:
Valid passport
A 2" x 2" passport photo (not older than six months)
Certificate of eligibility
Birth certificate
Schedule of stay
Proof of financial stability (a list of your bank deposits and withdrawals for the past six months)
Medical travel insurance
Marriage certificate (if you are traveling as a dependent spouse)
Consent form for minors
This list is not absolute and may change to accommodate new documentation protocols.
What Is the Japan Tourist Visa Processing Time?
Your error-free visa application will usually be processed within five business days, but certain applications can get stuck for over a month before the issue of visa!
Japan Embassy Tourist Visa—Extension and Multiple Entry Requirements
Japan issues three types of tourist visas depending on your need and intent of travel.
This table will give you a bird's-eye view of the current visa types:
Tourist Visa Type
Details
Single-entry

This can be used to enter the country only once
The period of stay assigned cannot be extended
The visa will become invalid after the expiry of the period

Double-entry
They are usually issued for six months and allow the holder to enter the country twice within this period
Multiple-entry
This is issued for a period of one to five years and allows multiple entries to its holder
If you are already in Japan as a visa-exempt traveler and you need to stay for more than 90 days, you must contact either the country's Ministry of Justice (Regional Immigration Bureau) or the U.S. Embassy for details on the extension procedure.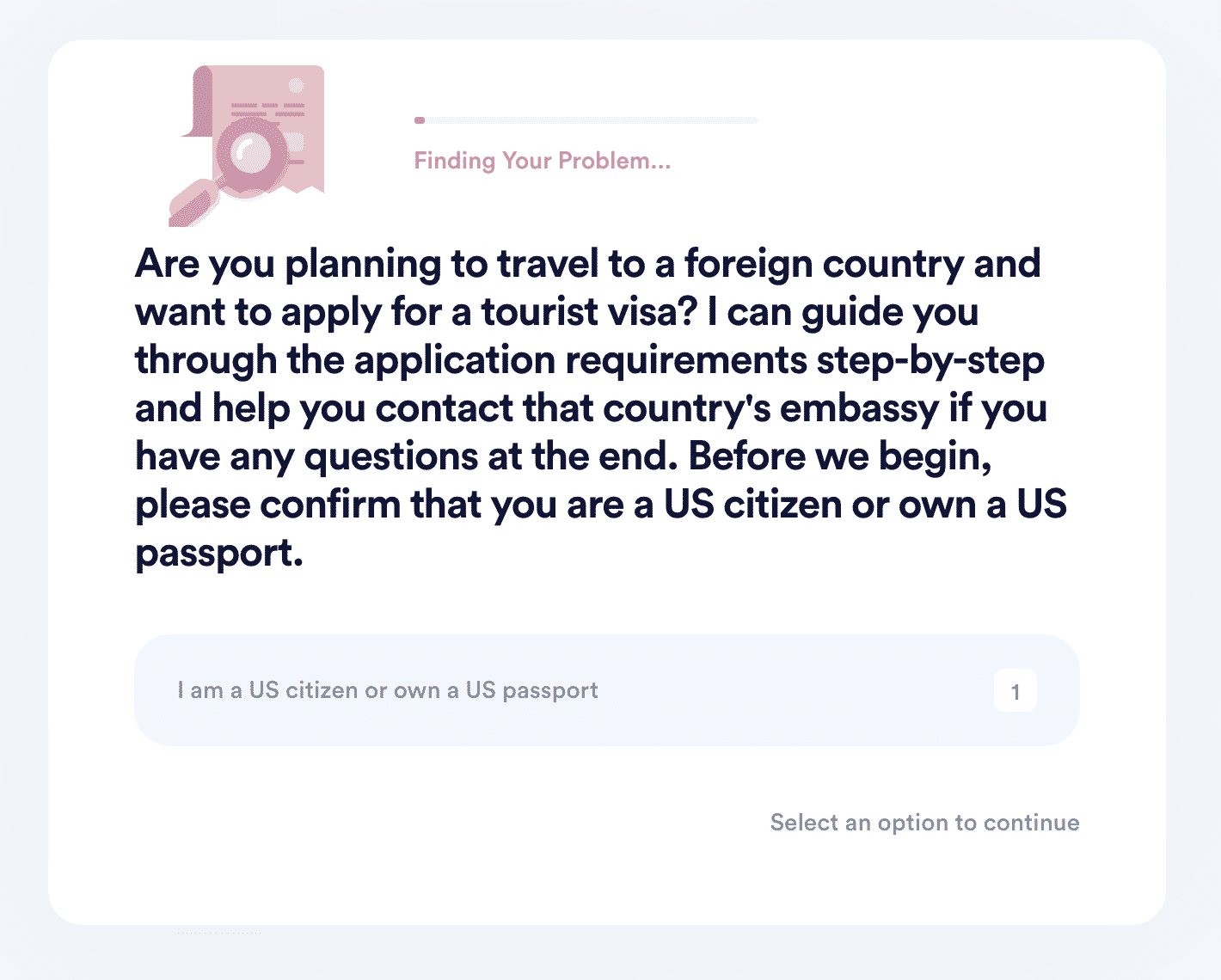 Use DoNotPay To Check Your Tourist Visa Requirements for Japan
Japan follows a strict visa processing structure, and there is no room for mistakes. Rather than drowning in procedural uncertainties, use DoNotPay to get an instant heads-up on whether you need a Japan tourist visa based on your unique circumstances.
You are three steps away from a quick visa-waiver assessment:
Hit our Tourist Visa Guide feature
Confirm that you have a valid U.S. passport and set your destination country
Once you do that, you'll receive an immediate answer that will tell you more about your eligibility for visa-free travel.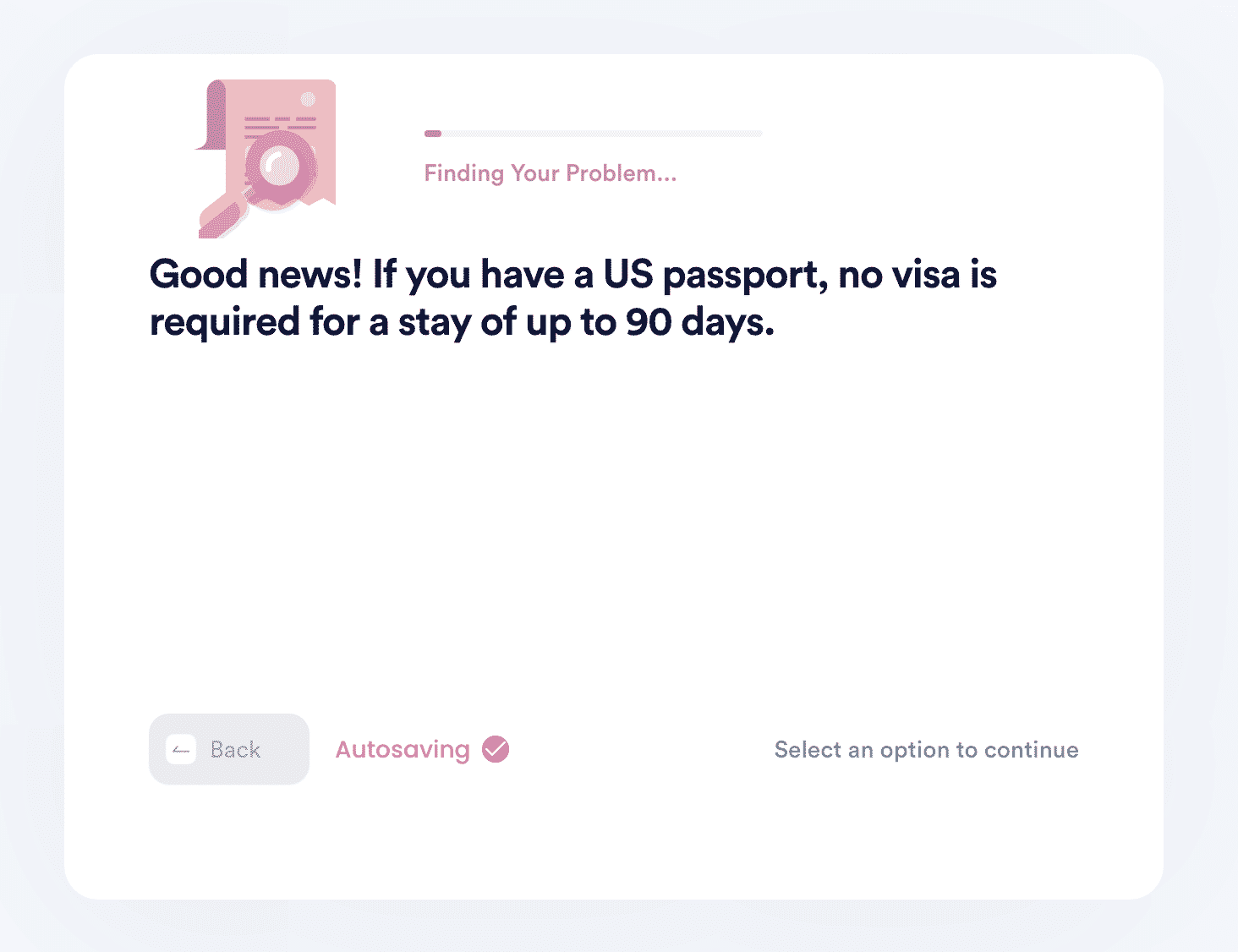 Use our app before planning any foreign trip to get an updated assessment as per the latest guidelines.
What if I Need To Apply for a Tourist Visa?
If you do not qualify for a visa-free journey to any country, DoNotPay can help you navigate the application process. Keep answering our app's interactive questions, and you will get a country-specific visa application guide in no time.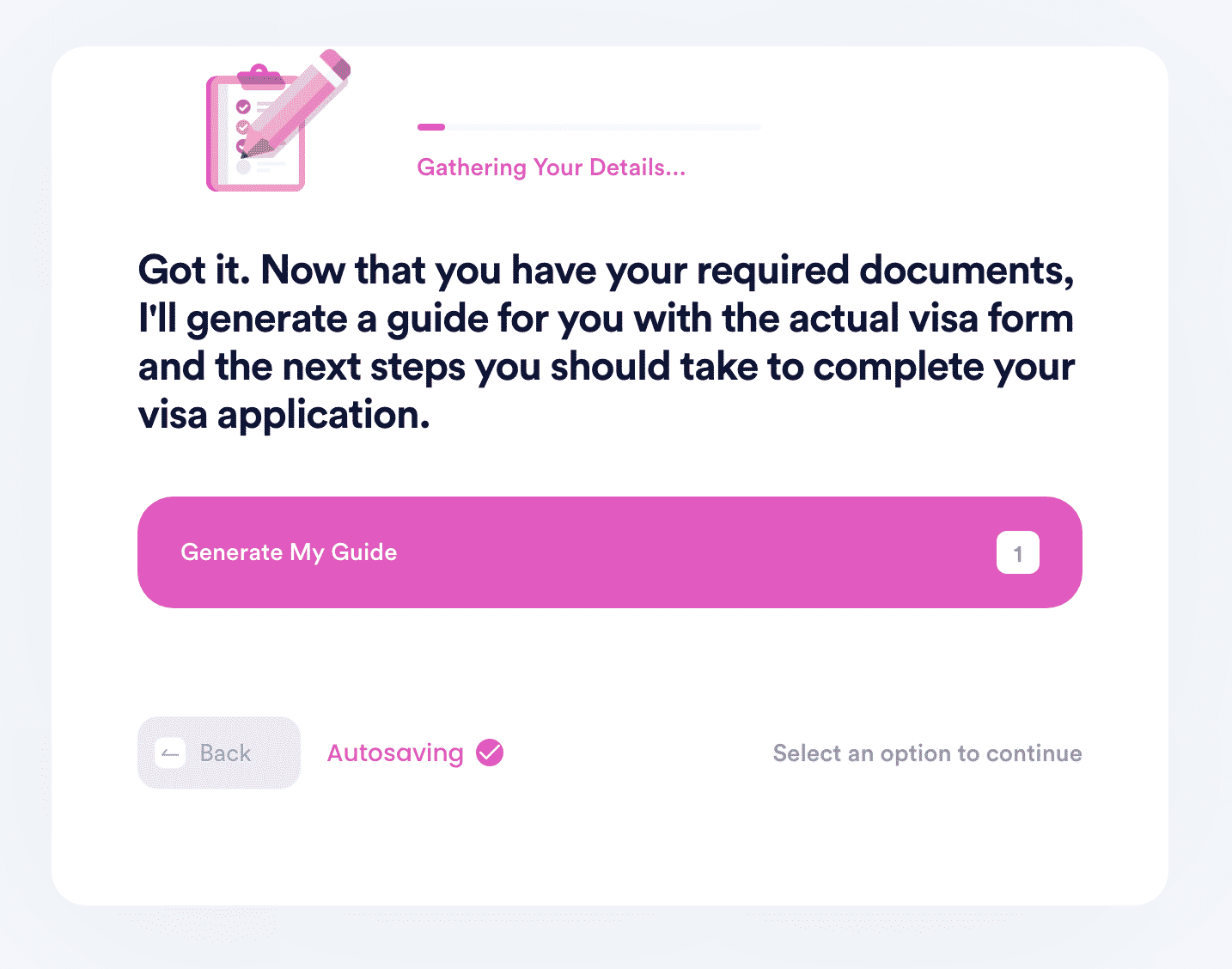 Our app will keep you updated on the paperwork you need to arrange. We will also generate a PDF application form that you can print out and fill as per our application manual.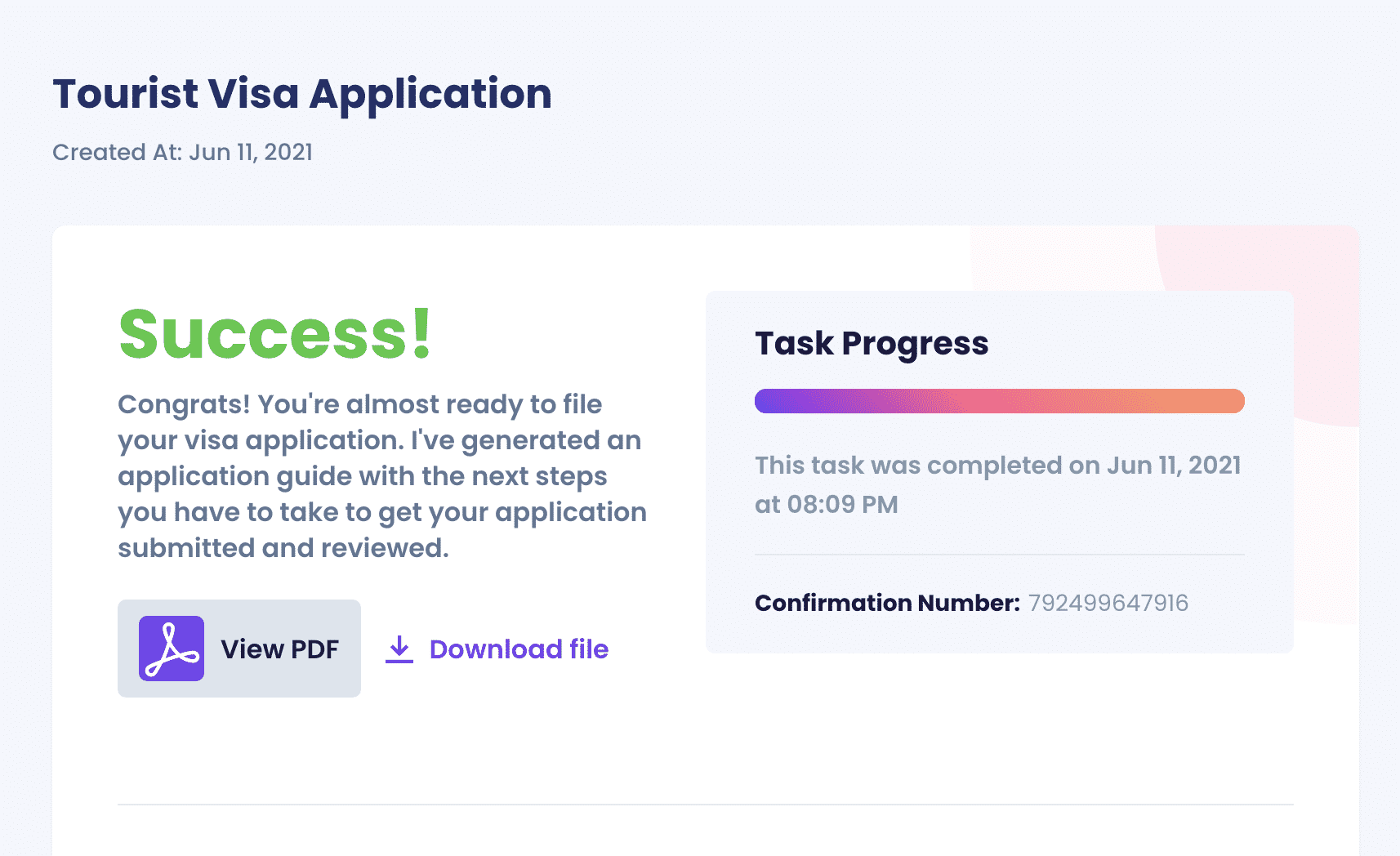 If your destination country uses an online portal, we will provide you with the authentic portal link to ensure your application arrives at the right place.
Soak in the Splendor of Asia With DoNotPay's Dependable Support
Wandering across Asia is like awakening your mind to new possibilities—you cannot miss out on that!
DoNotPay has tourist visa guides for a plethora of wondrous countries on this continent—check them out:
Have Your Documents Created and Notarized in Less Than Five Minutes!
Why spend hundreds or even thousands of dollars on lawyers when the ideal solution is only a few clicks away?
DoNotPay saves the day by enabling you to generate numerous legal documents. Creating proper child travel consent forms, divorce settlement agreements, and powers of attorney has never been easier!
Our perks don't stop here—you can also have your documents notarized electronically from any location. Once you obtain a notary stamp and signature, your paperwork can be faxed online without outdated machines.
Explore Everything DoNotPay Has To Offer
Day-to-day tasks you must deal with don't have to be a burden or rocket science. Signing up for DoNotPay is your ticket to performing them the easy way! We offer a wide selection of products that don't cost an arm and a leg but do excellent work when it comes to solving your administrative issues!
Our services will help you: