Is a Jamaica Tourist Visa Needed for U.S. Citizens—Question Answered
Is your long-anticipated trip to Jamaica approaching? Before you forget about the real world and sink into the attractions of this lovely destination, you must check what entry requirements are in place there. Will you have to apply for a Jamaica tourist visa, and are there any other criteria you must meet to spend some time in this country? Our article provides the answers to these and many more questions and shows you how to cope with complicated tourist visa applications effortlessly using DoNotPay!
Jamaica Tourist Visa Application—Is It Necessary for U.S. Travelers?
As a U.S. citizen traveling to Jamaica for recreational purposes and staying for up to 90 days, you don't need a tourist visa. The only document you will be required to present at the customs upon arrival is a valid U.S. passport. If you are traveling on a cruise, you can show a Western Hemisphere Travel Initiative compliant document (WHTI) instead.
Stays exceeding 90 days at once or 180 days in a calendar year require a visa application submitted at the appropriate Jamaican embassy or consulate.
Criteria You Must Meet To Enter Jamaica
What do you need to visit Jamaica as a tourist if visas aren't required? Find the list of the requirements in the following table:
Criteria
Details
Passport requirements
Your passport must:

Be valid at the moment of entry into and exit from Jamaica
Have one mandatory empty visa page

Proof of sufficient funds
To prove that you can support yourself financially during the trip, you must provide specific evidence in the form of:

Bank statement
Letter of sponsorship
Any other valid documents showing you have enough financial assets

The maximum amount you can enter Jamaica with is $10,000

Other criteria
You must:

Present a photocopy of your return air ticket
Be of sound mind
Be free from:

Diseases or medical conditions that could lead to entry rejection
Charges for extraditable crimes defined by the Jamaica Extradition Acts from 1870 and 1906
Deportation orders in force under Chapter 9 of Jamaica's Alien Law

Have valid proof of the relationship between minors and adults, such as original birth or adoption certificates
Provide a Yellow Fever vaccine certificate if you are traveling to Jamaica via countries where the danger of this infection may be increased
What About Current COVID-19 Restrictions in Jamaica?
Each U.S. traveler must request a travel authorization issued by the Ministry of Health and Wellness in Jamaica obtained within 72 hours before the trip. This authorization should be presented at the customs along with a negative COVID-19 PCR or serology test taken within the last three days.
Once you enter the country, you must go through a mandatory quarantine that may last for up to two weeks and respect an ongoing curfew. Commercial flights and public transportation are operating regularly, but there are certain limitations regarding the number of persons allowed inside taxis and buses.
What Jamaican Embassies and Consulates Are There in the USA?
The following table lists all visa-issuing authorities, including the embassy and all existing consulates in the USA, along with their contact details:
| Authority | Phone Number |
| --- | --- |
| Embassy of Jamaica in Washington, DC | (202) 452-0660 |
| Consulate General of Jamaica in New York City, NY | (212) 935-9000 |
| Consulate of Jamaica in Seattle, WA | (206) 872-8950 |
| Consulate of Jamaica in Philadelphia, PA | (215) 313-9508 |
| Consulate of Jamaica in Boston, MA | (617) 266-8604 |
| Consulate of Jamaica in Chicago, IL | (773) 373-8988 |
| Consulate of Jamaica in Atlanta, GA | (404) 297-7696 |
| Consulate of Jamaica in Miami, FL | (305) 374-8431 |
| Consulate of Jamaica in San Francisco, CA | (415) 206-5833 |
What Can DoNotPay Do To Make Your Tourist Visa Application More Efficient?
It's easy when all you need to do to enter a country is show a passport, but what about destinations that require tourist visas? Applying for such permission can be a nightmare, especially if you make a mistake while completing an application form or forget to include a mandatory document.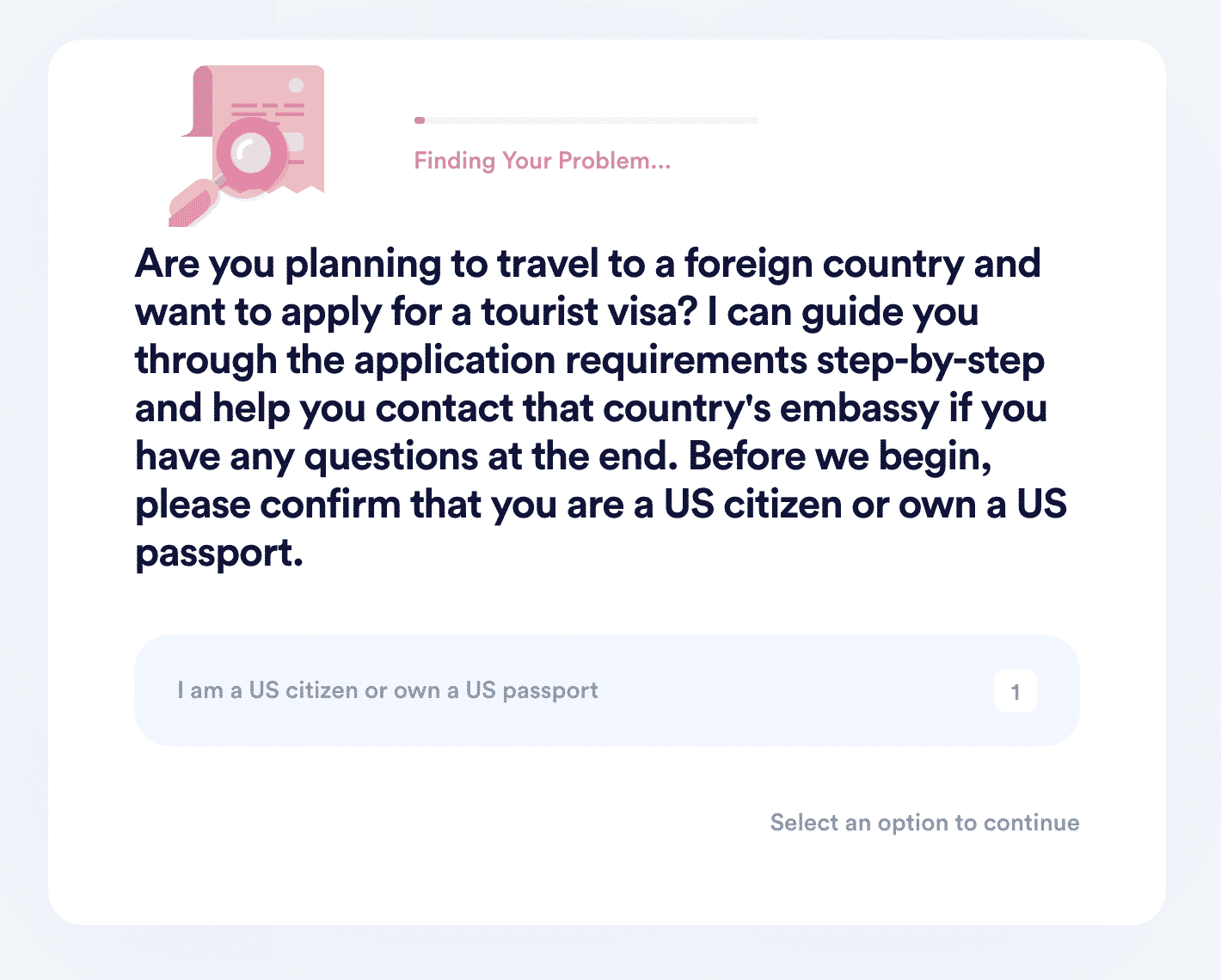 Official websites of consulates and embassies don't update their requirements regularly. This is the main reason why using the information from such sources may lead to the rejection of your visa request. Luckily, you don't need to worry about that anymore—give DoNotPay a try and ensure a smooth visa application procedure!
Here are the steps you should follow to use our help:
Visit DoNotPay in any preferred web browser
Search for the Tourist Visa Guide product
Select I Am a U.S. Citizen or Own a U.S. Passport
Provide the name of the destination you want to visit
We will do our best to help you go through the entire process by:
Showing you what documents you should prepare
Checking if the embassy of the country you want to visit accepts email applications
Finding application forms in your stead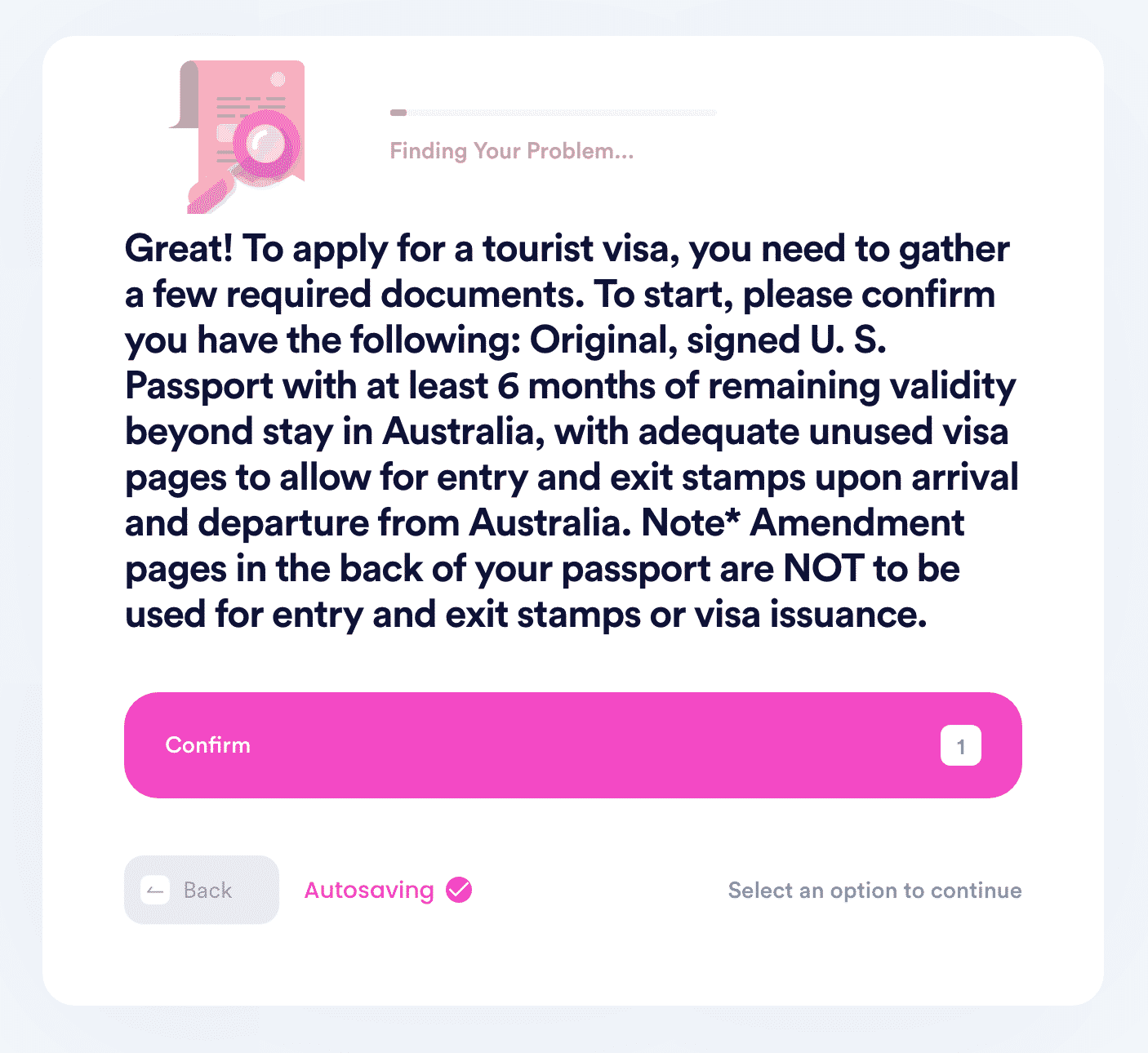 If you want to explore more Caribbean destinations in the future, check our guides on hassle-free tourist visa requests for:
Choose From a Variety of DoNotPay's Amazing Tools
Did you manage to solve the issue with our app? If the answer is yes, you may also be interested in checking out other interesting features we offer. DoNotPay can help you:
| Get Rid of Spammers By | Deal With Uncooperative Merchants By | Get Help With Your Studies By |
| --- | --- | --- |
| | | |
Let DoNotPay Prepare Important Documents for You
Are you having a hard time drawing up a contract due to insufficient legal expertise? Say goodbye to failed drafts—DoNotPay can generate divorce settlement agreements, powers of attorney, child travel consent forms, and many other legal documents in under five minutes!
We will also help you create anonymous HR complaints and demand letters for your neighbors if you are experiencing any issues with them.