All You Need To Know About Jackson County, Missouri, Jury Duty
Jury duty regulations vary on a state and federal level. If you've been summoned for Jackson County, Missouri, jury duty, you should know how the process works and whether you can skip it.
The first step that you need to take when preparing for jury duty is sending a time off request to your employer. Our app can help you without hassle.
Jury Duty in Jackson County in a Nutshell
Every person has the right to a trial by jury as a part of the American judicial system. This practice is essential to uphold democracy and fairness, which is why it's mandatory for everyone who is eligible. In Jackson County, Missouri, eligible jurors must meet the following criteria:
Over 21 years of age
Currently residing in Jackson County
Capable of communicating in English
No physical or mental infirmity
Restored civil rights (for ex-convicts)
The names of eligible citizens are selected at random from a number of records, such as:
Driver's license database
Voter's registration
Personal property tax list
If your name gets selected from the jury pool, you will receive a summons in the mail with further instructions. You will go through a selection process where attorneys in charge will interview you to find out more about your background, beliefs, prejudice, and similar.
Jury Duty in Jackson County—What Happens if You Pass the Selection?
The court will inform you of the trial date, and you are expected to show up and be available for the entirety of the trial, which lasts for three and a half days on average.
Juror pay varies in every state and county. In Jackson County, Missouri, you will be paid anywhere between $6 and $18 per day.
If you serve as a federal court juror, you will be paid $50 per day and $60 per day starting from the tenth day.
After you have finished your service, you will not be included in the jury pool for the next two years.
What Are the Exemptions to Jury Duty in Jackson County?
You are exempt from jury duty if any of the following applies to you:
| Situation | Statutory Exemption? (Yes/No) |
| --- | --- |
| Military | Yes |
| Student | Yes |
| Breastfeeding mother | Yes |
| Medical worker | Yes |
| Firefighter | No |
| Police | No |
| Disabled | Yes |
| Elected official | No |
| Old age | No |
You can request your duty to be postponed by sending an exemption request letter containing your reason and evidence. If you experience inconvenience or hardship that is not listed in the table, you can try asking for excusal during the jury selection day.
Seniors above the age of 75 can still request an exemption on the grounds of poor health or similar factors, but they have to notify the court via email, fax, letter, or the eJuror website.
Postponement can be made only once, and the replacement date should be within the next six months.
If you don't notify the court of your absence, you will be:
Fined up to $500
Subjected to a period of community service equivalent to the supposed duration of your jury duty
Can You Get Fired for Jury Duty in Jackson County, Missouri?
Employers can't fire or penalize jurors who miss work due to jury service in Missouri. You can get unpaid leave by informing your superior of your summons in advance.
Write Your Leave Request Letter Quickly With DoNotPay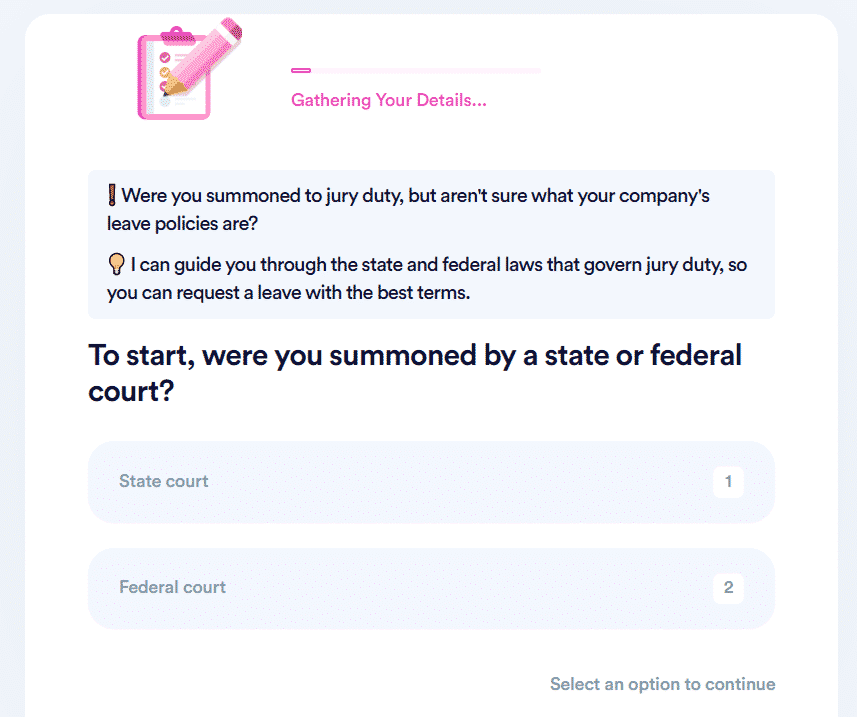 With DoNotPay, writing a letter to request time off for juror service is easy. All you need to do is:
Locate the Request Jury Duty Leave feature
Answer a few questions regarding your jury duty
Upload the summons notice and sign the form
Let us take it away from there! As soon as our app finishes generating your letter, you can opt to send it to your employer via email or print it so you can send it yourself.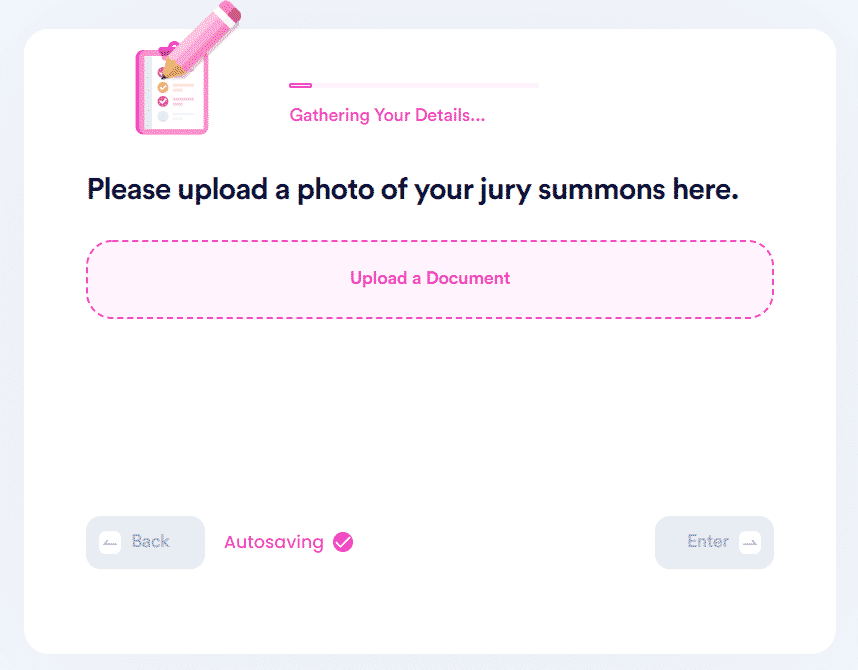 Our App Offers Assistance in More Ways Than One
As a multifaceted app, DoNotPay creates solutions to numerous problems. Check out the table below and get to know a fragment of what our app can do:
| Keep Your Privacy Intact | Deal With Legal Problems | Solve Money Issues |
| --- | --- | --- |
| | | |
Use DoNotPay To Streamline Different Tasks
Tick the items off your to-do list faster by signing up for DoNotPay. In record time, you'll be able to request a refund, cancel a subscription, and get a free trial.
If talking on the phone is your worst nightmare, don't worry—you can use our app to schedule a meeting with an online notary, reach customer service with ease, and make a DMV appointment.
Feel free to also rely on our app when you want to prep for government tests, file FOIA requests, or connect with loved ones in prison.