Get Off to the Right Start With the Correct Jackson County, Missouri, Divorce Forms
The first step in a divorce—filing divorce papers—is often the hardest.
All your paperwork needs to be prepared before you start, and if you are aiming for a friendly divorce with an out-of-court settlement, you cannot afford to make mistakes.
DoNotPay understands this and is here to help with all the information you need on the Jackson County, Missouri, divorce forms you need.
How Does Divorce in Jackson County, MO, Work?
Missouri is a no-fault divorce state, so you do not need to prove your spouse has committed any wrongdoing to justify your divorce case.
You are not even allowed to file for an at-fault divorce in the Show-Me State, but the judge may take any wrongdoing by you or your spouse into account when deciding on a settlement in a contested case.
The only requirement is that you or your spouse fulfill the residency requirement of 90 days living in the state before you file. After you have filed your papers, you will have to wait an additional 30 days before the court takes any further action.
The steps in filing for divorce in Jackson County are:
Filing divorce papers
Reaching a settlement agreement
Filing Divorce Papers
The correct papers have to be filed with the clerk of the Jackson County family court.
You will have to cover the filing fee of between $200 and $300, depending on whether children are involved.
The clerk of the court will stamp your papers and issue you with a summons to serve on your spouse.
Serving the Papers
You—as the petitioner in the case—must have your filing delivered to your spouse by a sheriff or private process server.
If your soon-to-be-ex agrees on an uncontested divorce, they can waive the requirement to have the papers served by signing a waiver of personal service.
Reaching a Settlement Agreement
Once your papers have been filed and your spouse served, you have a 30-day vesting period to reach a settlement agreement.
If you can agree on all the terms of your settlement and file a signed agreement before your first hearing, your case will be seen as uncontested, and you will be able to:
What Forms Do You Need in Jackson County?
The state of Missouri provides forms for your initial divorce filing, consisting of:
| Divorce Form | Explanation |
| --- | --- |
| Petition for dissolution of marriage | This is a formal request to the court to grant your divorce. You need to fill it out, sign it, and have it notarized before you lodge it with the county court |
| Income and expense statement | You and your spouse need to list your full income and expenses, including both joint and separate items |
| Statement of property and debt | All your joint and separate assets and liabilities need to be disclosed, including real estate |
| Parenting plan | If you have children, you need to include a shared parenting plan that ensures your children will be looked after adequately |
| Filing information sheet | This is a data sheet that captures your details, as well as those of your spouse and children |
| Certificate of dissolution and proposed judgment of dissolution of marriage | These two forms will be signed and stamped by the judge when your divorce is granted |
What About the Settlement Agreement?
The make-or-break document for ensuring your divorce is granted as quickly as possible is your divorce settlement agreement.
A settlement agreement should set out how all the elements of your financial and family statements will be split after your divorce.
Besides dealing with the division of your assets and liabilities, it must cover:
To have your settlement agreement negotiated and drawn up, you can use:
Settlement Agreement Resources
Explanation
Lawyer

Attorneys can negotiate and draft your settlement agreement, but this is a quick way to land yourself with a high-cost divorce.

The average cost of an uncontested divorce in Missouri is around $4,500, most of which consists of lawyers' fees.

You can reduce these costs significantly by using a mediation service instead of lawyers to help you negotiate your settlement—Missouri mediators charge between $100 and $250 per hour. If you and your spouse already agree on most of your settlement, you should be able to settle within a small number of sessions

Online service

You can download a template from numerous local and national online divorce services, but you should be careful—many of these templates are highly generic and may not cover your specific needs. If a judge is unhappy with the completeness of your agreement, it will be rejected, and your case will have to be contested in court
DoNotPay has the perfect solution—we can generate a comprehensive settlement agreement for you without you paying a cent in lawyers' fees!
DoNotPay to the Rescue in Jackson County, MO!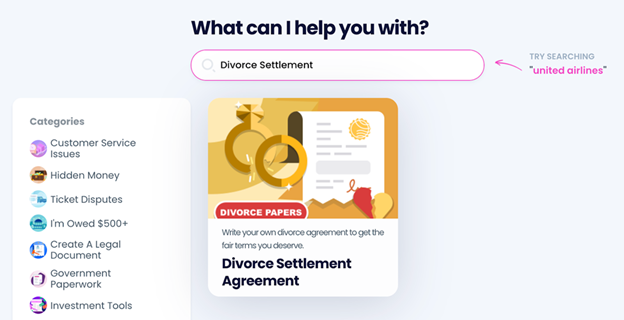 DoNotPay is committed to getting your divorce finalized as quickly and painlessly as possible!
Our Divorce Settlement Agreement product gives you exactly what you need—a tailor-made document that covers all the terms of your settlement but with zero lawyers' costs!
To set your settlement agreement up, follow these three steps:
Go to your web browser and sign up with DoNotPay
Click on our Divorce Settlement Agreement feature
Follow the prompts and give us the details you have agreed on with your spouse
Once everything is filled in, you will have your document in an instant. You can sign it together with your spouse and have it notarized.
No need to worry if you don't know where to find a notary in Missouri—our online notarization service can get your documents signed and sealed from the comfort of your home!
If you are looking for info on filing for divorce in St. Louis or need to know what divorce forms you need there, DoNotPay is your go-to resource, too!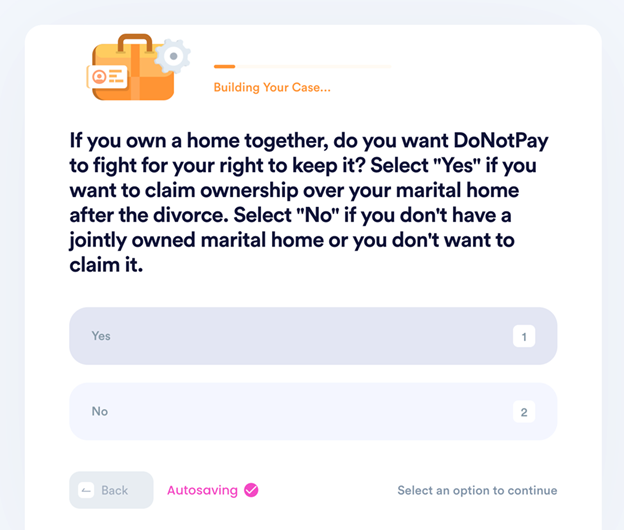 Use DoNotPay To Complete a Variety of Tasks at Any Time
Why waste time and money completing mundane tasks on your own when you can let DoNotPay assist you? Take a look at the table below to find out what our AI-powered app can do for you:
| DoNotPay Can | Services |
| --- | --- |
| Protect your safety and privacy | |
| Draft legal documents | |
| Help you get your money back | |
DoNotPay Has More in Store for You!
Since communication is key, you'll appreciate our feature that helps you get in touch with customer service reps quickly! We'll also show you how to send faxes online and have your documents notarized by an online notary with ease!
Going on vacation? Use DoNotPay to take a valid passport photo at home or get a tourist visa!