The Israel Tourist Visa Explained
If you are looking for a Middle Eastern adventure, Israel could be a perfect destination for you. This country has everything from natural to architectural wonders, fine cuisine, and rich history.
You could go for a swim in the Dead Sea or enjoy a visit to the En Gedi Nature Park, but before that, you should acquire the necessary paperwork for your trip.
This article will teach you all about the Israel tourist visa, the entry requirements for this country, and possible COVID-19 restrictions. Subscribe for DoNotPay and let us help you prepare for your trip fast and hassle-free!
The Tourist Visa to Israel—Is It Necessary for U.S. Citizens?
As a U.S. citizen, you will not have to worry about a tourist visa for Israel. This country grants U.S. visitors a 90-day stay visa on arrival.
The officials on the border usually don't stamp your passport. Instead, you receive an entry card, which is proof of your legal stay in the country. If you wish to stay longer than 90 days, you can ask for an extension of your entry permit.
The Israeli Entry Rules
Whether you want to enter Israel, Gaza, or West Bank, you have to be ready for a thorough screening at the borders. Due to a complex political situation, Israel has strict rules for all visitors.
You will have to sign a declaration that states you understand potential legal actions that the government might take against you if you travel to certain areas without permission. The Israeli Government reserves the right to deport you and deny you entry for ten years.
In case the Israeli Government denies you entry, or you have difficulties entering Israel, you should contact the Israeli embassy or a local diplomatic mission to learn about your rights and the necessary paperwork.
Here are some of your options:
Diplomatic Mission
Contact
The Embassy of Israel in Washington, D.C.

Phone—00-1-202-3645500
Email address—info@washington.mfa.gov.il

The Consulate General of Israel in New York

Phone—00-1-212-4995000
Email address—info@newyork.mfa.gov.il

The Consulate General of Israel in Atlanta

Phone—00-1-404-4876500
Email address—info@atlanta.mfa.gov.il

The Consulate General of Israel in Boston

Phone—00-1-617-5350200
Email address—info@boston.mfa.gov.il

The Consulate General of Israel in Chicago

Phone—00-1-312-3808800
Email address—info@chicago.mfa.gov.il

The Consulate General of Israel in Houston

Phone—00-1-832-3013500
Email address—consular.dep@houston.mfa.gov.il

The Consulate General of Israel in Los Angeles

Phone—00-1-323-8525500
Email address—info@losangeles.mfa.gov.il

The Consulate General of Israel in Miami

Phone—00-1-305-9259400
Email address—consular.dep@miami.mfa.gov.il

The Consulate General of Israel in San Francisco

Phone—00-1-415-8447500
Email address—info@sanfrancisco.mfa.gov.il
You can also check the U.S. Department of State's website for the most recent updates regarding the situation in Israel and whether it is safe to travel.
COVID-19 Restrictions in Israel
Israel has strict and straightforward rules regarding tourist visits during the COVID-19 pandemic. If you plan to visit Israel, you will have to:
Present a PCR test with a negative result that doesn't exceed:
120 hours—If you travel to Jordan
72 hours—If you are traveling from Jordan to Jerusalem through Allenby Bridge
Pass the screening procedure at the airport
Stay quarantined for 14 days
Respect the curfew between 8 a.m. and 5 p.m.
Comply with safety measures—Otherwise, you might have to pay a fine or even end up in prison
You are also required to wear a mask at the airport terminals and in other public places.
For the up-to-date info, visit the embassy's COVID-19 web page.
Get All the Info You Need About the Israel Tourist Visa With DoNotPay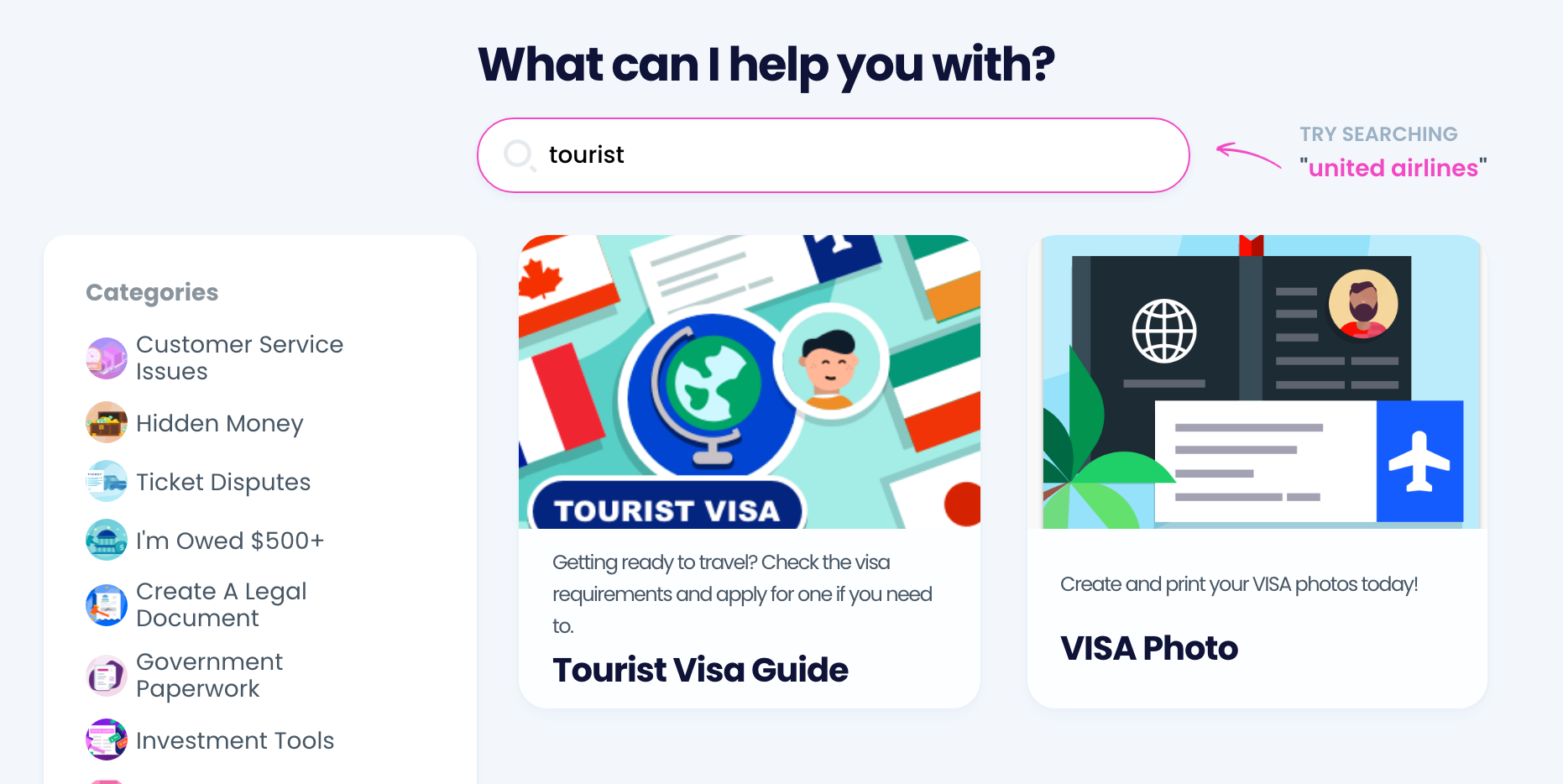 Instead of trying to figure out which piece of information you found online is valid, turn to DoNotPay! We will assist you in getting ready for your trip to Israel or any other country by:
Providing info on whether you need a tourist visa or not
Sending you a link to the online application portal or PDF version of the application form
Contacting the embassy instead of you to get the info about remote visa applications
To get all the details about your travel requirements, follow these steps:
Enter Tourist Visa Guide in the search bar
Confirm that you are a U.S. passport owner
Let us know where you want to go

Avoid the Hassle and Enjoy Your Trip to the Middle East With DoNotPay
Do you want to explore other countries in the Middle East? Rely on DoNotPay to learn all about the necessary documentation to get the entry permit or tourist visa for any Middle-Eastern country.
Ensure your trip goes smoothly and hassle-free no matter where you travel to. Check out some of the countries we can help you with:
Explore DoNotPay's Product Range
Are you looking for additional assistance from our app? We're happy to inform you that DoNotPay provides you with a number of useful tools that you can use to complete mundane tasks in the blink of an eye! Sign up for our app and let us help you get:
DoNotPay Resolves Your Financial Issues in a Few Taps
You don't have to struggle to figure out how to resolve financial problems yourself when you have our app at your disposal. In only a few clicks, you'll be able to discover any unclaimed money under your name, submit insurance and warranty claims, or request compensation for delayed flights.
But that is not all! Lowering your utility bills, appealing parking tickets, or canceling memberships and subscriptions is also something you can do in no time and with minimum effort if you use DoNotPay! Work smarter, not harder!