Challenge Islington PCN From Your Phone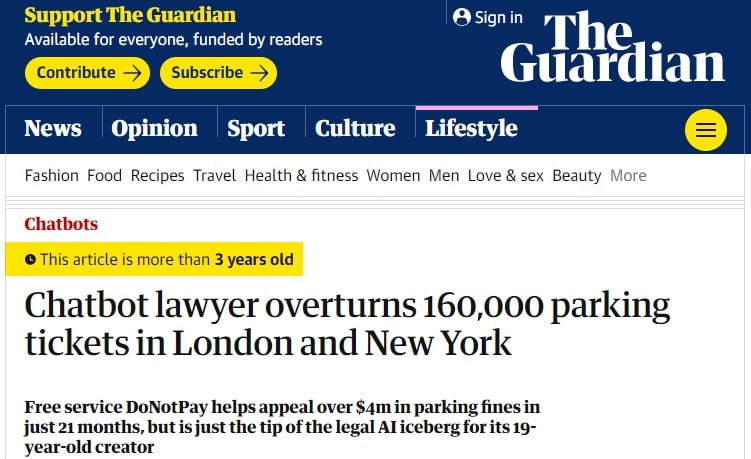 Parking tickets can be a real inconvenience. Not only can they be frustrating and stressful, but they can cost a significant amount of money as well. If you think that you've gotten a penalty charge notice unfairly, you likely have even more on your mind. Fortunately, you have some options if you wish to dispute the PCN that you received.
Challenging an Islington PCN on your own can be time-consuming - and while it can result in success on occasion, you might wonder why you ever attempted it on your own. DoNotPay is the fast, easy solution for challenging your Islington PCN.
What Is a PCN?
Penalty charge notices are traffic tickets that are issued to motorists for a variety of offences. While there are many reasons why a PCN might be given out, here are some common reasons for receiving a PCN:
Parking incorrectly in a designated parking space.
Not properly displaying the appropriate parking permit on your windscreen.
Not following the rules of the road or disobeying a traffic law.
While many PCNs are issued daily to motorists who might have had a slip of the mind, it's possible that you were given a PCN when you should never have received one. For instance, if you aren't the owner of the car that received the PCN, you might want to dispute the PCN. Sometimes, penalty charge notices are sent in the post, which can cause errors to take place. Additionally, if you received a PCN for incorrect parking, all you have to do to appeal the PCN is provide proof that you were parked properly.
How to Challenge an Islington PCN on Your Own

You can pay the PCN if you believe that you might have been at fault. To pay the fine, you can visit the Islington City Council website. From there, you can simply enter the number associated with the PCN you received, enter your financial details, and confirm your payment. Some people might wish to pay the PCN just to get it out of the way - however, if you maintain that the fine is unfair, you can challenge the Islington PCN. Here's how:
1. Appeal Within 14 Days
According to the Islington City Council website, you will need to appeal your PCN by email within 14 business days of the ticket being issued. Make sure to include all the relevant information in your appeal, including the PCN number, your vehicle registration number, and your home address.
If you have supporting documents that could influence your claim one way or another, such as evidence that you were parked correctly, you can include that as well. If you don't want to send your information via email, you can send all the above information by post to:
Islington Parking Services
PO Box 2019
Pershore, WR10 9BN
2. Wait for a Response
As long as you submit your appeal within the 14 business day timeframe, your case will be put on hold until a decision is reached. This could take some time, so be patient as you wait for a decision to be made. When you are contacted, a representative from the Islington City Council will let you know what the decision is.
3. Take Further Action if Needed
If you do not win your appeal regarding the PCN, you do have additional options. You can make a formal appeal in addition to the previous appeal that you submitted. You can also appeal to an independent adjudicator at the Environment and Traffic Adjudicator if your formal appeal is unsuccessful. If all this seems overwhelming, know that you are not alone.
DoNotPay has experience managing PCN disputes and can help you work through the appeals process, giving you a good chance of fighting the ticket and helping you make the best case possible.
You can reach Islington PCN here:
Islington PCN Online
Council Website
Islington PCN Email
Send an email
Islington PCN Mail
Islington Parking Services

PO Box 2019

Pershore, WR10 9BN
Dispute Your PCN in Less Than 120 Seconds Using DoNotPay
Whether you believe that your ticket was issued to you unfairly or you don't believe that you should have to pay the fine, DoNotPay can help. Daily Mail raved about this Robot Lawyer successfully overturning more than 200,000 parking tickets.
Here's how DoNotPay can help you fight your parking ticket:
Log-in to DoNotPay and go to the Ticket Disputes category. Select the Parking Ticket product.

 

Upload a photo of your citation.

 

Provide us with some details on why you believe the citation issued is a mistake.

 

That's it! You'll receive an appeal letter that contains the best argument to win your case.

 
It's really that simple! DoNotPay makes it easy to appeal to an Islington PCN. You can use the carefully crafted appeal letter provided by DoNotPay to serve as your argument when you challenge your ticket.
DoNotPay Can Assist With All Your PCN Concerns
If you need to know how long a PCN will be issued after the offence or you want further assistance with other parking tickets, DoNotPay can assist. The most common ones are:
DoNoyPay have also succeeded in appealing thousands of parking tickets in the US, such as:
What Other Solutions Does DoNotPay Offer
DoNotPay is your one-stop shop for all types of legal services. The trustworthy robot lawyer can help in:
Check out DoNotPay today and save yourself from all the tedious and bureaucratic steps. Let the world's first-ever robot lawyer handle all your legal woes without breaking your bank.