Is Virginia a No-Fault Divorce State? Get the Best Answers From DoNotPay!
Divorce is seldom a pleasant experience, and an acrimonious process can cost time, money, and your mental health.
Filing for a no-fault divorce in Virginia can go some way towards making the process easier—even more so if you and your spouse can agree to make it friendly.
If you don't know the answer to the "Is Virginia a no-fault divorce state?" question, get all the answers and advice in this DoNotPay's guide!
How Does Virginia Divorce Law Work?
Virginia recognizes at-fault and no-fault divorces.
To file for an at-fault divorce in Virginia, you must prove your spouse guilty of:
Adultery or sexual activity outside the marriage
Conviction of a felony with a minimum one-year custodial sentence
Abandonment or desertion
Abuse or fear of physical or mental harm
No-fault divorces are easier, as you must prove solely that your marriage has irretrievably broken down.
There is a vesting period, though—you can only file for a no-fault divorce if you have lived separately from your spouse for at least one year. If there are no children in the marriage, you can file after six months of separation.
How Do You File for a No-Fault Divorce in VA?
Filing for divorce in Virginia is a three-step process, as follows:
Filing a complaint
Setting up a settlement agreement
Filing a Complaint
To start the process, you—as the plaintiff—have to file divorce papers with your county court or the court where your spouse lives.
The forms should include a:
Once you have filed the forms, the clerk of the court will give you the summons to deliver to your spouse.
Serving the Papers
Your next step is to serve the divorce papers on your spouse. You can get the local deputy sheriff to do this for around $50 or engage a professional process server.
Once you have received the proof of servitude, this needs to be filed with the court as well.
Setting Up a Settlement Agreement
Once the court has received all your papers, you can start setting up a divorce settlement agreement with your spouse.
The settlement agreement states how your marital responsibilities will be separated after your divorce and covers such elements as:
If you and your spouse can reach a settlement agreement before your case comes before the judge, you can file your agreement, and your divorce will be seen as uncontested. Your divorce will be granted without trouble within two to three months. In some counties in Virginia, you may not even have to attend a court hearing.
How Can You Set Up a Divorce Settlement Agreement?
If you and your spouse can reach a consensus on the terms of your settlement, the process is easy and may not require a lawyer.
There are two phases to setting up your divorce settlement agreement, as follows:
Negotiating the terms
Drafting the agreement
Negotiating the Terms
Depending on how well you and your spouse can work together, negotiating your settlement can be easy or hard.
Your options for negotiating your agreement are:
| Negotiation Options | Explanation |
| --- | --- |
| DIY | If you and your spouse agree on everything, there is no need to engage attorneys. An out-of-court settlement is the first prize as it can result in a major cost-saving |
| Lawyer | Lawyers are the traditional choice for negotiating settlement agreements but may come at a significant cost. Attorneys charge up to $400 per hour, and uncontested divorces can easily cost $4,500 per spouse |
| Mediation | You may be able to finalize your settlement agreement without a lawyer if you and your spouse agree to mediation. In this process, you negotiate face-to-face, but the discussions are facilitated by an impartial mediator |
Drafting the Agreement
As soon as you have successfully negotiated your settlement agreement, you can have it drafted as a legal document.
The following resources are available for this task:
Lawyer—A lawyer may be the default option for drawing up legal documents but will charge a hefty price for doing so
Online—Many online divorce providers offer settlement agreements, but there is a danger that the one you choose will be too generic to cover your exact needs
DoNotPay can solve all your problems—our Divorce Settlement Agreement product can for you in a few clicks!
DoNotPay Gets You Sorted in Virginia!

DoNotPay is your best resource for making your no-fault, uncontested divorce in Virginia quick and easy.
Our Divorce Settlement Agreement product gives you the document you need in no time at all—your divorce settlement agreement will be:
Valid in Virginia
All-encompassing
Customized to your exact specifications
Here's how to set your settlement agreement up:
Click on our Divorce Settlement Agreement feature
Fill out the details of your agreement with your spouse
DoNotPay will take care of the rest—once we have collected all the points you want to be included, we will create your agreement in no time. You can sign it together with your spouse and have it notarized.
Even if you don't know where to find a notary, there's no need to panic—our online notarization service will make sure you're done with this task in a snap!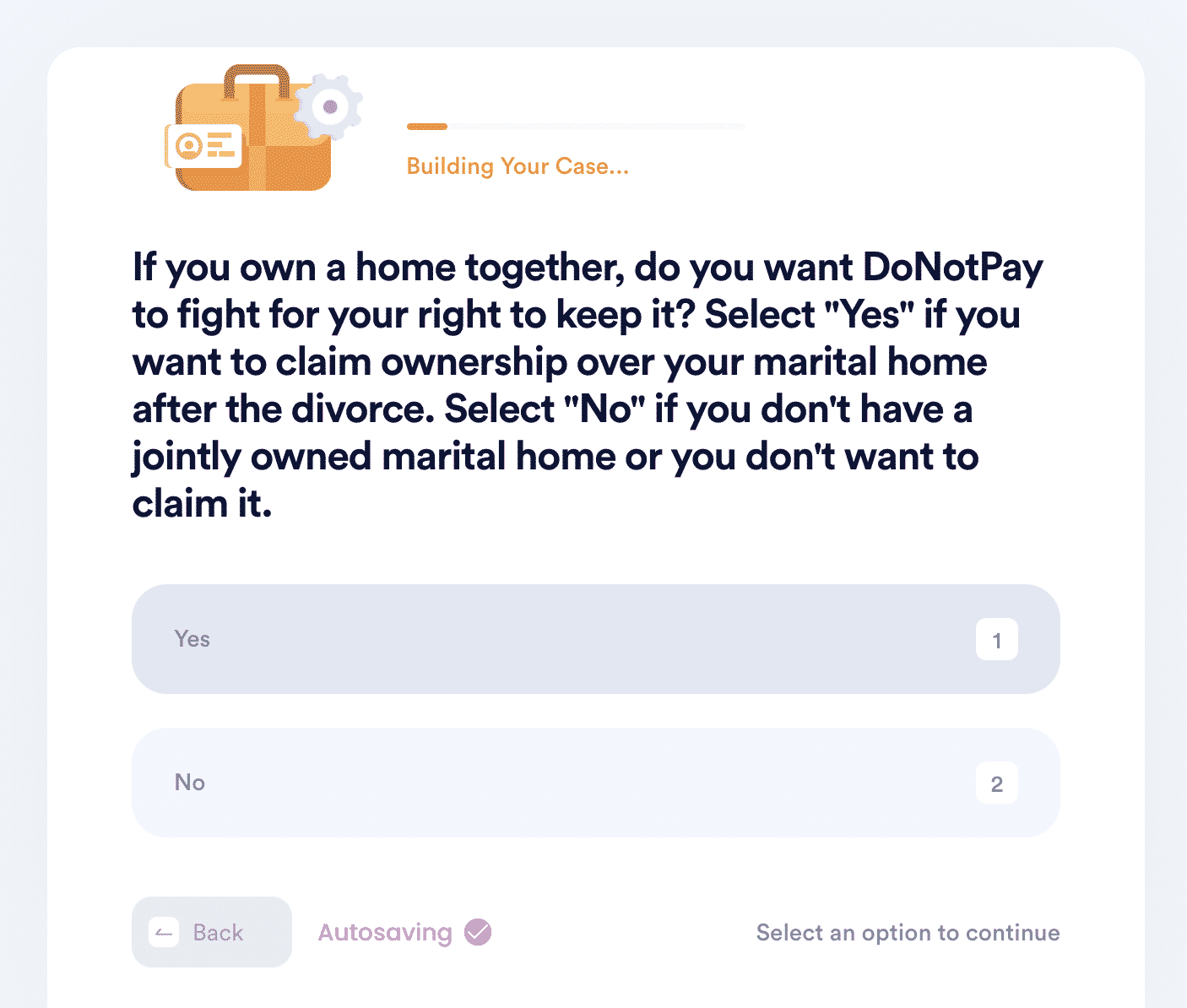 Other Help in Virginia From DoNotPay
If you need specific information about your county or special circumstances, here are some examples of what DoNotPay can offer:
What Other Issues Can Our App Solve?
DoNotPay can support you through various burdensome procedures and turn them into a breeze! Here's a table showing a tiny part of our extensive offer:
| DoNotPay Can | Services |
| --- | --- |
| Create various documents | |
| Protect your safety and privacy | |
| Get your money back | |
DoNotPay Is Your Ticket to Simpler Life
Don't bother going through complicated tasks alone—we are here to take care of them! Seek our help if you want to get in touch with customer service instantly, fax anyone online, or get your documents notarized. Besides providing these amazing services, DoNotPay can make preparations for your travel adventures by assisting you in getting passport photos at home and obtaining tourist visas.