Is There a Recovery From Gambling Addiction? Yes!
There are more than 10 million people in the United States who are living with a gambling addiction. Every year, millions of dollars are blown on gambling, leaving partners of gambling addicts crushed with the weight of it all and addicts wondering how to stop gambling and save money.
This may also have you wondering: Is there a recovery from gambling addiction? The answer is yes!
When your loved one has a gambling problem and doesn't know how to stop gambling, you can help by sending ban requests to nearby casinos. This can be done by yourself — although it can require more time and research than you may have to give — OR you can let DoNotPay do it for you. With just a few details from you, DoNotPay can get you or your loved one banned from all relevant casinos to help with recovery.
How Getting Banned From Casinos Can Help With Recovery
Gambling is a serious addiction that can follow you around for the rest of your life. Getting banned from nearby casinos (or as many as necessary) is important to:
Reducing the temptation to go
Preventing relapse
Stopping entry if you or your loved one tries to go in
Recovery will not be easy, but the more time that is put into preventing relapse after recovery, the better positioned a gambling addict will be in successfully healing from the addiction.
What Should I Do If My Loved One Is Addicted To Gambling?
If your loved one is addicted to gambling, there are a couple of things that can be done:
Send Them to Rehab
Rehab is a great setting for addicts of all kinds because it has strict rules, regulations, and experts for guidance. Sometimes, it can be substantially more beneficial for a gambling addict to get away from their standard environment to focus on recovery and moving forward. Having experts around can help them battle the addiction properly, and being surrounded by other recovering addicts reminds them that they're not alone in their struggle.
File a Third-Party Exclusion Request
Filing a third-party exclusion request on the other hand, is great for either:

Preventing a gambler from gambling in nearby casinos before recovery OR
Helping a gambling addict coming out of rehab continue recovery.

This is because it allows a family member or friends to request a ban on their loved ones to prevent gambling escalations.
Steps To Take For Filing A Third-Party Exclusion Request
Steps may include:
Contacting the clubs and casinos your loved one attends often
You will attend a meeting and be asked to provide evidence (i.e., financial records)
Filling out a statutory declaration
Waiting while the club decides whether or not to ban the member (a written notification is given to the member if they decide to ban)
After at least six months, the banned member will be given the opportunity to lift the ban
DoNotPay Can Get You Banned From Casinos in 6 Easy Steps
Recovery is hard enough on those struggling with it and friends and family around them. Instead of sending ban requests to all nearby casino locations, let DoNotPay do it for you. All you have to do is:
If you want to stop gambling but don't know where to start, DoNotPay has you covered in 6 easy steps:
1. Search Gambling Protection on DoNotPay.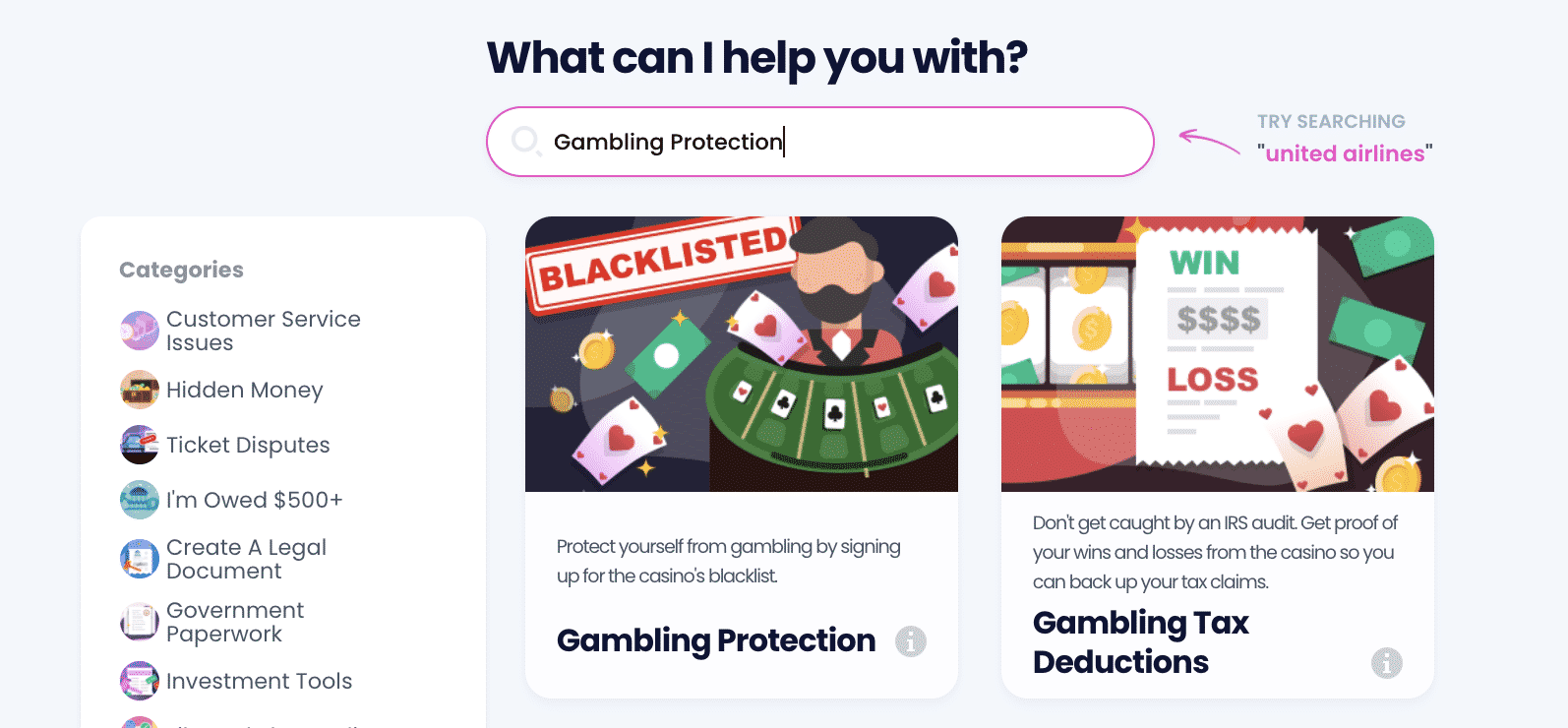 2. Enter the name of the casino and indicate whether it's online or in-person.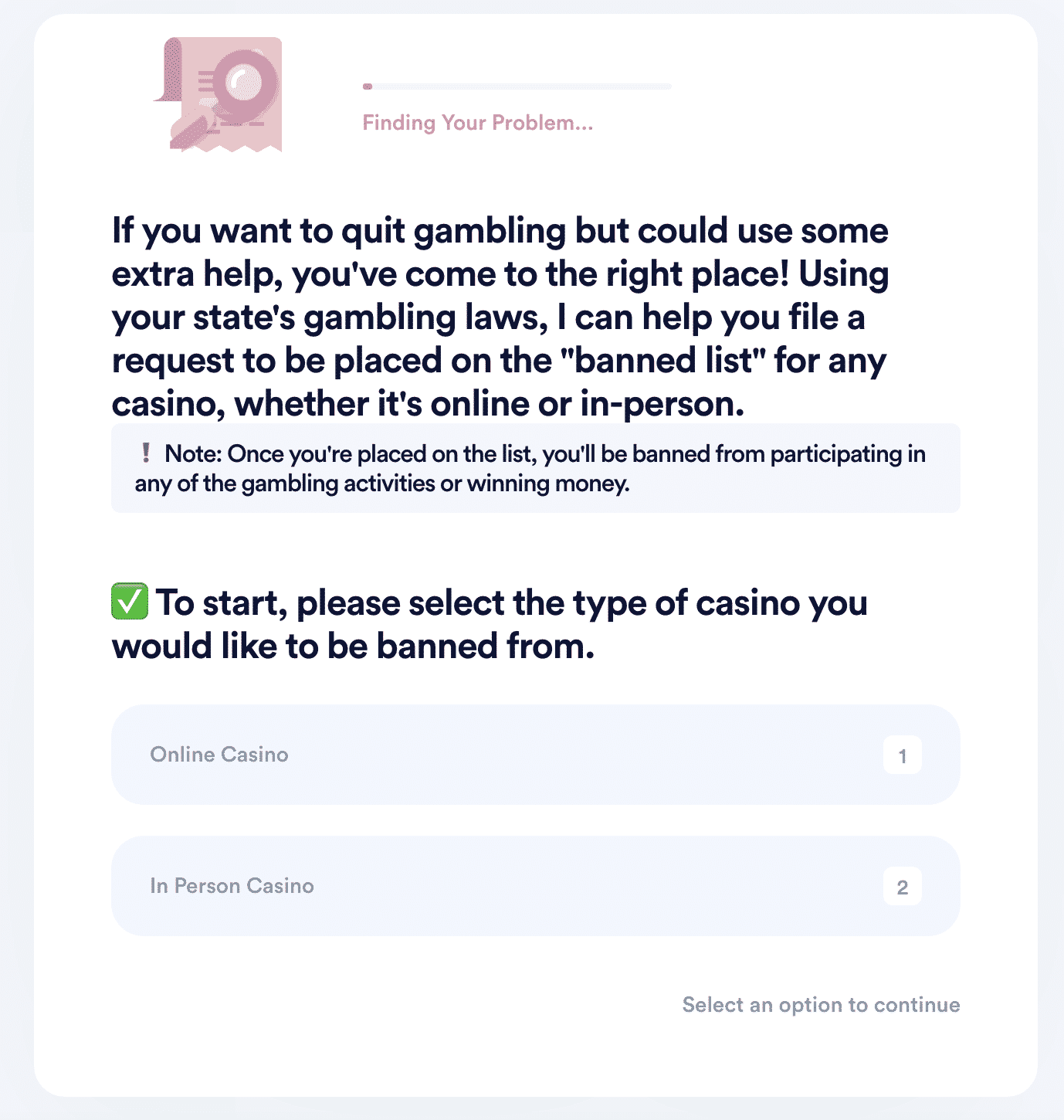 3. Tell us which state the casino is located in, or the state you're accessing the online casino from. DoNotPay will then find your state's self-exclusion laws and reference them in your request.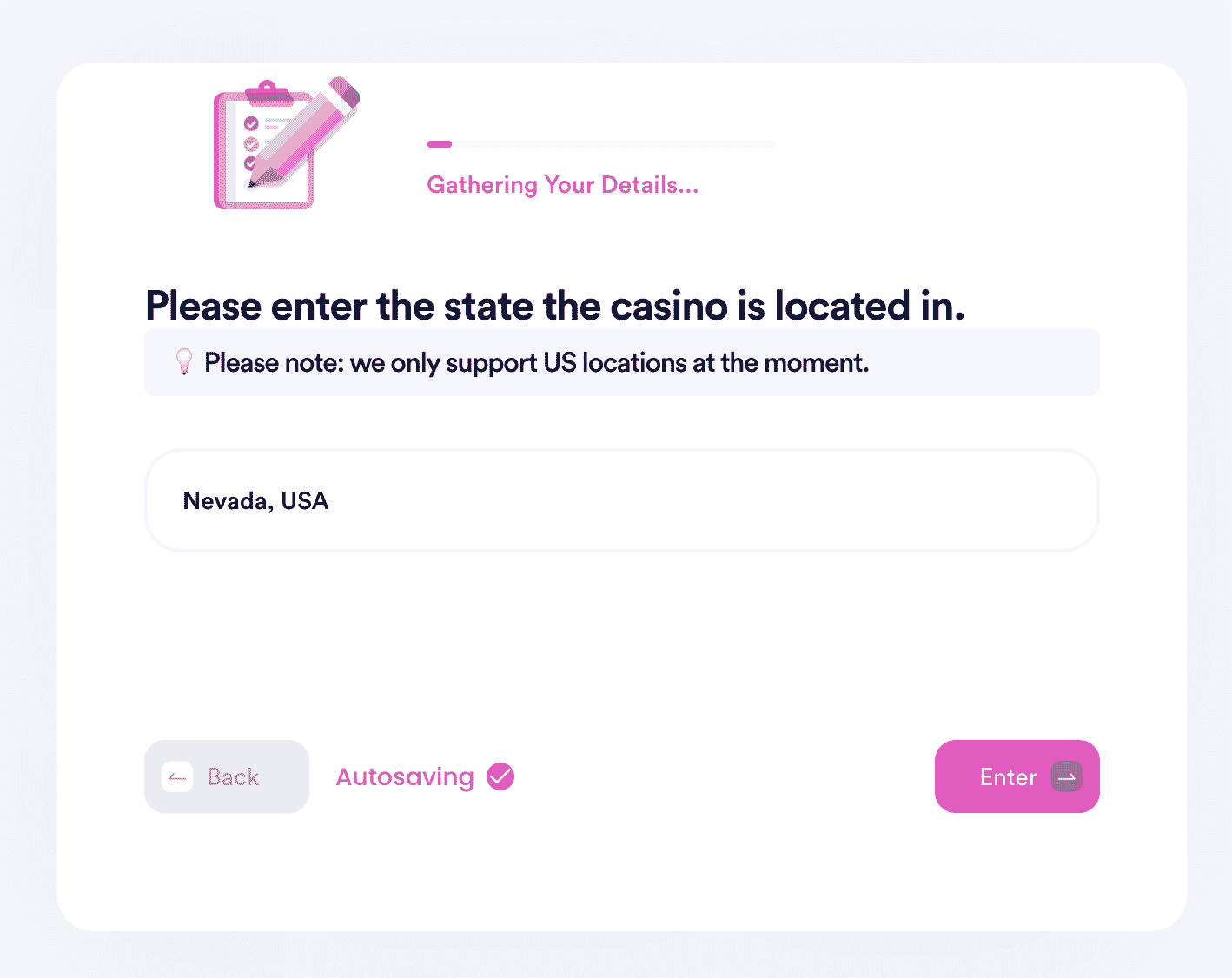 4. Select how long you want to be banned for (you can choose anywhere from 1 year to a lifetime!)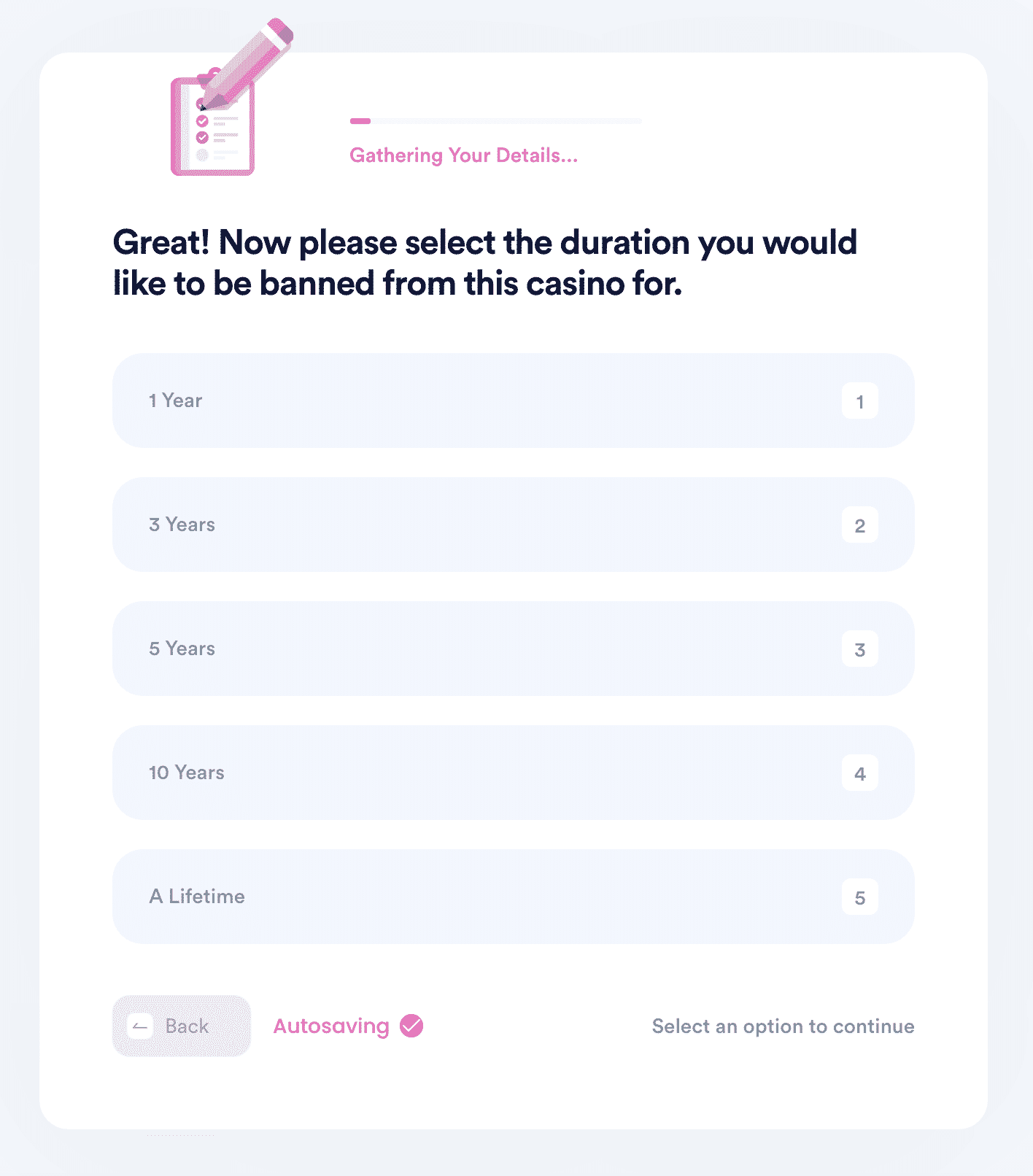 5. Answer a few of our chatbot questions so we can help the casino identify you or your online account. If you want to be banned from an in-person casino, it helps to provide information about your height, weight, race, and other identifying features.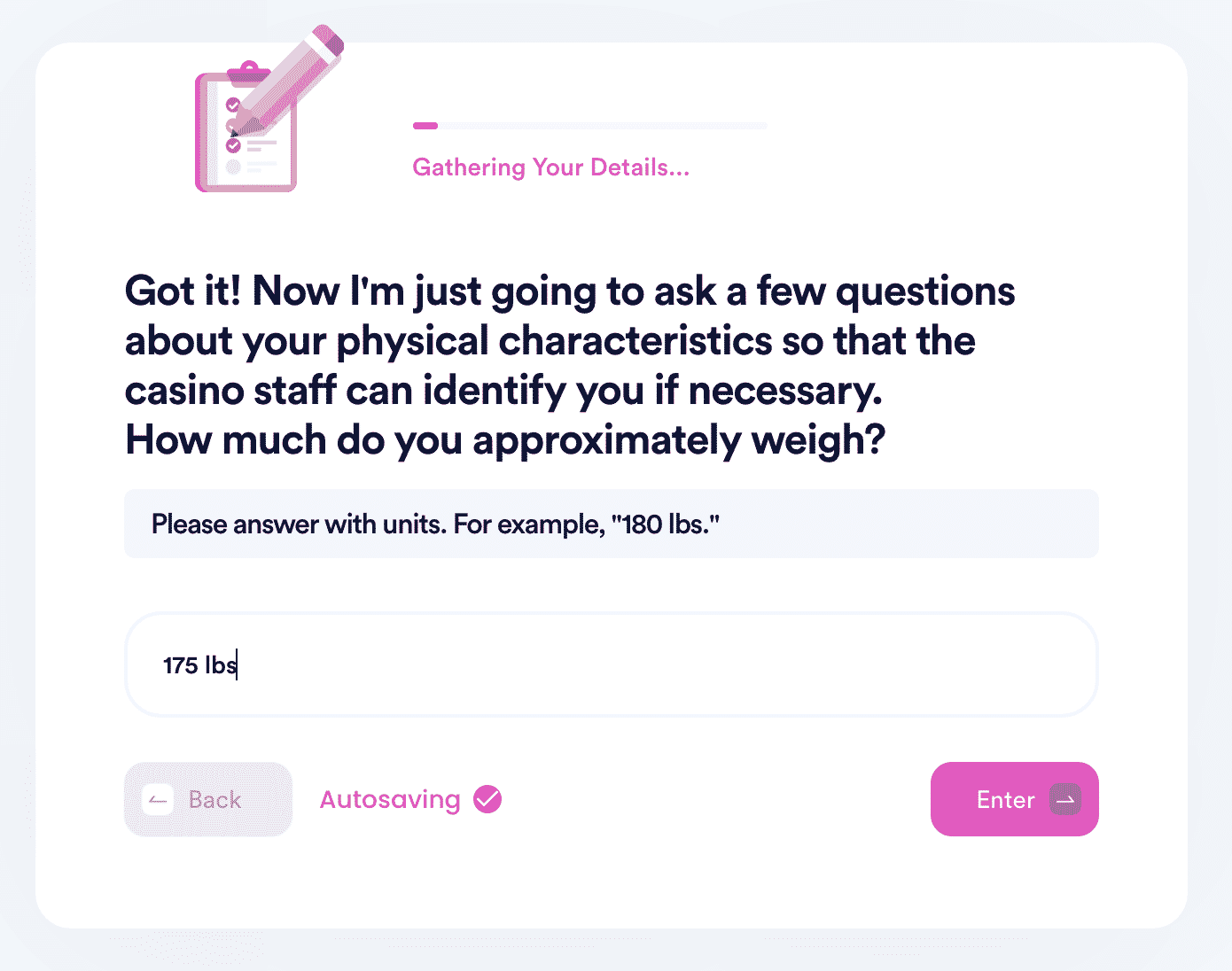 6. Choose whether you want us to email the request to the casino on your behalf. You can also choose to notarize your document to legally verify your identity.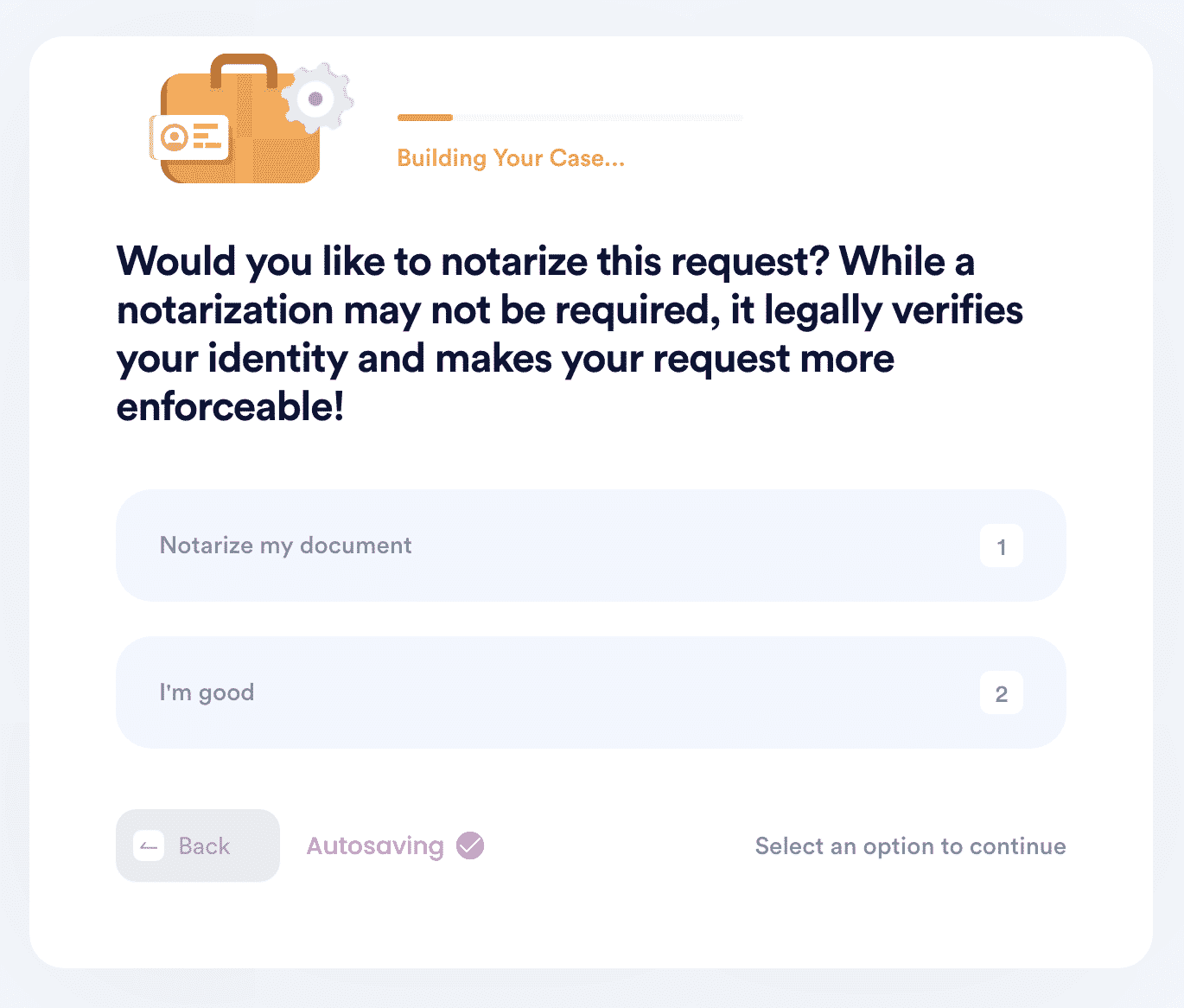 What Other Problems Can DoNotPay Solve For Me?
DoNotPay can do much more than help you help your loved one during recovery. While our Gambling Protection product is a great service for taking on ban requests among many locations, we have other products that solve unrelated problems as well. 
For instance, DoNotPay can do the following and more:
Do you need to notarize any documents? We can handle the whole process for you.
If you need help with bills, we can set up a reliable payment process to prevent late payments and ensure everyone gets paid every month.
Get access to free trials to save on money and test out expensive products before committing to full-size options.
Afraid that you're missing money? We can either get you your money back or conduct a search to find missing money that you didn't know existed.