Is a Power of Attorney Responsible for Medical Bills?
Did a loved one choose you as their health care agent, or do you want to appoint someone in your advance directive? You may have many questions about the obligations and rights passed to an agent, for instance—is a power of attorney responsible for medical bills? This guide will help you understand the role of a health care agent. We will also show you how to prepare an advance directive easily using DoNotPay.
What Is the Role of a Power of Attorney?
There are two types of power of attorney granting different authority, as defined below:
A general durable power of attorney—It gives the agent authority to handle your financial affairs, such as paying mortgage and taxes
A medical power of attorney—It provides the agent (also known as health care proxy, surrogate, or attorney-in-fact) authority to make health care decisions on your behalf if you are incapacitated
The obligations of an agent can also vary based on:
Limits or terms set by the principal (the person creating a power of attorney)
Laws of the state where the document is created
The table below provides a detailed explanation of what the agent can do on behalf of the principal:
Document
Agent's Authority
A general durable power of attorney

Accessing the principal's accounts to cover medical bills, electricity, rent, and any other authorized expenses
Making investment decisions
Filing tax returns

A medical power of attorney (also known as a health care proxy)

Deciding what treatment options the principal should or shouldn't receive
Selecting the health care facilities and physicians for the principal
Denying or approving individuals who can visit the principal when sick
Consenting to admission or discharge of the principal from a health care facility, such as a nursing home
Is a Power of Attorney Responsible for Medical Bills?
A person appointed as an agent, be it for a medical or financial power of attorney, is not responsible for medical bills. The source of funds for medical bills can be the principal's:
Health insurance provider
Family member, like a spouse, parent, or guardian
Public benefits program, like Medicaid
The agent appointed in a financial power of attorney must manage the principal's money carefully. If the principal dies, a power of attorney is annulled. Any debt, including medical bills, is transferred to the principal's estate, but the agent can be responsible for them in the following situations:
Signing additional paperwork that makes the agent liable, like guaranteeing a loan
Being related to the principal by blood or marriage
Holding joint accounts or being a cosigner with the principal
Get Your Advance Directive in a Few Minutes Using DoNotPay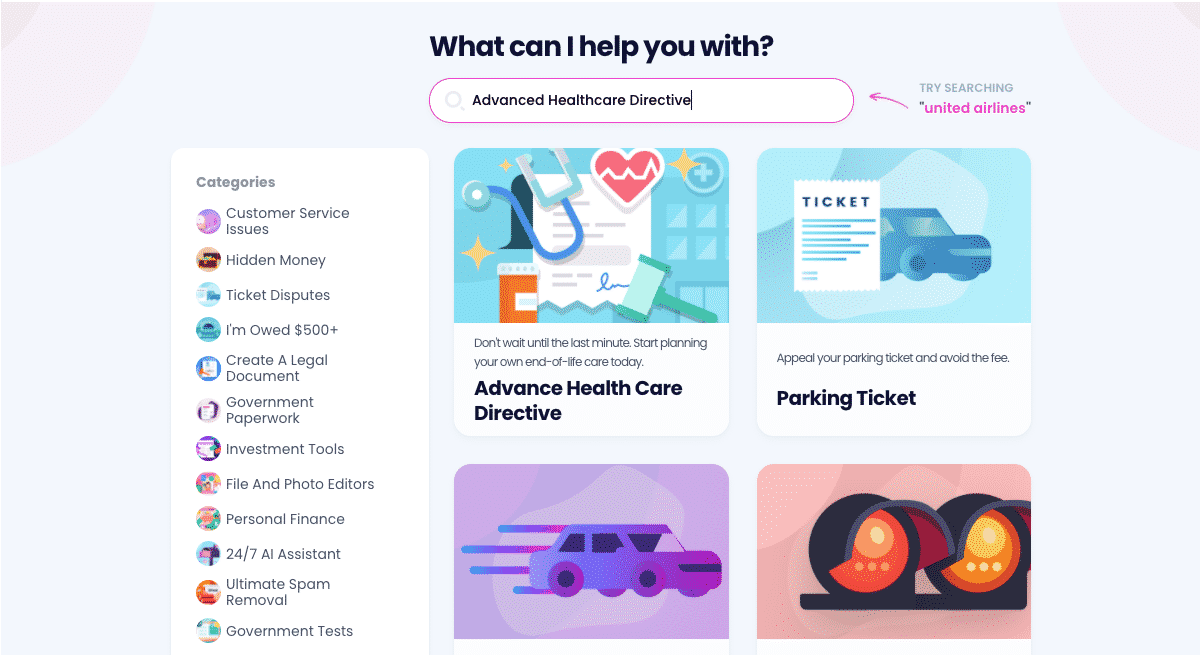 Specifying the powers you want to give to your agent can ensure that your wishes are honored. DoNotPay will help you create an advance directive that presents your wishes and instructions in a straightforward manner. All you have to do is answer a few questions, and we will prepare a personalized power of attorney or living will. Follow these simple steps to get started:
Open DoNotPay from any web browser
Select the Advance Health Care Directive tool
Enter the names of your agent and witnesses
Complete the brief questionnaire
Once you submit the information, your document will be ready in no time. You may be required to have your advance directive notarized depending on your state laws. DoNotPay can enable you to organize a video meeting with an online notary.
You can also use the guides in our knowledge base to find out more about advance directives, including: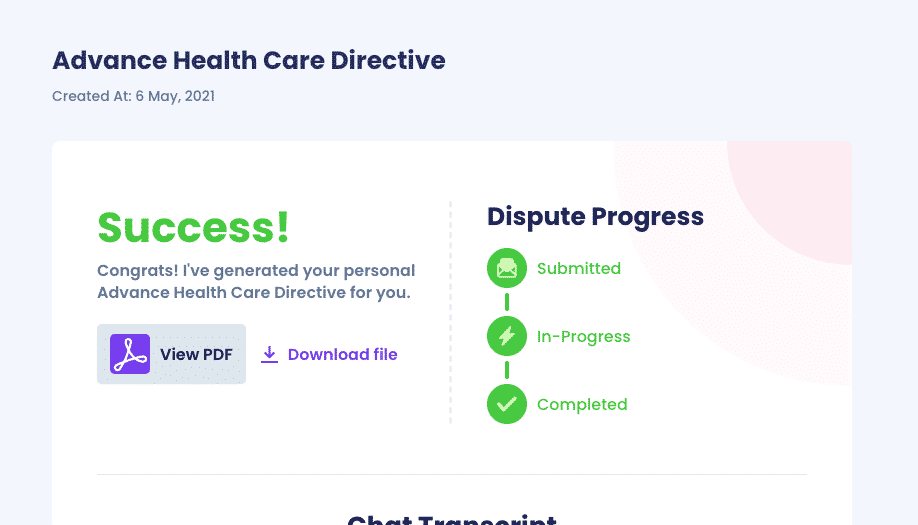 DoNotPay's Assistance at Your Fingertips
DoNotPay is all about easy solutions. Turn to our app when you need to get rid of unwanted services, block spam emails and text spam, and overturn unpaid parking tickets. We can also assist you in registering on platforms without disclosing your number and signing up for free trials using our virtual credit card.
With our app, you'll forget about old-fashioned ways of completing certain tasks. Let us help you send faxes online, mail letters, reach customer service, and get in touch with an incarcerated loved one.
DoNotPay Has More To Offer
Our app boasts a wide range of products—from filing a warranty claim, requesting a refund, and booking a DMV appointment to getting a document notarized, filing financial aid appeal letters, and fighting discrimination at work.
For DoNotPay users, no problem is too difficult to solve. Here are only some of the tasks our app can help you complete: