Is Ohio a No-Fault Divorce State? DoNotPay Has the Answer and More
If you're on good terms with your spouse and there is no one to blame for the breakdown of your marriage, the divorce can be completed effortlessly. You might be asking yourself, 'Is Ohio a no-fault divorce state?' DoNotPay has prepared a guide to answer your question and help you:
Is Ohio a No-Fault State for Divorce?
Ohio is a mixed or a hybrid state, meaning that you can file for a fault or no-fault divorce. Filing for the former is complicated, and the latter is more popular among couples in Ohio.
How Does a No-Fault Divorce in Ohio Work?
Getting a no-fault divorce means that you don't need to have reasons for parting ways with your spouse. If you agree that your marriage isn't working out, you can state that you two are incompatible.
No-fault divorce also qualifies you for a summary dissolution of marriage. The dissolution works the same way as a divorce, with the only difference being that you must agree on key issues with your spouse.
Are You Eligible for a Summary Dissolution of Marriage in Ohio?
To be eligible for a summary dissolution of marriage in Ohio, you or your spouse must have lived in the Buckeye State for at least six months before filing the papers. Once you meet the residency requirements, you must agree on certain issues with your spouse, like in a friendly or uncontested divorce. You must reach a compromise on:
If you can't meet your spouse halfway, perhaps divorce mediation can help. The mediator will come up with ideas to help you reach an agreement in a safe environment. Opting for divorce mediation in Ohio may lower the cost of your divorce and help you end your marriage faster.
How To Get a Dissolution of Marriage in Ohio
Getting a dissolution of marriage in Ohio consists of a few steps. Check out the table below for more info:
| Step | Explanation |
| --- | --- |
| Draw up a divorce settlement agreement | The most important document for an uncontested divorce is the divorce settlement agreement. It contains joint decisions you and your spouse have made regarding crucial divorce aspects |
| Get the necessary divorce papers | Go to your local courthouse or visit the official government website to get the required forms. You won't need to serve them to your spouse, but you need to fill the papers together |
| Have the paperwork notarized | Ohio divorce laws require you to have your divorce papers notarized. You can either go to a notary in person or schedule an appointment with an online notary in minutes by signing up for DoNotPay |
| File for divorce | After completing and getting your documents notarized, you will need to file them at your local courthouse. This step requires you to pay a filing fee, which may be waived if the judge deems you can't afford it |
| Attend the final hearing | Once you've filed the forms, the court will set a date for a final hearing. At the hearing, the judge will make sure your papers are valid and that the divorce settlement agreement has been signed of your own will |
Need a Divorce Settlement Agreement? DoNotPay Can Help You Get One in a Jiffy
Before DoNotPay, getting a divorce settlement agreement required you to:
Hire a lawyer to draw one up for you—This is an expensive solution as the lawyer fees will cost you a fortune
Write one yourself—If you want to write the settlement agreement yourself, you must keep in mind that a mistake in the contract might mean that you have to file the papers twice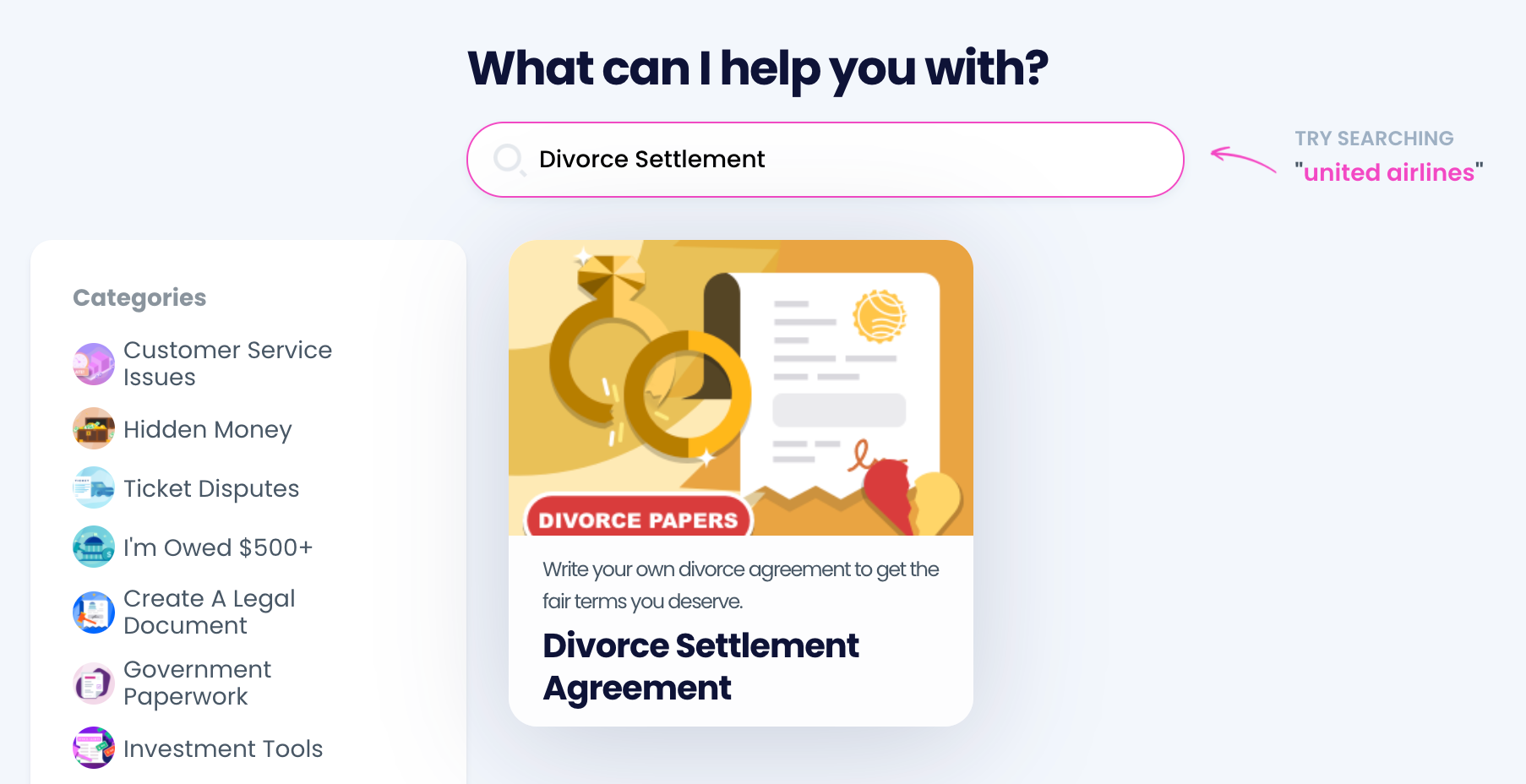 With DoNotPay's Divorce Settlement Agreement tool, getting this crucial document is a piece of cake. Here's the drill:
Select the Divorce Settlement Agreement tool
Answer our chatbot's questions regarding the terms of your divorce
Select the online notarization option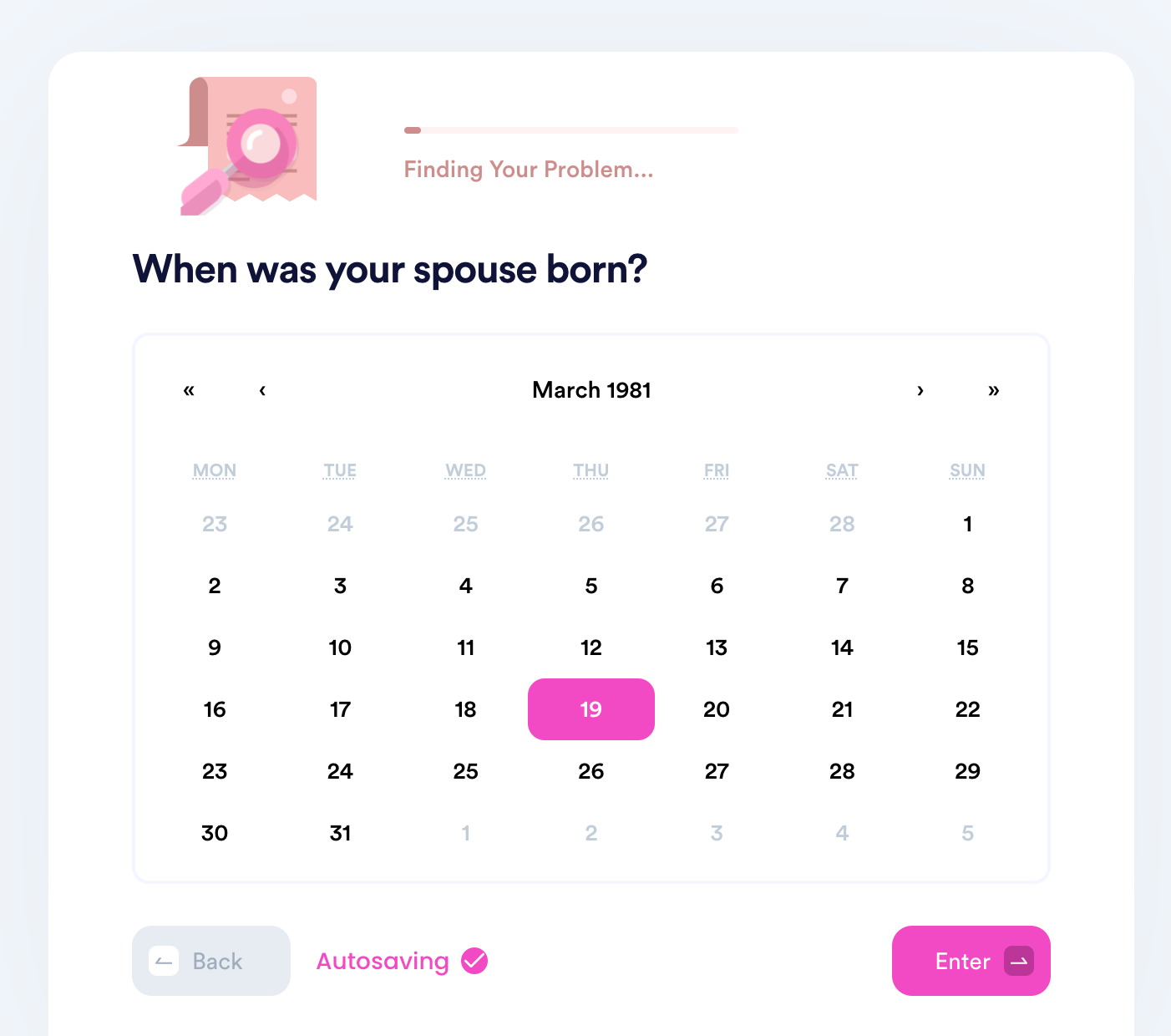 Upon submitting your request, we'll process the details you give us and generate a tailor-made divorce settlement agreement for you. It won't break the bank, and you can even have it notarized via a video call. If you follow the link we send you in an email, you can set up an appointment with an online notary in a snap.
DoNotPay's help doesn't end here! We can also provide answers to other divorce-related questions, such as:
Use DoNotPay To Complete a Variety of Tasks at Any Time
Why waste time and money completing mundane tasks on your own when you can let DoNotPay assist you? Take a look at the table below to find out what our AI-powered app can do for you:
| DoNotPay Can | Services |
| --- | --- |
| Protect your safety and privacy | |
| Draft legal documents | |
| Help you get your money back | |
DoNotPay Has More in Store for You!
Since communication is key, you'll appreciate our feature that helps you get in touch with customer service reps quickly! We'll also show you how to send faxes online and have your documents notarized by an online notary with ease!
Going on vacation? Use DoNotPay to take a valid passport photo at home or get a tourist visa!