Is Homeowners Insurance Tax Deductible for a Rental Property? DoNotPay Has the Answer!
Can you use your homeowners insurance for the rental properties? Is homeowners insurance tax deductible for your rental property? DoNotPay will provide answers to these questions in the following text. 
What Rental Property Expenses Can You Deduct?
To reduce your property taxes, you can deduct various costs when reporting your taxes. 
For conserving, maintaining, or managing a rental property, the following expenses can be deducted:
| | |
| --- | --- |
| Expenses | Explanation |
| Ordinary expenses | These are common expenses that are generally accepted in business |
| Necessary expenses | These are also called appropriate expenses, such as taxes, utilities, insurance, maintenance, etc. |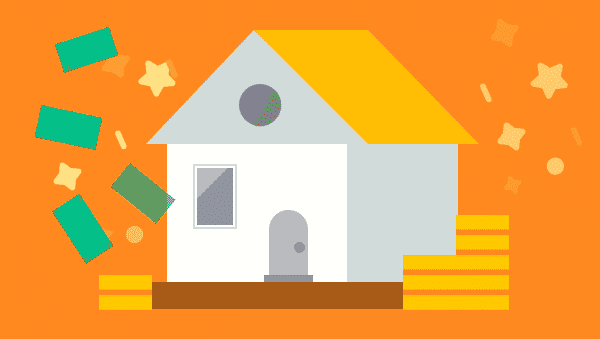 Here is a more extensive list of expenses you can deduct from your rental income:
Points

Taxes

Utilities

Repairs

Insurance

Advertising

Depreciation

Commissions

Rental payments

Management fees

Auto and travel expenses

Cleaning and maintenance

Local transportation expenses

Legal and other professional fees

Interest (including mortgage interest paid to banks)
The answer to the main question is—your homeowners insurance is tax deductible for your rental property. 
This is a benefit of renting a property since you cannot deduct your homeowners insurance for the property you reside in.
Mortgage Insurance vs. Homeowners Insurance
If you are wondering about the difference between mortgage and homeowners insurance, you should know that:
Homeowners insurance protects you against any potential losses caused by damage to your property

Mortgage insurance guards you in case you are not able to deal with your mortgage payments
Another significant difference between these two insurance types is that you can deduct:
Homeowners insurance premiums only on your rental property (not on your home)

Mortgage insurance premiums on both your home and rental property (with certain income restrictions for your home)
When To Deduct Insurance if You Pay Premiums in Advance
If you opt for paying your insurance premiums for more than one year in advance, you cannot deduct the whole amount you pay in the same year you settle the premium. 
You need to deduct the part of your insurance payment that applies to that calendar year only. 
How To Deal With Gain From Insurance
You should be careful if you get money as insurance compensation. If the received amount is more than the adjusted basis of your property, you need to report this gain.
For more information on residential rental properties, you can consult the Internal Revenue Service (IRS) Publication 527. 
Is Homeowners Insurance Tax Deductible for a Rental Property When You Start Renting Your Home?
In case you decide to change the whole or a part of your primary residence or additional property to rental use during a calendar year, you need to be careful with your expenses.
You must divide your annual expenses, including insurance and taxes, between:
Personal use

Rental use
Once you have divided these expenses accordingly, you can only deduct insurance for the part of the year when you held the property for rental use. 
DoNotPay provides information on how to claim rental properties on your taxes easily. 
Is a Homeowners Insurance Policy Good for Rental Properties?
Many homeowners insurance policies do not cover damage occurring in a rented space. Insurance providers use different rules for defining what a rental property is. Some might use special regulations if:
The tenant is a family member

Rental space is attached to the main structure 

The rental has a separate entrance
Homeowners insurance might not be the most suitable policy for your rental property in all cases. If you plan to lease a property for a longer period, you should consider taking rental property insurance as it is designed explicitly for this purpose. 
Your homeowners insurance might be appropriate if you intend to rent out a property for a short time, e.g., for a few days or over weekends. 
A standard homeowners policy may include this coverage, but you should notify your insurance provider. You might need additional coverage that will extend to short-term rental insurance benefits. Review your policy carefully and if not sure, contact your insurance company. 
DoNotPay can help you pay property taxes and provide information on property tax exemptions or assessments. 
DoNotPay Can Show You What Property Tax Exemptions You Qualify For
Who would not like to get a precise list of property tax exemptions they qualify for? You might be familiar with one type, while missing others you are also eligible for. 
Tax exemptions can save you lots of money every year. Let DoNotPay know some basics about you and your property, and we will create a guide with relevant information and tips.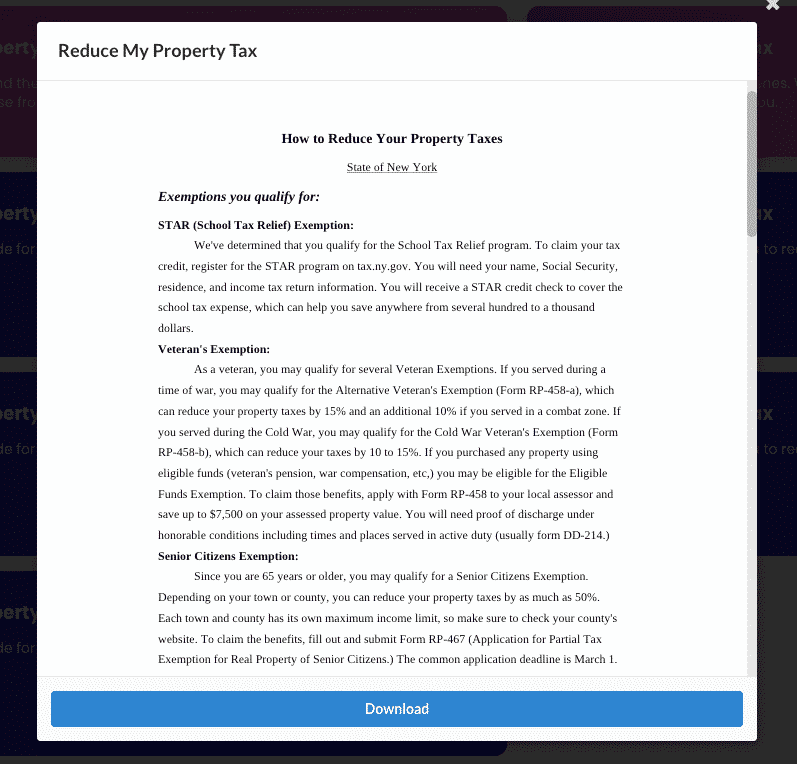 Here is how you receive your personal property tax manual:
Open DoNotPay in your

web browser

Select the

Property Tax

feature

Answer a few questions about you and your property
You can use all the provided information to reduce your or a senior family member's property taxes easily. The guide contains a section showing you how to appeal property taxes if you believe the assessed value of your property is not correct.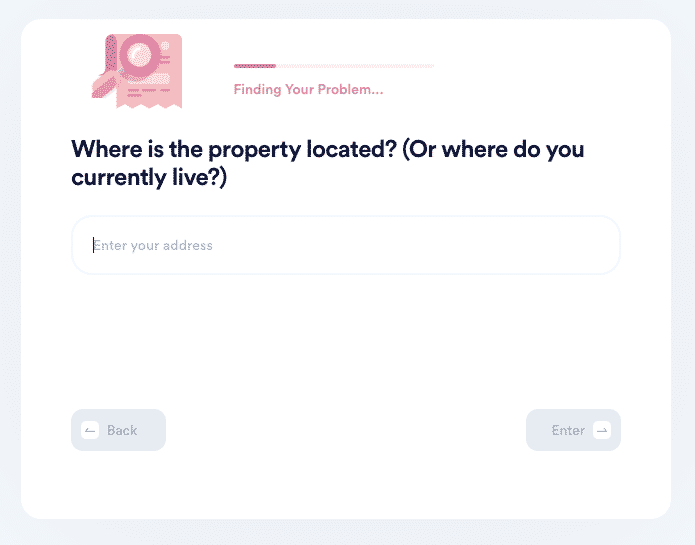 Are you interested in additional property tax-related information? Take a look at what states have low property taxes. Our guide will help anyone thinking about purchasing their next property.
Clear Out Your Daily Tasks Fast With DoNotPay
Are your parking tickets piling up, but the process of appealing them is way too complicated? Do you struggle to pay your bills but are not sure how to get an extension? Is it time to extend your driver's license, but reaching the DMV is a nightmare?
DoNotPay will turn all of these dreadful tasks into easy-to-do items you can check off your agenda quickly!
Get rid of spam emails, texts, and calls quickly using our AI-powered app!
Learn how to secure compensation from airlines, get your college fees waived, claim your lost funds, or reduce your property tax—all with a few clicks!
Subscription Issues? DoNotPay Can Help!
If you are looking to test out a service, think twice before disclosing your payment info. Companies will often ask you for your credit card details even when signing up for a free trial—they charge you once the trial expires. 
Use our virtual credit card, and don't worry about unwanted charges! 
Our credit card gets automatically approved for any free trial, but it rejects any real charges since there is no money on it.
DoNotPay will locate and cancel all your unwanted subscriptions without you having to deal with customer service reps.
We can also help you request refunds from companies or take them to small claims court if they refuse to cooperate.