Is Child Support Mandatory In Divorce? Here's What You Need to Know
Filing for divorce brings with it a host of worries, many of them around the way your finances will look after your marriage ends.
You want the process to be fast, cheap, and painless, but you also want to know that your family will be looked after adequately for the foreseeable future.
Is child support mandatory in divorce? DoNotPay has the answers you need to plan for your future after you and your spouse have gone your separate ways!
Divorce Law and Child Support
If a court ends up deciding on the terms of your divorce settlement, laws are in place in every state to make sure that your minor children are looked after financially.
One of the most crucial criteria in any divorce is how minor children are provided for by their parents, and child support amounts ordered by a court are based on the:
Parents' income
Needs of the child or children
Time the child or children spend with each parent
Child support payments are often linked to certain expenses, meaning that you may have to account for your spending if you receive child support from your ex-spouse. Child support money is intended to pay for:
Housing
Food
Clothes
School fees
Transport
Medical expenses
Any other justified expenses relating to the child's wellbeing can also be claimed against child support.
How Is Child Support Calculated?
Each state has its own basis for calculation, but the factors that influence the amount of child support payable are:
| Influencing Factors | Explanation |
| --- | --- |
| Number of children | The number of children is the starting point for the calculation, but two children do not automatically receive twice the amount one child would receive |
| Custodial parent's income | The net monthly income of the custodial parent must be factored in |
| Non-custodial parent's income | The non-custodial parent's net monthly income is taken into account as well |
| Time non-custodial parent looks after the child | The longer the non-custodial parent looks after the child or children, the lower the child support amount will be |
Other factors will also be taken into account when calculating a child support order, such as:
Child care needs
Healthcare requirements
Special educational circumstances
Visitation rights and travel expenses
How Can You Control the Amount of Child Support Payable?
If your divorce case goes to court and child support is decided by a judge, the amount of child support payable will be decided for you. You may be able to appeal the amount set, but your options will be limited.
The best way to keep control of the amount paid in child support is to aim for a no-fault uncontested or friendly divorce, in which you and your spouse reach an out-of-court settlement that includes provision for your children.
This process involves you and your spouse drawing up a divorce settlement agreement either before or directly after you have filed divorce papers and served them on your spouse.
How Can You Set Up a Divorce Settlement Agreement Including Child Support Elements?
A divorce settlement agreement is a legal document between you and your spouse that sets out your responsibilities after the divorce has been granted.
The agreement should cover:
Child-related issues
Child-Related Issues
All the points of child custody, support, and shared parenting plans need to be clearly defined in the settlement agreement.
Before deciding on the numbers involved, you and your spouse should check your state's guidelines on how to calculate child support—if a judge finds that your proposal is inadequate, your settlement agreement will not be accepted, and your case may end up in court.
Alimony
In the same vein, settlements related to alimony need to follow state guidelines to pass muster.
You should also check the length of time your state expects alimony payments to last—this normally depends on how long you have been married.
Assets and Debts
Your divorce settlement agreement needs to clearly state how your marital assets and liabilities will be divided after your divorce.
Each state has laws relating to how marital property should be split, and your settlement must be within the law to be accepted.
Where Can You Get Your Settlement Agreement Drawn Up?
Your options for having your settlement agreement drawn up are:
Settlement Agreement Sources
Explanation
Lawyer
A lawyer is the traditional choice in many divorces but may be an unnecessary expense if you and your spouse already agree on most of your settlement terms.

Layers charge hefty retainers and hourly rates of up to $450, so allowing your attorneys to negotiate and draw up a settlement agreement for you can easily cost $5,000.

There is no legal requirement for you to use a lawyer in most divorces, and you may want to consider mediation as an alternative—you and your spouse could be helped towards a settlement at a fraction of the cost

Online service
Many online providers offer settlement agreement templates for you to download and fill out yourself. While these are cheap, you should exercise caution, as many of these templates are too generic to cover all the bases your settlement may require
DoNotPay's solution is simple. We can offer a customizable and legally valid settlement agreement without the expense of a lawyer—all in a few clicks!
DoNotPay Helps Settle Your Child Support Worries!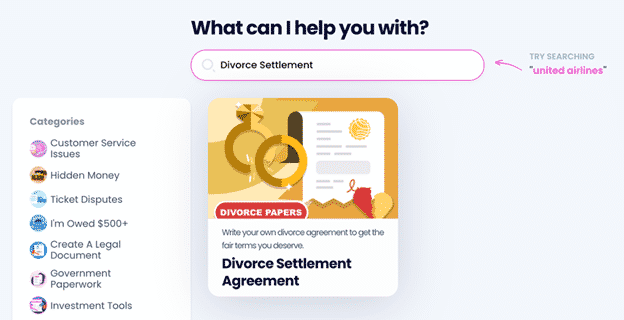 DoNotPay is committed to making your divorce as simple and painless as possible!
Our Divorce Settlement Agreement feature is aimed at helping you and your spouse stay out of court by giving you a tailor-made agreement in line with what you have agreed.
You can create your settlement agreement by following these steps:
Sign up with DoNotPay in your web browser
Click on our Divorce Settlement Agreement product
Follow the prompts and fill out the terms you and your spouse have agreed on
Once we have all the details, we will generate your document in a flash. You and your spouse can go ahead and sign it in the presence of a notary.
Don't know where to find a notary in your area? No need to worry—you can use our online notarization service to get your agreement signed and sealed!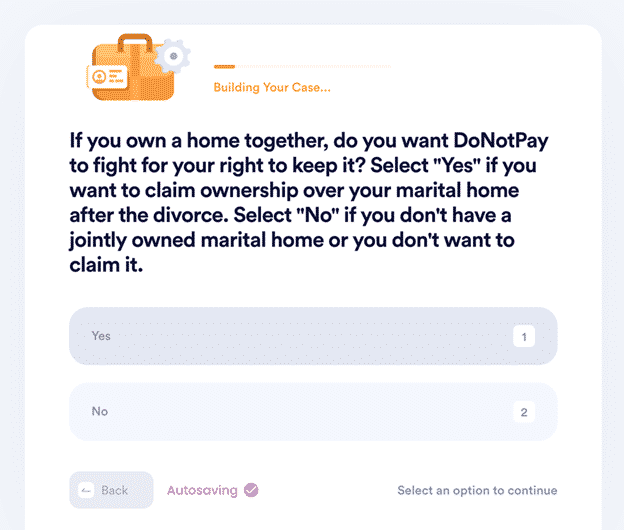 Use DoNotPay To Complete a Variety of Tasks at Any Time
Why waste time and money completing mundane tasks on your own when you can let DoNotPay assist you? Take a look at the table below to find out what our AI-powered app can do for you:
| DoNotPay Can | Services |
| --- | --- |
| Protect your safety and privacy | |
| Draft legal documents | |
| Help you get your money back | |
DoNotPay Has More in Store for You!
Since communication is key, you'll appreciate our feature that helps you get in touch with customer service reps quickly! We'll also show you how to send faxes online and have your documents notarized by an online notary with ease!
Going on vacation? Use DoNotPay to take a valid passport photo at home or get a tourist visa!