Is Breach of Contract a Tort? Learn Here!
Can you file a breach of contract claim if you suffer injury due to the other party's negligence? Is breach of contract a tort?
In this article, DoNotPay will explain all the differences between a tort and a breach of contract. We will also help you understand what legal remedies you can seek and how to collect damages using a breach of contract demand letter.
Is a Breach of Contract a Tort?
The short answer is no—a breach of contract is not a tort. To understand why, you will need to learn the difference between tort and contract law. Consult the table below for a brief explanation:
Law
Explanation
Contract law
Contract law deals with written and oral contracts. It dictates how valid or enforceable a contract is and what happens if one of the parties breaches it. To be legally valid, a contract must contain:

An offer
Acceptance
Consideration

Tort law
Tort law is a body of law that deals with legal theories of negligence and product liability. It imposes a duty of care on all parties and dictates what happens should one of the parties breach the duty and cause personal injury or property damage
What Is a Breach of Contract?
A breach of contract happens when one of the parties fails to perform the obligations described in the agreement. The aggrieved party needs to prove the following elements to win in court:
Existence of a valid contract
Their performance or valid excuse for nonperformance
Breaching party's failure to perform under the terms of the agreement
Injury that the breach of contract caused
In most cases—especially if the breach is material—the court awards damages for breach of contract to compensate the injured party for losses they suffered. The damages can be:
Liquidated
Nominal
Restitution
Rescission
What Is a Breach of the Duty of Care?
A breach of duty of care occurs when a party is injured because of the other party's action or the lack of it, usually due to negligence.
When determining a breach of duty of care, the court will ask whether the defendant could foresee the risk of harm to the plaintiff.
What Is the Difference Between Breach of Contract and Negligence?
Contract negligence is a term that combines two related but slightly different issues—breach of contract and professional negligence. Breach of contract falls within the domain of contract law and professional negligence under tort law.
The key difference between a breach of contract and professional negligence is the elements necessary to establish either of the two.
Professional negligence is not spelled out in an agreement, so it can be more difficult to prove. Alleging professional negligence can lead to a breach of contract. For example, a law firm hires an associate under a contract that clearly states that the associate must have attended law school. This associate never attended law school and lied about it. Since the associate does not have the knowledge required to work in a law firm, their performance is poor. This poor work constitutes negligence which causes a breach of contract.
How To Deal With a Breach of Contract
There are several ways to handle a breach of contract:
Contact your client directly—You can suppose that the client's breach of contract was an honest mistake. In that case, you should contact the client directly to request that they rectify the situation
Write a demand letter—If your client disagrees that there has been a breach of contract, or they refuse to talk to you, the next step is to send them a demand letter. It is an official document that will:

Outline all the details about your contract
Demand that your client fulfills the terms of the agreement
Warn your client of the legal actions you are willing to take
Sign up for DoNotPay to get the most reliable demand letter that complies with your state's laws and covers the specifics of your case
File a lawsuit—If there is no response to your demand letter or your client still refuses to honor the agreement, you should file a lawsuit. Keep in mind that litigation can be expensive, especially when lawyers are involved. If you cannot prove all elements of the breach, the defendant might use it as a defense
Get a Watertight Demand Letter in Minutes With DoNotPay
You do not have to resort to expensive legal assistance or unreliable templates because our AI-powered app offers you a quick and simple solution—a product that generates demand letters in a few simple steps.
DoNotPay will ask you a few questions about your case and use that information to create a demand letter that caters to your needs. We will make sure your letter complies with all the necessary legal requirements by using our comprehensive database of state contract laws.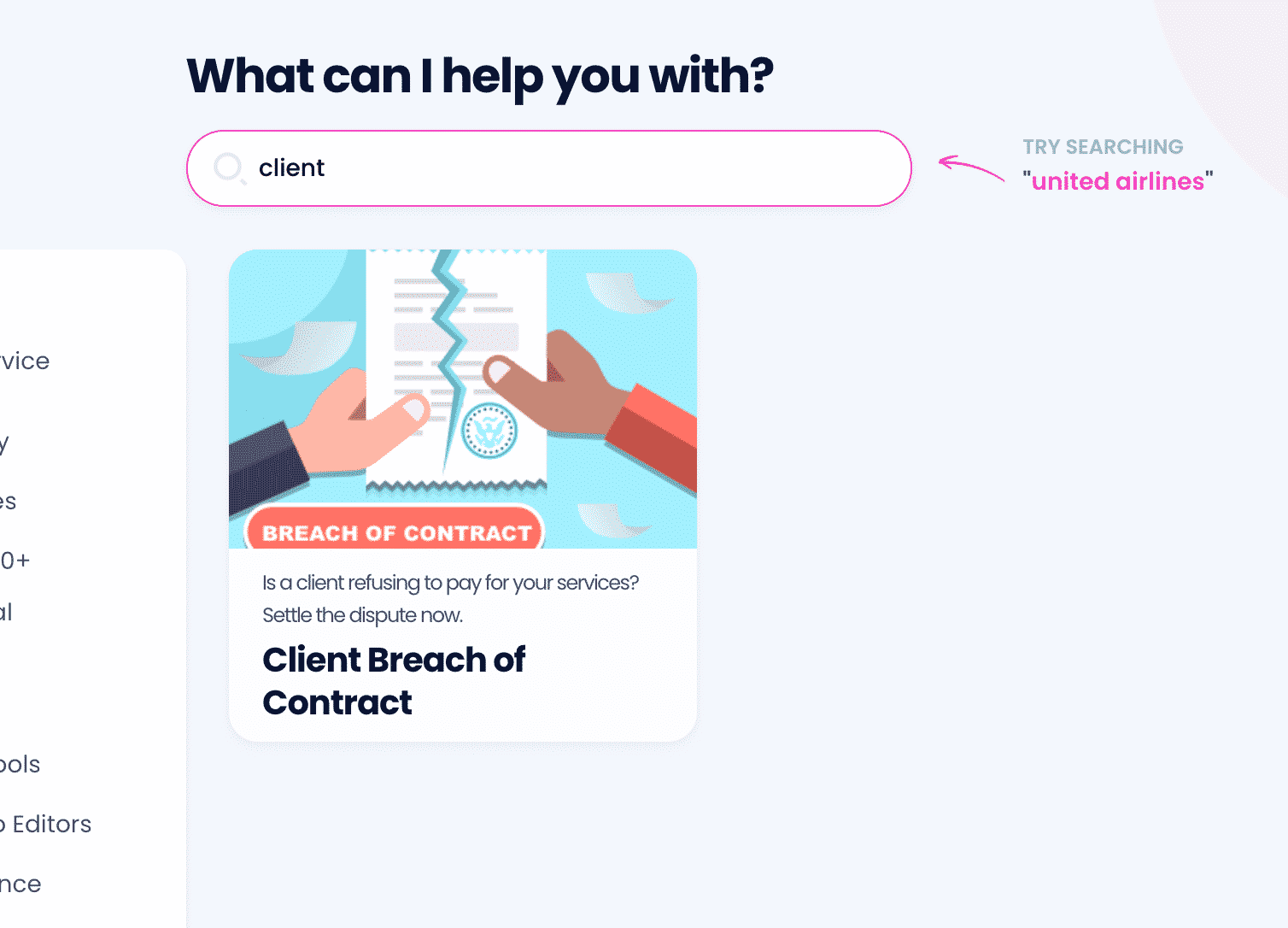 All you need to do is sign up for DoNotPay and follow the steps below:
Select the Client Breach of Contract tool
Provide all the required information, such as:

Details about your client
Services you performed under the contract
Amount of money the client owes you
Dates of your previous payment requests

Set a new deadline for the client
Add any photo proof you can provide
After you complete all these steps, DoNotPay will create your letter, which you can download in PDF, print, and send to your client.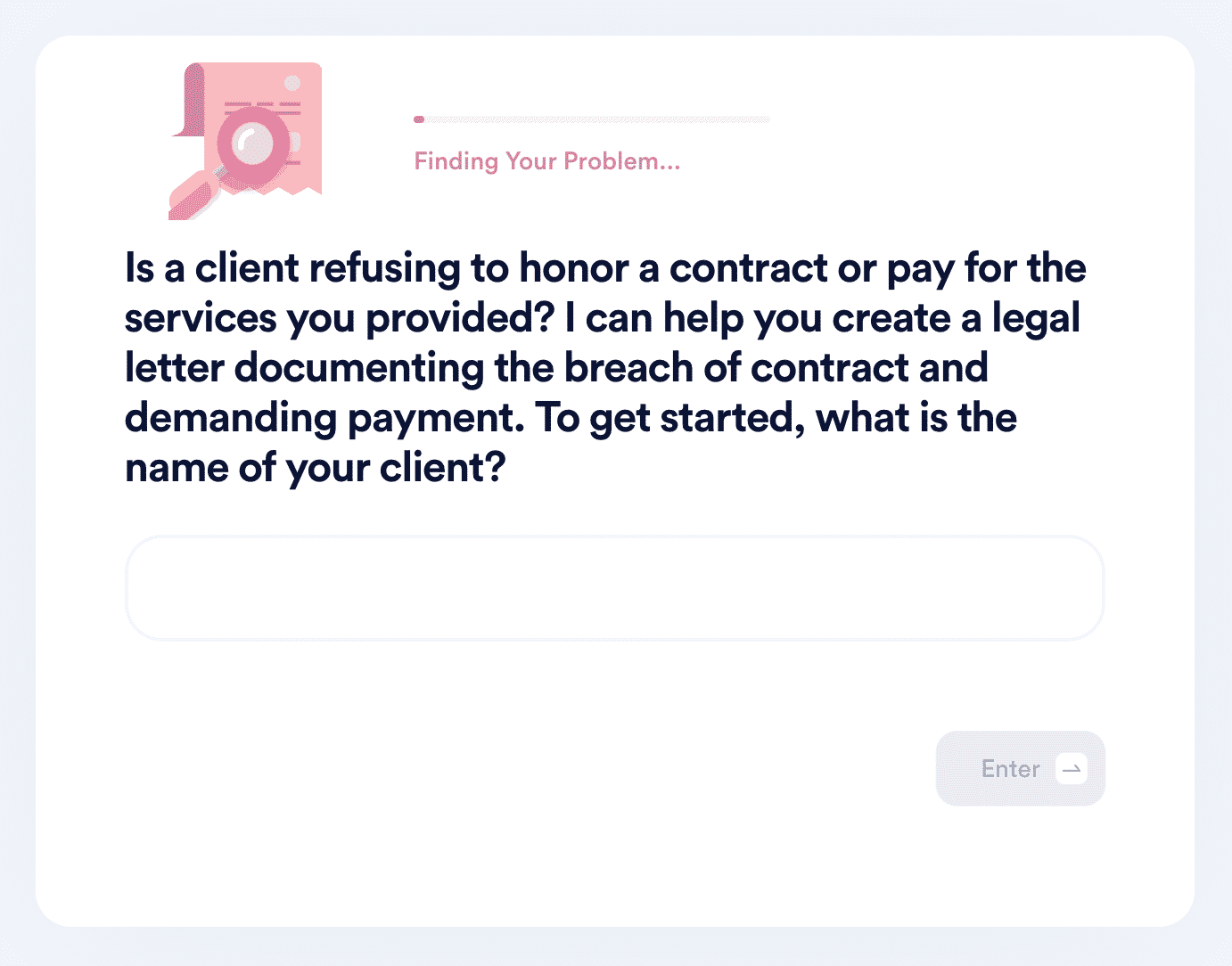 Get the Upper Hand With DoNotPay
The business world is extremely competitive—that is why it is always good to have some extra capital set aside when you need to invest in your company. You can leave the bureaucratic task to us—DoNotPay will draw up business loan request letters in your stead.
If your finances are taking a hit, rely on our app. With our assistance, you will be able to:
Fight fraudulent chargebacks
Remove fake negative reviews online
Register and protect your trademark
Send mail and faxes at no additional cost
Handle clients breaching contracts and get what you are owed
Whatever the task at hand, our AI-powered app will see it through successfully.
DoNotPay—The Assistant Every Business Needs
You cannot escape bureaucracy in business. What you can do is let DoNotPay deal with it. Whether you need to register a DMCA agent or complete an Employer Identification Number (EIN) registration, our app will lead the way.
Using DoNotPay, you will also not have to worry about 83(b) election forms or Privacy Shield self-certification. From generating to filing important documents and from dealing with employees to handling clients on your behalf, our AI-driven app is your go-to solution.
Grow and protect your business with the world's first robot lawyer!