Is a Small Business Loan Secured or Unsecured? DoNotPay Has the Answer
When deciding on which small business loan to choose, you must understand the difference between a secured and unsecured loan. The category you choose will affect your interest rates, payment schedule, and any claims that the lender might have on your assets.
Is a small business loan secured or unsecured? If this is a question you have been asking, look no further because DoNotPay has all the info you need.
This article provides a comprehensive guide to secured vs. unsecured small business loans. In case you need help with finding a lender or applying for a loan, we can help with that too! Subscribe to our app and let us narrow the best lenders down and draft a loan request letter within minutes!
What Are Small Business Loans?
A small business loan represents an easy financing solution for many small business expenses—for example, day-to-day expenses, working capital investments, or equipment and real estate purchases.
Depending on their budget and requirements, business owners have a variety of small business loan options to choose from, such as:
Small Business Loan Options
Brief Description
Term loan

Helps fund significant business investments
Has a fixed interest rate

SBA loan

Guaranteed by the U.S. Small Business Administration
Has a strict requirement process

Business line of credit

Operates as a regular credit card
Works best for people who can not estimate the exact amount of money they need

Equipment loan

Provides money to buy or replace commercial equipment

Real estate loan

Is used for purchasing buildings and land or constructing and renovating facilities

Microloan

Is preferred by business owners who are looking for a small loan
Comes with fixed or variable interest rates

Startup loan
Working capital loan

Finances a business' daily expenses
Are Small Business Loans Secured or Unsecured?
Small business loans can be classified into two main categories:
Secured loans
Unsecured loans
Secured Loans
Secured loans—usually granted by banks—require you to use assets as collateral to provide security in case of default. When you apply for a loan, you will need to nominate an asset against which you can secure the loan. The asset can range from equipment to property and vehicles.
The value of the asset will determine the amount of money you can borrow. Since the process for valuing the asset can be time-consuming, your loan application can take a long time to process.
Unsecured Loans
Unsecured loans do not need any form of security and are based solely on the business' credit ratings and financial health. Since the lender is lenient in terms of collateral, the business loan terms might not be favorable compared to a secured loan.
These loans are quick to arrange because the amount offered by the lender is low to reduce the risk.
Secured vs. Unsecured Small Business Loans
Here are the key differences between secured and unsecured small business loans:
| Key Factors | Secured Loan | Unsecured Loan |
| --- | --- | --- |
| Requirements | Strong financials and high-value assets | Good credit rating, healthy profits, and a solid business plan |
| Processing time | Can take a long time | Quick to arrange |
| Amount of loan | Larger loan amounts | Small loan amounts |
| Interest rates | Low interest rates | High interest rates |
| Repayment schedule | Longer and flexible repayment terms | Shorter repayment schedule |
| Collateral | Usually required | Not required |
Both types of loans have their pros and cons, so the most suitable loan depends on what you want to achieve with it. If your business has more assets and less cash, you should opt for a secured loan. In case your financial situation is good, but you don't have any assets to provide as collateral, choose the unsecured loan.
Before choosing between a secured and unsecured loan, go through the documentation in detail to understand the terms, including the risk involved if you are unable to pay.
How To Apply for a Small Business Loan
Whichever loan you apply for, it is essential to understand the requirements properly to make sure you qualify for it. Once your research is complete, you should follow these instructions to get your loan:
Gather your personal and business financial documentation for your loan application. This should include:

A government-issued photo ID
Business incorporation documents
Profit and loss statement
Cash flow statement
Bank statements (personal and business)
Tax statements (personal and business)

Prepare a professional loan request letter specifying how much you want to borrow and how you intend to use and repay the money
Clarify if you can provide any security or collateral
Analyze and negotiate the terms of the proposed business loan
Use DoNotPay To Apply for a Small Business Loan Without the Hassle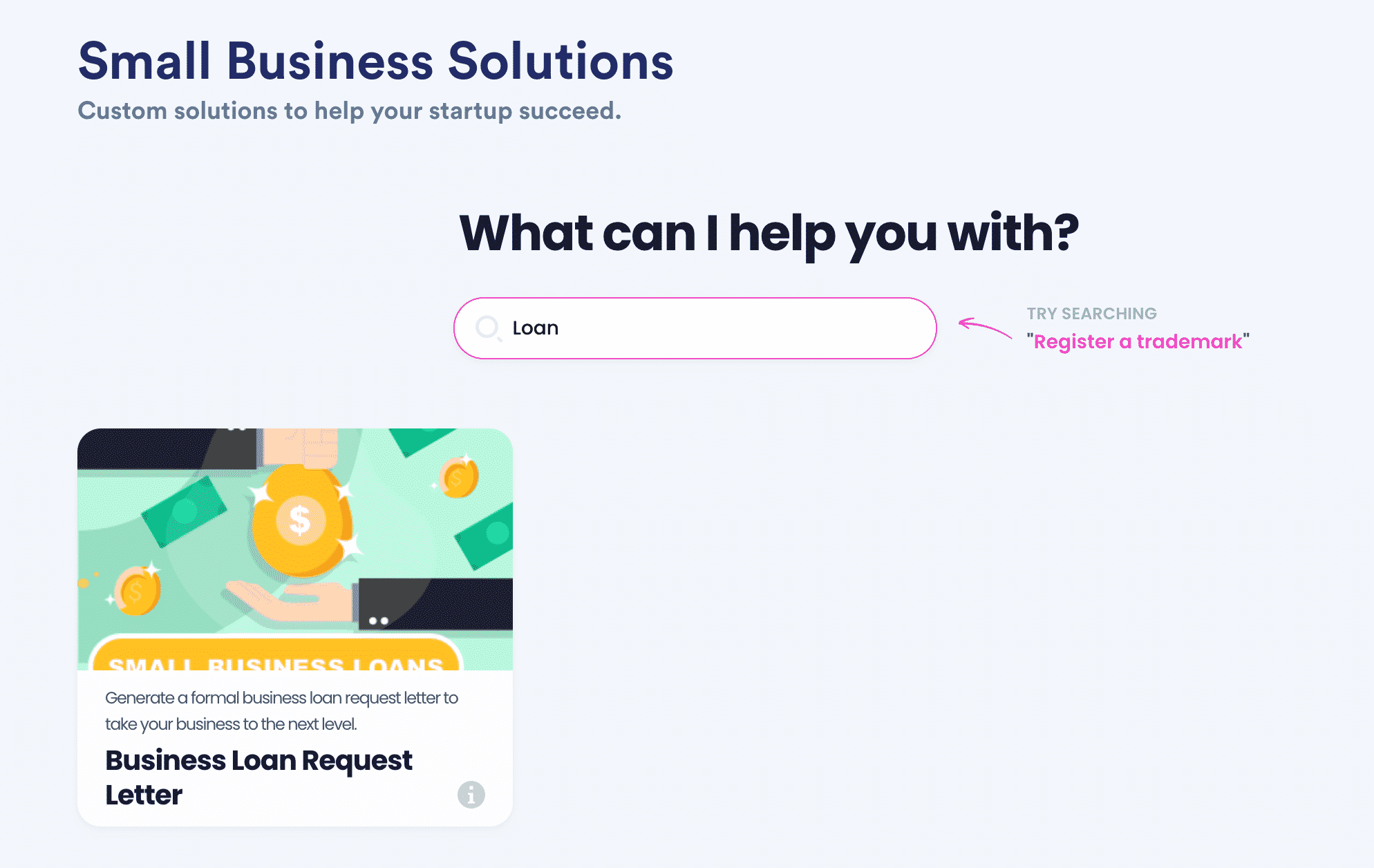 The process of loan application can be tedious and complex. You need to make sure that you fulfill all the requirements, or you risk getting your application rejected.
Why take the chance when DoNotPay is here to help you out? We can assist you in writing a formal loan request letter to present to your potential lender.
After signing up for DoNotPay, all you need to do is follow these straightforward instructions:
Go to the Business Loan Request Letter tool
Collect your personal and business financials, such as bank statements, balance sheets, and tax returns
Provide details about the loan you want to borrow
Upload the necessary documents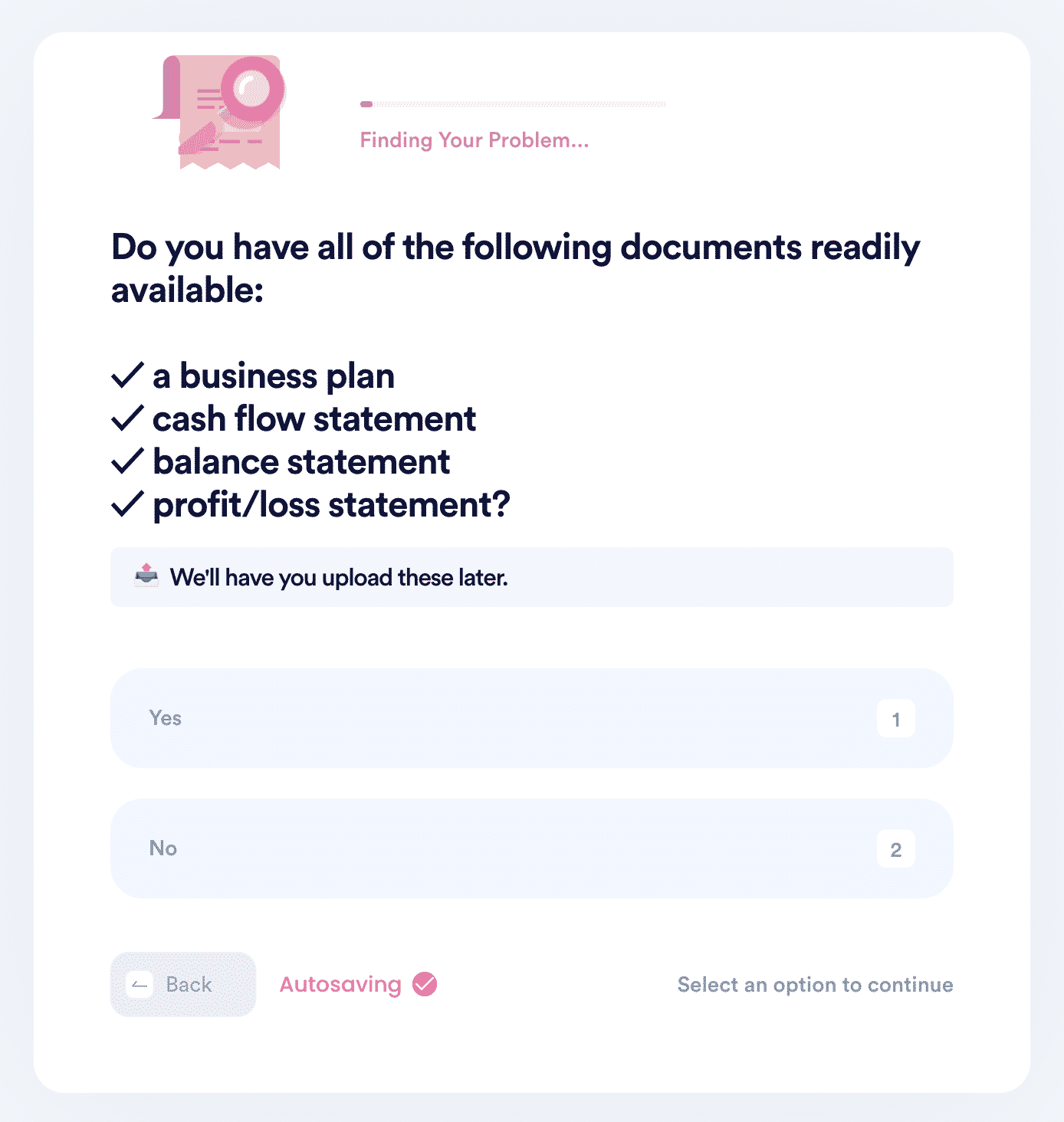 Once you have given us all the information, our app will automatically generate a business loan request letter with all the necessary details.
DoNotPay Can Find the Best Lender for Your Needs
DoNotPay will help you navigate the application process from start to finish!
If you aren't sure whether banks or other lenders offer better loan terms, input your requirements and details about your business in our app, and we'll find the best lenders for you!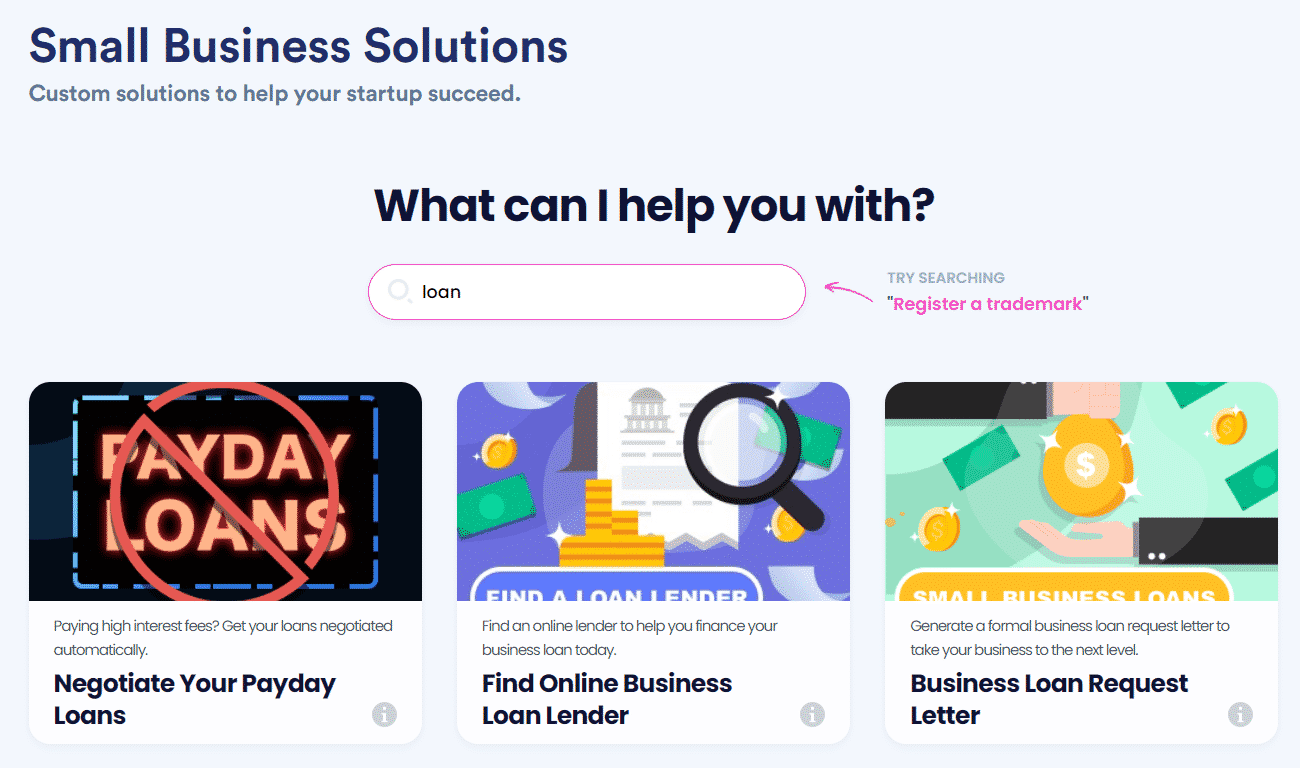 You can use our Find Online Business Loan Lender product to enlist DoNotPay's help in finding the most suitable loan for your needs. This tool is also integrated with our Business Loan Request Letter feature, which means that we can find you the lender, draft the loan request letter, and send it to the chosen lender in your stead! How much easier can it get?
Build Your Business From the Ground up With Your Reliable Pocket Assistant!
To make the running of your business less stressful, DoNotPay has created numerous handy products that can help you deal with any issue right from the start. With our assistance, you can:
Get the perfect letter requesting a loan for your business
Handle the Employer Identification Number and DMCA agent registration procedures in a few clicks
Manage Privacy Shield program self-certification to make sure your clients' privacy is protected while on your website
If you are considering completing trademark registration, DoNotPay will be your trusty companion and help you finish the whole process in no time! We can even make sure no one uses your trademark as their own by performing routine checks and sending cease and desist letters to the offenders instead of you.
Resolve Pesky Business Issues With DoNotPay
Our app boasts many other useful and easy-to-use products that will help you resolve an array of business-related problems. Whether you need help filing 83(b) election forms as effortlessly as possible or wish to communicate with your clients and business partners without heading over to the post office, we have got you covered!
DoNotPay can also help you remove bad, fake online reviews that could harm your business reputation, deal with clients who avoid paying for your services, and contest unjustified chargeback requests.
Rely on our app and stay on top of your work while we deal with business issues on your behalf!