Loan Interest—Is a Small Business Loan a Variable or Fixed Rate Loan?
To run a business successfully and make a profit, you must invest vast amounts of money in it. Business expenses crop up all the time—from initial startup costs to monthly expenses like salaries and utilities.
If you lack capital, you can take out a small business loan and keep your company going—loans, as always, come with interest rates that make a loan profitable for the lender.
When deciding on a loan, you should ask yourself—is a small business loan a variable- or fixed-rate one? In this article, we will explain:
What variable and fixed rates are
How to get a small business loan with ease using DoNotPay
How Small Business Loans Work
To avoid putting your company in jeopardy, you must have available cash at all times to pay for day-to-day costs, as well as larger investments. That is where small business loans come in—they can help you bridge the gap to the point of profit.
When you take out a loan, you must specify what you intend to use the money for. Some examples of loan purposes include:
Startup costs
New equipment
Salaries and other day-to-day costs
Cash flow management and working capital
Inventory restock
Seasonal expenses
The purpose is not the only aspect that will help you decide on a loan—you should also consider:
Loan amount
Interest rates—amount and type
You should not dive into the first loan that comes your way. Instead, do your research and find out which loan best suits your needs and your business plan. Taking out a loan that puts too big of a strain on your budget can put you out of business—make sure you do not make that mistake.
Small Business Loans—Types and Lenders
Based on the conditions they come with, there can be different types of loans. Some of the most common types are as follows:
Credit for small businesses
Merchant cash advance (MCA)
Another aspect you should take into account is the source of the loan. Most business owners choose banks and credit unions, but keep in mind that they have strict requirements.
If, for instance, you have a bad credit score, you can turn to online lenders, such as OnDeck, Kabbage, Credibly, and PayPal. While they do not set as many criteria, they usually come with less favorable terms.
Having trouble figuring out which lender is best for you? Do not worry—you can subscribe to DoNotPay and use our Find Online Business Loan Lender tool to help with your search. You can use it as a standalone product or an integrated feature when you create a loan request.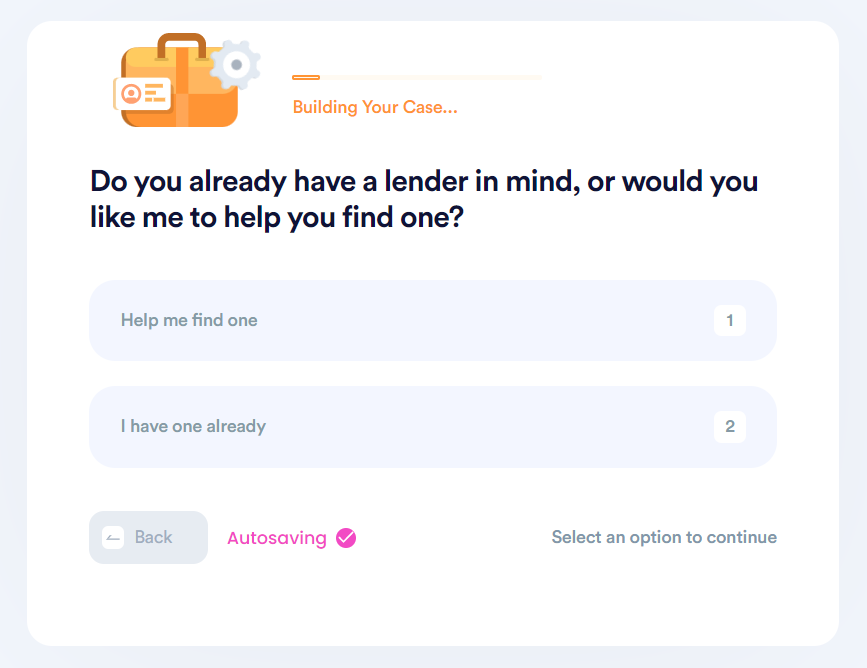 Is a Small Business Loan a Variable or Fixed Rate?
Small business loans come with both variable and fixed rates—it depends on the type of loan and its repayment period. While you cannot pick the rate type, you can choose a loan with a specific rate already set.
The difference between the two is whether your interest rate will fluctuate during the course of repayment or if it will stay the same, regardless of the circumstances. The circumstance in question is the base interest rate—the minimum interest lenders have to charge, decided by the U.S. government. The rate goes up or down based on various factors, such as inflation, demand for and supply of money, etc.
Fixed Rates
The lender determines a fixed rate prior to giving out a loan. The rate will stay the same from the first to the last payment on your part.
This way, the base rate does not influence how much you pay, and it is easier to plan your budget when you know exactly what the payment each month is. If the base rate goes down, though, you will not reap any benefits from it.
A fixed rate is typically used for long-term loans with a larger loan amount.
Variable Rates
A variable rate changes every time the base interest rate changes as well. While this can be beneficial and lower your payment, it works both ways—it can also make your rate skyrocket in case of a weak economy.
Since variable-rate loans are more unpredictable and harder to plan, they usually come with more competitive terms than fixed-rate ones.
How To Choose the Right One?
Whether you should pick a variable- or fixed-rate loan depends on your company and your business model as one interest type will suit you more than the other. Check out the following table to see the reasons why you should pick each one:
When To Choose a Fixed-Rate Loan
When To Choose a Variable-Rate Loan

The predictability of monthly payments is important
The security of a fixed fee is a priority over the interest rate amount
Your monthly cash flow does not allow for turbulences in loan expenses

Uncertainty of payment structure does not influence your company's wellbeing
A lower interest rate is more important than the security of a fixed fee
Your cash flow is large enough to sustain fluctuating loan expenses
How DoNotPay Can Help You Obtain a Small Business Loan
When applying for a small business loan, lenders require you to submit a myriad of documents and information sheets regarding your business to prove you qualify.
DoNotPay is here to guide you through the process and make sure you land the best small business loan by submitting a watertight loan request. Our app will ensure you don't submit an incomplete request and will run a checklist of necessary paperwork.
All you need to do is sign up for DoNotPay and:
Select the Business Loan Request Letter feature
Gather your personal and business credit scores
Prepare documents to prove your eligibility
Answer a few questions
Upload all the required paperwork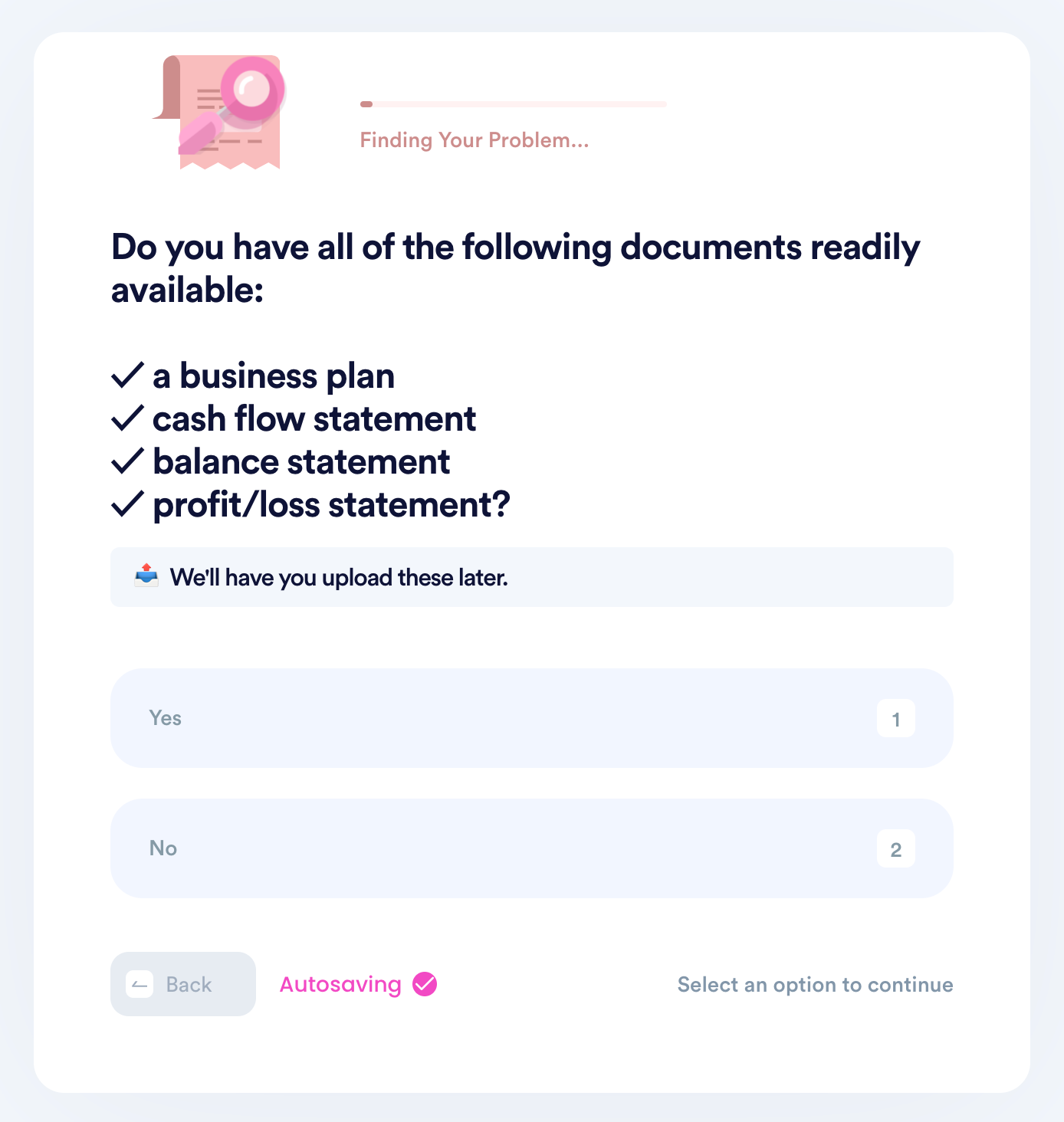 Don't Waste Ages on Tedious Administrative Tasks—Rely on DoNotPay
Running a small business can be a challenging endeavor, but you can count on DoNotPay to make the situation easier! We have developed a number of handy features that you can use to deal with your business-related hurdles. With our help, you can:
Send mail to your customers, investors, or business associates without wasting time going to the post office
Register your business slogan, logo, or name as a trademark to prevent brand infringement
Avoid copyright violations on your website by registering a DMCA agent
Protect the privacy of your clients' data by filing the Privacy Shield program self-certification request
Contest unjust chargebacks and keep the revenue
Deal with clients who breach the contract without wasting money on collection agencies or lawyers
Worked Hard on Creating a Good Business Reputation? Don't Let It Go to Waste!
Has one of the angry clients or envious competitors decided to leave a mean online review that could have a negative impact on your business? DoNotPay is here to help you remove it! We will analyze the problematic review and report it until it is taken down.
Don't know how to protect your trademark and make sure no one else is using it? Our app can monitor the trademark on a monthly basis and send cease and desist letters if necessary.
Let our app take care of many other issues—such as filing 83(b) election forms, registering for an Employer Identification Number (EIN), taking out small business loans, and similar—while you concentrate on the creative side of your business.