Is a Living Will the Same as a DNR? DoNotPay Explains
Creating legal documents regarding medical decisions is a task that should be taken seriously. You need to know the exact document you need and what information it should contain. Is a living will the same as a DNR? Find out the difference in our detailed guide!
Is a DNR the Same as a Living Will, and When To Use Them?
A living will and a "do not resuscitate" order (DNR) are not the same document. They differ in a few ways, including how they are made and what you can achieve by creating them.
What Is a Do Not Resuscitate Order, and When Is It Used?
A DNR is a legal document that states that you do not want to be resuscitated. This document covers the situations when you no longer have any vital signs—such as heartbeat and breathing—and it stops the emergency medical technicians from reviving you.
It is possible to obtain a DNR from your physician's office.
What Is a Living Will, and When Is It Used?
A living will is used in citations where you are alive but only with the help of artificial means. This document is a type of advance directive that lets you state whether you want life support continued if you are incapacitated and in a:
Terminal condition
End-stage condition
Persistent vegetative state
You can also use a living will to state whether you want the artificial administration of food and water. This document comes into effect when your doctor determines you meet all the requirements.
How Do You Make a Living Will and a DNR Enforceable?
It is not enough to create a DNR or a living will for them to be legally binding—there are other steps you need to take to ensure that. Take a look at the table below to see the details:
| How To Make a DNR Legally Binding | How To Make a Living Will Legally Binding |
| --- | --- |
| Both you and your doctor need to sign a DNR to make it enforceable | Depending on your local laws, you need to sign a living will in front of: |
There is a plethora of rules on who can and cannot be your witness, but that information is state-specific.
Do You Need Both a Living Will and a DNR?
You can have only a DNR or a living will, depending on your preferences. The best solution is to create a living will that contains your DNR wishes if your state laws allow that.
How To Create a Living Will the Easiest Way
When choosing how to create a living will, you need to keep in mind what will provide you with the best result at the best price. You can:
Hire a lawyer—Gets you a properly written document but comes with an extremely high cost
Complete a living will form—Won't provide you with a well-written document unless you have sufficient legal knowledge
Use DoNotPay—Is the best solution because it ensures a rock-solid document and saves you money
How To Create a Living Will With DoNotPay in a Few Simple Steps
Making a living will with DoNotPay is fast, simple, and effortless. Our app will make a document tailored to your needs, unlike other advance directive forms you might have come across online. You only need to follow these steps:
Find the Advance Health Care Directive product
Appoint your agent and choose the powers you want to transfer to them
Type in the names of individuals who will witness you signing the document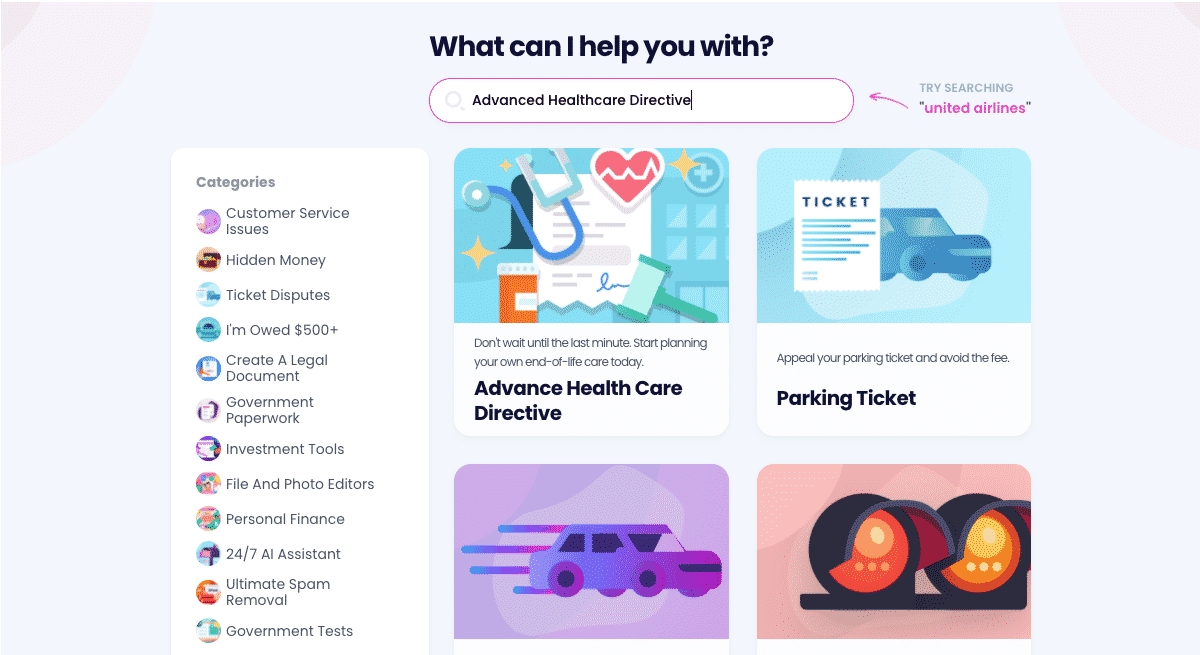 How To Further Ensure Your Wishes Are Respected
If you want another level of safety when it comes to respecting your medical treatment wishes, you should create a medical power of attorney as well. This legal document lets you choose a health care agent who will make sure to follow your living will wishes and make decisions on your behalf.
A medical power of attorney goes by other names, including a health care proxy. Some states see these two as separate documents.
How Can DoNotPay Tackle Tricky Tasks for You?
Using DoNotPay is like having a magic wand that helps you with the assignments you are too busy or bored to do. Here are some procedures we can simplify for you:
Keeping in Touch Is Simple With Our App
Are you having trouble communicating with your loved ones in jail? Our app features a tool that enables you to send letters to inmates from any device! We can help you get in touch with a notary public who can notarize your legal documents virtually or reach out to embassies and consulates or government reps. Reaching customer care centers also gets much simpler with DoNotPay by your side as you can skip phone queues the easy way.
We can help you avoid unwanted communication by stopping persistent robocalls and text or email spam. All you need to do is sign up for our services!