The Ins and Outs of the
IRS Installment Agreement
Dealing with legal documents isn't easy if you don't have the proper legal knowledge. In case you find it difficult to write a contract on your own, you should look for help.
DoNotPay can tell you how to create any legal document without a lawyer. We will also show you everything you should know about the IRS installment agreement.
What Is the
IRS Installment Agreement
?
An IRS installment agreement is also known as a long-term payment plan. This is an agreement with the Internal Revenue Service that lets you make late tax payments during a prolonged time frame. You should ask for a payment plan if you think you can pay all of the taxes you owe in full during the set period.
What happens if you don't pay your taxes on time? The IRS might file the:
What Are the
Payment Agreement
Costs and Fees?
If the IRS approves your payment plan, you can pay your debt in monthly installments. You will have 120 days to pay out what you owe. Take a look at the table below to understand your options and the cost of each: 
Payment Method
Process
Cost

Direct Debit Installment

Pay monthly from your checking account

$31 setup fee for the online application

$107 setup fee for mail, phone, or in-person application

Plus interest and accrued penalties until the balance is entirely paid

Alternative Methods

You can pay monthly via:

A savings or checking account (only for individuals)

Phone or electronically with the Electronic Federal Tax Payment System (EFTPS)

Check, money order, or credit card

$149 setup fee for the online application

$225 setup fee for mail, phone, or in-person application

Plus accrued penalties and interest until the balance is paid in full
Fees apply when paying by card. Setup fees are waived for people with low income if they apply online, by phone, or in person with the Direct Debit Installment option. Individuals with low income who apply the same way with any of the alternative methods have to pay a $43 setup fee that can be reimbursed if they meet certain requirements.
Individuals with balances over $25,000 and businesses with balances over $10,000 must pay by Direct Debit.
Types of
IRS Installment Agreements
—What Are the Requirements?
You can choose between four types of IRS installment agreements. Take a look at the table below for more details:
Type of Installment Agreement
You Need To:

Guaranteed Installment Agreement

Owe less than $10,000 without interest and penalties

Not have entered into an installment agreement before

Have filed tax returns in the last five years and paid all their taxes

Not be able to pay the tax liability when due

Streamlined Installment Agreement

Not exceed $50,000 in tax liability, interest, and penalties

Pay the balance within 72 months

Non-Streamlined Installment Agreement

Owe $50,000 or more and be able to pay your taxes to the IRS monthly

File the Form 433-F

Partial Payment Installment Agreement

Complete a financial statement with the

Form 433-F

to expose your income and living expenses

Undergo a financial review biannually
What if You Can't Follow the Installment Agreement?
In case you experience a financial setback and can't pay the expenses after you were approved for an installment agreement, you need to let the IRS know. There is a possibility of lowering your monthly payments, but only if you can provide adequate proof of your financial hardships.
Can the IRS Revoke the Installment Agreement?
The IRS may revoke an installment arrangement if the taxpayer:
Misses a payment

Is paying under a partial payment installment agreement and their financial position changes

Didn't provide correct information on the Form 433-F

Doesn't file a tax return or pay taxes after the agreement is entered into
DoNotPay Can Help You Create a Legal Document of Your Choice
Handling legal documents is not simple if you don't know laws and regulations by heart. This is when people usually turn to lawyers for help, but what if you can't afford one? DoNotPay is your solution. 
We may not be able to help you with creating an installment agreement, but we can generate numerous other legal documents for you. Follow these simple instructions:
Open DoNotPay in your

web browser

Enter the name of the document

Provide us with all the necessary info, such as your name and address
You may still have to sign and notarize the document after we create one for you, both of which you can do using our AI-driven app! As soon as you start using it, you won't have to rely on contract templates that are mostly generic and outdated.
What Are the Documents DoNotPay Can Generate for You?
DoNotPay is at your service for generating various types of contracts. Take a look at the list below to see what we offer:
Promissory Note

General Business Contract 

Estoppel Certificate

Quitclaim Deed

General Affidavit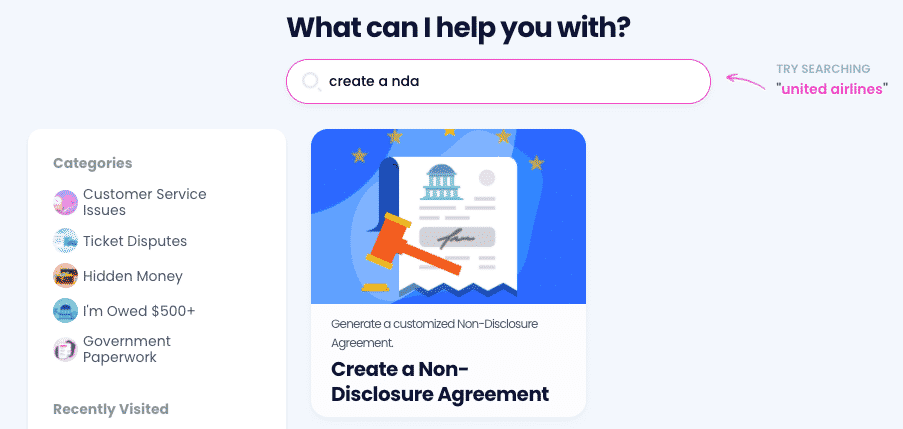 Keep Your Money in Your Pocket and Save Time
With our assistance, you can also appeal parking tickets in any city, get help with bills, make an appointment with the DMV, protect your copyright, and avoid phone number verification!
If you feel like you were wronged either by a faulty product or a delayed or canceled flight, DoNotPay will also help you request a refund from any company or airline hassle-free.
Being on a tight budget isn't easy—knowing that, we've developed features that will get you free trials, unclaimed money, extended warranties, college application fee waivers, and so much more!
Fend Off Scammers With DoNotPay's Help
Are you sick of having a cluttered inbox or getting robocalls? So are the majority of Americans. If you want to get rid of email spam, text message spam, or annoying robocalls, DoNotPay can help you put a stop to them once and for all.
Do you feel like serving justice to companies that wronged you or stalkers and harassers that won't give you a break? Use our AI-driven app to fight for your right!