Irrevocable Power of Attorney—Your Future Set in Stone?
A power of attorney (POA) hands control of one's life to a third party and can be a life-changing decision. If a power of attorney is classed as irrevocable, it could be an act that cannot be undone.
DoNotPay examines the idea of an irrevocable power of attorney and gives you the facts you need to make the right decisions.
Irrevocable Power of Attorney Explained
An irrevocable power of attorney cannot be altered by the principal once it has been granted.
Of all the types of POA, irrevocable powers of attorney are relatively uncommon as principals usually want leeway to revoke or change a POA if their—or their agent's—circumstances change.
They are most frequently used for short-term business deals but can theoretically be used for any purpose.
What Types of Irrevocable POA Can Be Used?
Principals most commonly use irrevocable powers of attorney for financial purposes.
A financial power of attorney hands control of some or all of the principal's monetary affairs to an agent to act on their behalf. It safeguards the principal against making unsound decisions as they become less able to look after their affairs and comes in four main variants:
Durable POA
A durable POA is valid from the moment of signing until:
Principal passes away
Agent becomes incapable of, or unwilling to, perform the task
Principal revokes the POA
It usually hands full control of the principal's finances to the agent and remains in force after the principal becomes incapacitated.
General POA
In contrast to a durable POA, a general power of attorney can encompass the principal's financial affairs but terminates as soon as they become incapacitated.
Springing POA
A springing POA only comes into force under certain defined circumstances, such as the principal becoming incapacitated.
Limited POA
If the principal wants to limit the scope of power that the agent receives or wants a POA to end after a certain time, they can create a limited POA that terminates automatically when:
The prescribed time has elapsed
The designated task has been completed
Any of these types of POA can be made irrevocable by adding a clause to that effect.
When Are Irrevocable POAs Most Commonly Used?
The most common use of an irrevocable POA occurs in business. Some examples are:
| | |
| --- | --- |
| Irrevocable POA Examples | Explanation |
| Property purchases | A realty agent may ask for an irrevocable power of attorney to purchase or sell property in the principal's name. This limits the principal's ability to engage a rival realty agent and gives the first agent security. This would be an irrevocable limited POA |
| Shareholder meetings | If the principal is unable to attend a shareholder meeting, they can grant an irrevocable limited POA to an agent to vote on their behalf at the meeting |
| Stock sales | A stockbroker may ask for an irrevocable POA to conduct share sales and purchases on the principal's behalf |
In certain cases, a court may use an irrevocable POA to appoint a guardian over a child when the guardian is a resident of another state. While guardianships are often only recognized and enforceable in the state in which they are granted, POAs are enforceable across state borders.
Can an Irrevocable POA Be Revoked?
However strange this may sound, an irrevocable POA can be revoked under certain circumstances.
The principal may have grounds for revoking an irrevocable POA if they can prove that the agent is:
Incapable of performing the task
Not acting in the principal's best interests
Acting fraudulently
If this is the case, the principal will have to go through court to have the POA voided. The principal cannot write a revocation letter, as they would be able to with a normal POA.
In some states, an irrevocable POA can be revoked if both the principal and the agent agree to revocation in writing. The agreement should be signed by both parties and notarized to give it legal weight.
How To Set Up a POA
Setting up a power of attorney—whether revocable or irrevocable—is a straightforward process involving:
Deciding on the agent
Drafting the POA letter
Signing the document
Deciding on the Agent
The person the principal chooses as their agent should:
Be someone they can trust to act in their best interests
Have the expertise required to do the job
Be able to act for the full term of the POA
Drafting the POA Letter
The POA document should contain:
Names, addresses, and contact details of the principal and agent
The scope of the POA, including any limitations
The length of validity of the POA—defining it as a limited, general, or springing power of attorney
Sign the Document
The principal should sign the document in the presence of a notary. The notary ensures that the principal is:
The person named in the POA
Of sound mind at the time of signing
Not under any duress or pressure to sign
Once the POA is signed, it becomes valid, and copies can be given to the agent for them to transact on the principal's behalf.
While you may feel you need to use a lawyer to draft your POA, DoNotPay can save you the expense and hassle of this route. We can generate a customized POA for you in a few clicks!
Let DoNotPay Create Your POA in a Flash!

While we do not deal with irrevocable powers of attorney, we can create a durable POA for you in minutes.
To get your customized POA and appoint an attorney-in-fact to handle your affairs, follow these three steps:
Click on our Create a Power of Attorney feature
Fill in the details you want to be included in your POA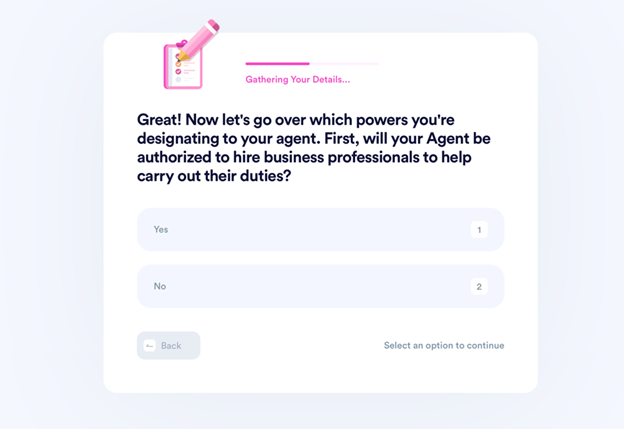 We will generate your POA as soon as you click Submit—all you need to do is sign it in the presence of a notary.
If you don't want to waste ages in front of the notary's office, DoNotPay has the solution for that too. Once you provide all the info we need to draft your POA, we will ask you whether you want us to help you get the document notarized. With our help, you will get connected with an online notary and handle the entire notarization process in a few minutes.
Discover DoNotPay's Product Range
DoNotPay has a vast range of products that help you earn and save money and fight bureaucracy. Check out how to get insurance or warranty, file a FOIA request, send anything through online fax, draw up a tailor-made legal document, get documents notarized, get a college fee waiver, sign up for any clinical trial, and so much more!
Your personal AI-powered assistant can also lend its helping hand if you need to fight email or text spam, get robocall compensation, request refunds from airlines, draw up a child travel consent form, prepare for government tests, and combat workplace discrimination successfully.
Save and Earn Money
The best part of using DoNotPay is that you can both save and earn money. As soon as you sign up, make sure you check out how you can find missing money, get free raffle tickets, get compensation for victims of crime, report a late or missing delivery and get a refund for it, and request gift card cash back.
If you want to sign up for a free trial risk-free, cancel any subscription-based service, request a refund from a company, sue anyone in small claims court, or jump the phone queue when getting in touch with customer service reps, you can always count on us.