Ireland Tourist Visa—Do You, as a U.S. Passport Holder, Need It?
Are you looking forward to your trip to the Emerald Isle? Check if you need an Ireland tourist visa before purchasing your ticket! DoNotPay can tell you whether a visa is necessary or not in a matter of minutes. This is only one of many benefits of our Tourist Visa Guide product.
Read our article to get the essential info on visas before entering Ireland, and sign up for our service if you need assistance!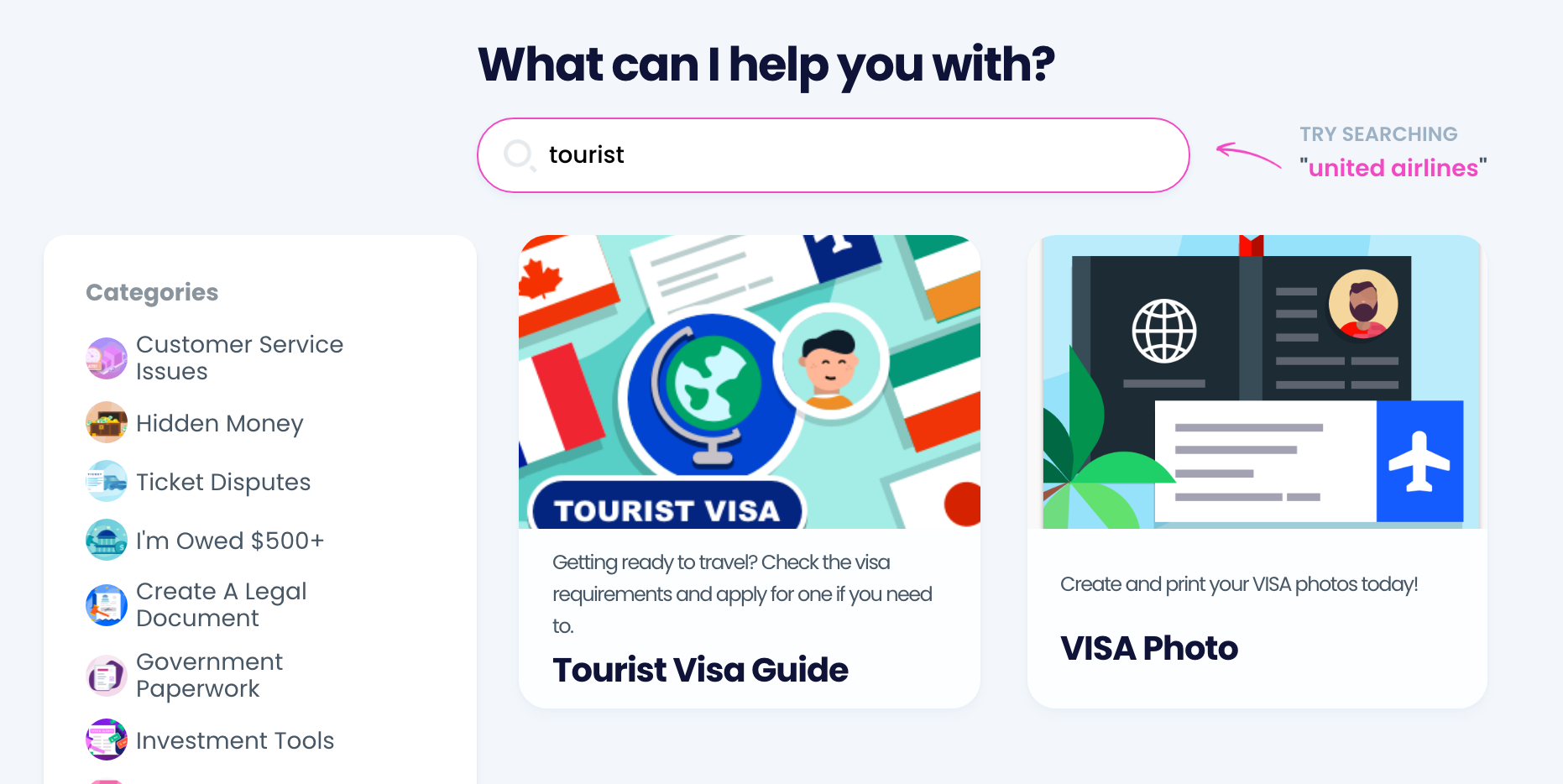 Are U.S. Passport Holders Exempt From Needing Tourist Visas for Ireland?
U.S. residents do not need visas for Ireland if they are staying for up to three months and the purpose of their trip is:
Tourism
Family or friend visit
Formal exam
Business meetings or conferences
They may enter the country multiple times during this period, but they'll need to present the necessary proof of visit to the immigration officer at the border.
How Does the Visa Exemption Work?
If you're a U.S. passport holder, you must comply with many requirements to stay in Ireland despite not needing a visa. Before traveling, you need to prepare the following documents for border control:
A valid passport that doesn't expire for the duration of the visit and has at least one blank page
Proof of hotel reservation, other accommodation confirmation, or travel itinerary
A bank statement or other evidence of having sufficient funds for the stay
Note that you might get rejected upon entry into Ireland if you don't provide all these documents.
If you're traveling with children, you will need to provide additional documentation. Contact the embassy to get more information.
Contact Sheet of the U.S. Embassy in Dublin
If you are denied entry, the U.S. embassy cannot help you. For other information and assistance, you can contact the Dublin embassy using the info from the table below:
Address
Email
Phone
42 Elgin Rd

Ballsbridge

Dublin 4

Ireland

ACSDublin@state.gov
+(353) (1) 668-8777
What if You Want To Stay in Ireland for Longer Than 90 Days?
Tourists from the U.S. cannot stay in Ireland longer than three months. The only individuals exempt from this rule are those who are part of the Working Holiday Programme for the American youth.
Those enrolled in this program can stay up to a year and are given temporary work and extended holiday opportunities.
What Are the Current COVID-19 Measures for Tourists in Ireland?
Visitors from the U.S. need to present one of the following documents when entering Ireland:
Proof of recovery from COVID-19 six months prior to traveling (but not in the two weeks before entry)
Evidence of vaccination against the virus
Negative results from an RT-PCR test taken up to 72 hours before arriving
Those who do not show any of the documents or enter the country with COVID-19 symptoms will need to self-isolate for 14 days. The quarantine can be stopped after the fifth day if a person gets negative results from an RT-PCR test.
People who are not vaccinated or haven't recovered from coronavirus will also need to submit a COVID-19 passenger locator form that shows where they will remain in quarantine. If you need this form, you can complete it online by following the prompts below:
Open the Government of Ireland's COVID-19 Passenger Locator Form webpage
Click on the Start button
Select a country code from the dropdown menu
Enter your mobile number
Click on Text My Code
Use the SMS code you received to log into the service and complete the form
DoNotPay Is Here To Assist You With Any Visa
Ireland may not require U.S. nationals to have a visa for tourism, but what about the U.K., other European countries, or the world? You don't have to spend hours doing research and risk getting incorrect information from shady websites—using DoNotPay is a more efficient and affordable solution!
Use our Tourist Visa Guide product and find out whether you need a tourist visa by following the prompts:
Open the Tourist Visa Guide feature
Confirm that you're a U.S. passport holder
Choose a destination country
We will let you know whether a visa is necessary immediately, but that's not all we can do! DoNotPay can also:
Direct you to a visa online application portal, if it exists
Provide you with a PDF visa guide and a form you need to fill out and submit
Contact government embassies or consulates in your stead
DoNotPay Offers Numerous Visa Guides To Make Your European Adventure Even More Enjoyable
Vacationing can include many fun activities, but the least favorite chore of every tourist is worrying about visas and other necessary paperwork. The COVID-19 pandemic has only made traveling worse—but don't despair.
DoNotPay's guides will lessen your stress significantly. If you're headed to Europe, you will find our guides below super useful:
DoNotPay's Features Are Here To Make Your Life Easier
To simplify confusing bureaucratic procedures, we developed a number of features you may find super useful. Sign up for our app and let us assist you in:
DoNotPay Doesn't Stop There!
Assisting you with bureaucratic tasks is only a fragment of what DoNotPay can do—we have a lot more nifty features to offer! We can show you how to:
Struggling to draw up a financial aid appeal letter, an HR complaint, or a child travel consent form? DoNotPay is here to do it in minutes!