Use DoNotPay and Never Mess Up a Tricky Iran Tourist Visa Application
Anyone who visits Iran is bowled over by the country's spectacular heritage and the heartwarming hospitality of its people. From historical mausoleums to emerald Hyrcanian forests, Iran is a stunner through and through!
Getting an Iran tourist visa, though, is one vexing task. The visa application process is problematic, and your application can get stalled or rejected for minor reasons.
Don't let annoying visa complications dictate your travel plans. DoNotPay's Travel Visa Guide will give you wholesome support throughout the application process by making sure your application is accurate and directed to the right place. Sign up today to apply for a tourist visa with on-point accuracy!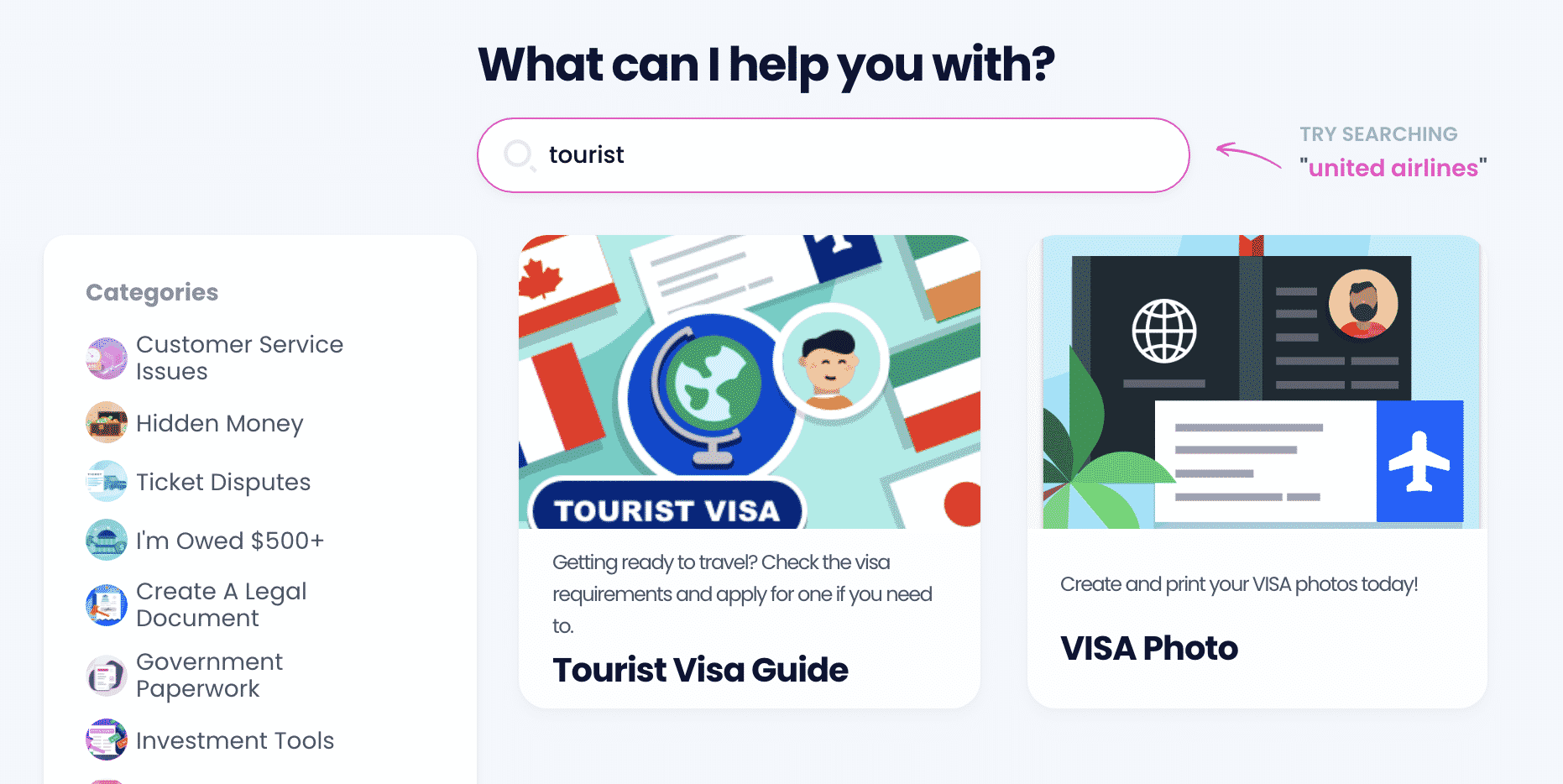 A Bird's-Eye View of Iran's Visa Policy
Iran uses different visa rules for different jurisdictions. Browse through this table to understand the current visa policies followed by Iran:
Visa Policy
Details
Visa exemption
Citizens of over a dozen countries can travel to Iran without a visa for a period ranging from 15–90 days
Visa on arrival

Passport holders of certain countries can apply for a visa after entering Iran
This visa can be issued only for 30 days

Visa in advance

Citizens of specific countries must apply for a visa before their travel
A visa in advance can be acquired through one of the Iranian diplomatic missions

Visa ban

It refers to jurisdictions—like Israel—whose citizens are banned from entering Iran
Anyone with a passport that contains a visa stamp from Israel will also be banned from getting an Iran visa

Diplomat entries
Iran allows visa-free entry to diplomats of certain countries (based on country-specific agreements)
Tourist Visa Iran—What Is the Visa Policy for U.S. Citizens?
U.S. citizens need a valid tourist visa to enter the Iran mainland. The entry and exit requirements for both countries also demand you to:
Have a U.S. passport that is valid for at least six months
Make a declaration if you hold more than $10,000 during the trip
Currently, Iran has no vaccination rule for inbound tourists.
If you hold dual citizenship for both the U.S. and Iran, the Iranian Civil Code will still tag you as an Iranian citizen and ask you to use an Iranian passport to enter and exit the country.
Iran Tourist Visa for U.S. Citizens—Exception
U.S. citizens can enter Iran's Kish Island—which is a trade-free zone and a resort destination—without a visa. You can stay on Kish Island for 14 days as long as you carry a valid U.S. passport and have a certified escort guide by your side.
Can I Ask for an Iran Tourist Visa on Arrival?
No, it will be unlawful for a U.S. citizen to enter Iran without a pre-approved visa. The U.S. government warns its travelers against the rumors claiming that on-arrival tourist visas are available at Tehran Airport.
At present, you must be prepared for an eight-week waiting period to get an Iran tourist visa through proper channels—there is no shortcut.
Iran Tourist Visa Application Form—Online Process
As there is no Iranian embassy in the U.S., you need to find your application form on the Iran Ministry of Foreign Affairs' official website.
A government-certified travel agency in Iran will process your online application.
This is a rough list of the documents that need to be electronically attached with the tourist visa application form:
A copy of the first page of your passport
Passport photo of 10–500 kilobytes and 400 x 600 pixels
Invitation or reference letter
Day-by-day travel itinerary
Proof of return
Authorization number, if applicable
Once the travel agency processes and approves your application, you will get a visa grant notice.
You should also be mindful of the factors that can potentially cause your visa application to get rejected. Here are some of the common reasons why many Iran tourist visa applications are never processed:
Falsification of travel intent
Inconsistent personal, work, or other details
Mentions of media-related work as one of the purposes for travel
Not disclosing full travel history
Faulty reference letter
Get Your Iran Tourist Visa From the Pakistan Embassy in the U.S.
Once your visa application form is approved online, you need to submit its physical copy—along with all the documents—to either of the following:
Iranian Interests Section at the Embassy of Pakistan in Washington, D.C.
Iranian diplomatic mission in any other country
Once your application is processed, you'll be issued a visa that will hold valid for 30 days. If you wish to extend your stay in Iran, you can request extensions of 30 days for a maximum of two times.
How Much Are the Iran Tourist Visa Fees?
Iran charges different amounts for visas based on your country of origin and the number of extensions you seek. Currently, U.S. citizens need to pay anywhere between $105 to $210 for an Iran tourist visa.
Apply for an Iran Tourist Visa With DoNotPay's Reliable Support
If you miss submitting one necessary document, your Iran tourist visa application can straight up land on the rejected pile.
Does the thought of a declined visa application terrify you? Let DoNotPay be your ultimate go-to guide for avoiding any visa-related trouble!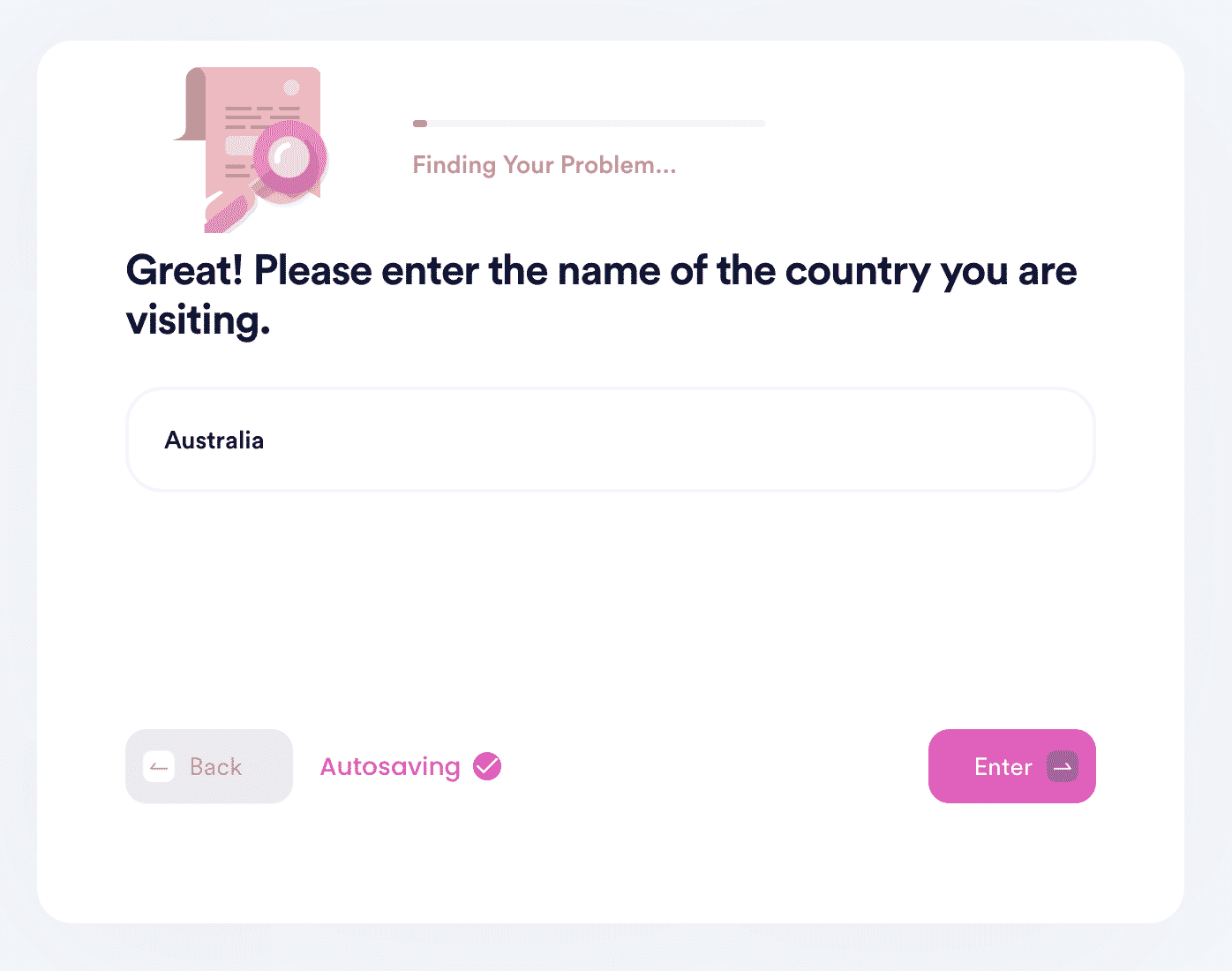 DoNotPay can:
Get you a detailed list of the documents needed for your Iran tourist application
Generate a detailed instruction manual to prevent mistakes while filling up the form
Steer you towards the authentic government portal for online submissions
Let you download and print the PDF application form (if you seek to apply directly through the embassy)
Contact any embassy in your stead to help you mail the application
Here's what you need to do:
Log in to DoNotPay and click on Tourist Visa Guide
Confirm if you have a valid U.S. passport
Specify your travel destination
With DoNotPay by your side, your Iran tourist visa application will be on its way to successful processing in no time!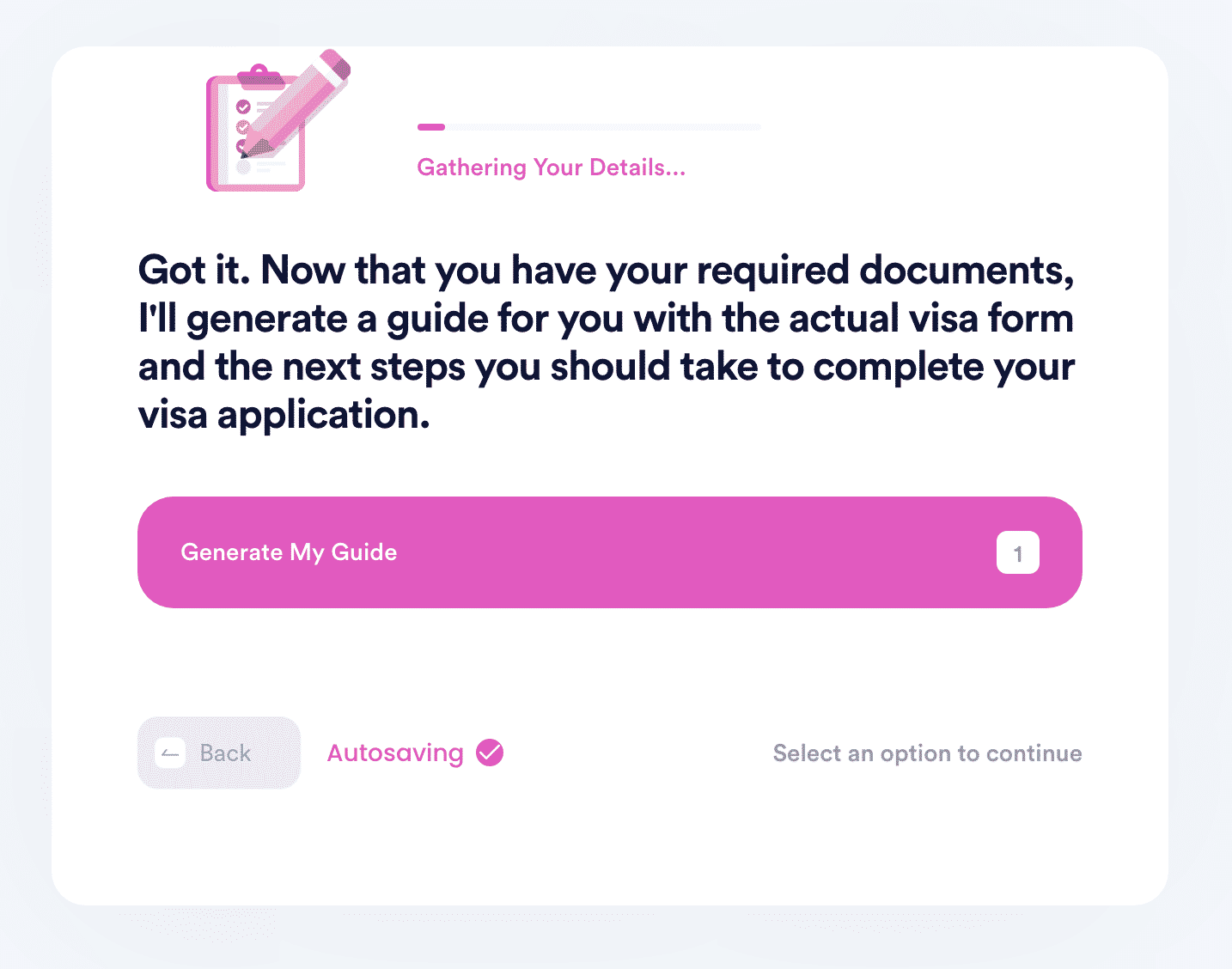 Are you not sure whether you need a visa for another travel destination? Our app will provide that information as soon as you give us the name of the country you're considering for your next trip!

Useful Tips for the U.S. Travelers in Iran
To ensure trouble-free trips, the Iran government requires U.S. tourists to have a mandatory government-approved guide throughout their stay.
Here are some basic tips you can follow to ensure a stress-free travel experience:
Always dress modestly
Keep cash handy and get familiar with the currency differences
Bargain for taxi fares to avoid getting overcharged
Be respectful of local culture
Prep yourself for interacting with non-English speakers
Make Your Middle East Dreams Come True With DoNotPay
Every country in the Middle East offers you a surreal travel experience. If you are making plans for your next trip, check out this table to learn more about the visa policies of other countries around Iran:
Solve Your Legal and Bureaucratic Issues With DoNotPay
The primary purpose of our app is to provide you with practical tools that can speed up all the drawn-out tasks you must complete. All you need to do is choose a suitable feature from our offer and get your problems solved in a heartbeat!
Once you create an account with DoNotPay, you can:
Feeling Unsafe or Harassed? DoNotPay Can Help You!
Have annoying calls and messages become your everyday problem? Don't give up on your peace—rely on DoNotPay and deal with robocalls and restless text and email spammers easily.
We also take care of your privacy, allowing you to create burner numbers and virtual credit cards to avoid revealing sensitive information when signing up for various online services.
If you are being stalked by somebody or discriminated against at work, we will do our best to help you fight for justice and report the case accordingly! We will also safeguard your creative work from copyright violation and ask for violent crime compensation on your behalf.