Discover the Easiest Way To Create an IP Assignment Agreement 
Intellectual property includes intangible assets created by a person, including inventions, artwork, designs, software, logos, and brand names used in commerce. 
All intellectual property is protected by different rights, including copyright, trademarks, and patents, to foster an environment of innovation. In commercial sectors, intellectual property is considered the biggest asset of a company. 
Do you want to create an IP assignment agreement but don't want to go through the challenging process? DoNotPay offers a step-by-step guide to writing a contract and a practical tool to create various legal documents. 
What Is an IP Assignment Agreement, and Why Is It Required?
An IP assignment agreement is a contract that facilitates the transfer of intellectual property ownership from one entity to the other. The contract allows the seller to get paid for the intellectual property while the buyer is free to use it however they see fit.  For all IP assets protected by trademarks and copyrights, the assignment must be in writing to be applicable.
Types of Intellectual Property Rights
Check out the main types of intellectual property rights in the table below:
| | |
| --- | --- |
| Intellectual Property Rights | Explanation |
| Patent | Grants property rights to an inventor in science and technology |
| Trademark | Protects a symbol, phrase, or word that symbolize a specific product |
| Copyright | Guarantees exclusive rights over various works of authorship |
| Trade secret | Safeguards confidential secrets that give a business a competitive advantage on the market |
Why Are Intellectual Property Rights Important?
IP rights are important because they are an essential part of brand identity. Organizations need to define intellectual property rights for the following reasons:
Proper management of business operations

Preventing conflict of interest

Risking future acquisitions

Risking raising capital
Business owners must practice transparency when dealing with intellectual property because it is a sign of professionalism and fair play.
How Can You Create an IP Assignment Agreement Yourself?
Although managing IP assets can be tricky, it is essential to regulate this aspect of your business. Many people prefer hiring a lawyer to assist them because it prevents potential liabilities and disputes and protects you from lawsuits. If you can't consult a lawyer, you can look up contract templates online.
While drafting the document, you must make sure that the agreement is in accordance with your state's laws. Here are vital sections to include in the IP assignment agreement:
Types of intellectual property assigned. This includes copyrights, patents, trademarks, and trade secrets

All intellectual property acquired through project-based work

Inventions retained and

licensed

Assignment of inventions

Timing of the assignment

Assignment of moral rights

Maintenance of invention records

Patent and copyright registrations

Governing law

Severability
Along with the IP assignment agreement, both parties will also have to sign the non-disclosure agreement to ensure that no clause of the agreement is disclosed to any third party.
What Happens if You Violate the IP Assignment Agreement?
An intellectual property rights agreement is legally binding. If any party violates the contract, harsh penalties apply because intellectual property theft and infringement are federal crimes. Violations can entail:
Fines

Imprisonment ranging from several months to several years

Confiscation of stolen property and documents

Suspension of business license 
The punishment varies depending on the nature of the crime. Most penalties start from a $250,000 fine or up to three years in prison. This amount can go as high as a $5 million fine or 20 years in prison. 
There are strict penalties for intellectual property theft, so make sure you consult a lawyer to help you understand how IP assignment works. 
DoNotPay Can Draft Legal Documents for You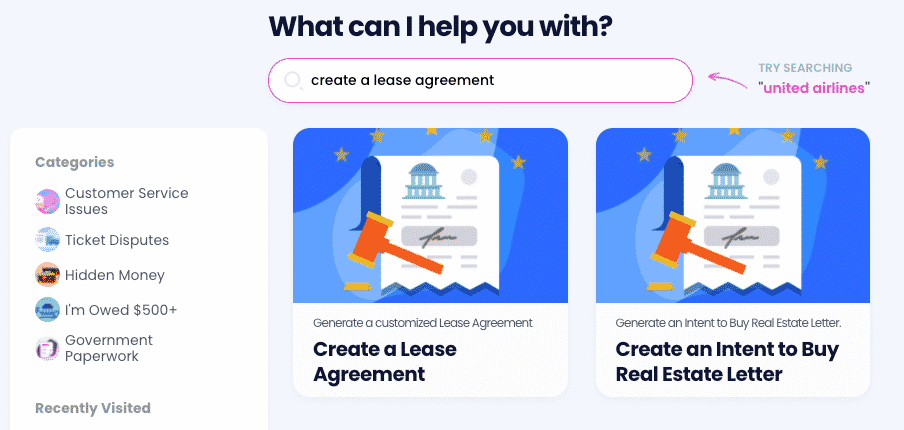 Although you have the option to download a generic template for legal documents, most of them are not able to encompass all the clauses you require. Online templates are rarely spell-checked and have various grammatical errors and outdated clauses. 
Why go through the hassle of editing an outdated template when you have DoNotPay to draft various legal contracts and agreements for you? All you have to do is follow these straightforward instructions:
Type the name of the document you want to create

Answer the questions from our chatbot to personalize the document

Print the document and sign it
If the document requires notarization, DoNotPay has the solution! Our Standardized Legal Document tool is integrated with the Notarize Any Document feature, so you can do both in the same app!
What Documents Can DoNotPay Create?
Ditch expensive lawyers and save your time by choosing DoNotPay to draft your contracts. We can create the following documents for you:
General Business Contract

Intent To Purchase Real Estate

Estoppel Certificate

Quitclaim Deed

General Affidavit

Promissory Note

Child Care Authorization Form
Even if your specific document is not available, we are continually adding more customizable templates to our list, so stay tuned! 
When You're In Over Your Head, DoNotPay Swoops In
With your virtual assistant extraordinaire, many tasks will be a breeze to deal with.
No fax machine? No problem! Use DoNotPay to send faxes online. If you don't want to waste time waiting in lines or on the phone, we come to the rescue with many of our products that will help you:
What Else Does DoNotPay Have in Store for You?
You can count on our assistance when you want to get rid of:
Our app has even more to offer—try out our hacks that will save you money and do the heavy lifting in numerous tasks: