DoNotPay Helps You Keep Tabs on the Iowa Sex Offender Registry
The possibility of having a sex offender lurking in the neighborhood is unsettling on so many levels. In a report released by the Iowa Sex Offender Research Council, the number of sex charges increased by a staggering 25.6% during the 2009–2018 period.
You can keep an eye out for convicted sex offenders through the Iowa Sex Offender Registry—but this may be a tough job. The registry is updated every hour on business days, while the process to access the records alone can be super exhausting.
If safety is a priority for you, to keep tabs on local sex offenders in a simple yet consistent manner!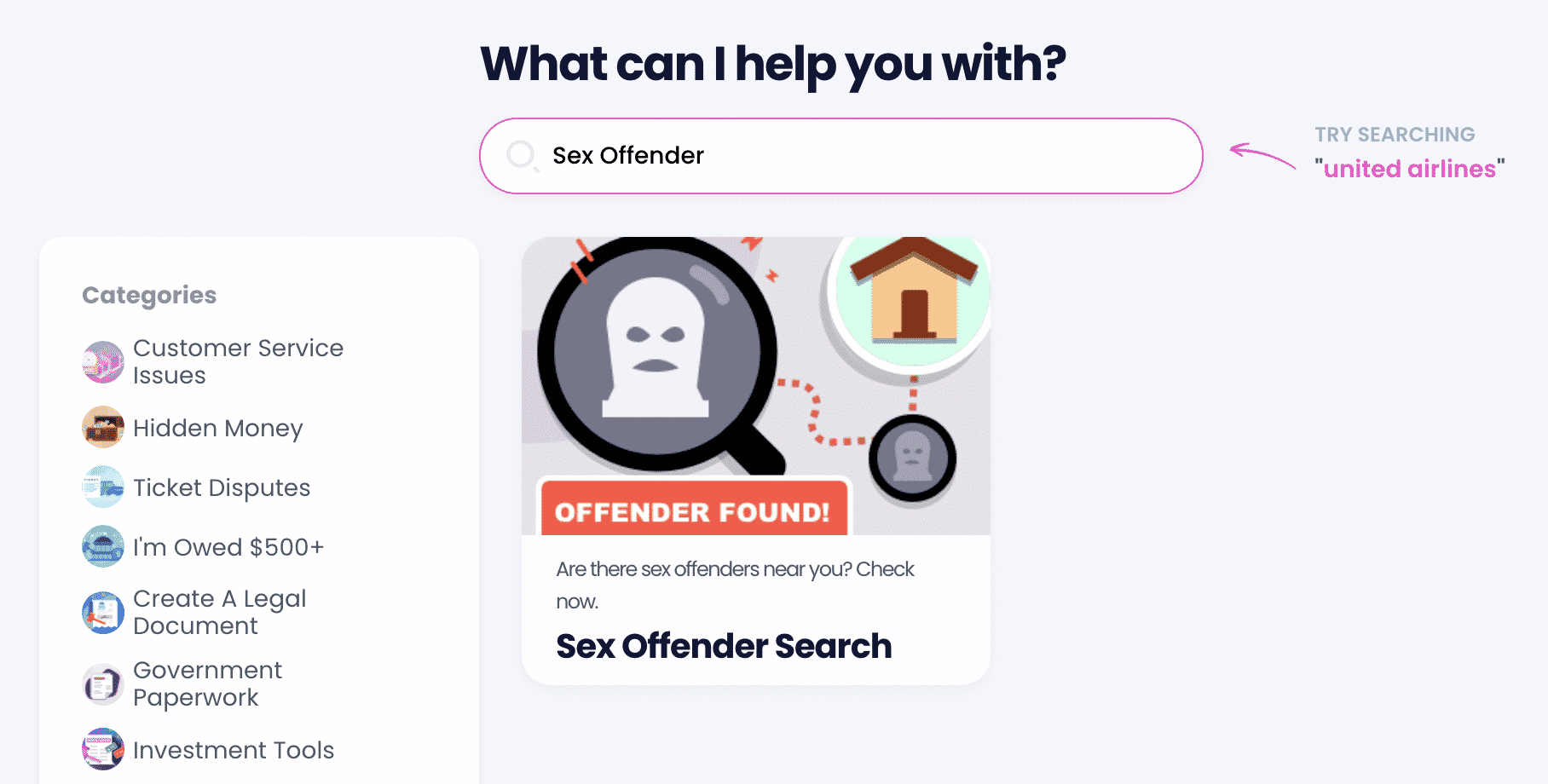 The Iowa Sex Offender Registry Search Explained
Since the passing of Megan's Law, law enforcement authorities have been bound to make information on registered sex offenders available to the public. At present, Iowa has over 6,000 entries listed on its sex offender registry website. The website also lets you do a sex offender search using an address or a ZIP code.
Here's how you extract the list of sex offenders registered in Iowa:
Visit the website and click on Search Registry
Accept the Public Notice And User Agreement that lists out various disclaimers and terms and conditions
Enter the page-generated CAPTCHA code to continue
Input the necessary details to view the list or the whereabouts of a particular offender
Iowa Sex Offender List—Will I Get Details on Every Offender in the Area?
No, the data on the registry is not absolute. If you are wondering why a particular offender is not on the registry, there could be several factors behind it:
The person you suspect could be a sneaky unregistered sex offender
He/She may be exempt from compulsory registration
The individual may have completed their registration period
Registry update lags are common during non-working days
Another potential issue with the data is the lack of completeness. You can get a "whereabouts unconfirmed" status for some offenders, which compromises your ability to stay vigilant.
Iowa Sex Offenders—Can I Download and Share Their Information?
The authorities specifically forbid you from downloading the entire list of sex offenders and their corresponding details from the website. While the content of the website is essentially public info, you have to honor certain restrictions while sharing the info with your loved ones.
You cannot misuse the offenders' public details with any criminal intent, which includes:
Verbal or written threats
Vandalism of an offender's property
Physically assaulting the offender, their family, or employers
Sexual Offenders in Iowa—Registry Laws
The Code of Iowa requires sexual offenders convicted on or after July 1, 1995, to follow registration laws. Each of the state's registry offenders has committed one or more of the following crimes, be it a misdemeanor or a felony:
Criminal offense against a minor
Sexual exploitation
A sexually violent crime
You can refer to this table to check out some of the registry rules that bind Iowa's sex offenders:
Issue
Registry Rule
How long will an offender stay registered in Iowa?
Ten years or for life—depending on the statute violated
Are juvenile offenders registered?
In most cases, yes
Offenders visiting from other states—Do they need to register?
Yes, within five business days of moving in or visiting
What happens when an offender's conviction is removed?
They still need to register
Can a sex offender access the internet, social media like Facebook, or messaging platforms?
Yes, but they must report their internet identifiers to the authorities
What if an offender fails to comply with the registry laws?
They will be convicted with an aggravated misdemeanor or Class D Felony
Can I access an offender's employment info?
Yes—visit the local Sheriff's Office to access the info
How often must offenders verify themselves?

Tier I offenders—every year
Tier II offenders—every six months
Tier III offenders—every three months

Will the Sheriff's Office or Police Department notify me of a sex offender moving near my home?
No
Major Restrictions Imposed on Registered Sex Offenders in Iowa
Registered sex offenders may face residency or employment restrictions based on the nature of their crime. Iowa law prohibits sex offenders of minors from residing within 2,000 feet of a school or daycare facility, depending on the severity of their conviction.
A sex offender in Iowa cannot be employed:
At a facility providing services to dependent adults
At an event where dependent adults participate in programming
While Iowa sex offenders are not banned from being around children, you will be charged with child endangerment if you let a sex offender have unsupervised access to your child or a child in your custody.
Beware of Sex Offenders in Iowa—Use DoNotPay's Easy Search
You have every right to know the sex offenders and child molesters lying low in your neighborhood. If you are tired of Iowa's inefficient and unreliable sex offender registry search mechanism, trust DoNotPay to come through for you.
DoNotPay values your time and mental resources. Our fierce AI tool can show you an updated list of offenders in your area in mere seconds. We can also give you neat and comprehensive location-based weekly alerts to keep your sense of security intact!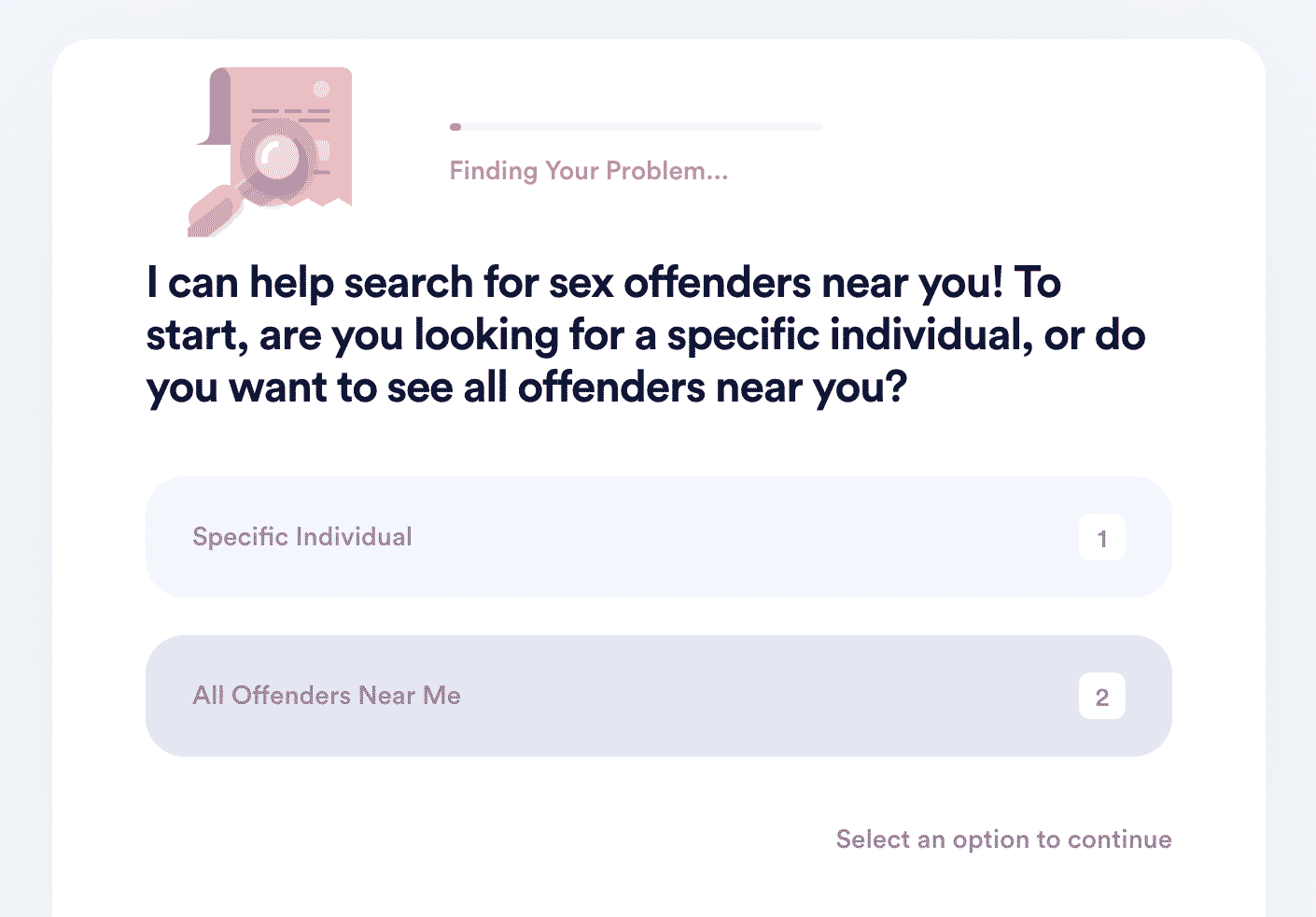 This is what you need to do:
and go to Sex Offender Search
Choose if you want to see the details of a particular offender or a list of all offenders in your vicinity
Set the proximity radius to be checked—one, two, or three miles of your address
Accept or reject the weekly check option
Once you're done, check out DoNotPay's automated report for your given address.
What To Do if DoNotPay Alerts Me of a Sex Offender
If DoNotPay's report alerts you of a sex offender living nearby—don't panic!
Here are a few things you can do to deal with the situation in a reasonable manner:
Talk to your loved ones, especially at-risk kids
Discuss the issue in a community meeting
Find the offender's parole or probation officer
Stay vigilant and report any suspicious activity to law enforcement
Need Legal Assistance? DoNotPay Got You Covered!
Forget about getting a migraine every time there is an administrative task to handle. DoNotPay makes it easy and stress-free to deal with any bureaucratic issue that comes your way.
Not only can we assist you in drafting a legal document and getting it notarized, but we also help you:
Finishing Your Daily Errands Has Never Been Easier!
Looking for help with running errands? You don't have to spend hours trying to make a DMV appointment or contacting a customer service rep! Completing your day-to-day tasks stops being a burden once DoNotPay gets involved.
There is no shortage of errands we'll help you run for a small subscription fee, including:
Sign up for DoNotPay and avoid spending hours on simple daily tasks that can be done in a jiffy!