Safeguard Your Finances With an Iowa Power of Attorney
A power of attorney (POA) is the safest way to ensure your interests are being looked after when you are no longer able to do it yourself.
As a legal document, a power of attorney can be complex and expensive to draw up if you go the traditional route of having it done by a lawyer.
DoNotPay has the solution and can help you with legislation specific to granting a power of attorney in Iowa. Get all the help you need with an Iowa power of attorney from DoNotPay!
What Is the Law on Power of Attorney in Iowa?
Powers of attorney in Iowa are governed by the Iowa Uniform Power of Attorney Act.
The act covers financial powers of attorney (as opposed to other types). It was introduced in 2014 to replace older legislation that left too many loopholes.
Under the 2014 act, a power of attorney in Iowa is:
Durable by default
Effective immediately
Durable by Default
Any power of attorney in Iowa is automatically a durable one. If you want your power of attorney to be general—invalid once you become incapacitated—you need to specify this condition in your document. Any limits on the power of attorney need to be clarified as well.
Effective Immediately
Powers of attorney in Iowa come into immediate effect unless otherwise specified. If you are looking for a springing power of attorney—one that only becomes valid when you are incapacitated—you need to state this clearly.
What Is Your Agent Allowed To Do in Iowa?
The act refers to you as "the principal" and your designated other party as "the agent." Under its terms, your agent is allowed to:
Pay your bills, including medical expenses
Carry out any financial transactions specifically referred to in the power of attorney
Represent your financial interests towards third parties, such as creditors, banks, and tax authorities
Keep your business running
Provide for your family's ongoing financial needs
Your agent is not allowed to make any medical or healthcare-related decisions on your behalf or to change your will.
How Do You Grant a Power of Attorney in Iowa?
The process of granting a power of attorney in Iowa is complex but manageable if you follow all the steps:
Steps To Follow
Explanation
Choose your agent
An agent will act for you until you pass away or they are unable to fulfill their task anymore. It is a long-term commitment, so you should choose someone you trust and who will be around for long enough to fulfill the obligations of the role
Decide what your agent should do
You should stipulate exactly what limits you want to place on your agent—you may, as an example, want to allow day-to-day financial transactions but disallow any long-term investment or property decisions
Draft a power of attorney document
Your POA document can be in the form of a letter or a full legal document, depending on the complexity of your conditions
Sign and notarize the document
You must sign the document in the presence of a notary. The notary's function is to affirm that you were:

Physically present at the signing
Of sound mind
Not under duress at the time
When Does Your Power of Attorney End in Iowa?
A power of attorney in Iowa ends when:
You pass away
You revoke the POA
A spouse named in your POA gets divorced from you
The agent becomes unable or unwilling to carry on performing the function
A POA is one of the most important documents you can sign, so getting it right is paramount.
You can use a lawyer to set up a power of attorney for you, but this can quickly become expensive and complicated. If you have prepared what you want your POA to achieve, we can give you a much simpler and more cost-effective option.
DoNotPay's solution is simple—we can create a power of attorney document for you online in a few clicks!
Create an Iowa Power of Attorney Form With DoNotPay

DoNotPay is the expert at simplifying legal processes, saving you time and money. Setting up a power of attorney is no exception—we can generate a power of attorney document for you in three easy steps:
Sign up with DoNotPay in your web browser
Click on our Create a Power of Attorney feature
Fill in the details you want included in your document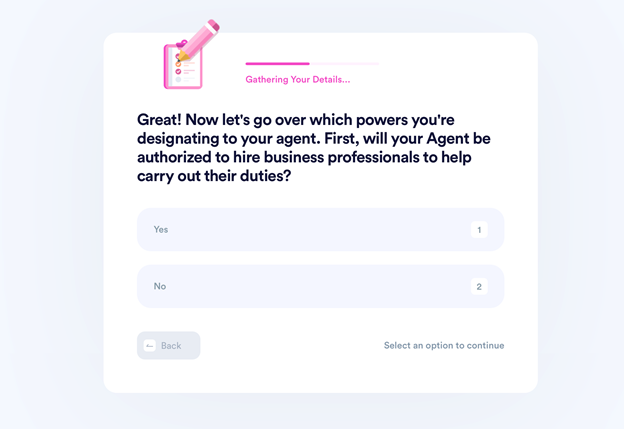 You will need to list the duties you want your agent to perform, including:
Managing your business
Selling your property
Changing your account beneficiaries
Making gifts on your behalf
Once all the details are filled in, DoNotPay will do the rest. We will generate your POA document together with important notices for you and your agent. You can now go ahead and schedule your appointment with an online notary using our app!
Discover DoNotPay's Product Range
DoNotPay has a vast range of products that help you earn and save money and fight bureaucracy. Check out how to get insurance or warranty, file a FOIA request, send anything through online fax, draw up a tailor-made legal document, get documents notarized, get a college fee waiver, sign up for any clinical trial, and so much more!
Your personal AI-powered assistant can also lend its helping hand if you need to fight email or text spam, get robocall compensation, request refunds from airlines, draw up a child travel consent form, prepare for government tests, and combat workplace discrimination successfully.
Save and Earn Money
The best part of using DoNotPay is that you can both save and earn money. As soon as you sign up, make sure you check out how you can find missing money, get free raffle tickets, get compensation for victims of crime, report a late or missing delivery and get a refund for it, and request gift card cash back.
If you want to sign up for a free trial risk-free, cancel any subscription-based service, request a refund from a company, sue anyone in small claims court, or jump the phone queue when getting in touch with customer service reps, you can always count on us.