Streamline Your Divorce With the Right Iowa Divorce Forms From DoNotPay
Filing for divorce is a legal process, and getting it right the first time can make your divorce quick, cheap, and relatively painless.
One of the unavoidable facets of any divorce is the paperwork involved. As an Iowa resident, you may be daunted by the number of forms you have to fill out to start the divorce process.
No need to worry, though—DoNotPay is here to give you a complete breakdown of the Iowa divorce forms you need!
How Does Divorce Work in Iowa?
Iowa is a no-fault divorce state. This means that the only reason you need to file for divorce is that your marriage has broken down irretrievably.
To file for divorce in Iowa, you or your spouse need to fulfill the residency requirements, meaning that one of you has lived in the state for the year leading up to the filing.
What Forms Do I Need To File for an Iowa Divorce?
The forms you need to download and fill out depend on your situation—different sets of forms should be used if you have minor children.
The required forms are as follows:
Divorce Forms Without Minor Children
Divorce Forms With Minor Children

Petition for dissolution of marriage with no minor children or adult dependents
Petition cover sheet
Confidential information form
Original notice for personal service
Acceptance of service
Answer to a petition for dissolution of marriage with no minor children
Financial affidavit for dissolution of a marriage with no minor children

Petition for dissolution of marriage with children
Petition cover sheet
Confidential information form
Original notice for personal service
Acceptance of service
Answer to a petition for dissolution of marriage
Financial affidavit for dissolution of a marriage with children
The forms are downloadable from the Iowa Judicial Branch, but you should check with the county court where you file your divorce papers that they are accepted.
Several other forms are available for specific cases where you need to request temporary court orders or interim relief.
What Happens When You Have Filled Out the Forms?
Once your forms are filled out, you need to follow these steps to set your divorce in motion:
Filing the papers
Preparing a settlement agreement
Filing the Papers
Your first act is to file the completed divorce papers with your county court or that of your spouse.
You will need two copies of your petition and the serving papers if you are mailing copies to your spouse and three if you intend to use a sheriff or process server.
Serving Your Spouse
You have to deliver copies of the divorce papers to your spouse, and they should sign to confirm receipt.
Your spouse has to receive the forms within 90 days of filing, so it is advisable to start this process as soon as possible.
After receiving the papers, your spouse has 20 days to respond to your petition in one of the following ways:
Acceptance of the terms of the divorce—in which case the divorce is regarded as uncontested
Rebuttal of the divorce—meaning it is contested and will have to be decided in court
No answer—which will result in the judge granting a default divorce judgment
While waiting for a response, you and your spouse can complete your financial affidavits. If they tally when submitted and your spouse responds to the petition with an assent, your divorce can proceed as an uncontested case.
If there are discrepancies, the judge will order further investigation, and your case may come to trial.
Preparing a Settlement Agreement
If you and your spouse can come to terms and agree on a friendly divorce, you can start preparing a mutually acceptable divorce settlement agreement.
This is the most important document in the whole process, as it will enable a judge to grant your divorce without:
What Is a Settlement Agreement?
A legal document that regulates how your marriage will be dissolved is called a divorce settlement agreement. It includes joint decisions regarding:
Once you have agreed on an out-of-court settlement agreement with your spouse, the judge will check that it covers all the necessary areas and will grant your divorce. The agreement then becomes legally binding on both spouses.
A divorce settlement agreement is the largest bone of contention in many divorces, and your options for setting yours up are:
Settlement Agreement Sources
Explanation
Lawyer
Hiring attorneys to negotiate and draft your settlement agreement is the default choice in many divorces, but you and your spouse should be aware of the costs involved.

Even though lawyers in Iowa are some of the cheapest in the country, they can still charge up to $220 per hour. Paying an upfront retainer to have a settlement agreement negotiated and drawn up is also common, which can cost up to $4,500 per spouse.

If the two of you are close to an agreement, you can consider mediation as an alternative to hiring lawyers. A mediator facilitates your settlement negotiations and can help you reach an agreement at a fraction of the cost of a lawyer

Online service
Google search results are full of websites that claim to offer settlement agreement templates valid for your Iowa divorce. You should be cautious, though—you may find that many of these templates are too generic to cover your specific needs
DoNotPay has the solution to your divorce settlement agreement woes if you already agree on everything!
We can generate exactly the customized agreement you need without any lawyer involvement!
DoNotPay Is Your Iowa Divorce Partner!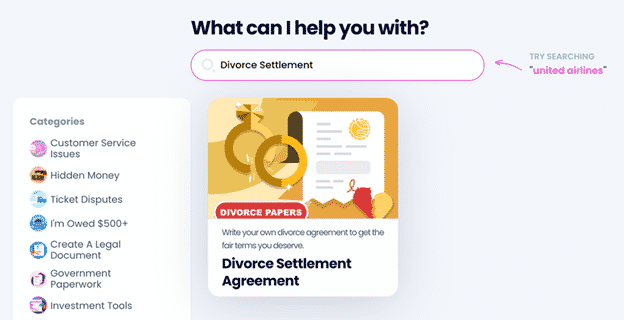 If you are looking for the cheapest and most hassle-free divorce solution in Iowa, DoNotPay is here to help!
Our Divorce Settlement Agreement product gives you a tailor-made, watertight legal agreement that covers all your needs. With its many customization options, our settlement agreement can open the door to a quick and easy divorce decree!
Here's what you need to do to set your agreement up:
Sign up with DoNotPay in any web browser
Click on our Divorce Settlement Agreement feature
Follow the prompts and fill in the terms you and your spouse have agreed on
As soon as you have filled in all the details we need, we will create your document for you to print out.
You and your spouse can sign it, have it notarized, and file it with your county court—your path to an Iowa divorce decree is clear!
If you can't find a notary in Iowa, there's no need to worry. DoNotPay is here to help with our online notarization service!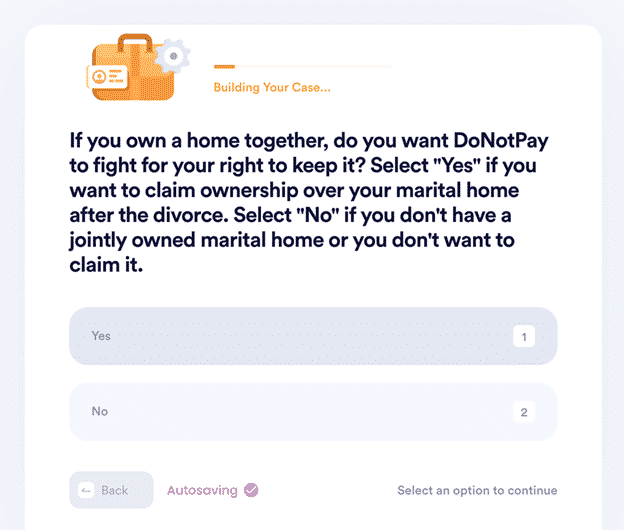 What Other Issues Can Our App Solve?
DoNotPay can support you through various burdensome procedures and turn them into a breeze! Here's a table showing a tiny part of our extensive offer:
| DoNotPay Can | Services |
| --- | --- |
| Create various documents | |
| Protect your safety and privacy | |
| Get your money back | |
DoNotPay Is Your Ticket to Simpler Life
Don't bother going through complicated tasks alone—we are here to take care of them! Seek our help if you want to get in touch with customer service instantly, fax anyone online, or get your documents notarized. Besides providing these amazing services, DoNotPay can make preparations for your travel adventures by assisting you in getting passport photos at home and obtaining tourist visas.