A Guide to Applying for the Iowa Crime Victim Compensation Program
Violent crime victims or their surviving dependents usually face numerous challenges caused by the crime. Besides the most obvious repercussions—such as bodily injuries and psychological trauma—victims also have to handle high medical, dental, counseling, and other crime-related costs. To make the situation easier for the victims, all states have funds for victims of violent crimes that cover most crime-related expenses—Iowa is no exception.
If you wish to apply for the Iowa Crime Victim Compensation (CVC) Program as quickly as possible, . Our Compensation for Crime Victims product will help you apply for victim compensation in Iowa in a snap!
Learn All About the Iowa Crime Victim Compensation Program
The Crime Victim Assistance Division (CVAD) provides financial aid to victims of violent crimes through the Crime Victim Compensation Program. The program offers compensation for crime-related costs of:
Primary Victims

Individuals who got physically or emotionally injured in a violent crime that occurred in Iowa

Iowa residents injured in a state that doesn't have a federally approved CVC program

People who passed away because of crime-related injuries are also considered primary victims (their next of kins can file the application)

Secondary Victims

Family members residing in the same household as the victim at the time of the incident

Survivors of Homicide Victims

Blood relatives of homicide victims

Individuals related to the victim by the affinity, including:

Marriage

Cohabitation

Engagement
Some of the crimes covered by the program are:
Assault

Homicide

Domestic violence

Hit and run

Reckless driving and boating

Vehicular homicide

Sexual assault

Child abuse
The Crime Victim Program in Iowa receives money from the Iowa Victim Compensation Fund that gets resources from:
Offender fines and penalties

Restitution

A portion of inmate wages

Federal funds, including the

Victims of Crime Act (VOCA)

grant
Who's Eligible for Crime Victim Compensation in Iowa?
You qualify for the CVC Program in Iowa if you:
Reported the crime to the police authorities within 72 hours of the incident

Cooperate with law enforcement authorities

File your program application no later than two years from the crime
The reporting and filing time limit can be waived under certain circumstances.
You won't get reimbursement for your crime-related costs if you:
Consented to or provoked the crime

Willingly participated in the crime that caused your injuries

Refuse to cooperate with law enforcement

Were involved in an illegal activity that resulted in injuries
DoNotPay Is the Most Convenient Solution To Apply for Iowa Victim Compensation
Applying for the Crime Victim Compensation Program in Iowa can be complicated. There are three different application procedures, depending on who's filling the application—primary victim, secondary victim, or a survivor of a homicide victim.
If you—like most other victims—avoid applying for crime victim compensation in Iowa because of the confusing process, DoNotPay has an efficient solution for you. We want to ensure all violent crime victims get their crime-related costs covered so that they can deal with injuries and trauma worry-free. That's why we have created a user-friendly product that enables you to apply for any CVC program in a few clicks by following these steps:
Pick our

Compensation for Crime Victims

feature

Let us know whether you're the victim or another claimant

Answer our questions about the crime and your expenses

Verify your signature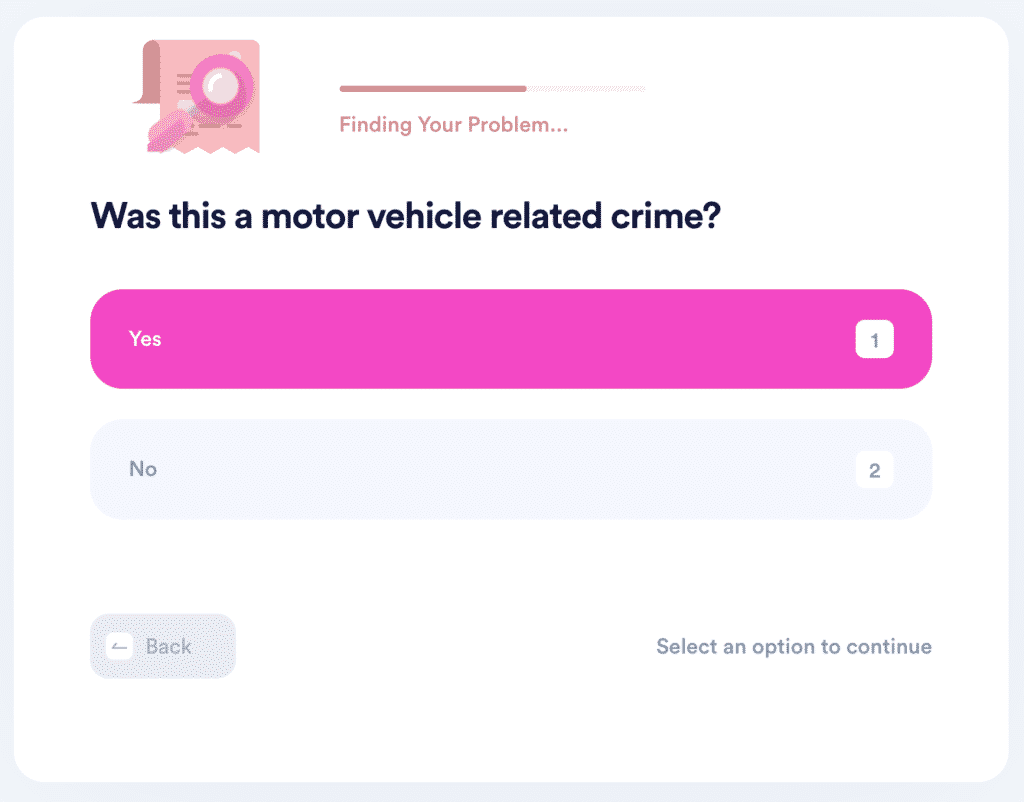 We will send your application to the appropriate office in Iowa as soon as you hit the Submit button.
With us, you can apply for crime victim compensation in California, Delaware, Florida, Arizona, Washington, North Carolina, or any other state. DoNotPay will also help you learn more about various victim compensation funds, including:
Crime Victim Compensation in Iowa—Compensable Costs
The CVC Program in Iowa doesn't have an established maximum when it comes to the total compensation limit. Each compensable benefit has its own cap. In the following table, you can find all expenses that the program covers:
Compensable Expenses
Highest Compensable Amounts

Medical costs

$25,000 for victims

$3,000 for survivors of homicide victims

Mental health counseling

$5,000 for primary victims and survivors of homicide victims

$2,000 for secondary victims

Loss of wages

$6,000 for crime-related injuries and survivors of homicide victims

$1,000 for medical treatments, counseling appointments, and court proceedings

Loss of support for dependents

$4,000

Funeral and burial costs

$7,500

Emergency relocation

$1,000

Crime scene cleanup

$1,000

Replacement of items kept as evidence

$200

Child or dependent adult care

$1,000

Travel costs

$1,000

Replacement of security items in the victim's home

$500
You won't get crime victim compensation in Iowa for the following costs:
Property loss or repair

Legal fees

Pain and suffering

Food

Phone bills
What Other Iowa Crime Victim Assistance Programs Are There?
Besides the Crime Victim Compensation Program, the Victim Compensation Fund in Iowa also provides resources for two other programs:
Sexual Abuse Examinations

—covers the cost of the forensic exam for sexual abuse victims

Victim Assistance Grants Program (Victim Services Support Program)

—grants awards to local organizations dedicated to helping victims of

domestic violence

and sexual assaults
More Benefits of DoNotPay
DoNotPay is a useful tool for handling many otherwise annoying life's trifles, including:
What Else Can Our Award-Winning App Do for You?
If you think that's impressive, wait until you've heard about other features we boast!
Our powerful app can draft paperwork for you, locate unclaimed funds under your name, cancel subscriptions, sue robocallers, and protect you from stalkers and harassers—all in one nifty browser app!
Our services have been recognized by the esteemed ABA Brown award, serving as a testament to our abilities to assist you with your small claims issues, free trial auto-renewals, college fee waivers, public records, copyright protection, and much more!