The Quickest Way To Write a Professional Investment Agreement

Whether you're investing in a business or seeking investors for your own company, you should know how to create an investment agreement. Creating legal documents can be challenging, but they are a crucial part of every business relationship. 
To make the process easier for you, we've created this guide to help you write an investment contract stress-free. We also offer a solution for drawing up other documents in a few clicks so that you don't have to waste money on a lawyer. 
What Is an Investment Agreement?
An investment agreement is a legally binding contract that specifies the duties and rights of a company and its investors. An investor can be:
The company's existing shareholder who wants to invest more funds

A new investor 

An individual representing a syndicate of investors
You should create an agreement if you want to:
The investment contract outlines the terms of the investment and answers important questions, such as:
How many shares does each investor have?

Who manages the company?

How are the profits distributed?

Is the distribution of power equal?

What is the investor entitled to?
Why Are Investors Agreements Important?
An investment agreement's main purpose is to protect the interest of both parties. 
Investors should sign the agreement to ensure their money is used the way they expect and that they can participate in the company's business strategy. The contract should also specify how the investors will get a return on the investment.
Companies benefit from the agreement because it allows them to preserve integrity by defining what the investor is entitled to.
How To Draw Up an Investment Agreement
Larger companies prefer hiring a lawyer to take care of their documents. Businesspeople who can't afford lawyers usually turn to contract templates. While templates can be useful in most situations, they aren't perfect for everyone. 
The following table shows some pros and cons of investment agreement templates:
Pros

Cons

By using an investment agreement template, you will learn:

How to structure the contract

Which legal terms to use

What propositions you should include 

These are the biggest disadvantages of contract templates:

Their content doesn't fit every situation to a T

They can be confusing for some people

Most platforms charge a fee for every template you want to print
You should adjust the template to your business needs and make sure that the final contract is clear and professional. If you want, you could hire a lawyer to review the agreement once you finish writing it. 
What To Include in an Investor Agreement
While every investment agreement is unique and includes different clauses, most of them should cover the following information:
This is only some of the basic info your contract should include. You need to include any additional info that applies to your situation.
Write Legal Documents Swiftly With DoNotPay
Do you need help writing legal documents but don't want to waste too much time trying to search for adequate contract templates online? DoNotPay is here to assist you. Since not everyone can afford a lawyer for every document that needs writing, we have come up with an affordable solution. Our Legal Documents feature is a user-friendly service that will help you draw up a myriad of contracts in a matter of minutes.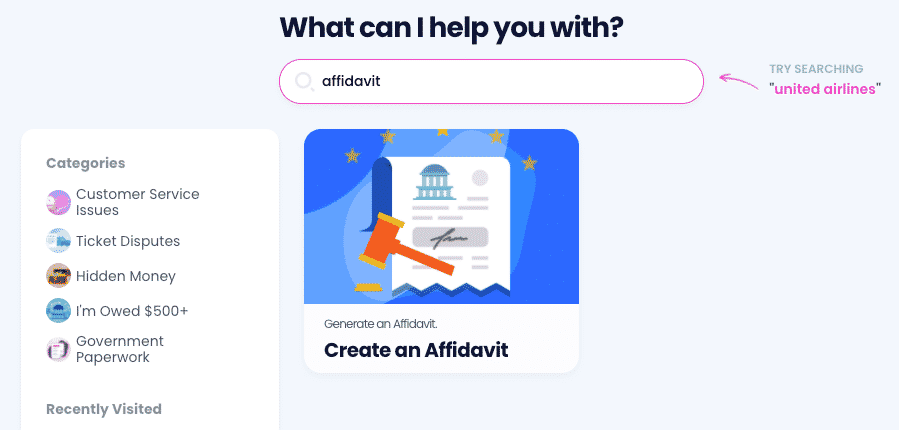 To create professional agreements with our help, open DoNotPay and follow these steps:
Enter the name of the document you want to write 

Answer all our questions

Download the contract 
The document will become official as soon as you sign it. 
For a small monthly fee, we will help you create an unlimited number of various legal documents, including:
What Else Can Our Award-Winning App Do for You?
If you think that's impressive, wait until you've heard about other features we boast!
Our powerful app can draft paperwork for you, locate unclaimed funds under your name, cancel subscriptions, sue robocallers, and protect you from stalkers and harassers—all in one nifty browser app!
Our legal services have been recognized by the esteemed ABA Brown award, serving as a testament to our abilities to assist you with your small claims issues, free trial auto-renewals, college fee waivers, public records, copyright protection, and much more!
More Benefits of DoNotPay
DoNotPay is a useful tool for handling many otherwise annoying life's trifles, including: