A Guide For Investigating Employee Complaints
Working in HR seems like a fun role until it comes time to play private investigator, counselor, and disciplinarian. Employee complaints and HR reports come in complex varieties, so handling them correctly is extremely vital. Businesses and employers must conduct proper investigations when they receive employee complaints in order to facilitate a healthy work environment.
This article will go over the importance of handling employee complaints with urgency, the steps for a thorough investigation, and the common frustrations HR professionals share. We'll also go over an easy way to submit employee complaints using DoNotPay!
Why It's Important to Investigate Complaints Immediately
The swiftness and thoroughness with which HR investigates a workplace complaint can have a large impact across the organization. Below explains what can happen when employee complaints are investigated in a timely manner vs when they are not:
| | |
| --- | --- |
| When a Complaint Is Investigated Immediately | When a Complaint Is Not Investigated |
| The situation can be resolved in a diligent manner and HR can prevent future occurrences from happening again. | The situation can worsen and develop into a more serious issue.  |
| Trust is built between employees and HR. In a crisis, which is what a complaint issued might signify, it's important for employees to feel that they can trust management and HR.  | Employees will trust HR and the company less. The person who submitted the complaint will lose trust in management. |
| A healthy company culture is promoted. Swift action allows employees to understand what will and will not be tolerated.  | An unhealthy and unsafe company culture is promoted. Management indirectly sends the message that listening to employee concerns is not a priority. |
8 Steps for a Thorough Employee Complaint Investigation
If you're an HR professional, it's important to know how to conduct a proper workplace investigation for employee complaints. This can be broken down into 8 steps:
Ensure confidentiality. All parties involved need to make sure that the incident(s) will stay confidential. This removes the fear of workplace gossip and allows for more open and honest conversations.

Protect the Complainant and the Accused. Depending on the nature of the complaint, the complainant might require some form of protection while the investigation is being carried out. If the complaint is about another individual, that person may also require some form of protection from mob justice or unnecessary exposure.

Document Everything.

Incident reports

and HR complaints rely a great deal on the accuracy and validity of all facts, which cannot be attested to without proper documentation. All correspondences, reports, and other pieces of evidence must be properly documented.

Decide on an Interviewer(s). To ensure that the investigation process is indeed fair and unbiased, a neutral interviewer should be selected to conduct all interviews.

Build an Interview Plan. It's important to build a plan for interviews, including who will be interviewed, when, in what order, and what questions will be asked.

Conduct the Interviews. This can be done throughout the day or throughout the week. Do not drag out interviews because employees will need to return to work.

Make an Informed Decision. From all evidence gathered, an informed decision should be made. This can include necessary disciplinary action, a warning, or an action plan.

Write a detailed

report

about the process and decisions made.
Common Frustrations of HR Investigations
No matter how careful you are, you may encounter obstacles during HR investigations. Here are some common frustrations most HR professionals can relate to:
Understanding a complaint. It can be a struggle to understand an employee complaint without a standardized

complaint form

or

sample complaint letter

they can use. Although it takes time, create complaint templates for your employees so the process is streamlined.

He Said/She Said scenarios. It's hard to handle a situation when two opposing parties have contradictory statements and there is no physical evidence whatsoever. In this case, HR must act as a mediator and try to satisfy both parties through compromise.

Challenging the Decision Made. Sometimes, the parties involved will not be satisfied with the decision made by HR. In this case, HR must navigate the situation carefully to avoid further conflict. 
Making Employee Complaints Easy with DoNotPay
Whether you work in HR or you're an employee, dealing with employee complaints is never easy. However, DoNotPay makes the entire process painless! If you have a complaint but aren't sure how to go about it, DoNotPay can help! Here's how you can do it:
1. Log in to DoNotPay and open the Anonymous HR Complaints product.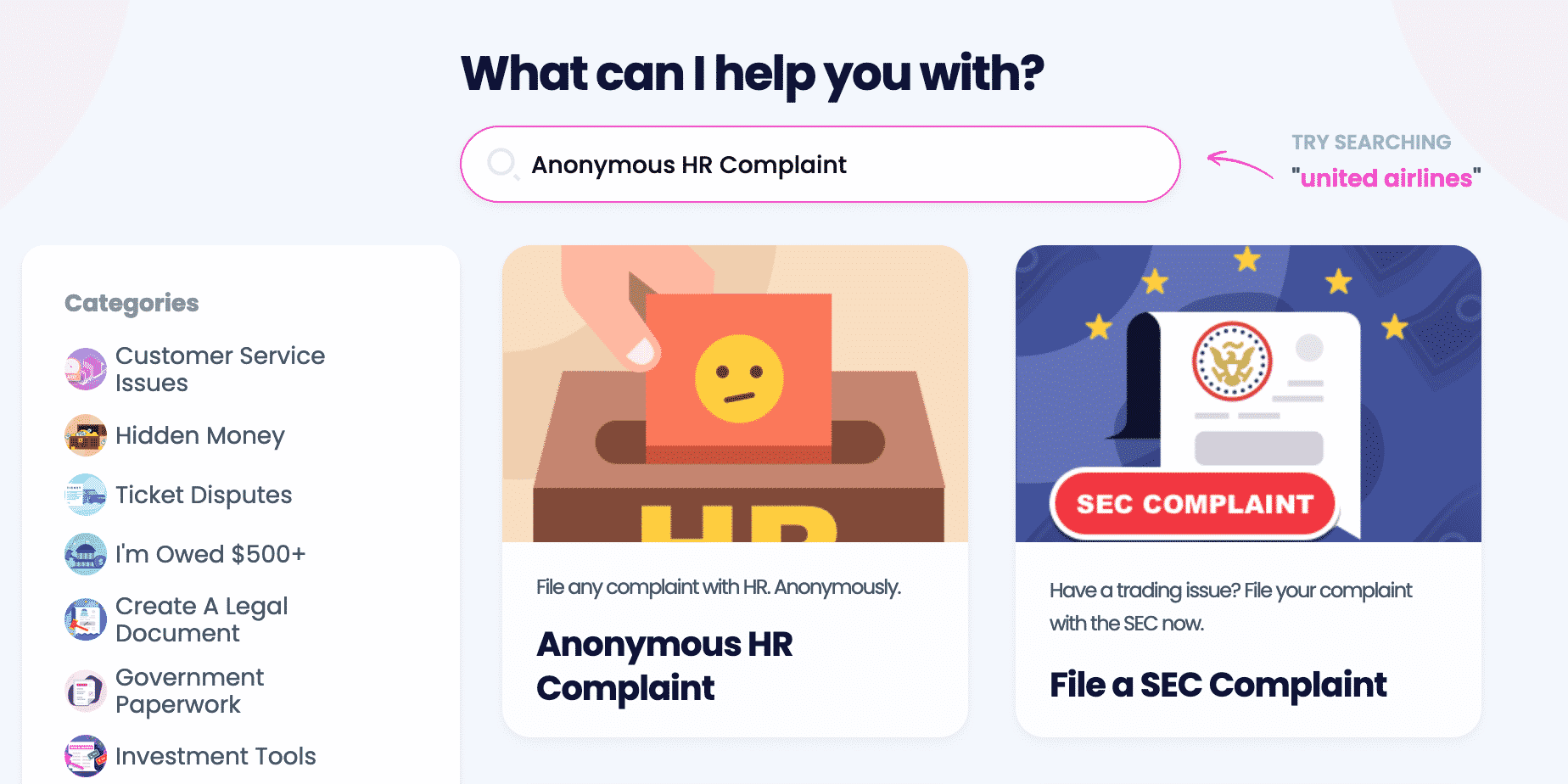 2. Enter your employer's name and your HR department's mailing address.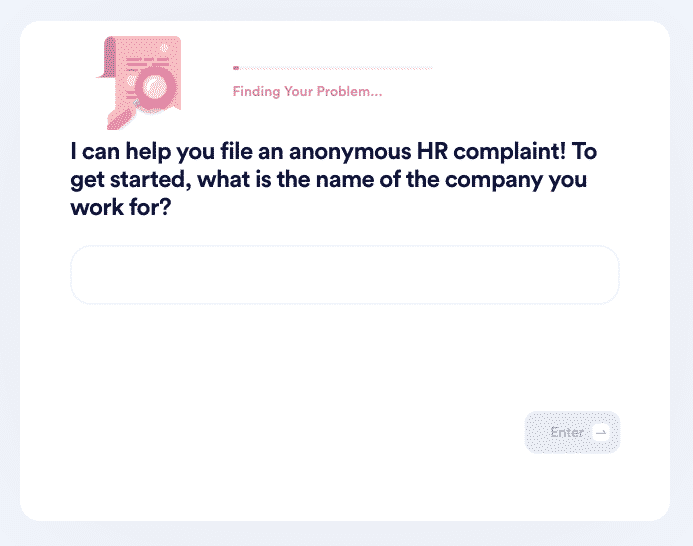 3. Enter what your complaint is about and how you would like it addressed.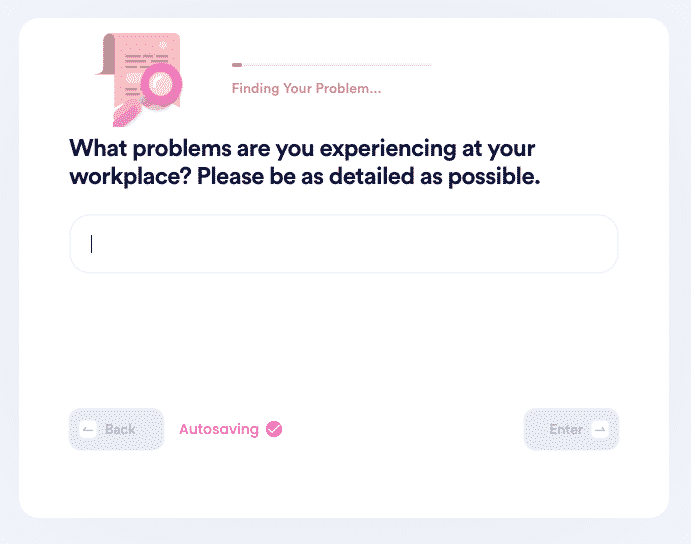 That's it! Let DoNotPay send your complaint automatically to your HR department. The letter is totally confidential with no personal information included in the report!
What Else DoNotPay Can Do?
Not only can DoNotPay help you deal with your manager, boss, or coworker, it also offers other services to address issues like: