Is an Interior Design Contract Sample a Dependable Example?
If writing contracts were a simple task, a lot of lawyers would lose much of their profits. Do you have to hire an attorney each time you need an agreement? No, you can find help in different areas—from available online templates to useful apps.   
Should you consult an interior design contract sample before preparing your agreement? This article provides the answer. Access DoNotPay whenever you want to draw up a legal document in a flash! 
What Is an Interior Design Contract?
An interior design contract—also called an interior design agreement or a letter of agreement—is a legal document that can help you resolve any potential disputes arising during an interior design project. This contract protects both contractual parties, i.e.:
Your client 

You, as the designer
This document transparently:
Presents how your company operates

Outlines your and your client's expectations 
An Interior Design Contract Sample—What Should the Contract Include?
An interior design contract should contain the following sections:
Company introduction

Statement of work

Purchasing and warranty terms

Payment and refund terms

Consultants and contractors

Photograph, videography, and publicity terms

Intellectual property

Termination terms

Dispute resolution
Company Introduction
This section should include a short professional intro of who you and your company are, including:
Your design philosophy

The added value you bring to your projects
The purpose of this section is to:
Show you are a professional

Announce the start of the project 

Get your client excited to work with you
Statement of Work
You should put a short description of the project here. Keep in mind that this is not the same as a scope of work here (explained later).
Purchasing and Warranty Terms
Depending on how you run your design company, this section of your contract should answer some of the following important questions:
Who will make the purchases?

Are you marking up the product?

Do you offer client-designer discounts?

Whose name is the warranty in? 

Can the warranty be transferred to your client? 

Who is responsible for warranty claims?
You should have open communication with your client if you would like to prevent any misunderstandings and future disputes.
Payment and Refund Terms
Some of the following questions might be helpful when creating this section:
When do you expect payment after sending an invoice? 

What payment methods can be used? 

How much are late payment fees (if any)?

Are there additional fees? 

Are refunds possible (if yes, how do they work)? 

What happens if a client wants to cancel an order? 
You can leave a detailed payment schedule and the fee structure for the scope of work document.
Consultants and Contractors
This section should cover events when outside consultants or contractors are invited to perform some work. While you can cooperate with them, you are not responsible for their performance and results, so this clause should explain that:
You are not liable for the work of these professionals

They will sign

independent contractor agreements

with your client
Photograph, Videography, and Publicity Terms
As all (interior) designers need good portfolios full of photographs and video material, this section of your contract should define terms of taking photos or videos of the space you are working on. You should explain here how you will:
Use the material

Protect your client's privacy
Intellectual Property
Intellectual property is a significant—yet sometimes overlooked—aspect of the designing process, including design:
Details

Permits

Drawings

3D renderings
While you create these materials for your client, you are their owner, and that is why you need to emphasize it in this section of your interior design contract.
Termination Terms
Regardless of the reasons for termination, you need to include this clause to inform your client how to get out of the contract. As this section protects both contractual parties, it should be as clear as possible.
Dispute Resolution
This clause of your contract:
Sets out how potential disputes will be handled and resolved

Explains that no legal actions outside the defined terms are possible 
Additional Tips for an Interior Design Contract
Aside from the above-listed sections, here are some additional suggestions you can use when creating an interior design contract. You should:
Keep it short and simple

Use easy-to-understand language

Consider consulting a lawyer when you prepare the final draft
Should You Include the Fees in an Interior Design Contract?
Although you can include design fees in your interior design contract, you could also include them in the scope of the project document. As the scope of work (SOW) is a key part of your project, it should contain all expected and agreed:
Fees

Reports

Products

Milestones

Deliverables
Once you and your client agree to and sign the interior design contract, you should determine and provide a detailed scope of work since the contract and SOW support each other.  
Create Necessary Documents—Is DoNotPay the Right Way?
DoNotPay is your reliable administrative AI-powered assistant. We can help you solve lots of issues in a few clicks.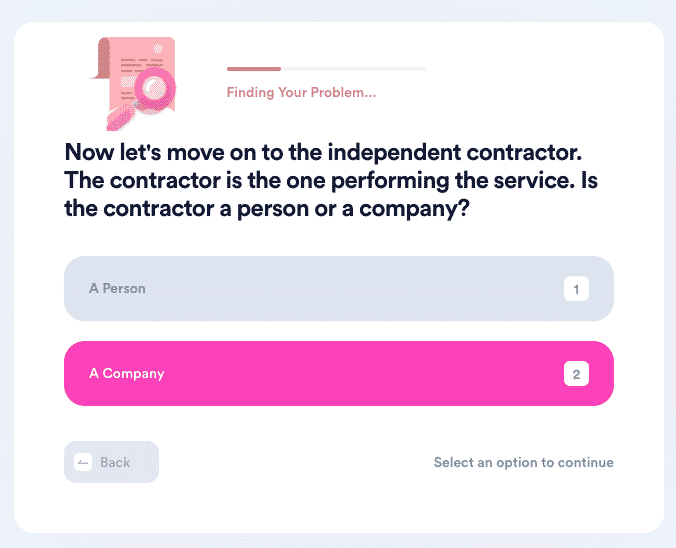 One of our features—Standardized Legal Documents—can generate numerous contracts tailored to your project specifics. 
Here is the list of documents we can help you with (the list will grow, so revisit our site and app to keep track of the updates):
Business Purposes
Personal Needs

Promissory note

General business contract

Independent contractor agreement

Quitclaim deed

General affidavit

Estoppel certificate

Intent to purchase real estate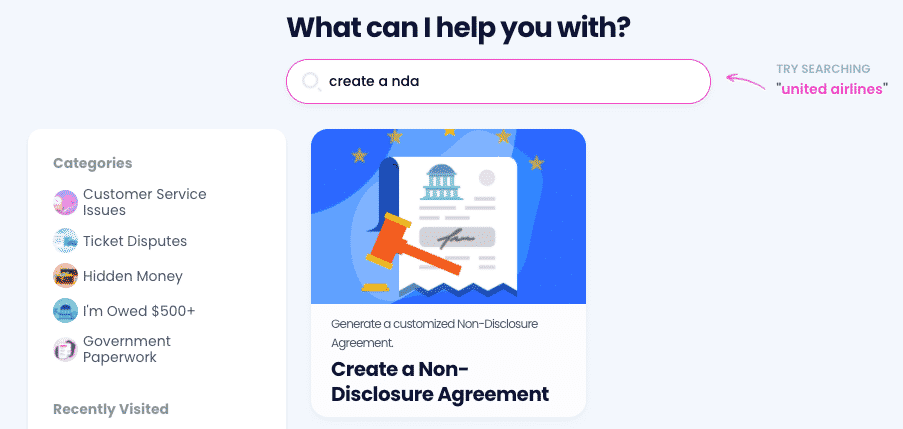 To receive a document for your personal or professional requirements, subscribe to DoNotPay and go through these brief steps:
Choose the

Standardized Legal Documents

product

Type in the name of the document you would like us to help you create

Answer a few simple questions our chatbot will ask you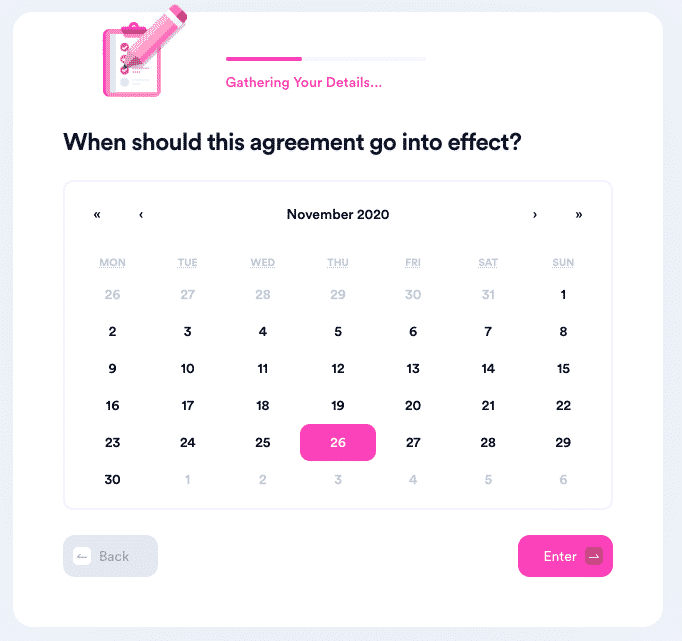 That's it—you will now receive an agreement you can use to secure your ongoing projects.
Facing Financial Issues? DoNotPay Can Take the Burden Off Your Shoulders
If you need to count pennies at the end of each month, DoNotPay is here to help you get a payment extension and pay your bills worry-free. 
Prospective students who struggle to cover their university-related costs can also rely on DoNotPay to request a college application fee waiver.
Do you think that your property taxes are too high? Use our app to reduce your property tax bill as effortlessly as possible. 
Get Rid of Spammers For Good!
Are spam texts and emails cluttering your inbox? DoNotPay has a few products you could benefit from! Rely on us and get rid of spam in less than two minutes. If shady robocalls are testing your patience, you can block them with our help and request robocall compensation right away.
To avoid providing your real phone number when signing up for online services, you should choose our Burner Phone feature and use the number we provide.
What Else Can DoNotPay Assist You With?
DoNotPay boasts many useful products that help millions of Americans handle their everyday hurdles in minutes. 
With us, you can prepare for any government test for a low monthly fee, send online faxes in the blink of an eye, and request cash back for your gift cards stress-free.
Do you have a friend or relative who's serving time? Use our mailing service to send letters to inmates with no hassle.
Learn how to fight workplace discrimination and confront a neighbor who's giving you headaches all through the same app!
Log in to DoNotPay and solve any administrative issue—including setting up an appointment with the DMV and filing an insurance claim—by following a few simple steps.