Create an Inter Vivos Trust in Five Minutes
Estate planning is never pretty, which is why we've made setting up an inter vivos trust easier than ever with DoNotPay. 
This article will guide you through the intricacies of inter vivos vs. testamentary trusts, revocable vs. irrevocable trusts, living trusts vs. wills, and explain how DoNotPay can help you set up your revocable inter vivos trust in record time!
What is an Inter Vivos (Living) Trust?
An Inter Vivos trust is a trust created while a person is still living: hence the alternate name Living Trust. The one establishing the trust can retain access to the assets they wish to put in the trust, and the trust is put into action as soon as the trust is signed.
This agreement is made between the trustor (author and holder of the assets for the trust), and trustee (the manager of the trust). You can be your own trustee until the time of your death, upon which you can appoint another trustee to manage your assets and make sure your beneficiaries receive what you have left them. The trustee that manages your trust is held to high standards, and cannot claim or use your assets simply for their own gain, as they hold the legal right to manage your property and assets. 
Trust vs. Wills
Wills have to go through a legal process called probate, especially if the will is contested by family members. This process formally allows the court to accept the will, or, in the case that the person did not have any will at all, appoint a representative to act on their behalf. 
This process is to:
Determine that the will's author has passed away

Verify the authenticity of the will

Verify that the author did indeed write the will 

Make the will available for public consultation
Trusts do not require the same type of judgement or process upon the estate holder's death, and often are chosen to avoid probate. Further, wills do not become active until the author's death, but trusts become active while they are still alive. 
Revocable vs Irrevocable Trusts
The difference between revocable and irrevocable trusts is that irrevocable trusts are permanent and nearly unchangeable after they are signed, except under very extenuating circumstances. 
Methods to Draw Up a Living Trust
While most hire a lawyer, it is perfectly possible to figure out the intricacies of setting up a living trust yourself. However, either way has its downsides. 
Let us help you select the best method for you:
COST

EFFICIENCY

RELIABILITY

By Lawyer 

Hiring a trust lawyer can cost approximately $1,200-2,000—and this isn't even for a top of the line lawyer

While the time spent with the lawyer should be quick, it can take time to contact a lawyer and get your appointment set up 

Very reliable

Do It Yourself

Free

Varies

Varies

Online Template

Free - approx $99, depending on the site

You'll have to fill these forms out manually

The reliability of these is going to go up depending on the cost, and websites like

this one

can be a good choice if you're already well versed in legal languages

DoNotPay

DoNotPay is only $12 a month ($36/3 months) and has a range of

other legal services

we can offer you. We're constantly expanding in what we can help you with!

Answer some easy questions asked to you by

our chatbot

Very reliable
That seems deceptively simple. How does DoNotPay work?
We know, and before you commit to anything, we're happy to walk you through the process. You can read articles describing exactly how each process works on our website, so you can see for yourself how easy it is. 
To have your living trust drawn up by DoNotPay, you only need to follow a few short steps:
Log-in to DoNotPay and open our

Revocable Trust

product!
Designate your trustee(s) and your beneficiary(s)
Allocate your assets and properties

Tell us where the document will be notarized
A revocable trust will be drafted for you in no time!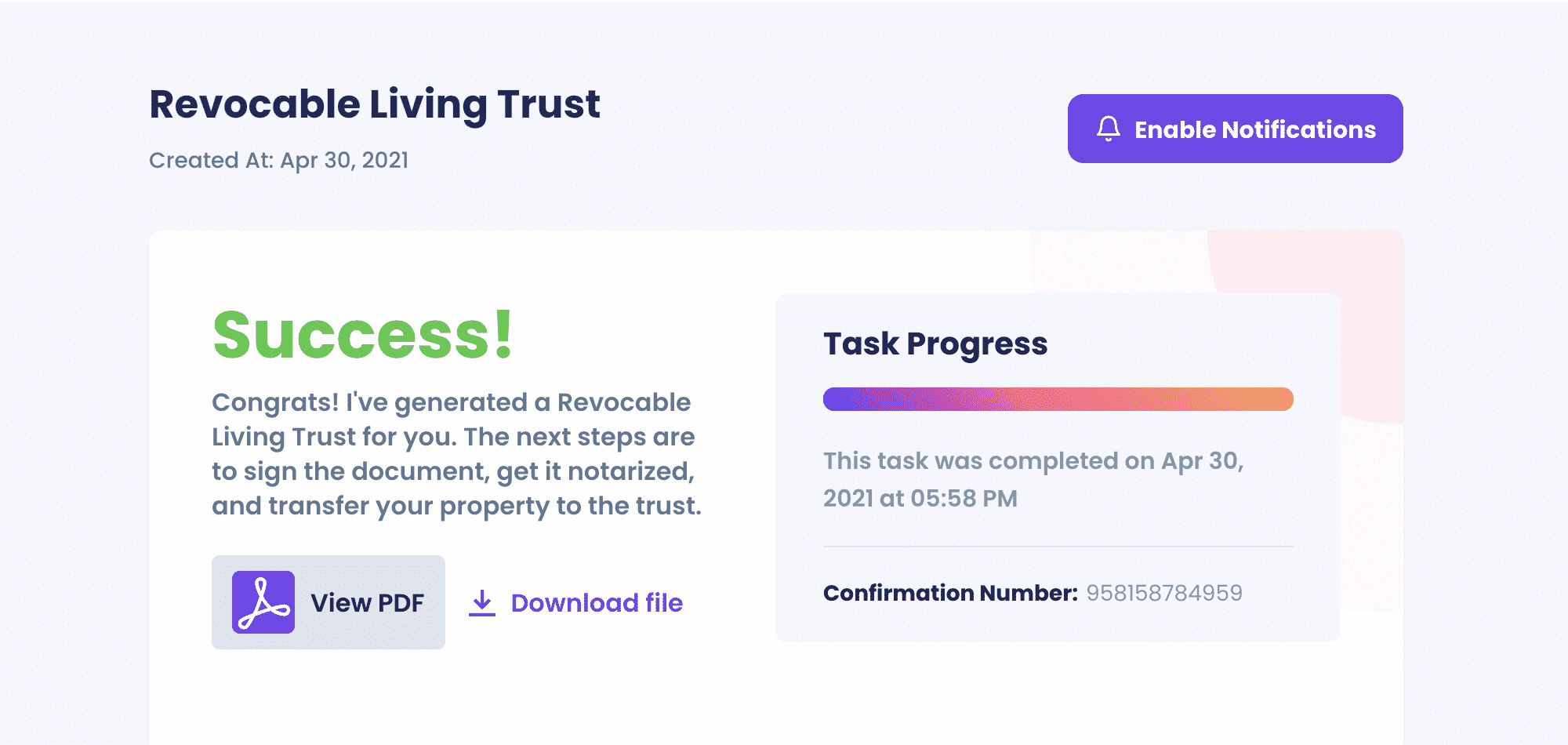 DoNotPay's Revocable Living Trust Product
Legal aid really can be this easy, and if you have any doubts about the process, you're welcome to continue by reading our guides to: 
The below guides can help you with any specific living trust processes you need to know about based on your home state. Need extra help? Contact us, or search to see if we've written on the topic you are curious about.  
State Living Trust Guides
Check Out DoNotPay's Other Services
We've been expanding our services, and have even been kickstarted by the lockdown. 
Things we can do for you: