How To File an Intent-To-Use Trademark Application
Is it possible to file a trademark or service mark even though you haven't used it in commerce yet? The short answer is yes—you can choose a filing basis that enables you to apply for registration without providing a specimen.
The intent-to-use trademark application allows small business owners to "reserve" a potential mark if they agree to certain terms. Find out what those conditions are and learn how to register a trademark with ease !
What Is the Intent-To-Use Trademark Application?
If you want to acquire state or federal trademark protection, you need to report to the United States Patent and Trademark Office (USPTO). Among other requirements, you will have to fill out a trademark application form and state the filing basis for your petition.
One of the options at hand is the intent-to-use trademark application. If you are interested in filing an ITU, you should know that:
Trademark Intent-To-Use vs. Use in Commerce
When completing a USPTO trademark application form, you can choose between two filing bases:
Use in commerce, also known as Section 1(a)
Intent to use, or Section 1(b)
The use in commerce application requires evidence of trademark use. Not only do you have to enclose a specimen of use, but you also need to state the date when you first started using it.
The Intent-To-Use Trademark Application Process
Section 1(b) or the intent-to-use filing basis is part of the initial trademark application form. You must submit your application online via the Trademark Electronic Application System (TEAS). The USPTO also provides two filing options:
TEAS Plus
TEAS Standard
Check out the general layout of the documents in the table below:
Trademark Application Form Section
Description
Personal information

You must state your legal name or the name of the company owner along with relevant contact information (email and phone)

Filing basis

Under this section, select the Section 1(b) or intent-to-use basis

Trademark class
Depending on the filing option, you can choose to:

Sort your goods and services into predetermined categories created by the World Intellectual Property Organization (WIPO)—TEAS Plus and Standard
Provide an accurate and detailed description of all your current items—TEAS Standard only

Trademark type
You need to state the type of trademark you plan on using. It can be any visual or text symbol, such as:

The trademark must be available, so you need to check the USPTO database before you apply
How Much Does It Cost To Register a Trademark?
Deciding which trademark application to use is directly related to how much money you will spend on registration. Apart from the initial fees, you can also expect some long-term expenses.
Here is a quick rundown of trademark costs:
Registration fee—You will be charged for each trademark class you include in the form. The pricing for TEAS Plus is $250 per class, while TEAS Standard charges $350 per class
Intent-to-use trademark fee—Unlike Section 1(a), the ITU results in some additional expenses. For more information, refer to the official USPTO website
Attorney flat fee—If you hire an IP lawyer to prepare the paperwork, you will need to pay for their services
Maintenance fee—Trademarks expire after a while, as opposed to other forms of intellectual property protection (e.g., copyright). If you don't renew your registration on time, your trademark will be pronounced dead
Sign Up for DoNotPay and Register Your Trademark in a Few Simple Steps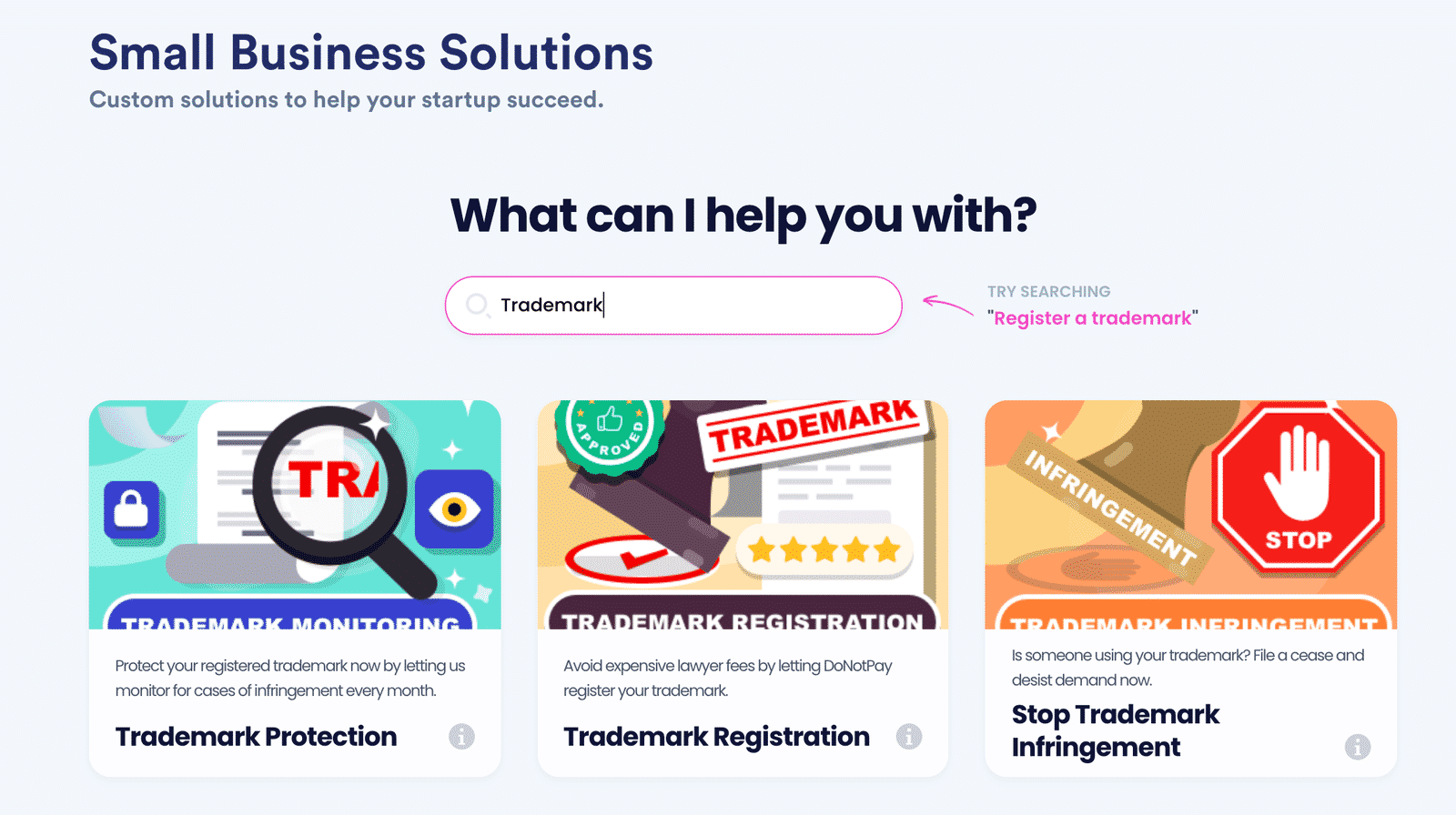 Whether your application is successful or not depends on how you handle the paperwork. Make one small error, and all your hard work goes to waste. To make sure your registration goes flawlessly, use DoNotPay's Trademark Registration product!
Here are the steps to using the feature:
using your browser
Select Trademark Registration from the list of products
Answer a series of questions about your brand and desired trademark
Provide proof of paid registration fees
To finalize the process, e-sign the document and have our AI-operated app submit it to the USPTO.
Don't Let the Complex Procedures Stress You Out! Rely on DoNotPay and Run Your Business Like a Pro!
DoNotPay has created a plethora of simple-to-use features that will help you run your business the best way possible. Here are some aspects we can help you take care of:
Registrations
Legal Documents

Get an Employer Identification Number (EIN)
Register a DMCA agent to avoid copyright violations

Send a cease and desist demand if someone is using your trademark
Draw up a watertight letter requesting a loan for your business
Draft a demand letter to send to a client who refuses to pay you
Get a customized chargeback rebuttal letter and fight unfair chargeback requests hassle-free
What Else Does DoNotPay Have in Store for Your Business?
You can use our app to resolve many other business-related issues. DoNotPay can help you deal with fake reviews that are ruining the reputation of your business by analyzing the harmful review and figuring out the best way to go about it.
Do you wish to protect the privacy of your clients and prevent their data from being collected while they are on your website? Use our app to file a self-certification request with the Privacy Shield program.
If you need help automating the filing of 83(b) election forms, DoNotPay has the right solution for you and your employees or shareholders! With our app, you will be able to finish the entire process with a few clicks.
Another perk of using our app is that we can help you fax and mail any documents or letters without having to leave your home or office.
DoNotPay will help you handle all your business tasks in the blink of an eye!