An Intellectual Property Agreement—The Whats, the Whos, and the Hows
An intellectual property agreement is one of the trickiest legal documents for people to understand.
With many types of intellectual property existing in the first place, protecting this type of property involves intricate rules and regulations.
Whether you are a creator or want to use someone else's content, this article will help you learn how an intellectual property agreement works.
What Is an Intellectual Property Agreement?
An intellectual property agreement is a legally binding contract between two entities—the owner of intellectual property (IP) and the buyer who wants to use that IP. The owner can also be called the seller or the licensor, while the buyer is sometimes called the licensee. The parties to the agreement can be individuals and companies.
Common types of intellectual property agreement are:
A royalty agreement

—Used when the owners of IP are compensated through regular royalty payments. For example, a musician will give Spotify the right to use their songs for streaming purposes. The musician, in return, receives regular royalty payments in the amount that is agreed upon. The licensor benefits from reaching a wider audience and enjoying a steady revenue. The licensee gets to use the product they would not have the right to otherwise

A licensing agreement

—Chosen when the licensor sells only a portion of his or her IP rights

An intellectual property (IP) assignment agreement

—Entered into when the owner wishes to transfer full IP rights to another person
What Types of Intellectual Property Exist?
If you want to understand intellectual property agreements, you need to familiarize yourself with what the term intellectual property entails and what types of intellectual property exist.
Intellectual property represents the intangible asset of an individual or company. Any original creation that is not physical can be considered IP.
The following table includes the different intellectual properties across industries that use IP agreements:
Intellectual Property Type

What It Usually Includes

Franchises

Trade secrets

Models

Design

Patterns

Recipes

Trademarks

Copyright

Music

Films

Books

Original characters

Patent

Models for electronic devices

Software
Who Needs an Intellectual Property Agreement?
Any individual or company that produces intangible assets, wants to sell rights to those assets, or needs to partner with someone to manufacture more products based on the original design needs an intellectual property agreement.
A solid and carefully drawn up IP agreement:
Ensures that the owner will get compensated

Prevents the IP infringement

Determines how any future disputes will be resolved
How To Create an Intellectual Property Agreement?
When it comes to any legal document you need, there are usually three ways to get it:
Hiring a lawyer to draw up the contract for you

Downloading a

contract template

Writing the contract

on your own
Should You Get a Lawyer?
Hiring a lawyer to write you a contract may seem like the best solution, but unfortunately, it's not an affordable one.
What Can Go Wrong With Using a Contract Template?
The other option you have is to use a contract template from the internet. This isn't the optimal choice either since contract templates:
Include a lot of outdated information

Are too generic and don't contain the clauses you need

Aren't tailored according to the specific laws of your state or county

Contain spelling and grammatical errors
What Sections To Include in Your Intellectual Property Agreement if You're Writing the Contract Yourself
Drafting your own intellectual property agreement may be the optimal solution. Here are the sections you need to include in it:
Intellectual Property Agreement Sections

The Information To Include

Parties to the agreement

Legal names of the parties

Terms that will be used throughout the contract to refer to the parties

Intellectual property 

Definition of intellectual property

Type of IP

Description of IP

How in which the IP will be used

Payment 

The amount the owner will get for selling the IP rights

Payment schedule and method

Duration

The period during which the contract will be in effect

Indemnification

Acts that will be considered a breach of the agreement

Ways the parties will be held responsible for breaching the terms

Dispute resolution plans

Location

The geographical area(s) on which the IP can be used

Additional contracts

Signatures

Hand-written signatures of the parties and any witnesses to the signing
DoNotPay Gets You a Complete Document in a Few Short Steps!
If you want to speed up the process of creating your contracts, you should use DoNotPay to do it.
DoNotPay's Legal Document feature gets you a personalized document if you complete these simple steps:
Enter the name of the document you need

Answer a few questions about the document

Wait until DoNotPay generated a personalized document for you
Create These Contracts With DoNotPay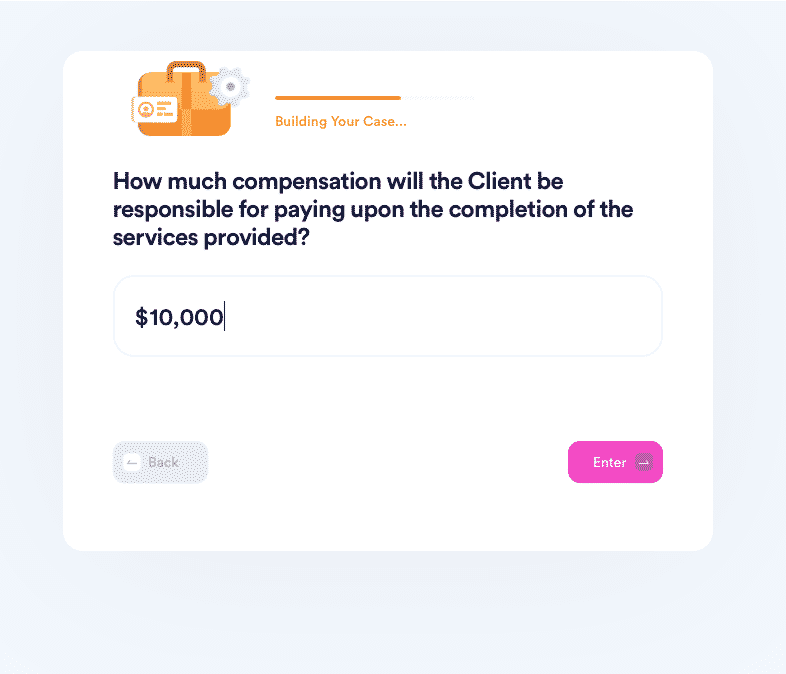 As you have seen, you will probably need a few other contracts attached to your intellectual property agreement.
Access your DoNotPay account and get these legal documents in one sitting:
Intent to purchase real estate

Promissory note

Quitclaim deed

Child care authorization form

General affidavit

General business contract

Non-disclosure agreement

Non-compete agreement

Estoppel certificate
Free Yourself From Boring Tasks With DoNotPay's Help
Our AI-driven app comes in handy for numerous bureaucratic or administrative chores that usually take up a lot of time. With DoNotPay's speedy service, even the most tiresome task will be complete in a flash!
You can forget all about waiting in line at the DMV and being on hold with customer service—we will get you to the finish line in a few clicks. Tired of the old snail mail? Use DoNotPay to mail letters fast. Better yet—fax your documents using our app. If your document requires a notary's signature, we can assist you in scheduling a virtual appointment.
No Lawyer—No Problem! Rely on the World's First Robot Lawyer
When you're in a bind but you can't afford a lawyer, there is still something you can do—sign up for DoNotPay and let our award-winning app give you a hand. With our expertise, the following tasks will be a piece of cake: