Filing an
Insurance Claim
—From A to Z
Filing an insurance claim should be simple, but most companies go above and beyond to avoid paying out the rightful compensation. DoNotPay is here to help you file an insurance claim with any company, including Erie, Sprint, and Boost Mobile. We will help you get your insurance money fast and easy.
What Is an Insurance Claim?
Policyholders can file an insurance claim to request compensation for their insured property if it gets stolen or damaged. By purchasing an insurance policy, you're committing to paying a monthly rate. 
In case of an accident, your insurance company should cover the costs of repair. Filing an insurance claim influences the future rates—most companies will increase your monthly rate after the accident. That's why many people choose to pay for minor accidents themselves rather than call the insurance company.
People can purchase an insurance policy for almost everything—from their car to body parts (yes, we are referring to JLo). While you can probably protect everything you own—if you have the means to do so—here's a short overview of the common types of insurance policies:
Types of Insurance
Description

Protects you and other passengers in case of an

accident

Covers the cost of repair 

Compensates the damage in your home caused by:

Takes care of your loved ones after you pass away

Purchased Product Insurance

Protects pricey items you bought, including TVs,

phones

, laptops, etc.

Covers doctor visits, examinations, and surgeries
How To File an Insurance Claim
Each company has different rules regarding the insurance claim process. Depending on your insurance company, you can file an insurance claim in one of the following ways:
Over the phone—Most companies require the policyholders to call and inform them about the accident first

Online—Some insurance companies offer online insurance claim forms that you can fill out on their website

Email or mail—Your insurance issuer might allow you to request an insurance claim form by sending them a letter or email. For example, the

USPS

accepts insurance claim form requests sent by mail
Make Your Life Easy—
File Insurance Claims
With DoNotPay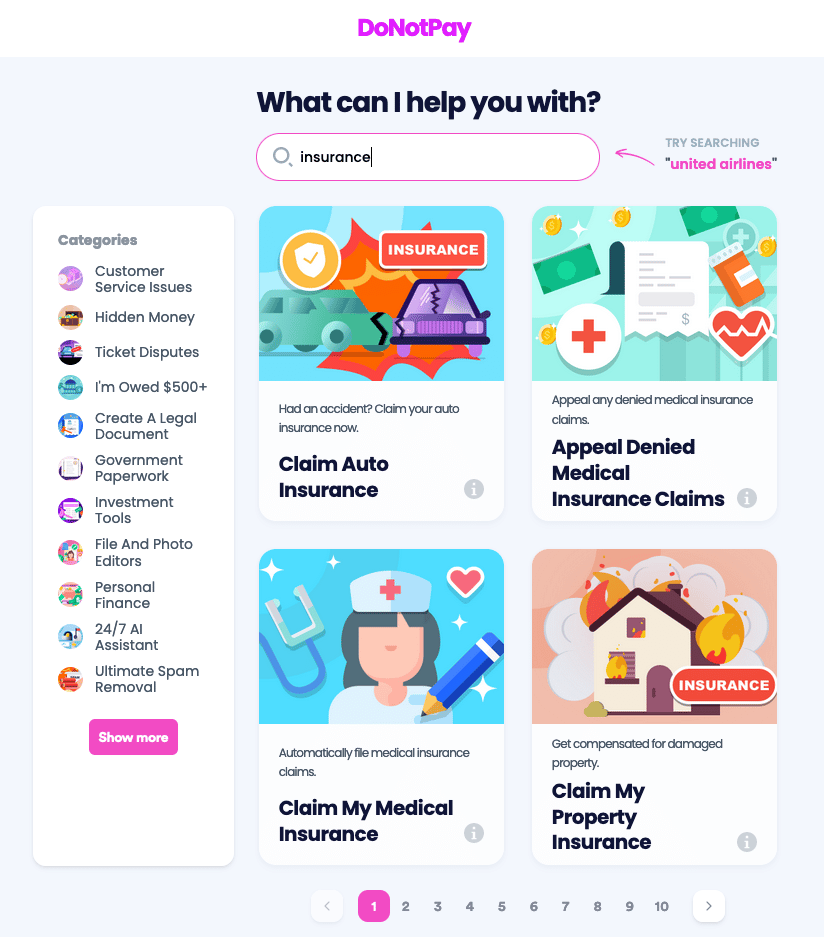 If you're looking for a user-friendly platform that can help you file an insurance claim with any company, DoNotPay should be your choice. With our help, you can file a claim in a few clicks without worrying about the process. These are the steps you should follow:
Look for the insurance type on the

DoNotPay

platform

Type in the basic info

Describe the reason behind the claim and details of the incident

Hit the

Submit

button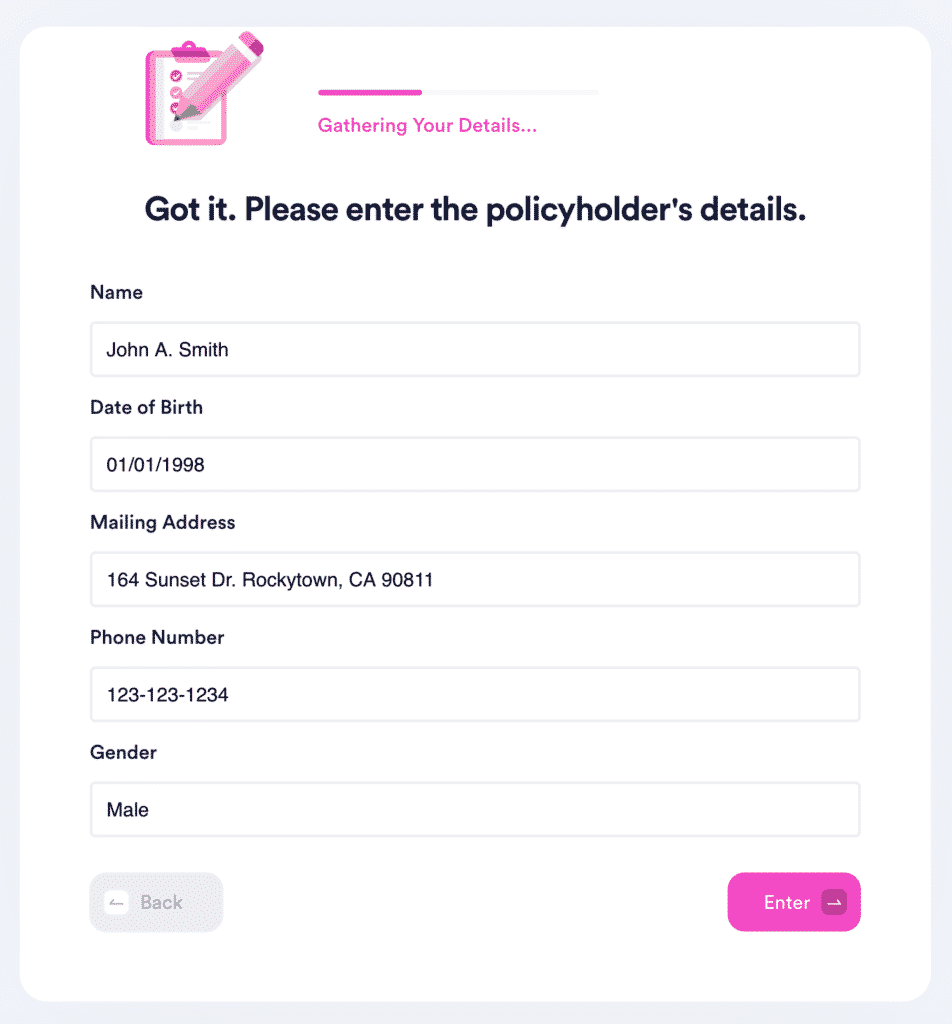 DoNotPay will help you file any type of insurance claim—including the unemployment one—and get your compensation effortlessly. You can take a look at some of the insurance companies we can help you with:
Are you unhappy with your insurance coverage? DoNotPay can jump in and help you cancel your policy with any company, including:
What Happens After I
File an Insurance Claim?
A Guide Through the
Insurance Claim Process
Once you submit your claim, the insurance company will take a few days to decide if the claim is eligible. They can choose to:
Pay full compensation

Approve a partial claim

Deny your insurance claim
How Will My Insurance Claim Be Paid?
The payment method usually depends on the company policy and the item in question. If an insurance company approves your claim, you'll either get compensation to fix the damage or have your product replaced or repaired. 
What To Keep in Mind When
Filing an Insurance Claim
Before filing an insurance claim, you should be aware of a few rules:
Companies require proof of insurance to approve your claim

You should document every detail in a case of a car accident or home damage

Insurance companies usually send their employees to check out the damage and estimate the costs

If you abuse your insurance policy, the company has the right to terminate the contract

Purchased item policies can be restrictive and allow a limited amount of claims during a year
You should go through your insurance policy before contacting the company to check if you have everything prepared. The policy can contain the timeframe in which you're eligible to file the claim. If you don't meet the eligibility requirements, the insurance company can reject your claim.
You Don't Have To Worry About Denied Insurance Claims—DoNotPay Can Help You Appeal Them!
Most companies will try their best to reject your insurance claim to save money. When that happens, you should send an appeal letter. DoNotPay's service offers an Appeal Denied Insurance Claim feature that will bring you one step closer to getting compensation:
Open

DoNotPay

Search for the insurance you want to claim

Click on the

Appeal Denied Insurance Claim

option

Follow the instructions
If the company refuses to approve your claim again, you should consider suing them in small claims court with DoNotPay's help.
What Else Can Our Award-Winning App Do for You?
If you think that's impressive, wait until you've heard about other features we boast!
Our robot lawyer app can draft paperwork for you, locate unclaimed funds under your name, cancel subscriptions, sue robocallers, and protect you from stalkers and harassers—all in one nifty browser app!
Our services have been recognized by the esteemed ABA Brown award, serving as a testament to our abilities to assist you with your small claims issues, free trial auto-renewals, college fee waivers, public records, copyright protection, and much more!
More Benefits of DoNotPay
DoNotPay is a useful tool for handling many otherwise annoying life's trifles, including: