A Simple Guide To Writing Insurance Appeals Letters
Surviving a car accident, experiencing health issues, having a fire, flood, hailstorm, or hurricane destroy your home—or any other reason that caused you to file an insurance claim—can be devastating. Even more infuriating is receiving a response that your claim was denied. Stress no more—DoNotPay will help you write insurance appeal letters any time you need them!
How To Make the Unmistakable Insurance Claim and Avoid Its Denial
Insurance companies are known for finding absurd reasons to avoid paying the money they owe. Insurers are detail-oriented perfectionists who will look for the tiniest error in your claim so they can reject it.
Here are some tips on what to do before filing a claim that can increase your chances of getting the money:
Report the incident right away

—You won't leave any details that way, and the insurer will know the incident was serious and unintentional

Check your policy details

—It's important to check your insurance coverage details before fixing the damaged object because it may be the insurer's responsibility

Gather the right documentation

—Having all the necessary documents in one place can make filing insurance claim go faster

Give truthful information

—Include only the facts and don't exaggerate

Talk to your insurance company agent or representative

—Once you collect everything you need and get your facts straight, call your agent to discuss the claim filing process
To make an indisputable insurance claim, you can't miss a single document or information about the accident. Take a look at the table below to see what you need to file a perfect claim:
Required Documentation
Necessary Information

Police report (if applicable and available)

Medical records and bills

Photographs of the accident, damage, and injuries

Documents confirming your identity

Time and date of the accident

Amount of money you are claiming

Amount of money you are expecting

Contact details of everyone involved in the event, be it passengers, other drivers, pedestrians, witnesses, a mechanic, doctor, or anyone else included in the accident
Submit the Most Convincing Insurance Claim With DoNotPay
If you hate bureaucracy and want to make an insurance claim that no company would deny, DoNotPay has a solution. We developed a fantastic, hands-on feature that allows you to file insurance claims in a flash!
You can use our Claim Insurance service to file claims for a variety of insurance types, like: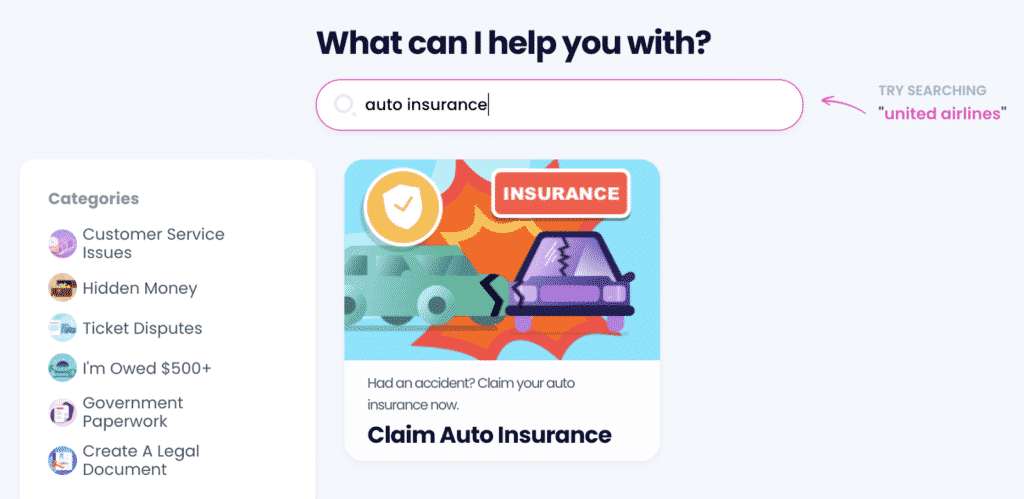 The process is fast and requires little to no work on your part. Once you access DoNotPay from your preferred , follow these steps to file an insurance claim:
Search for the type of insurance

Enter the name of the insurance company

Explain the reasons behind your claim and provide details of the event

Submit the claim
When you click that Submit button, we will compose a claim letter and send it to your insurance provider.
Where To Find Insurance Appeal Letter Samples
You can find almost anything on the internet nowadays, including samples for insurance appeal letters. Here are some samples for two major insurance types:
What Should an Insurance Appeal Letter Include?
Writing an appeal insurance letter does not differ that much from writing an insurance claim. Much information you need to include is already stated in the initial claim. To improve your chances of getting a settlement, you should include everything about your denied claim.
Here are the essential elements of an appeal letter:
Policy number and name of the policyholder

Accurate contact information

Details about the denied insurance claim

Date of the denial letter and stated reasons for denial

Name and contact information of the person confirming your claim was wrongfully denied
How To Write an Appeal Insurance Claim Letter—A Sample
What the insurance claim appeal letter will include depends on the type of insurance. Here is a short example of what an appeal letter should look like:
Date
Name of the policyholder
Address of the policyholder
City, state, and ZIP code
Denial date
Number of the claim
Name of the insurer
Name of the insurance company
Address of the insurance company
City, state, and ZIP code
Dear (last name of the contact person),
The purpose of this letter is to inform you about my decision to appeal your denial
(provide information about your insurance claim, cited reasons for denial, and reasons for appeal)
I look forward to hearing from you soon.
Sincerely,
Full name of the policyholder
Contact information
DoNotPay Can Help You Compose an Appeal Letter To Insurance Company
The process of filing insurance claims is tiring and time-consuming but is nothing compared to writing appeal letters to insurance companies. Gathering the information, preparing documentation, trying to find the perfect insurance appeal letter sample, and then sending it—it's nothing but exhausting.
For that reason, DoNotPay came up with the perfect solution in the form of the Appeal Denied Insurance Claim feature.
To put our feature to the test, you have to follow these steps:
Log in to your DoNotPay account from a

Locate the

Appeal Denied Insurance Claim

option using the search box

Answer some questions about your claim

Hit

Submit
We will compose an insurance appeal letter on your behalf and send it to the insurance company. The insurer will notify you when they review your letter.
Keep Your Money Safe With DoNotPay
Don't let greedy companies threaten your consumer rights by holding back refunds, refusing to cancel your subscriptions, or charging you after your free trial ends.
DoNotPay helps you try out different services without providing your credit card info or phone number—you will never again have to deal with unexpected post free trial charges!
Our app also helps you avoid paying unnecessary parking tickets, delay challenging bills, or waive your college application fees.
If any company refuses to issue you a refund or an airline won't compensate for canceled flights, we can help you sue them in small claims court.
DoNotPay Is a Time-Saving App
How many customer service reps do you have to deal with only to file an insurance claim or book your DMV appointment?
DoNotPay helps you sort out these tasks and much more in only a few clicks.
Get your revenge on robocallers, report text scammers, find validated clinical trials, claim your warranties, get in touch with your loved ones in prison, and protect your creative content—all in less than five minutes.
No more hours-long phone calls, emails, or in-person visits.
We cover everything from freeing your inbox from spam to providing excellent prep tests for government exams! Save time with your all-in-one app!