Use Inkscape—Convert to Vector With Minimal Effort
Inkscape is a free and open-source vector graphics editor. It is a free alternative to Adobe Illustrator and CorelDRAW, but it boasts some unique features like smart objects for combining images with paths or shapes with text.
What makes this program different from other graphics editors is its use of Scalable Vector Graphics (SVG) as the native format.
What Are The Main Reasons Behind Converting Image Files to Vector?
People convert different types of files to vectors for a variety of reasons. Vector graphics are more appropriate for the web and presentations because they scale to different sizes without losing sharpness or pixelation. They also allow for animation and compositing, as opposed to static bitmap images. Made up of lines rather than pixels, vectors are easier to edit too.
Another reason you may want to convert your files to vectors is that vector files are often smaller in size than bitmap images—which means they can be easily uploaded online without slowing down the site's performance or using a lot of bandwidth.
Using Inkscape to convert to vector is one of the best options available and this article will help you learn how to do it hassle-free. Another great option for converting your files to vector is using DoNotPay's file converter. As soon as you sign up, you can convert an unlimited number of files quickly and safely!
How To Convert Image to Vector in Inkscape
Using Inkscape, you can convert your PNG, JPG, and a lot of other file formats to SVG. Here are the steps you need to follow:
Launch Inkscape and start a new project
Select the image you want to convert and click Open
Click on Path on the top toolbar and select Trace Bitmap
Check Live Preview and if the image looks good click OK
Drag the new file off of the original (it will appear on top of your original file) and then delete the original image
Click on File, then Save As
Name the file and save it as Inkscape SVG
If you're in a hurry and need to convert your files as soon as possible, this conversion method may be too complicated and time-consuming.
Converting Your Files to Vector Using an Online Converter
Inkscape is not the only tool you can use for converting images to vectors. Another option you have is using an online image to vector converter. Online file converters are generally easier to use and more convenient, but they are limited in functionality and not as reliable as a dedicated program, like Inkscape.
Here are a few online converters that you can check out:
| Converter | Description |
| --- | --- |
| Vector Magic | Vector Magic is a website that helps you convert between PDF, Word, Excel, Powerpoint, and many other file types |
| Convertio | Convertio is a free online file converter that allows you to convert up to 300+ file formats without downloading any software |
| Vectorizer | Vectorizer is an online tool you can use to convert your design files into vector graphics. It will also let you preview the converted file before exporting it |
What Are the Downsides of Using an Online File Converter?
There are several downsides to using an online file converter:
Speed—A lot of them can be slow so you might not be able to deliver what you wish in the time frame given by the sender
Security—You can never be certain that a certain converter is 100% safe, so forget about using it for converting business or confidential files
Expense—Many online converters don't even offer the most basic features for free
Size limit—Many sites will limit the size of files you can upload. If your video is too long or your document is over 200MB, for example, you may not be able to convert it online
Inability to edit the converted file
How To Make Sure an Online Converter is Safe
To make sure a converter you plan to use is safe, read its Privacy Policy before you sign up or start converting. Use a converter that is SSL encrypted because this will protect your personal information and data from being stolen by hackers.
Another important thing you should do is check the reputation of the converter by reading user reviews. The best way to make sure your data is safe is to use a reputable converter.
Use DoNotPay to Convert Your Files in Seconds!
If you choose DoNotPay to convert your files, you won't have to worry about the safety of your data. Our award-winning app boasts over 150,000 satisfied monthly users, and we put emphasis on data privacy.
DoNotPay relies on the latest SSL standards, so all of your files are encrypted and nobody will ever have access to them. We don't store your data, either. All of your converted files will be available for 24 hours only—they are automatically deleted from our servers afterwards.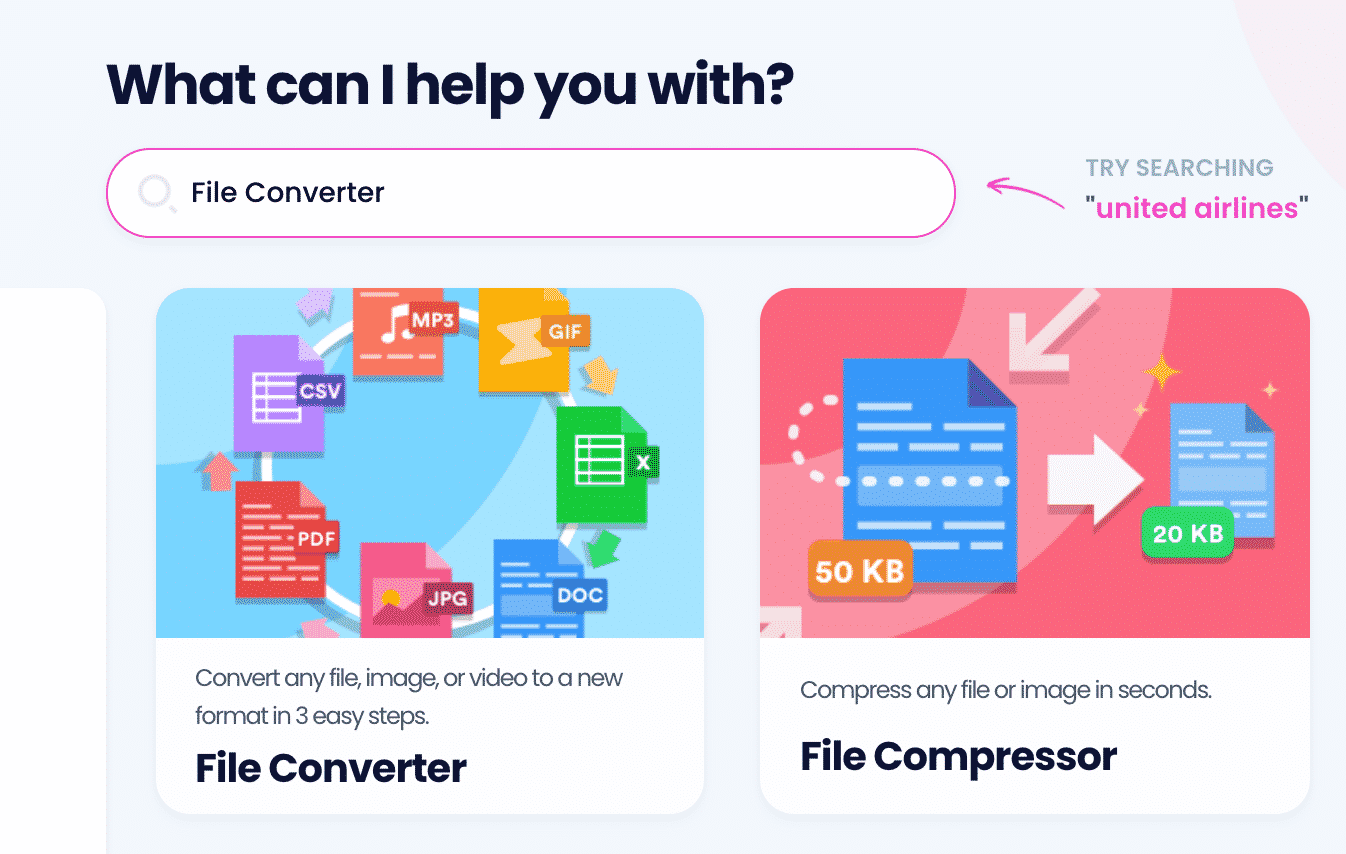 The conversion process is as quick as can be, taking only a few seconds. To get started, you'll need to log in to your DoNotPay account and take the following steps:
Open the File Converter product
Upload a file you want to convert to vector
Choose any of the vector file types (AI, CDR, CGM, EMF, SK, SK1, SVG, SVGZ, VDS, or WMF) as the output
Go to the My Disputes page and download your new vector file
What Other Files Can DoNotPay Convert?
If you need a file converter that supports a variety of different files, look no further. DoNotPay is the ideal tool for you! Check out the table below to see what other files you can convert using our award-winning app:
Have All Your Files In One Place
DoNotPay is designed to help you do more with less work. Apart from converting hundreds of different file types, you can also leverage DoNotPay to compress your files to take up less space on your device.
Found a video online that you'd like to save as an mp3 to play it on the go? Whether it's a music video, a guide, a lecture, or a podcast, DoNotPay can convert all manner of online videos to mp3 files with ease! You can also use our award-winning app to download videos from social media and the web so you can enjoy them even when you don't have access to the internet.
DoNotPay Helps You Tackle All Manner of Different Tasks With Ease
Streamlining complex processes and saving you a ton of time and money in the process is what DoNotPay does best!
For instance, we can help you skip the phone queue of any company by waiting on hold in your stead. We can also help you cancel any unwanted subscription or service with a single click, as well as request a chargeback, return an unwanted item, and get a late delivery refund.
You can also use DoNotPay to find unclaimed funds in your name, lower your bills and reduce property taxes, as well as appeal parking tickets and dispute seatbelt tickets. Apart from saving you a ton of money each month, DoNotPay can also give you that much-needed peace of mind by helping you get rid of annoying robocalls and email spam for good!